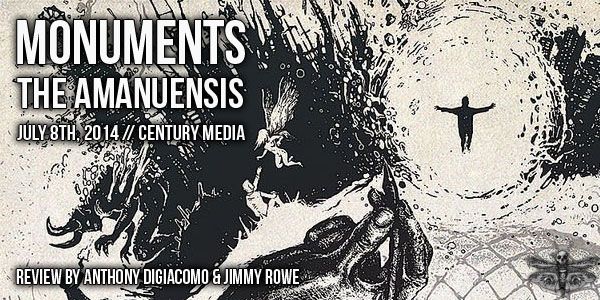 Ever facing delays and setbacks, Monuments' debut album Gnosis barely missed the boat for the new wave of progressive groove metal — which guitarist John Browne helped form with Tesseract's Acle Kahney with under-recognized djent progenitors Fellsilent — just as it began to oversaturate the market. Despite landing a critically favorable debut and a dedicated legion of fans, the group's troubles weren't soon over. During the Gnosis album cycle, vocalist Matt Rose left the band with dissent, slamming the door shut on further touring in support of the record. In turn, Browne & Co. didn't make as much new ground as they should have given their pedigree. Now aided by Chris Barretto (ex-Periphery, Ever Forthright) on vocal duties, the group hopes to make up for lost time with their infectious sophomore album The Amanuensis.
On the surface, The Amanuensis has all the familiar makings of a modern tech metal record: staccato palm-muted rhythms engaging in a tug of war with wildly angular guitar tech and delicate ambient leads — an album that proudly wears its Meshuggah and SikTh influences on its sleeve. However, The Amanuensis hosts many intricacies that separates it from its peers. Just under the surface, a subtle air of psychedelia pushes the band further into the ethereal. Not as overtly as Cynic for instance, but a DMT-steeped ambiance creeps along under an almost Eastern melodic sensibility to create something greater than just another uninspired djent entry.
The Amanuensis takes Monuments' style set forth on their debut Gnosis and pushes it to an entirely different level with the recent addition of vocalist Chris Barretto. Barretto's attention to melodic detail is apparent in every line, every note sung throughout the album.  Tracks such as 'Quasimodo' and 'Saga City' conjure vocal melodies reminiscent of Sevendust's glory days, full of soul, begging for a sing-along. His performance on The Amanuensis is proof enough that Barretto is one of the most talented and interesting vocalists in metal right now, even going as far as sporting a brazen Michael Jackson influence; the percussive breaths and powerful harmonies on opening track 'I, The Destroyer' and 'Horcrux' being the biggest tell-tale moments of audacious flair on behalf of Barretto.
Though the vocals may hog much of the limelight, guitarist and songwriter John Browne's riffs take center stage with authority frequently, backed by Mike Malyan's stellar drum performance. 'The Alchemist' pummels the listener from the get go with powerful double kick and alternate picked riffs, eventually pulling the reins and delivering a dose of ambiance. While some of the riffs may not be as technical as those on Gnosis, there's no absence of wrist-assaulting down picking and technicality.However, album closer 'Samsara' is an example of the entire album stripped down to just two elements; swirling ambient pads and chant-like vocals featuring recurring lyrical themes, channeling the spirit of Ulver's experimental works.
The album never bores, never grates, and never slows down until the very end, this fact being the biggest drawback. Though each song is varied in composition, no song, save for the closer, deviates from the formula. No songs stand out as being a "palette cleanser", and nothing breaks the pace of the album. Despite this, The Amanuensis is a prime example of a band taking an established sound and improving on it in a truly remarkable way. A testament to the fact that heavy music can be beautiful and full of soul. Chris Barretto's debut with Monuments is an album that is sure to please fans old and new.
Monuments – The Amanuensis gets…

4.5/5
– AD & JR