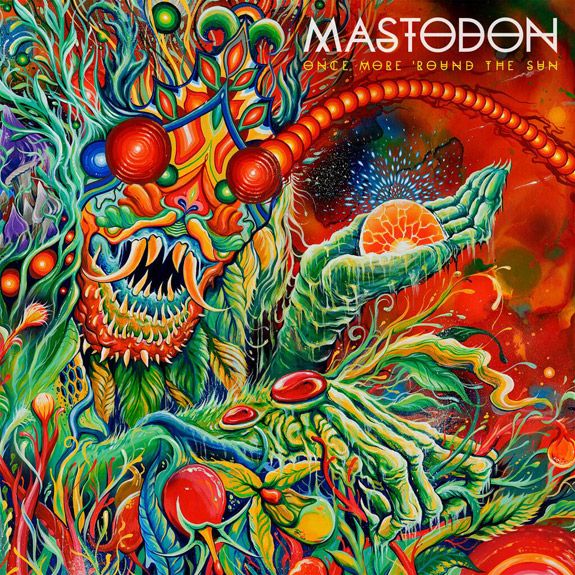 It would seem that the new Mastodon record Once More Round The Sun is going to be trippy as all hell, because the artwork we've seen so far seems to indicate a psychedelic-infused madness. Oakland-based artist Skinner contributed all the frighteningly beautiful artwork to the group's sixth full-length studio album, due out June 24th through Reprise Records. Album art of the year?
The full tracklist for the album has been revealed as well:
01. Tread Lightly
02. The Motherload
03. High Road
04. Once More 'Round The Sun
05. Chimes At Midnight
06. Asleep In The Deep
07. Feast Your Eyes
08. Aunt Lisa
09. Ember City
10. Halloween
11. Diamond In The Witch House (feat. Scott Kelly of Neurosis)
No silly song titles like 'Bedazzled Fingernails' and 'Octopus Has No Friends', which is somewhat disappointing in that we don't have anything amusing to gawk over in the tracklist. Surely the songs are fine, and perhaps the record will be more "serious" than The Hunter?
An audio visualization of the single 'High Road' has been uploaded, which shows off more of Skinner's artwork You can view it below:
Hopefully Reprise puts this album and its art to good use by packaging it with a killer color 2xLP vinyl gatefold. Expect preorders soon!
UPDATE: Reprise did indeed put together some killer packaging, but this version of the record will put you out $70. Ouch.
– JR