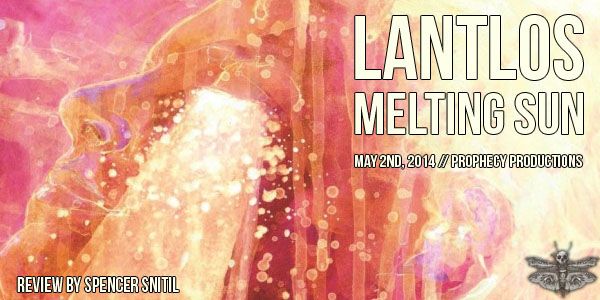 With Alcest moving to dream pop, it was only a matter of time that Lantlôs, another of Niege's former projects, moved away to more melodic music as well. Left with the daunting task of following up upon the heels of his wonderfully heavy Agape, Herbst decided to abandon the harsh vocals as well, making way for clean, melodic vocal passages. Alcest's record was hyped up for weeks and, while still a great record, got lost in the slew of new release that have since been put out. However, after repeated listens through Melting Sun, it becomes very clear that this record will never, and should never, get lost in the cracks. In fact, it's impossible. No record this powerful could ever get lost.
The album's six songs, together, form a masterful work of art that should be held at the highest caliber. The songs flow together beautifully, and while they aren't meant to be one continuous piece of music, it sure feels like one. The best part is how well these songs can stand alone. Each song is memorable in some way, whether it be from a guitar lick like in the opening section of 'Aquamarine Towers' to the closing section of 'Golden Mind', it's distortion-laden outro reverberating deeper into your mind. In fact, the final song may just be the best song Lantlôs have ever written. Its beautifully haunting vocal melodies brimming over such graciously distorted guitar fuzz and ambiance that brings a new perspective to the new black metal movement.
The absence of Niege also spelled the end of harsh vocals, at least for now. The entire album is sung by Herbst, and he does an absolutely splendid job. You can tell that he has been practicing his vocal warm ups and has been working hard on his singing abilities. The difference her, however, is that while he abandoned the harsh vocals, the songs still sound as if they could have them. The songs are heavily distorted, guitar-laden, amp-to-eleven pieces of work that could easily have harsh vocals over them, but instead these clean, sung vocals become the centerpiece of the entire album, vocal harmonies about and radiating outward, much like the glorious color artwork itself. The final piece of the puzzle would be whether or not the album actually sounded good in terms of production, and after one listen, you'll realize that not only is expertly executed, but also superbly produced.
Lantlôs have risen past their former masterpiece in Agape and created one of the best records of the year. It not only transcends genre definition but it makes a case that clean singing is not only possible, but can provide that little extra edge over albums that may come out from the same area of metal. This record will be on many best-of lists come the end of the year, and rightfully so.
Lantlos – Melting Sun gets…

4.5/5
-SS