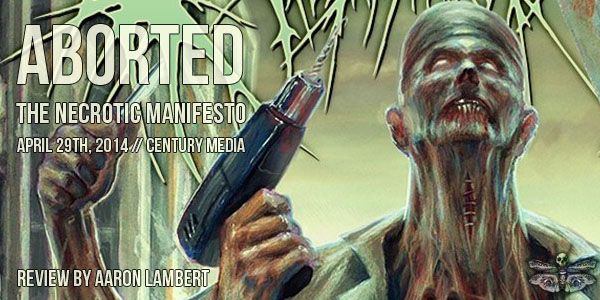 Eight albums into their career, Aborted are showing no signs of slowing down, despite being plagued with an ever-changing lineup. Sure, they've released a few duds, but their entire discography is for the most part universally celebrated, and it could be argued that Aborted are one of the few modern death metal bands who have stayed true to the ideals of the genre whilst evolving along with it. Their 2012 opus Global Flatline was released to critical acclaim, and for good reason; frontman and Aborted ringleader Sven de Caluwe has even said so himself that the album that preceded Global Flatline, Strychnine.213, wasn't really true to the Aborted sound, and on Global Flatline, Aborted got back in touch with their brutal, gory and groovy roots and created a modern death metal masterpiece. Global Flatline put Aborted back on the death metal map (even though they were never really off it) and proved that they are still an absolute powerhouse, and this rekindled momentum has led to the creation of Aborted's finest album to date, The Necrotic Manifesto.
Aborted have never been a band to pull any punches, and it's no different this time around. Right off the bat, you know what you're getting into; after a brief intro utilizing Aborted's staple horror-movie samples in the form of 'Six Feet of Foreplay', the Belgian gore-mongers burst into 'The Extirpation Agenda' with the full intention of extirpating the listener with their trademark brand of crunchy, groovy, shredding and blasting death metal. The groove-laden riffs and brutal slams are still abundant throughout The Necrotic Manifesto, and so are the vicious grind and hardcore elements that Aborted have always been partial to. What's also more noticeably prominent this time around is the lead guitar work, which stands out more than it ever has on any previous Aborted album. Guitarists Danny Tunker and Mendel bij de Leij are both top-notch shredders, and their compositions allow plenty of room for both of them to show off their chops; a welcome addition to the Aborted sound.
The songwriting and arrangements here are stronger than they've ever been before. Aborted are masters of balancing brutality, groove, technicality and catchiness, and the 14 songs found on The Necrotic Manifesto are among some of the strongest Aborted have ever written. The brutal grooves, razor-sharp riffs and staggering musicianship make this album a very addicting listen. Some songs flirt with melody, such as 'Die Verzweiflung' and the Hellraiser-inspired 'Cenobites', but they never do so at the expense of the brutality. Sven returns with his trademark deranged lyrics and gore-soaked vocals, further solidifying himself as one of the most talented and recognizable vocalists and lyricists in all of death metal. Also of note is the absolutely insane drum performance by Ken Bedene, whose wicked-fast blasts and cymbal flourishes further punctuate the sheer virtuoso musicality on display throughout this album. The album also features guest burps from Vincent Bennett of The Acacia Strain on 'Your Entitlement Means Nothing' and Phlegeton of WORMED on 'Excremental Veracity', and their cameos compliment each song perfectly. Aborted chose to enlist Jacob Hansen once again as producer, who produced what were arguably Aborted's best albums in the past, and once again, he did a fantastic job with it.
Aborted pay homage to their past on The Necrotic Manifesto by reusing one of the same samples they used on their debut album, The Purity of Perversion, as well as titling a song after that album. It's clear that Aborted are still very much in touch with their roots and haven't forgotten their humble beginnings, and this album proves they never will. The Necrotic Manifesto is a straight-up, no frills, kick ass death metal album that plays like an '80s slasher flick, and just might be Aborted's case for being called the best death metal band around. Not since the classic Goremageddon have Aborted been this focused and intent on ripping death metal a new one. It is in no way an overstatement to say that The Necrotic Manifesto is a modern death metal classic, not to mention one of the best albums of 2014. Who knew that getting your f***ing soul raped could be so great?
Aborted – The Necrotic Manifesto gets…

5/5
-AL