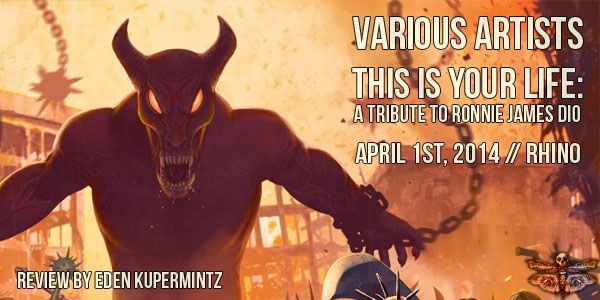 Ronnie James Dio. Roll that name off your tongue, for it holds the stuff of legends. Dio is undoubtedly one of the most important figures in the development of metal and heavy rock. From his time in Rainbow through his Black Sabbath years, Dio was one of the most prolific rock artists to have ever taken the stage. Countless artists grew up on his voice and peculiar antics. This writer managed to see him perform live with Tony Iommi, as part of their Heaven&Hell tour, and no eyes remained dry that night. When Dio passed away in 2010, the world of metal truly took a massive blow, losing a man that did not stop recording and performing even when he was battling cancer. Now, Rhino Records have gathered a tremendous number of artists to celebrate music from across this great man's career. Names like Metallica, Russell Allen, Rob Halford, Corey Taylor and Tenacious D have all brought their considerable talents to the table in order to do justice with this giant among men. The end result? An electric ode to a great voice, a tour de force of a career spanning 40 years of heavy metal.
When approaching such an illustrious career, containing not one but many metal anthems, one is met with an immediate dilemma: should these new renditions focus on recognizable tracks or instead shine a light on more obscure parts of the artist's career? This album finds the perfect balance: equal measure is given to legendary tracks, like 'Star Struck' or 'Neon Knights', and to less well-known tracks like 'Man on the Silver Mountain' or 'I'. The first can be evinced by what is undoubtedly one of the most powerful tracks in Dio's career: 'Rainbow in the Dark'. On the vocals here we have none other than Corey Taylor. Taylor brings his own unique vocal energy to the track while still keeping the original flavor of the piece. The result is a wild ride back to childhood, with Slipknot nostalgia mixing alongside the classic Rainbow sound.
The other category, that of less familiar songs, is best exemplified where we all knew it would with Tenacious D's version of 'The Last in Line'. These guys have already written one of the best songs in tribute to Dio, landing a feature by the man himself in their movie. Therefore expectations were already set high. Tenacious D hit a home run, completely making this track their own. Jack Black is obviously not a voice to be trifled with and he truly excels here, delivering a convincing performance. The other track in this category that deserves mention is the Scorpions' somber and touching depiction of 'Temple of the King'. The track drips with sorrow and loss, perfectly capturing that Rainbow nostalgia-tinged sound and delivering its unique imagery of lost kingdoms.
This album is obviously filled with many more excellent tracks and we could keep on writing a long love note to these faithful translations. Killswitch Engage's 'Holy Diver', a hit of its own accord since its release in 2006, is present here alongside a 9 minute long medley by none other than Metallica. At the end of the day though, you already know what you need to know: this is a magnificent tribute to a wondrous man who brought joy and dreams to many people. The album closes with Dio himself, performing 'This is Your Life'. When that song ends, with its heart wrenching piano, we are reminded what a unique man Dio truly was: spanning excitement, sorrow and anger with equal, puissant, aplomb.
Good night, sweet prince. We miss your enchanting voice.
-EK