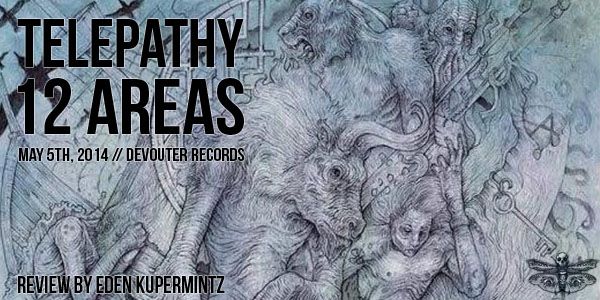 Instrumental music is a rising voice in the modern metal scene. There were always ensembles that created such music but with recent releases like Animals as Leaders and Conquering Dystopia, 2014 is already set to be a great year for instrumental metal. Into the broil we can now add Telepathy with their intelligent and emotionally taxing 12 Areas. Telepathy bring a unique sound to the instrumental arena: instead of focusing on technically extravagant passages, they turn instead to overbearing, post-metal sensibilities. 12 Areas is a dark and somber creation, channeling influences from Isis and other post-metal ilk.
The album is constructed in an interesting and bewildering manner: it opens on familiar notes with the drum-laden
'Saccade'
and
'Cystine Knot'
. Both tracks set the deep and unsettling tone of the album: drawn out passages littered with monolithic drums, slowly pulling you down into an inescapable choke-hold. The guitars and bass mainly work in tandem to deliver robust and bombastic main riffs. These are interspersed with quieter passages, filled with poignant guitars heavy on the reverb and anchored within familiar post-metal foundations. When
'Cystine Knot'
ends on a drenched chord, one feels that the next step should only go slower and heavier. But here begins the unique structure that makes
12 Areas
unique. The following track,
'Sleepwalker' is much more progressive and faster, turning now to a more Baroness type of sound. The guitars are intensely groovy, carrying a quicker note to them coupled with a more direct approach to riffing and leads.
From there, the album only keeps unfolding into a stranger creation. 'Sleepwalker' peters out into 'Breath – Motion' featuring almost two minutes of silence speckled by unidentified sounds. The track eventually turns into some sort of hybrid between the beginning of the album and space rock. The heavy post riffs are now joined by distorted guitars and touch and go drums that lead us on a broken trip. Nor are Telepathy done. After 'Deluge' is done, a short intermezzo reweaving some of the album's previous sounds, we are treated to 'To Kiss the Ocean's Floor'. Telepathy deserve recognition for this placement: this is by far the best track on the album. It amplifies the funereal overtones heard before and squeezes them for every last drop of emotion. The guitars on this track deserve especial recognition: whether carrying the main theme of the track via explosive riffs or exploring quieter renditions of what can only be described as the ocean bottom, they are both poignant and dominant.
12 Areas then is a unique beast in the instrumental landscape of 2014: it serves as a whole, a complete journey that takes the listener through various shades of blue. It tackles the challenges of instrumental music, to be interesting and unique but not scattered, with an original approach: rather than focusing on technical shenanigans it instead utilizes an overall fragmentary structure. That structure then is what keeps the listener hooked and attentive, since surprises are always waiting before he becomes weary. In terms of future endeavors, the band should seek a longer release perhaps in order to flesh out some of the motifs only hinted at with 12 Areas. In the meanwhile, let yourself be pulverized and then wildly scattered only to sink once more.
[bandcamp width=100% height=120 track=1043803539 size=large bgcol=ffffff linkcol=63b2cc tracklist=false artwork=small]
Telepathy – 12 Areas gets…


4/5
-EK