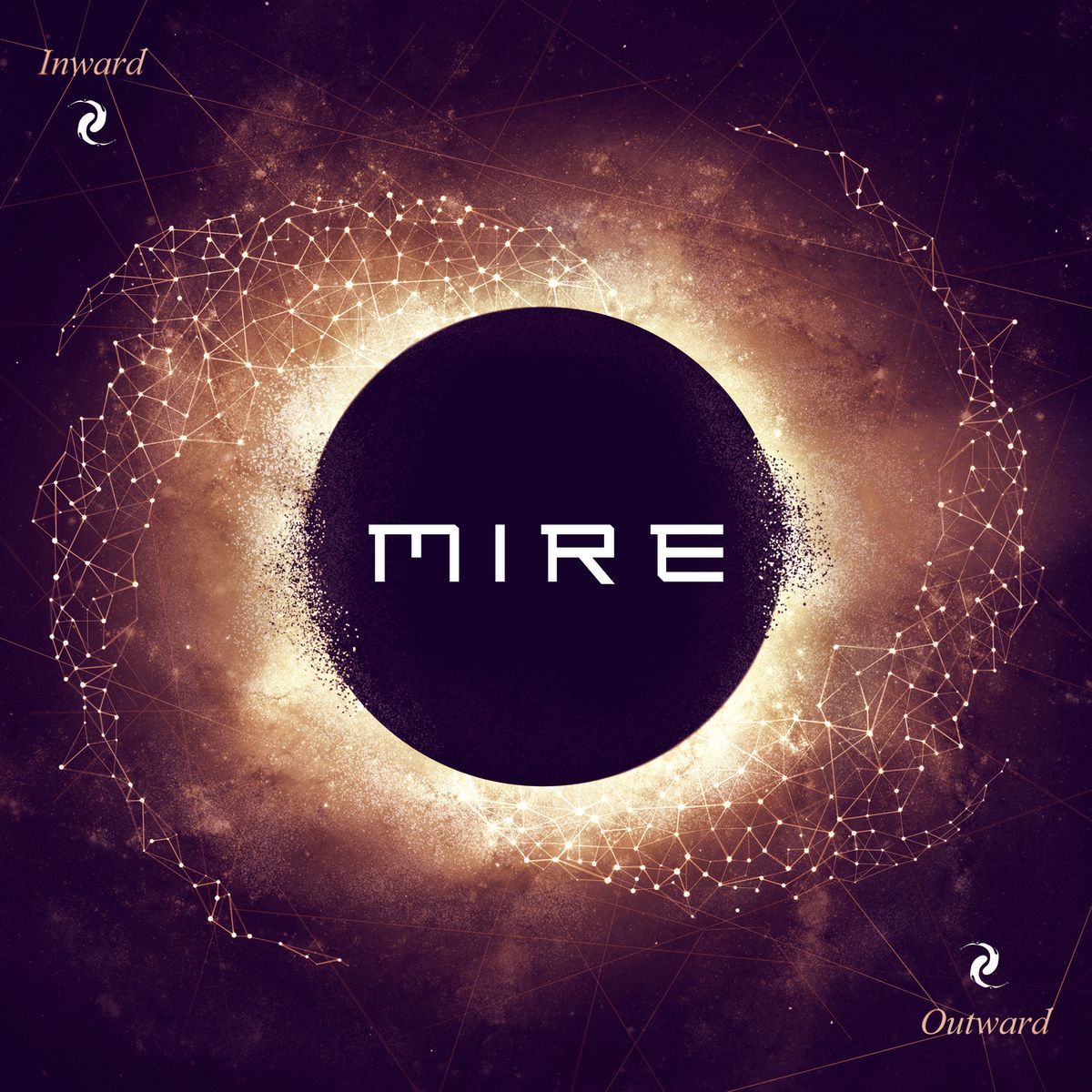 Mire
Inward/Outward
01. Complex
02. Tyrannicide
03. Limitless (pt. 1)
04. Limitless (pt. 2)
05. Convolution
06. Beast and the Machine
07. Catalan Atlas
08. Mantra Cymatic
09. Open Circle
10. Upheaval
[03/18/14]
[Self-released]
Sticky, sodden, stinking and sinking — Mire is not the most pleasant or imaginative of words to use to name your band and yet where once there was none, now we have two fighting to disentangle themselves; waving to grab our attention. Although their two worlds may not be a million miles apart, Mire (or MIRE if you're that way inclined) and their debut album Inward/Outward are most definitely not to be confused with the UK's aspirational post-metallists The Mire or their co-incidentally timed release Glass Cathedrals: see Jimmy Rowe's review. Rather, this version hail from Montreal in Canada and play aspirational, hook-laden rock with expansive passages of progressive experimentation.
Two years in the making, this mouth-watering beast is just the kind of tempting morsel that is far too easily discarded. It's a worthy long-player that rewards those who persist in the same way that the offerings of their forbears Tool, Nine Inch Nails and Deftones, those that they are so quick to name-check, did. Essentially, Mire imbue their work with an organic, rhythmical flow with room made for builds, spaces and crunches of varying length. On an emotional level, the album, rather appropriately, heads inward to the point of axis, 'Limitless', before heading back outwards. It is all, at once, both portentous attack and release music and expansive, progressive fare.
Kicking off strongly, 'Complex' strikes with biting rock in the style of Incubus, and to a lesser extent Audioslave, to quickly establish an early momentum yet, even this early, Mire aren't afraid to vary the pace and utilize ethnic instrumentation to stir up the formula a little. Going one better 'Tyrannicide' is chock-full of hooks, striding out with skidding guitar and scene-setting keys which reach out to tug down the most infectious of choruses. J. P. Lachapelle's vocal is powerful enough to grab your attention, his strong, melodious affectations aping those employed by Kevin Moore (Chroma Key, Fates Warning), Maynard James Keenan (Tool) and even those of Jethro Tull's Ian Anderson, but it's Stephane Boileau's dominating tribal drumming that holds it.
The central core of the album provides the majority of the ambient noodling and sprawling melodies. The two-part 'Limitless' stands apart gripping the listener with plucked verses, suitably soft boy-girl harmonics that echo O.S.I. in their occasional brushstrokes of electronica. Oddly, the central track, 'Beast And The Machine', tries all manner of styles but never fails to ignite fully. Any lack of impact is balanced by the enormous hitting power of 'Catalan Atlas', in which we are asked to "crack the code of God:, and the mind-blowing 'Open Circle'. The latter increases the pace, throws in plenty of rhythmic punch and comes loaded with sweet, soaring pop-rock as it juggles gut-rumbling bass and fizzing riffs.
There are moments of instrumental goodness that retain that sense of space that the album allows for. 'Mantra Cymatic' is a throwaway gimmick, much unlike 'Convolution' where you are thrillingly encased inside the amniotic sac of some vast machine where ear-to-ear drift takes you warping through a series of clanking anomalies. Later, these effects splinter and take on a visceral, infinitely more industrial edge for the very Tool-esque cosmic rush of 'Upheaval'.
Lyrically and thematically, it's a hugely memorable album. Toying with the concepts of (at a guess) self-aware machines, ultimate power and humanity, there are powerful lines that emerge to grip us. From the instant "Why don't you leave me alone / I don't wanna have to go" via the desperate "This addiction is a crime / Just kill to keep alive" and out to the sensitive "Crafted hatred, stripping naked / Fuck with my heart, crushing my head".
Despite Inward/Outward being an impressive opening salvo, there is still very much the sense that Mire are still feeling their way around their sound; sticking to the paths well-trodden. Progressive rock, of course, is a genre that will allow them time and room to experiment because they do need to find a new path of their own to journey down. The grittier, more emotive tracks here suggest they are more than capable of locating that.
Mire's Inward/Outward gets…

3.5 / 5
– JS