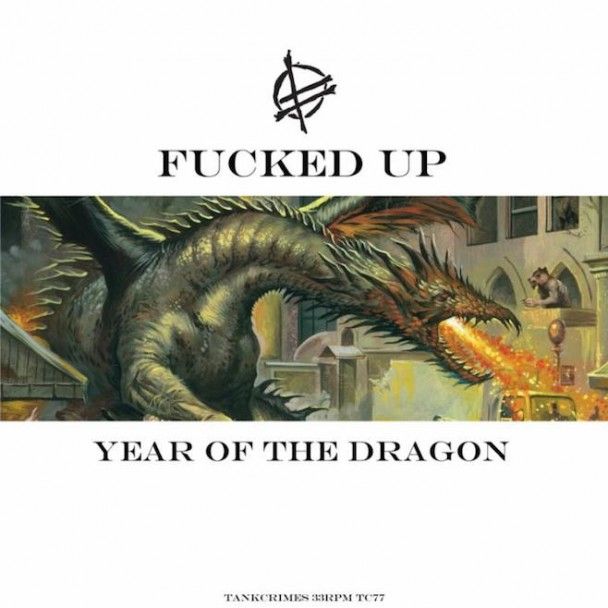 We haven't devoted much space here covering the Toronto hardcore/art-rock whirlwind that is Fucked Up, but that doesn't mean we aren't fans. The band will be releasing their fourth full length, Glass Boys, in June, but before that they'll be dropping a standalone single, the latest in their Zodiac series. 'Year of the Dragon' is a gargantuan musical feat, even by Fucked Up's standards.
Standing at an impressive 18 minutes, the track is all substance and no filler, save the few seconds of sparse guitar noodling at the very beginning. As soon as the whole band kicks in, it's all systems go, featuring the band's trademark mix of addictive guitar hooks with vocalist Damian Abraham's Tasmanian Devil barks. The track transitions seamlessly between fuzzed-out heavy prog, swirling psychedelics, and straight-ahead rock kickassery. This is some of the heaviest material from the band to date, and though it's unlikely indicative of any material to be featured on Glass Boys, I certainly wouldn't mind hearing more in the same vein.
https://soundcloud.com/user3105090/fucked-up-year-of-the-dragon
Fucked Up will be releasing the 'Year Of The Dragon' 12-inch on 4/22 through Tankcrimes, and Glass Boys is out via Matador 6/3, which you can pre-order here. You can also listen to the album's lead single, 'Paper The House,' here.
via Stereogum
– NC