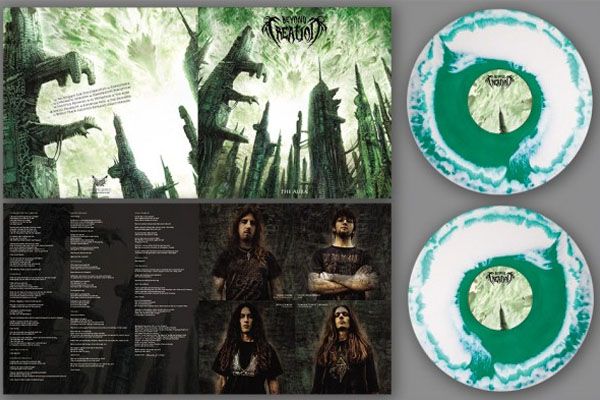 Finnish record label Blood Music have been the bastions of limited vinyl release for cutting-edge progressive and avant garde acts in extreme music. A few months back, I was able to get in my order for a now sold-out gorgeous re-pressing of Negura Bunget's opus, Om. The latest in their higher-profile limited represses comes in the way of Beyond Creation's celebrated debut album, The Aura. Pre-orders went on sale this morning, and supplies are already running low.
You guys had better act fast though. As of this posting, only 17 copies are available in the beautiful white/green swirl vinyl (pictured above) and 11 left for standard black in the US store. I've had to change those numbers once since I've began writing as well. The European store is running low just as fast. If you're in the US, the record will cost you a little under $40 after shipping. It's pricey, but if you're a collector like me, it's worth having such a rarity. Get em ASAP before they're gone. Orders will ship around June 3rd.
In case you're unfamiliar, get acquainted to Beyond Creation below.
– JR