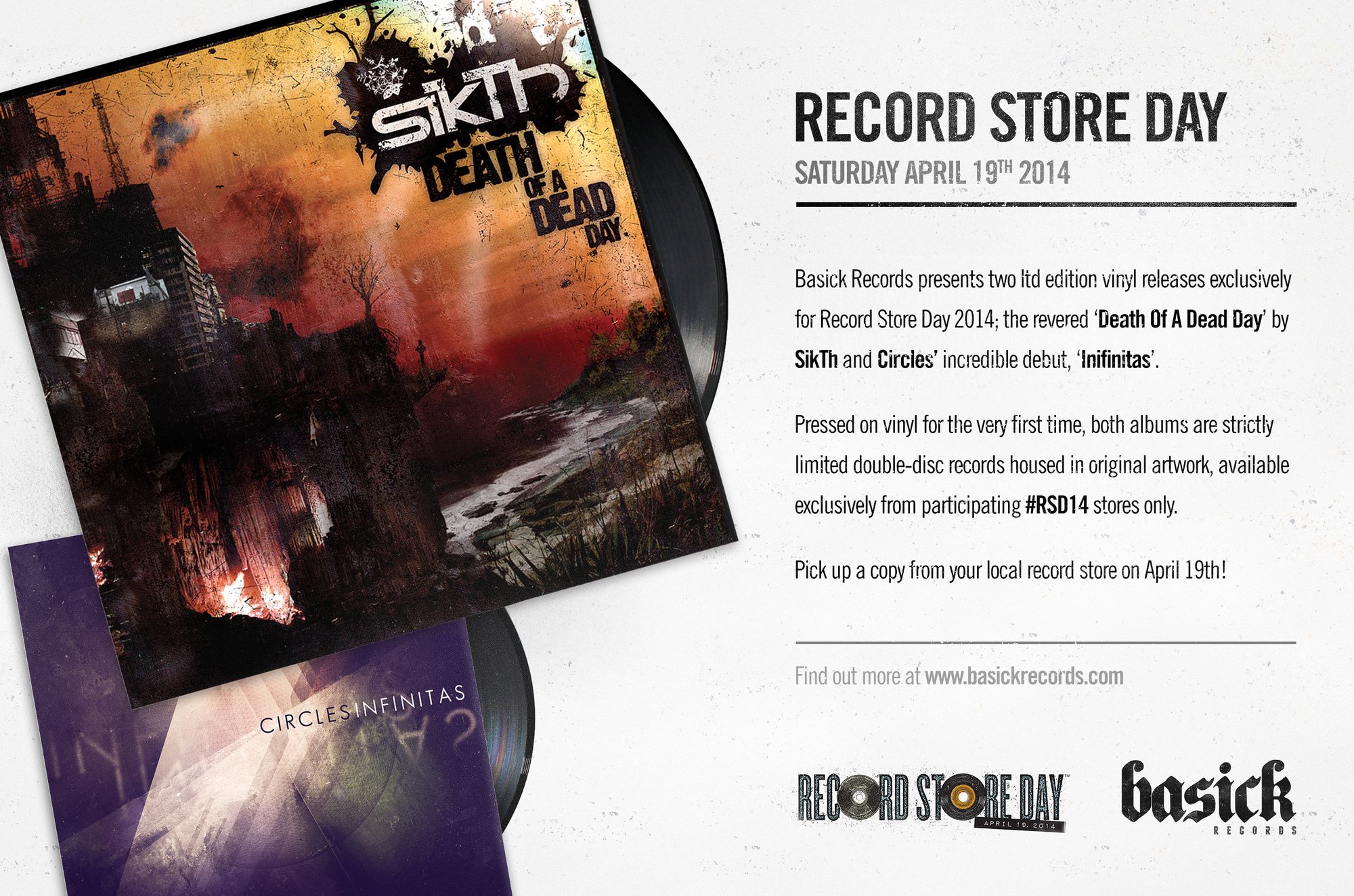 We get pretty excited about Record Store Day, as it gives many of us on staff a good excuse to blow a ridiculous amount of money on vinyl records. Not that I need that much of an excuse — my collection passed 100 this year — but the event often comes with an array of exclusive releases that see classics getting re-pressed, or even pressed for the first time on wax.
Basick Records went all-out last year by pressing the "big four" of their catalogue. This year, they're making an even bigger statement by releasing SikTh's classic record Death of a Dead Day as well as Circles' proper full-length debut Infinitas. This is a huge deal and I can't throw my money at Basick fast enough.
Here are the details from the press release:
Here at BASICK we are absolutely stoked to announce that we will be releasing two incredible vinyl albums exclusively for Record Store Day 2014; the revered 'Death Of A Dead Day' by SIKTH and CIRCLES' blistering debut, 'Infinitas'!
Pressed on vinyl for the very first time, both albums will be double-disc releases (with three tracks per side), housed in original artwork and available exclusively from participating #RSD14 independent record stores only.
Speaking about this year's release line-up, BASICK boss Nathan Barley Phillips had the following to say:
"Every year we try and think of creative ways to get involved with Record Store Day and support the brilliant independent shops that bring so much awesome music to the general public. This year, i couldn't be more happy to be releasing two of my favourite albums of all time.
SIKTH's 'Death Of A Dead Day' set the standard for all technically minded Metal bands that came after, ultimately inspiring artists like CIRCLES to create albums like 'Infinitas' – so to bring the two together under the same release day is a dream come true, both for myself personally and for the label in general."
Record Store Day takes place on Saturday April 19th 2014
To find your nearest participating store, click HERE
Unfortunately these records will initially only be available to those in the UK. Who am I gonna have to bribe to get a copy in the States? Hopefully Basick does what they did last year and sells copies online shortly after.
– JR