Big news happened in Australia over the weekend that will likely do no favors in public perception of extreme metal. In Brisbane's Soundwave festival tour stop, deathcore act Thy Art Is Murder kicked off festivities by requesting that fans take on the security staff and jump up on the stage.
Video of CJ's speech leading to the incident can be viewed below:
A by ear transcript reads as:
"I want all you guys, there's like, what? One, two, three, four, five, six, seven security guards. And like two and a half thousand of you guys. I reckon, you guys can beat these guys. So let's make these mother fuckers earn their money, get the fuck up on this stage. We are Thy Art Is Murder and this is Reign Of motherfucking Darkness."
Of course, this turned out to be a terrible idea in hindsight, as hundreds of fans overwhelmed security staff and rushed the stage, creating a dangerous environment for everyone involved.
This incurred the wrath of Soundwave organizer AJ Maddah, who took to Twitter to vent his frustrations: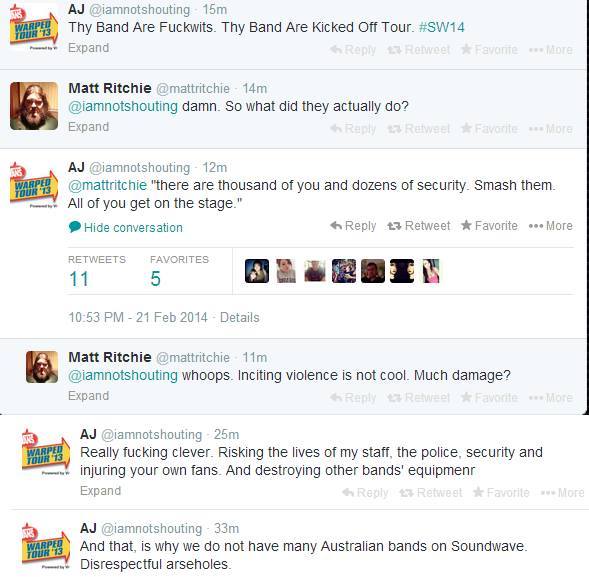 AJ also revealed that police nearly shut down the entire show.
After the heat died down, Thy Art publicly apologized and met with AJ. Fortunately, the group were given a second chance and will be appearing throughout the rest of the tour: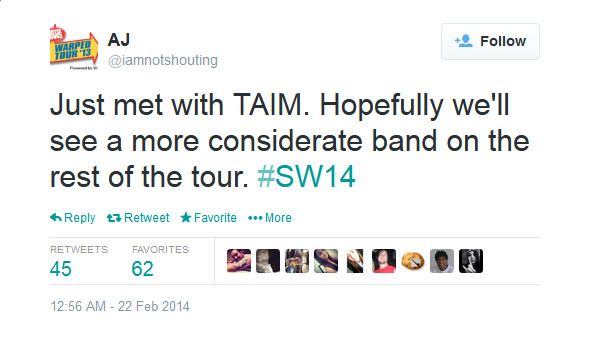 Footage of the event can be seen all over YouTube.
As bizarre and amusing as this news is, I'm of two minds about Thy Art's actions and the public response. On one hand, telling concert-goers to disregard and overpower security opens everyone at Soundwave up for liability. These days, safety for fans and staff alike is of mighty importance, and we certainly don't need another Randy Blythe situation, only this time the guilt would definitely lie in the hands of Thy Art for inciting a near-riot.
On the other hand, it must have been an unreal and unforgettable moment for fans of the band who made it up on stage at the show. The Dillinger Escape Plan does this sort of thing regularly without scrutiny, only on a smaller scale, and typically in venues without security in place to begin with. Sharing the stage with a band you admire will likely never happen to most concert-goers, and in that regard, it's pretty awesome.
However, safety does come first. People are litigious, and the implication of attending shows at your own risk just doesn't hold up, so the reaction was certainly warranted. Hopefully this situation blows over and we can all move on and have a good time. Be smart out there, folks.
– JR