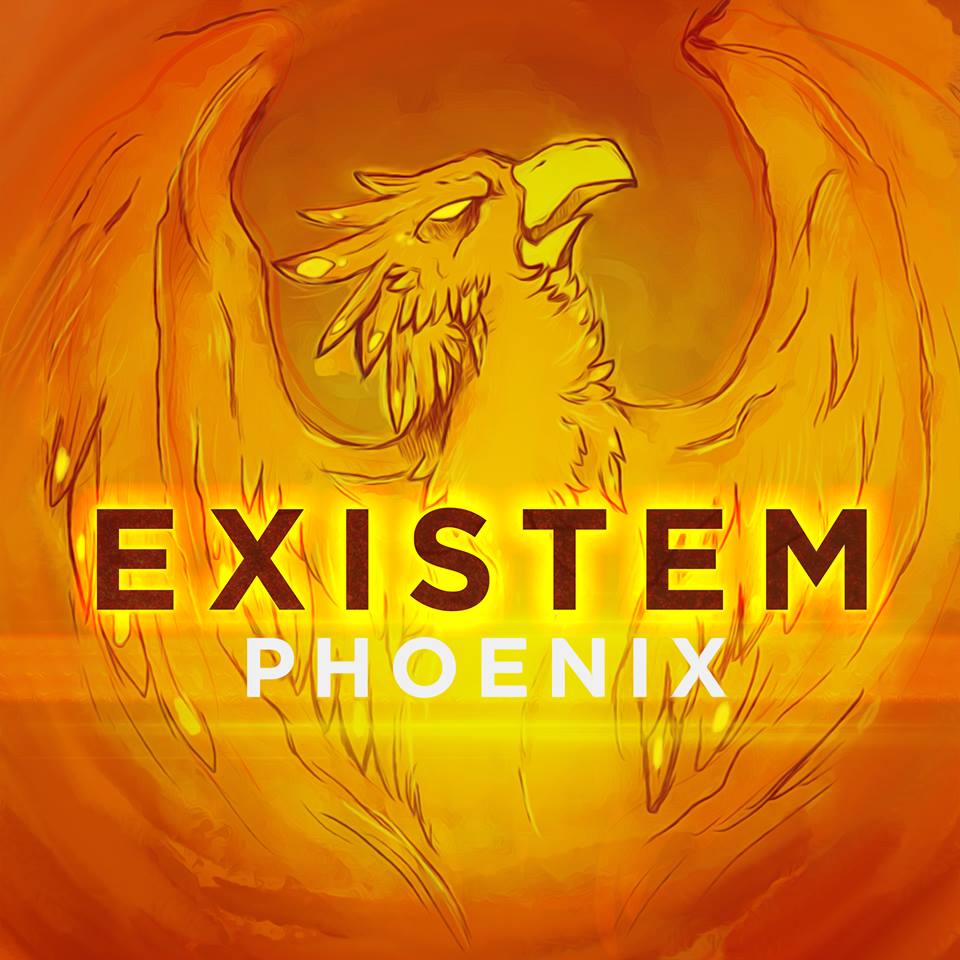 Existem
Phoenix
01. Epitaph
02. Phoenix
03. Memento Mori
04. Above or Below
[02/16/14]
[Self-Released]
The sight of a phoenix's birth, death, and rebirth is magnificent. It rises from the ashes of its predecessor as a fledgling, erupts in glorious flame, and takes flight. Eventually, it comes back to its roost, and bursts into fire, not only signaling the end of its life, but for the cycle to start anew. The new Existem EP, aptly titled Phoenix, delivers on embracing the mythology behind its name. Mostly.
The EPs opening track 'Epitaph' begins the cycle at its end, with horns and acoustic guitar that would fit well an old western film, but the title signaling a death of some sort. When those close, a crushing riff with a hefty southern flavor comes in and really kicks things off, breathing life into the EP as it ramps up in rhythm. It doesn't matter whether Existem are playing a clean section reminiscent of Between the Buried and Me or laying down a hefty-yet-bouncy groove—the band takes it all in stride.
The title track 'Phoenix' is an instrumental and doesn't suffer for it at all, with the proverbial flamed bird taking flight and soaring through valleys, in between the crags of mountains, and cutting through the air with little resistance. It's also home to some of the smoothest, most soothing guitar work on the EP. It even goes as far as to show signs of post-rock when it ramps up to this wonderful explosion of guitar intertwined with a string section until descending with grace, finally touching down to a rest. 'Memento Mori' continues the journey, and incorporates more beautiful string work in middle sections, followed shortly by a funky bass line and an incredibly tasteful guitar solo. This track is also home to some of the most accessible clean vocal work that could easily fit into an alternative rock outfit, but just as well finds its home with this exemplary progressive metal band.
'Above or Below' is the final part of the cycle, in which the our fiery feathered creature comes back home to burn brightly and perish. The longest track on the EP, clocking in at ten minutes and six seconds, goes through many transitions—almost as if a life cycle on its own. It ascends gracefully, lives its life while getting down and dirty with heavy bass lines and head-nodding grooves, and continues to power on with catchy instrumentation throughout. 'Above or Below' doesn't overstay its welcome, but also doesn't feel like the phoenix is bursting as it dies, instead capturing a slow, contemplative demise—the phoenix smoldering to ash as it begins its new life.
Phoenix does what it sets out to do, keeping you enthralled while you patiently wait for the next life cycle to begin anew. It not only does this successfully, but does so with style.
Existem's
Phoenix
gets…


4/5

-RC