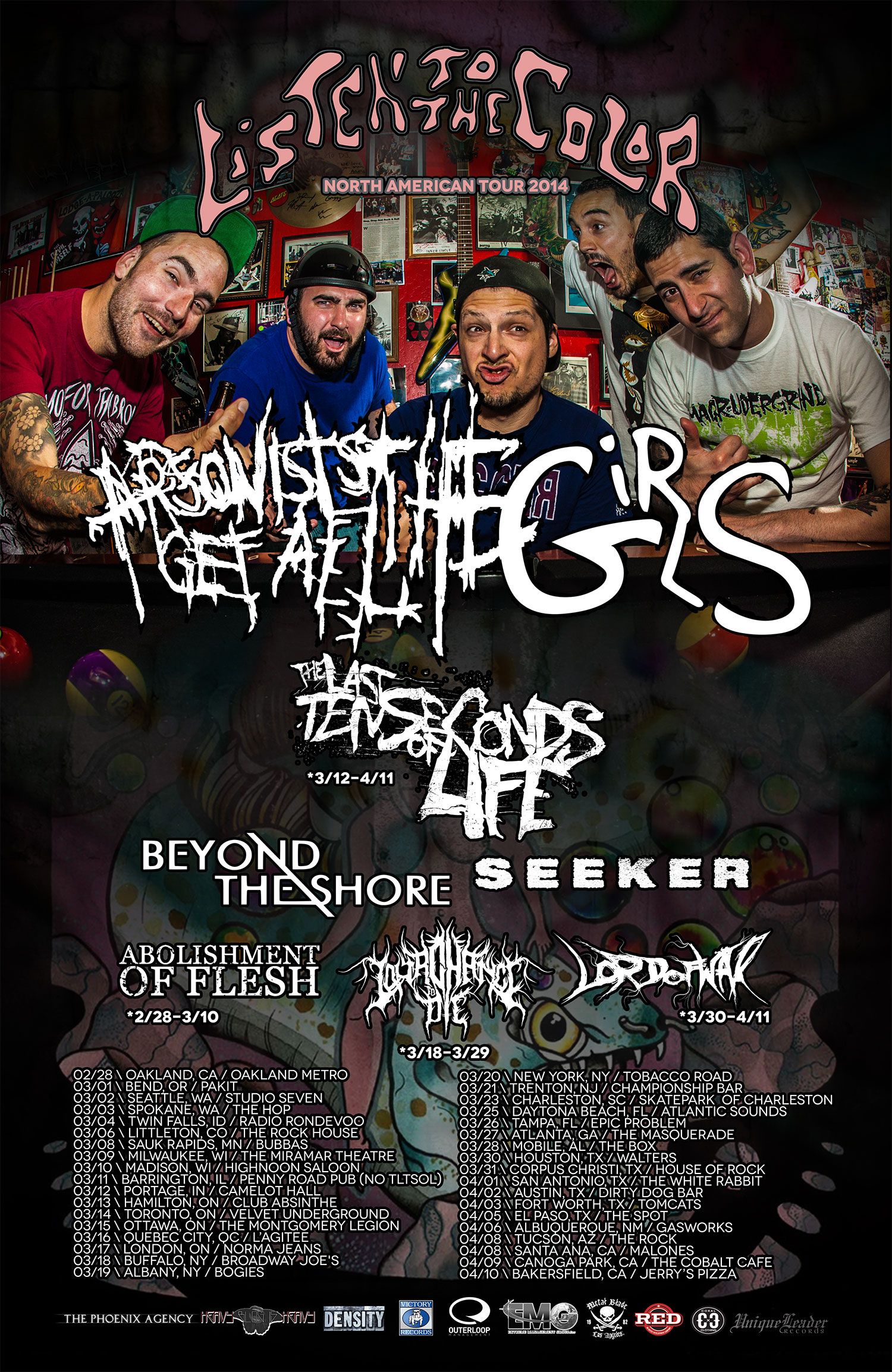 By now, you're plenty aware that we are one of the sponsors of the upcoming Arsonists Get All The Girls headlining trek. We're excited to be a part of the band's return to the road, but we got to get them safely around the country for this tour to happen smoothly before we can begin to celebrate too much.
With 15 days left in their IndieGoGo campaign to fund their new touring van (the last one blew out its engine on the way back from their last tour), the band are just over the halfway mark to their goal of 10,000. Let's make sure they get the rest!
Perks range from simple good karma and a social media shoutout to sweet opportunities like a drum and keyboard lessons. Hell, if you've got $1,200, they'll give you the drumkit Garin used to record their latest album, Listen to the Color. It doesn't matter if you have $1 or $100, the band could definitely use your help.
Head over to their IndieGoGo page and see what you can do to get the band back on the road.
Here are the dates:
February 28th – Oakland, CA @ Oakland MetroMarch 1st – Bend, OR @ PakitMarch 2nd – Seattle, WA @ Studio SevenMarch 3rd – Spokane, WA @ The HopMarch 4th – Twin Falls, ID @ Radio RondevooMarch 6th – Littleton, CO @ The Rock HouseMarch 8th – Sauk Rapids, MN @ BubbasMarch 9th – Milwaukee, WI @ The Miramar TheatreMarch 10th – Madison, WI @ Highnoon Saloon
March 11th – Barrington, IL @ Penny Road PubMarch 12th – Portage, IN @ Camelot HallMarch 13th – Hamilton, ON @ Club AbsintheMarch 14th – Toronto, ON @ Velvet UndergroundMarch 15th – Ottawa, ON @ The Montgomery LegionMarch 16th – Quebec City, QC @ L'agiteeMarch 17th – London, ON @ Norma JeansMarch 18th – Buffalo, NY @ Broadway Joe'sMarch 19th – Albany, NY @ BogiesMarch 20th – New York, NY @ Tobacco RoadMarch 21st – Trenton, NJ @ Championship BarMarch 23rd – Charleston, SC @ Skatepark Of CharlestonMarch 25th – Daytona Beach, FL @ Atlantic SoundsMarch 26th – Tampa, FL @ Epic ProblemMarch 27th – Atlanta, GA @ The MasqueradeMarch 28th – Mobile, AL @ The BoxMarch 30th – Houston, TX @ WaltersMarch 31st – Corpus Christi, TX @ House of RockApril 1st – San Antonio, TX @ The White RabbitApril 2nd – Austin, TX @ Dirty Dog BarApril 3rd – Fort Worth, TX @ TomCatsApril 5th – El Paso, TX @ The SpotApril 6th – Albuquerque, NM @ GasworksApril 7th – Tucson, AZ @ The RockApril 8th – Santa Ana, CA @ MalonesApril 9th – Canoga Park, CA @ The Cobalt CafeApril 10th – Bakersfield, CA @ Jerry's PizzaApril 11th – Santa Cruz, CA @ The Catalyst Atrium
– JR