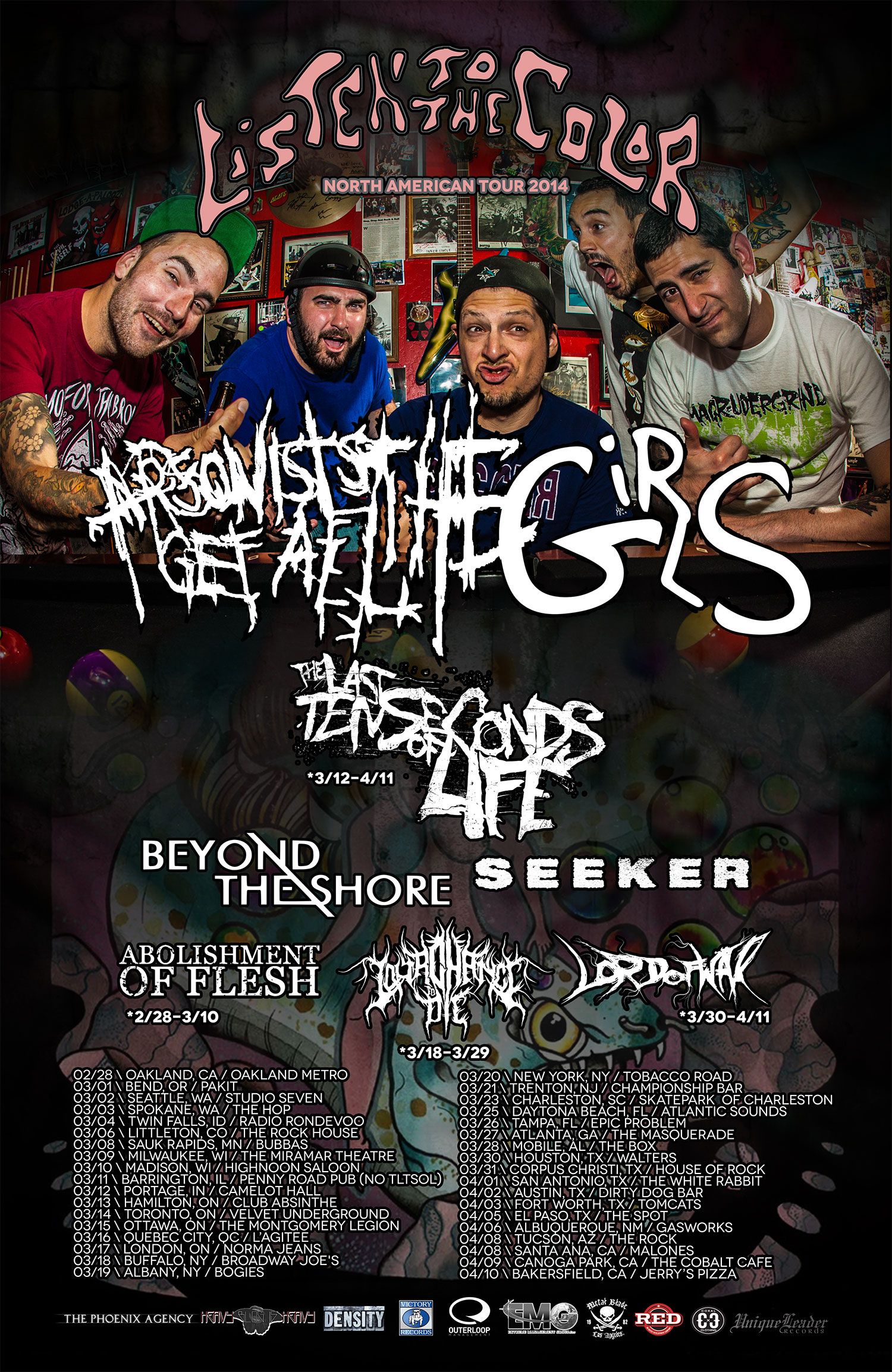 Arsonists Get All The Girls are hitting the road once gain! Surrounding the independent release of their latest opus Listen to the Color, the band had indicated that while they had plans to tour in the future, they weren't going to be hitting the road as hard as they have in the past.
Now, we're pleased to announce that we will be sponsoring their forthcoming Listen to the Color North American Tour 2014, which will feature a rotating lineup of support featuring The Last Ten Seconds Of Life, Beyond the Shore, The Seeker, Abolishment of Flesh, Your Chance To Die, and Lord of War!
Get the full details and tour dates after the jump, as well as information on how you can help the band out by contributing to their IndieGoGo fund for a new van.
Santa Cruz, California's progressive experimental band ARSONISTS GET ALL THE GIRLS (AGATG) are announcing their Spring 2014 headlining tour with support coming from THE LAST TEN SECONDS TO LIFE, BEYOND THE SHORE, and SEEKER.Three openers will be appearing on split dates, which include ABOLISHMENT OF FLESH, YOUR CHANCE TO DIE, and LORD OF WAR. The "Listen to the Color North America Tour 2014" will start the end of February and run for approximately 40+ dates across the US and Canada.On the way home after the bands last US Tour, AGATG van broke down in the mountains of California.  After being stranded for 35 hours, they were able to get home but the van was beyond repair making it impossible for them to get back out on the road.  To help the band get back out to their fans on this North American tour, AGATG are reaching out to the fans through an IndieGoGo campaign to help raise money for a new touring van.Perks of their campaign include autographed drumsticks, cymbals, and posters as well as rare stage backdrops used on previous touring, a chance to hang out with the band while on tour and drummer Garin Rosen's full drum kit used during the recording of their latest album "Listen To The Color".To help out the band – visit their IndieGoGo campaign here: http://igg.me/at/agatg.Previously signed to Century Media, AGATG decided to go the DIY route, for their fifth full-length album, titled Listen to the Color. This 15-track collection shows AGATG returning to their thrashy quirky roots. Recorded with Zach Ohren (Animosity, All Shall Perish), the album also features guest vocals from former AGATG vocalist/keyboardist Cameron Reed as well as Rob Smith (Heavy Heavy Low Low / Downstaaiirs), Kevin McCaughey (Ion Dissonances) and Robby Bancroft (Five Characters In Search of an Exit).Check out the full dates below for the LISTEN TO THE COLOR NORTH AMERICAN TOUR 2014.To purchase AGATG latest album visit: http://arsonistsgetallthegirls.bandcamp.com.LISTEN TO THE COLOR NORTH AMERICAN TOUR 2014DATES / LOCATIONS:ARSONISTS GET ALL THE GIRLSBEYOND THE SHORESEEKERABOLISHMENT OF FLESHFebruary 28th – Oakland, CA @ Oakland MetroMarch 1st – Bend, OR @ PakitMarch 2nd – Seattle, WA @ Studio SevenMarch 3rd – Spokane, WA @ The HopMarch 4th – Twin Falls, ID @ Radio RondevooMarch 6th – Littleton, CO @ The Rock HouseMarch 8th – Sauk Rapids, MN @ BubbasMarch 9th – Milwaukee, WI @ The Miramar TheatreMarch 10th – Madison, WI @ Highnoon SaloonARSONISTS GET ALL THE GIRLSTHE LAST TEN SECONDS OF LIFEBEYOND THE SHORESEEKERMarch 11th – Barrington, IL @ Penny Road Pub (no TLTSOL)March 12th – Portage, IN @ Camelot HallMarch 13th – Hamilton, ON @ Club AbsintheMarch 14th – Toronto, ON @ Velvet UndergroundMarch 15th – Ottawa, ON @ The Montgomery LegionMarch 16th – Quebec City, QC @ L'agiteeMarch 17th – London, ON @ Norma JeansARSONISTS GET ALL THE GIRLSTHE LAST TEN SECONDS OF LIFEBEYOND THE SHORESEEKERYOUR CHANCE TO DIEMarch 18th – Buffalo, NY @ Broadway Joe'sMarch 19th – Albany, NY @ BogiesMarch 20th – New York, NY @ Tobacco RoadMarch 21st – Trenton, NJ @ Championship BarMarch 23rd – Charleston, SC @ Skatepark Of CharlestonMarch 25th – Daytona Beach, FL @ Atlantic SoundsMarch 26th – Tampa, FL @ Epic ProblemMarch 27th – Atlanta, GA @ The MasqueradeMarch 28th – Mobile, AL @ The BoxARSONISTS GET ALL THE GIRLSTHE LAST TEN SECONDS OF LIFEBEYOND THE SHORESEEKERLORD OF WARMarch 30th – Houston, TX @ WaltersMarch 31st – Corpus Christi, TX @ House of RockApril 1st – San Antonio, TX @ The White RabbitApril 2nd – Austin, TX @ Dirty Dog BarApril 3rd – Fort Worth, TX @ TomCatsApril 5th – El Paso, TX @ The SpotApril 6th – Albuquerque, NM @ GasworksApril 7th – Tucson, AZ @ The RockApril 8th – Santa Ana, CA @ MalonesApril 9th – Canoga Park, CA @ The Cobalt CafeApril 10th – Bakersfield, CA @ Jerry's PizzaApril 11th – Santa Cruz, CA @ The Catalyst Atrium– JR