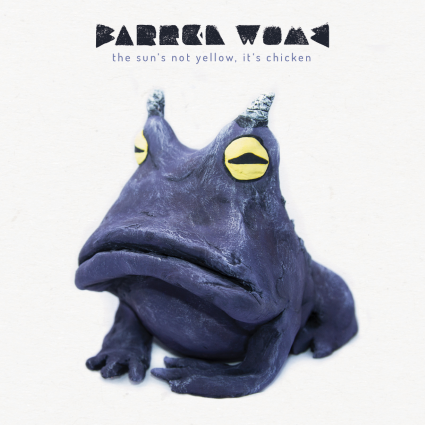 Barren Womb
The Sun's Not Yellow, It's Chicken
01. Kill Hicks02. Will you be God's art or Satan's graffiti?03. Evil prevails04. Only Rain Man doesn't change05. Nábrók06. Obi-Wan Chernobyl07. From robot jobs to robot homes08. Live fast, die.09. Bong Aqua10. Zombies never go out of style11. Assmasters of reality12. Nexus Diplomis13. Segway to heaven
[03/11/14]
[Spartan Records]
Digging into the backstory of Barren Womb, one might be intrigued by the bold statements of their biography. Here, they claim to "blend hardcore punk with elements of black metal, grindcore and country." Hell's teeth, that sure sounds like an exciting prospect. Having investigated further it appears that the "elements" are incredibly subtle ones and these Norwegian noiseniks don't, in fact, sound like Black Breath butchering Lynyrd Skynyrd songs. Happily, their more general description of them being "a nasty swill of noisy punk" is bang on the money.
As a duo, consisting of guitarist/vocalist Tony Gonzahl and drummer Timo Silvola, there is little mental conflict between them and their main aim, yet plenty of aural conflict in their combined delivery. The unrefined passion and the vital edginess that they pour into their music means they stand a million miles from most folks' preconceptions. Yes, you may have spotted the words "Norwegian, hardcore and punk" in that introduction and be expecting another Kvelertak-a-like to plop off the end of the conveyor belt (those fans can skip straight to the neck-snapping swagger of 'Assmasters of Reality'), but Barren Womb are, in fact, the chalk to Kvelertak's cheese. They don't sing in their Native language, they replace bottom-end grunt with mid-range scrawl, and they pay lip service to the concepts of groove. These edgy punks just don't wanna roll.
The production, throughout, has been stripped and stretched to within an inch of its life. Peer too closely and you'd swear this thing was see-through. Consequently, it's all piercing tones and cacophonous chaos. The ride bucks like a mule and spins like a tornado with the path and direction indeterminate and the destination unknown. An exciting prospect but, in reality, you'll be sweating throughout. Listening to The Sun's Not Yellow… is the equivalent of jumping from a plane blindfolded and without a parachute. From the introductory line of "It was like this when we found it!" screamed over the top of a hissing, firecracker riff through to the last few feet of 'Live Fast, Die', the total wall of noise that Gonzahl imposes on the listener is daunting.
Frequently, the music collapses into a wall of feedback and an avalanche of crash cymbal strikes. There's even a guttural undercut of black metal discord, especially noticeable in 'Evil Prevails' and 'Nexus Diplomis', which is like listening to The Sex Pistols sucking on the exhaust pipe of Belphegor. Here, Gonzahl summons up a few gargles and an imaginary upturned claw. There are busy leads, like the ones that lurk in 'Nábrók' and 'From Robot Jobs To Robot Homes', that crush into Silvola's piston-like drums to form the spine. As a rule, it's a nifty tool that allows the vocals (gang chants included) to really let rip and the result is, well, eclectic.
The unexpected smack of the ocean surface that breaks this album's fall is staggering. Track 9 is that watery grave – 'Bong Aqua'. It introduces a section where the reduction of pace gives all a chance to draw breath – that is gratefully accepted. Here, there is a sample of crashing waves with children splashing and yelping with delight and a gentle, laconic rhythm that completely releases the listener to soak up the acoustic tones and lush colours. Switching into the equally soft wash of 'Zombies Never Go Out Of Style' we get chanting and a disembodied narrator, mulling over the downside to "eternal life", mashed into our first hint of country swing.
Take all this chicanery into account and you've got an album that just about manages, albeit without a good deal of unseemly pushing and shoving, to cram in a huge variety of styles. It may be messy, it's undoubtedly indulgent, freakishly thought-provoking, part-spasmodic, part-impenetrable vitriol but, like the greatest of extreme challenges, it's a total adrenaline rush. The Sun's Not Yellow, It's Chicken is an album that requires total commitment and, consequently, one that might not get much "ear time", but you can't argue with the fact that (graphic band name, ludicrous album title and comic album art also taken into consideration) it shines out like a beacon.
Barren Womb – The Sun's Not Yellow, It's Chicken

3/5