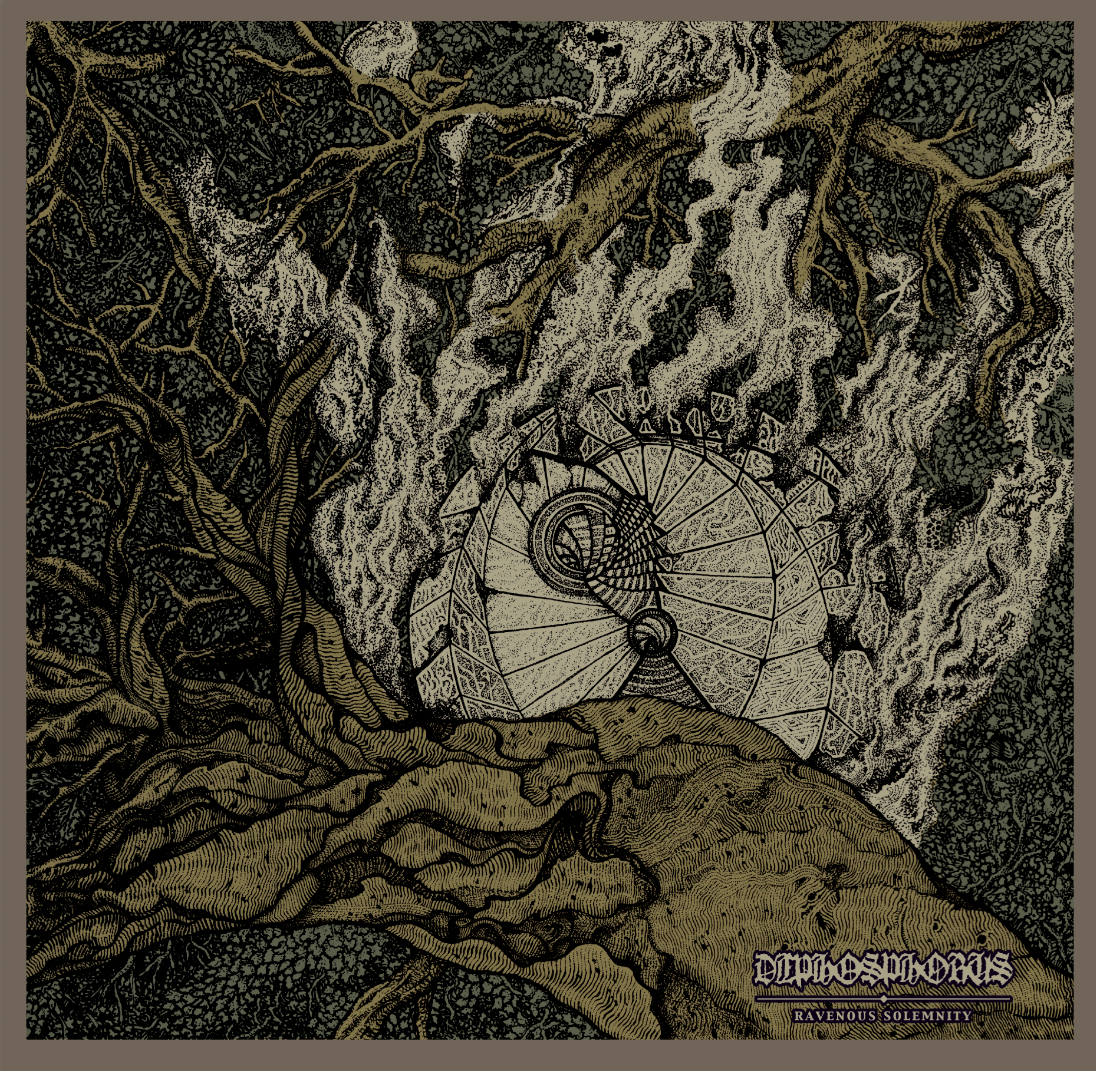 Dephosphorus
Ravenous Solemnity
01. Reversed into Contraction
02. There Is A Color
03. Ancient Drone
04. Dark on Dark
05. Astrocyte Portal
06. Storming the Sloan Wall
07. False Vacuum
08. Ravenous Solemnity
09. Towards the Cold, Mysterious Infinity
10. Hammer of Logic
11. Fountain of Daggers
12. Buried Alive In Obsolescence
13. Glorification of the Anti-Life Equation
14. Vicious Infinite Regress
[02/25/14]
[Handshake Inc]
Combining the malicious stargazing and chaotic density of Deathspell Omega with snarling grindcore and a crusty veneer may be a prospect too wild for most, but Greek metallers Dephosphorus have managed to carve themselves into such a niche. The internet has a knack for coming up with increasingly specific subgenres, and the band's self-coined "astrogrind" is as fitting of a description as any, though the implied "atmospheric" and "spacey" qualities that come with the phrase are nowhere to be found with their second full-length album Ravenous Solemnity.
Ravenous Solemnity is as its title implies; maddeningly immediate in its melding of genres and its desire to push the boundaries of extreme metal, yet with an aura of avant-garde and progressive grandeur. The record is thick with the type of discord made popular by the likes of Portal, Gorguts, and the aforementioned Deathspell Omega, but condensed to more short-form songwriting that glides between walls of atonal noise, angular guitar leads, and catchy grooves. 'Storming the Sloan Wall' and 'Vicious Infinite Regress' in particular offer memorable guitar tech that absolutely makes Ravenous Solemnity such a thrilling listen. Elsewhere, riffs so mean that they might as well have been born from the fingers of Pig Destroyer's Scott Hull himself pop up in tracks like 'Ancient Drone' and the album's title track. There's no shortage of hooks on Ravenous Solemnity, which is no small feat considering just how abrasive it is.
There's also an unpredictability and a versatility about Dephosphorus that makes Ravenous Solemnity so engaging. The band seamlessly stalk between nearly incompatible stylistic demonstrations without deviating from the album's overall tone. Speedy guitar licks fly between passages of brooding doom and punk chord progressions alike. Even the vocal performance from frontman Panos Agoros isn't bound by a narrow playbook; for a brief moment, the maddening howls are replaced by vocodor in 'Astrocyte Portal,' a risky decision that completely pays off and could (should?) have been utilized throughout the album.
As one could imagine, what with its stylistic lineage, Ravenous Solemnity is a challenging listen. Grind is known for burning bright and fast — and for good reason, given the lack of dynamic and the volume pushed to the max — but Ravenous Solemnity pushes itself past forty-minutes in playtime. The slightly slower pacing of the sludgier dirges and a fair amount of hooks helps alleviate the fatigue, but Ravenous Solemnity could have afforded a culling or two to make the record less tedious.
Despite its near-colossal length though, Ravenous Solemnity is a mind-bending experiment in the strange and maddening depths of forward-thinking extreme metal fusion. Sure, the idea of blackened grindcore has been explored before in various ways, with bands like Absvrdist and Anaal Nathrakh "popularizing" the style (if such a thing is really possible), but Ravenous Solemnity resides in its own ethereal plane. Dephosphorus have delivered one of the first stellar record of 2014. Being blown away this early must be a great sign.
https://soundcloud.com/handshake-inc/dephosphorus-there-is-a-color
Dephosphorus – Ravenous Solemnity gets…

4.5/5
– JR