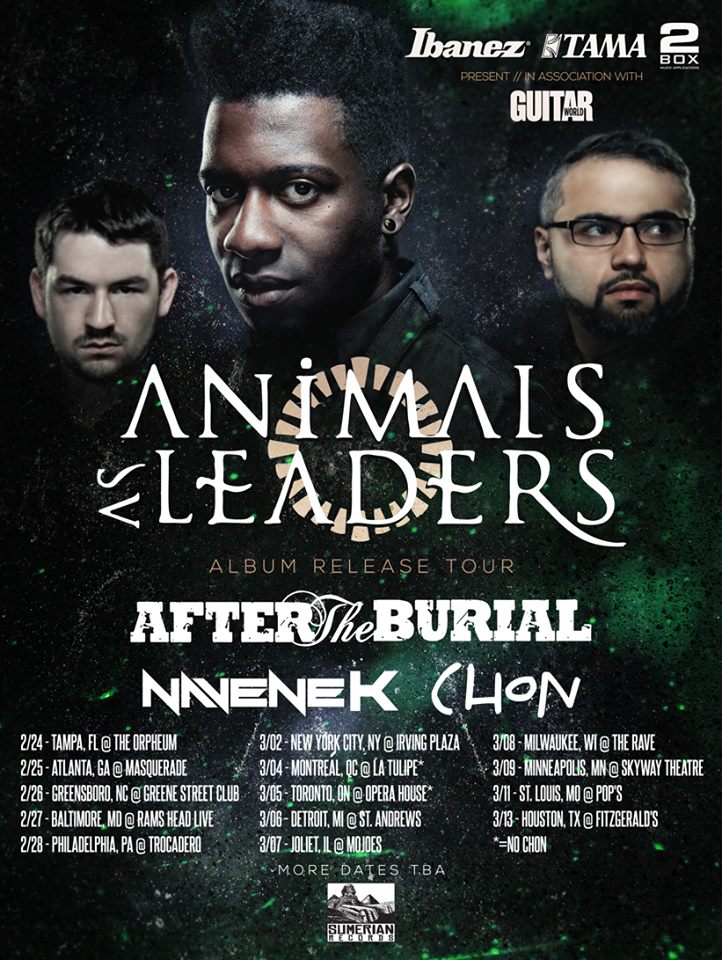 We're a bit late on covering this bit of news, but it's always better late than never. The tour also recently expanded its tour dates, so what better time than now? Instrumental favorites Animals as Leaders will be embarking on a headlining tour across North America with After the Burial, Navene K (the electronic project of former AAL drummer Navene Koperweis), and unsigned tech-hounds CHON. Sumeriancore will be defended.
Dates are as follows:
02/24 Tampa, FL – The Orpheum
02/25 Atlanta, GA – Masquerade
02/26 Greensboro, NC – Greene Street Club
02/27 Baltimore, MD – Rams Head Live
02/28 Philadelphia, PA – Trocadero
03/02 New York City, NY – Irving Plaza
03/03 Boston, MA – House Of Blues
03/04 Montreal, QC – La Tulipe (no Chon)
03/05 Toronto, ON – Opera House (no Chon)
03/06 Detroit, MI – St. Andrews
03/07 Joliet, IL – Mojoes
03/08 Milwaukee, WI – The Rave
03/09 Minneapolis, MN – Skyway Theatre
03/10 Des Moines, IA – Wooly's
03/11 St. Louis, MO – Pop's
03/13 Houston, TX – Fitzgerald's
03/14 Austin, TX – SXSW
03/15 Austin, TX – SXSW
03/16 Dallas, TX – SBSW
03/18 Denver, CO – The Summit Music Hall
03/19 Salt Lake City, UT – In The Venue
03/21 Calgary, AB – Republik (no Chon)
03/22 Edmonton, AB – Starlite Room (no Chon)
03/24 Vancouver, BC – Rickshaw Theatre (no Chon)
03/25 Seattle, WA – El Corazon
03/26 Portland, OR – Hawthorne
03/27 Sacramento, CA – Assembly
03/28 San Francisco, CA – Regency
03/29 Las Vegas, NV – Extreme Thing (Animals As Leaders only)
03/30 Los Angeles, CA – Roxy
The PRP also claims that we can expect a new Animals as Leaders record out at some point in this timeframe. That's news to me, even though I should have noticed how "Album Release Tour" is featured on the poster. Oops. Be on the look out for some more official word on the group's third album in the coming weeks if that's the case.
– JR