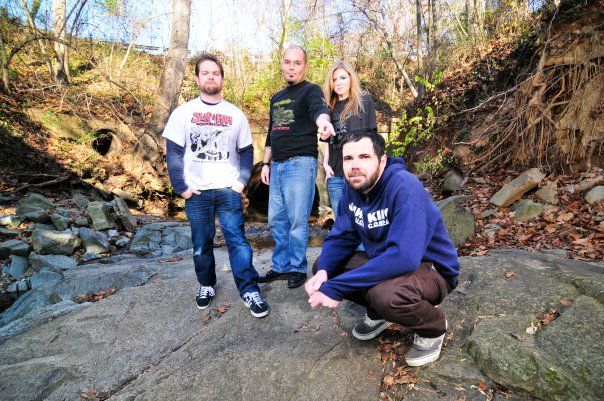 Earlier today we brought you some word on a potential new Pig Destroyer record coming up this year while mentioning the fact that Scott Hull's other band Agoraphobic Nosebleed were working on FOUR different records, each one catered to each member's own tastes. Over the break, the band elaborated a bit on what could be expected from the quadruple output, and it looks like they're not simply doing pissed off cybergrind and powerviolence anymore.
Kat Katz, one-third of the ANb vocal front, took to the band's Facebook page to let fans know that progress was being made:
Working on lyrics for the ANb doom album. Hope y'all will like them…
She also promised in the comments a "variety" of vocal styles on her record. Fellow vocalist Richard Johnson elaborated more in-depth:
Following up on Kat's post about her doom record for ANb, a while back I got asked for a comment about the four ANb records for Revolver. I don't know if it ever ran, but I get asked a lot about what the hell is going on with the "solo albums." An excerpt from the comment:
"Each of us will write lyrics for our releases (as opposed to Jay Randall historically writing the lion's share) and decide on guest appearances, if any. We're each collaborating with Scott, who's going to write and record all of the music for all four records, instead of everyone together. Kat's is going to be doom, which is no surprise given her [old] band Salome, Jay's I think will be something along the lines of MOD or Gang Green and that sort of thing, mine will be Godflesh worship, and if I'm not mistaken Scott is doing a prog-ish record."
That's how it stands as of now. One of the questions I'm often asked is "When are they going to come out?" Well, Scott Hull has been selfishly writing and recording and performing with Pig Destroyer lately, so after he's done with that for a while he'll dig back in to the four releases. And Kat's writing lyrics as she posted because Scott's music for her record is in progress.
Thanks for your patience, everybody. This project is drawn-out, but it'll see the light of day eventually. When that happens, we'll have to pull out one of our slogans from the "Frozen Corpse" days: Smash your beer against the wall and kick over the coffee table—it's GO TIME with Agoraphobic Nosebleed!
So under the ANb umbrella we'll be getting prog, doom, crossover thrash/hardcore, and industrial. While I'm gonna miss the "gonzo grind" the band have been known for, these records should still be highlights for — presumably — 2014.
– JR