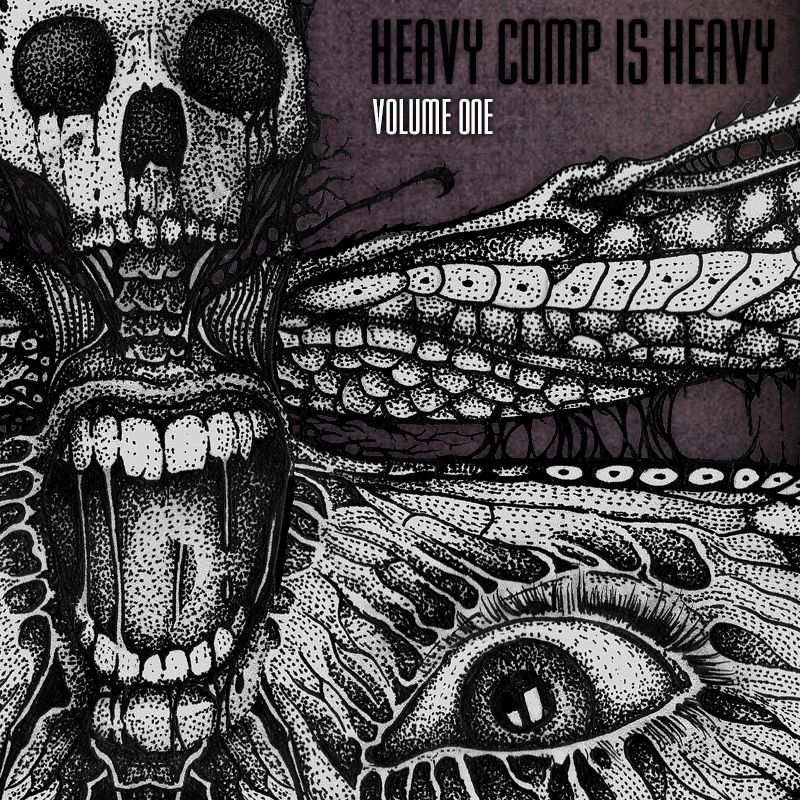 'Tis the season of giving and good will to all men and women, so we here at Heavy Blog decided to get into the swing of things by putting together the very first edition of Heavy Comp Is Heavy, showcasing some amazing and truly ear-battering new bands that are sure to be making huge waves in the coming years. From frantic mathcore, to bombastic prog-acrobatics, to sleek death metal, to filthy powerviolence, to majestic post-black metal and many points in between, HCIH Vol. 1 is enough of an eclectic listen that everyone is bound to find something they'll enjoy. So head over to the Bandcamp page now, either stream or pick up a copy in a selection of formats and let us know what you think!
If Bandcamp asks you to pay for our compilation, use this link to download via dropbox instead!
01. Murdock – Brain Face
As the aural equivalent of ramming your face through a pane of glass, Irish math-y hardcore act Murdock will make more of an impression on you in two minutes than many bands manage in an entire album with 'Brain Face'. Sitting somewhere between the manic chaos of The Dillinger Escape Plan and the anthemic undercurrent of The Chariot, Murdock look set to carve themselves a niche in the hardcore scene very early on and show no signs of stopping there.
After recently signing with Basick's sister label Destroy Everything, the band are set to release a new album in early 2014.
02. David Maxim Micic – Smile
David Maxim Micic, is quite simply, the next Devin Townsend. He has an undeniable knack for incorporating an insane number of ideas and styles into his songs and still manages to make them flow beautifully. Take for instance, 'Smile', from the third installment in his Bilo series — opening with an upbeat atmosphere, twinkling keys and a guitar tone that could crumple mountains, the journey only becomes more vibrant as time goes on with harsh female vocals, juddering guitars, anthemic choruses and even some bombastic operatics further in. Unlike anything else you've heard all year.
Ever the workaholic, DMM has apparently already begun work on the follow-up, Bilo 4.0.
03. Herod – The Glory North
Herod is a powerful name for a powerful band. Only a band content to sling forth the sludgiest and heaviest riffs imaginable could fit the name and Herod do a damn fine job of it here on 'The Glory North'. Hailing from the great land of Switzerland, the band unveil a sound that captures Cult Of Luna levels of oppressive atmosphere and Isis-ian primal heaviness and doses it heavily with chunky riffs that weave infectious rhythms that will stick with you for a hell of a long time.
They Were None, from which 'The Glory North' is taken, will see a release sometime in 2014 with full details coming soon.
04. Heretika – The Statement
Comprising of long-time contributor Noyan and resident photographer Nick Budosh, alongside Carthage bassist Ian Wilmot, Heretika is a celebration of everything that is great about blackened death metal. Whether it be the bombastic orchestral flourishes or just straight-up punishing riffage and blastbeats, 'The Statement' provides it all in equal measure through out it's six minute duration.
Not content to punish our ears with simply one track, Heretika are readying a 5 track EP for 2014.
05. John X McClane – Glass Itch
Loud, abrasive, noisy and filthy — this is the world of powerviolence as portrayed by the UK's John X McClane. At only a minute long, with about ten seconds of that dedicated to showing off their knack for finding odd but perfect samples, they don't waste any time cutting to the point and producing ruthless and grinding powerviolence in the same vein as luminaries Magrudergrind or Weekend Nachos. Yippie-kai-yay, motherfucker.
Brace your butts for a new EP, coming early 2014.
06. Behaviorist – Vessels
If this is the kind of a deranged mindset that owning a metal blog puts you into, then there's an untapped metal goldmine here.
Courtesy of head honcho Alkahest with help from contributor DeusExMachina comes 'Vessels' via their grind-prog-death-kitchensink-core project, Behaviorist. Channeling, via some unholy ritual, the riff database that is Scott Hull before descending into a feedback laden droning hellhole and back again, 'Vessels' is a listen that holds no qualms in violently shaking you through a multitude of ideas.
07. Aeolist – II
Dubbed 'the best thing to come out of Norwich since Alan Partridge' by OneMetal, this UK progressive metal act are fast making waves with the recent release of their debut self-titled EP. 'II' meanders through a plethora of heavy and winding sections, the sort that would make Between The Buried And Me proud, before descending into a smooth and jazzy clean section that, unbelievably, fits the music absolutely perfectly. If a band is capable of pulling this sort of music off with their first release, the future looks incredibly promising.
08. ██████ – I
Enigmatic would be putting it lightly. This impossible-to-Google quintet from the Czech Republic put together some expansive post-black metal on their debut demo and 'I' is the perfect track to encapsulate their sound. At seven minutes long, the track moves through delicate clean and reverb drenched guitars before unleashing a torrent of distortion, blasts and unearthly screeches. Beautiful, in the most horrifying way possible.
Be on the look out for a new split release in January 2014 with Old Soul.
09. Torrential Downpour – Phaneron
Explaining the music of Torrential Downpour is a lot like taking the time out to explain to your passengers why your car is careening towards oncoming traffic just before you crash it. It never quite captures the full effect and the end result is just a whole lot of destruction anyway.
Taken from their recently released free EP The Phaneron, the title track mixes off-kilter math-y freak outs with space-age synthesizers and vocals that have a range that could easily be mistaken for the legendary Mike Patton.
2014 brings us the band's debut full length, Truth, Knowledge, Vision.
10. The Zenith Passage – Cosmic Dissonance
If laser-precise and ultra-tight death metal is your bag, then The Zenith Passage are a band you NEED to know. Mixing the turn on a dime changes and musical prowess of The Faceless with the penchant for head-moving groove à la Suffocation, 'Cosmic Dissonance' shows exactly why this band are turning so many heads at the moment, with riff upon brilliant riff piled in alongside rabid vocals and ruthless drumming.
Now signed with Unique Leader Records, the band are set to release their debut LP in 2014.
11. The Colour Line – Thrash Bandicoot
Boasting one of the most notoriously insane live shows around these days, Hull's own The Colour Line make some of the most mental music coming out of the UK these days. The sort of mathcore that in a live setting would cause large swaths of people to flail themselves around in some vague attempt at 'keeping up'. But beyond that, 'Thrash Bandicoot' is one hell of an addictive listen that so very masterfully walks that line between obviously competent musicianship and sheer unbridled chaos. Keep your eyes on this lot, but not for too long or you may just lose one.
Now signed with Destroy Everything, the group are currently putting the finishing touches on a new EP.
12. Encircle – The Third Impact
Instrumental metal is a dangerous route to take sometimes. The difference between self-indulgence and great song writing is too often misunderstood but here with Encircle, the solo project from long time friend of the site Alucard, those worries disappear the moment that first great riff kicks in. 'The Third Impact' twists and meanders it's way through a whole host of ideas and passages, but at the heart of it all, lies a huge understanding of what makes a tasteful and grooving instrumental.
13. Underling – Erosion
Comprising of members past and present of some extremely formidable metal bands, including Fallujah, & Arkaik — Underling wasted no time in proving their worth with their recently released Breath Deeply EP. The sound they invoke upon 'Erosion' is the perfect example of merging the harrowing and heavy atmosphere of black metal and the dense soundscapes of post-rock, all culminating in one of the most captivating listens you'll have all year.
14. Sleepers Awake – The Fulcrum
Containing one of the single most infectious and instant hooks I've heard all year, 'The Fulcrum' is the last track and climactic finale to the seventy minute epic Transcension, that takes influence from across an entire spectrum of bands ranging from classic rock anthems like Queen to more modern day progressive virtuosos such as Mastodon. Sleepers Awake sit in their own niche in the progressive world, making music that sounds fresh and exciting while still paying their respect to the great acts that came before. If you like progressive music and you're a fan of genuinely great songs and not technical exercises, then Sleepers Awake may be your new favourite band.
15. NYN – Oppression Unsheathed
The second entry from resident editor and contributor Noyan is taken from his solo project NYN, that seeks to put together some crushing and meandering death metal that invokes all the elements that made genre defining bands like Death, Obscura and modern day Behemoth so captivating. 'Oppression Unsheathed' tears through 6 minutes of progressive-minded death metal with some of the most instantly satisfying and winding riffage you will hear all year and even some twists and turns you may not be expecting.
16. Hope Drone – Grains
Australia may not be the most likely home for black metal, but with the captivating racket that Hope Drone produce, you be forgiven for being mistaken. Oppressively bleak and endlessly haunting, 'Grains' shows off exactly why Hope Drone is one of the single most promising releases to come out of Australia in recent memory, even in a year as brilliant as 2013. At 8 minutes long, it's a hell of journey, but worth every single darkness-drenched second.
Be sure to catch the band as they support the mighty Deafheaven in their homeland this January and a huge thanks to Ross over at American Aftermath for bringing this group to my attention.
Happy Holidays!
– DL