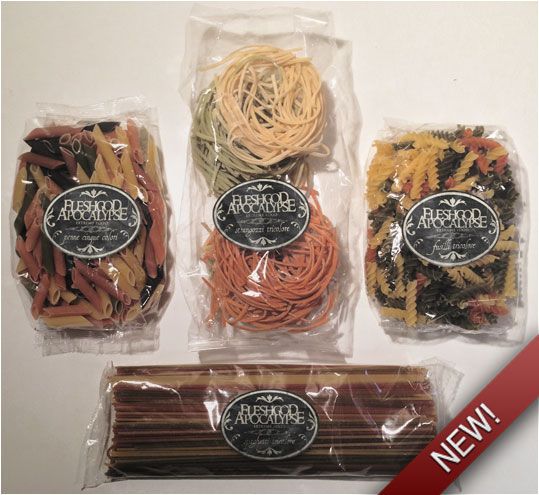 As if they couldn't get any weirder than their own brand of wine when it comes to their Italian-themed merchandise, symphonic death metallers Fleshgod Apocalypse are now selling their own special line of pasta. You can't even make this up.
Admittedly, my knowledge of Italian food is shamefully limited, so whether or not this is a good value or of high quality is beyond me. This unique line of Fleshgod Apocalypse branded pasta is probably more "authentic" than just about anything at your local grocers, considering it is produced and packaged in Foligno, Italy.
Here's what the package gets you:

PENNE CINQUE COLORI (250g)
STRANGOZZI TRICOLORE (250g)
FUSILLI TRICOLORE (250g)
SPAGHETTI TRICOLORE (500g)
At 28€ (~$38 US), this ain't cheap. As far as novelty items go however, it's quite interesting, and certainly got people talking about the band in a positive light around Facebook. So mission accomplished!
Pick up a package of Freshgod Apastalypse over at the band's official website, and be sure to catch up on the band's new album Labyrinth, out now on Nuclear Blast.
– JR