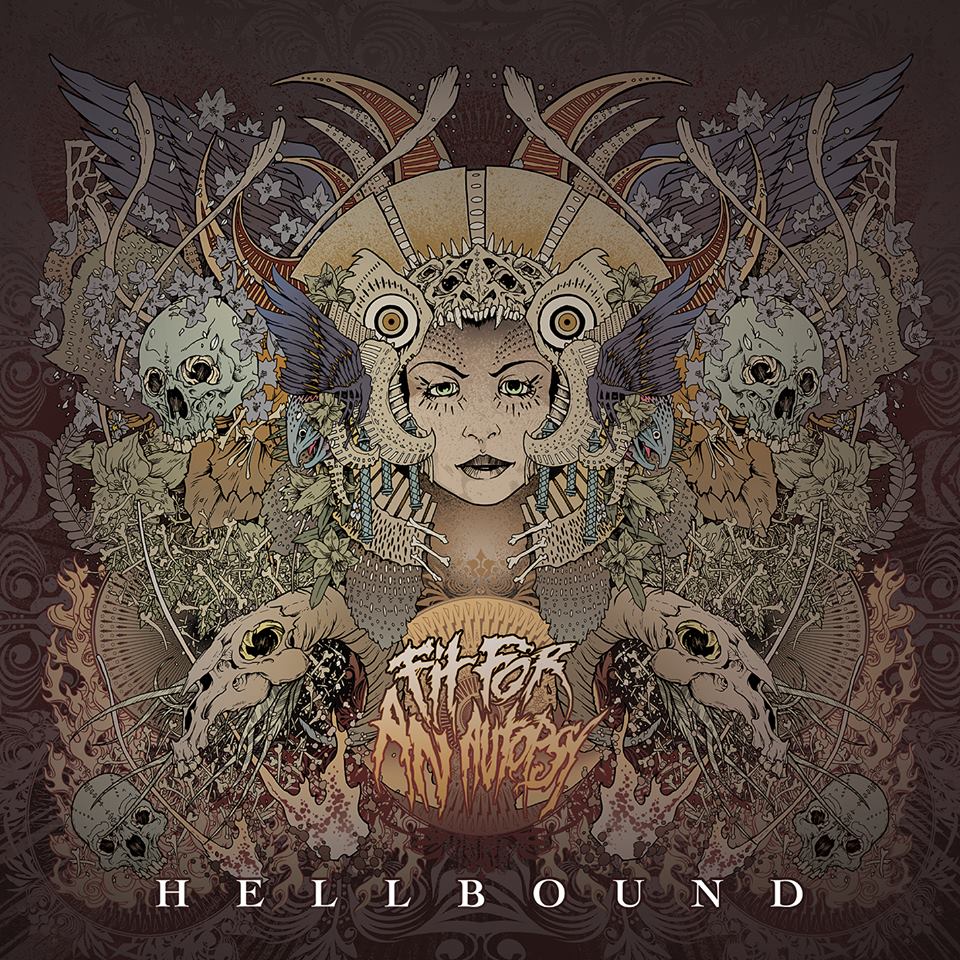 Fit For An Autopsy
Hellbound
01. The Great Gift Of The World
02. Still We Destroy
03. Thank You Budd Dwyer
04. Do You See Him
05. Tremors
06. Dead In The Dirt
07. There Is Nothing Here Worth Keeping
08. Mother Of The Year
09. Children Of The Corn Syrup
10. The Travelers
[10/10/13]
[eOne/Good Fight Entertainment]
Progressive is a term thrown around all too loosely these days. When a band breaks free from the perceived shackles of their genre critics and fans alike often add the word as a prefix to quickly disassociate the music from similar acts. This is more often a quick fix rather than a genuine description of the music. Hellbound, Fit For An Autopsy's sophomore full length, is by no means a Between the Buried and Me album but is definitely the result of a natural progression in the bands' music and has left a large, brutal mark on the genre that it so elegantly straddles.
The opening moments of 'The Great Gifts Of The World' could be described as post-deathcore, with a slow-picked dissonance underneath vocalist Nate Johnson's tortured lament. This gives way to the first "heavy" of the album; blasts, chugging riffs and tremolo picking aplenty, but like many of the other songs on Hellbound, the track finds its way back into post territory; dissonance and layers of guitar creating an ominous atmosphere, a soundtrack to the grim days ahead of the human race.
Now before voices are raised in anger at the mention of these deathcore gents becoming a shoegaze band, the band still smashes faces and incites pits with the mightiest beatdowns, with 'Do You See Him' being the prime suspect. The prevalence of these more atmospheric movements only serve to increase the impact of the familiar groove-laden riffs which pull back and forth, shake upside-down and drop back on the head of anyone bearing witness. Riffs that dance across the fretboard in an frenzied manner are matched equally by slower, gargantuan paces that seem to take forever to finally come to a head, often disappearing into a mosh that would tear most small clubs to pieces.
The Ion Dissonance feels of 'Mother Of The Year' are guilty of being almost too headbang-worthy; syncopating, slowing down, and snapping back with some of the album's most destructive drumming. When the band change the pace of the song or throw in a brief lead, these do not feel out of place or thrown in haphazardly. Even the final "chorus" of this track is infectious and memorable, something which many related acts fail to achieve.
The songwriting on the album really provides a great platform for to come together and really showcase their individual talents. With songs like 'Dead In The Dirt,' these New Jersey natives have crafted a anthem which thrashes around violently in start/stop rhythms only to pulverize with the stand out hook on Hellbound — "So bury me in the back of the forest, down in the mud I'll find my peace." Now, this reviewer is all too aware of the cringe inducing machismo and pseudo-violent lyrics that plague the genre but Fit For An Autopsy are very proud of the fact that they steer clear of posturing. If there is one overall theme lyrically on Hellbound then it is definitely not a happy one by any means, but without being a drag or depressing. From the opening growl to the last grim line, the lyrics match the music perfectly, creating a rich soundscape of contempt and disgust with humanity and its many modern failings.
Will Putney's production on this record is phenomenal. He does everything but have a hand reach out from the speakers to grab you by the throat to ensure this album stays at the forefront of your memory. Guitars that fade in and out of the mix create ambiance that will not be found on many year-end lists, drums pound behind walls of  guitars, and bass leaving listeners reeling after every impromptu breakdown, and Johnson's cultured growl is hard to forget in its Nergal-esque recording and layering. Drums that sound natural and guitar tones that cut through the mix without ever sounding processed are hallmarks of Hellbound's production. From a non-professional point of view, this album is hands down the most impressive sounding metal release in a long time. This is the future of deathcore production and it is the band's guitarist/producer extraordinaire that can be thanked and hailed for this.
It's a bit of a dismay that the guest spots on this album can go by unnoticed on first listen. It is only on subsequent research that these collaborators come to the forefront. While not a massive detail, it is still a blemish on an otherwise almost perfect notebook. Nit picking now, but some of the tracks later in the album bleed into each other without notice. Lastly, the bass could maybe do with a little more prominence, but who really needs to hear the bass player in metal anyway?!
Basically Hellbound kicks more ass than deathcore proprietors anywhere else. The only question to put to this ragtag group of metal luminaries is a simple one. How do you follow near-perfection and when will it be released?
Fit For An Autopsy – Hellbound gets…

4.5/5
– MM