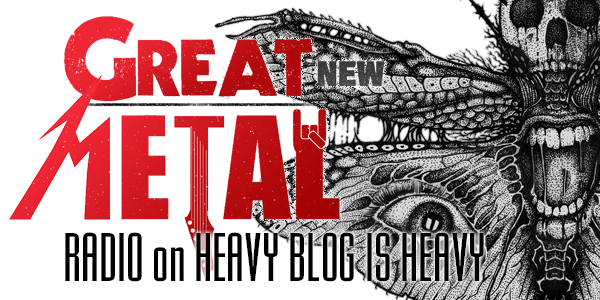 Heavy Blog is Heavy is proud to present a new feature from Great New Metal's Brian Shields, a regular radio/podcast designed to highlight some of the best up and coming acts in metal.  We hope you enjoy Great New Metal Radio on Heavy Blog is Heavy.
I'm very fortunate to hear amazing new metal bands just about every day, music recommended by people who follow me on Heavy Blog and on social media.  Other than just posting links on Facebook, I thought there ought to be a place where I can showcase the work of all of these sick artists and that's how Great New Metal Radio on Heavy Blog is Heavy was born.
The goal here is to expose as many people as possible to bands more people should know about but don't.  I can't do this without your help.  If you're in a band and you would like me to play your music or you're a fan of a band that deserves exposure, call our hotline at 415-729-3253 or e-mail me at [email protected] and send your recommendations.
There are several ways to listen to the show.  You can click the streaming player below, subscribe to the podcast in iTunes, or download the file directly here.
If you like this music, I hope you will support and follow the bands featured here.  Here's the playlist and how to learn more about these bands:
01. Wrath of Vesuvius – Revelation // Facebook – Bandcamp – iTunes
02. Dissonance in Design – Entwined in Aether // Facebook
03. Kardashev – Continuum // Facebook – Bandcamp
04. Underling – My Bones Laid Bare // Facebook – Bandcamp
05. Parasitic Ejaculation – Rationing the Sacred Human Remains // Facebook – Bandcamp – BigCartel
06. Pentapuss – Spawn // Facebook – Soundcloud
07. Aenimus – Masterpiece // Facebook – Bandcamp
08. Dawn of Dementia – Vitrification // Facebook – Bandcamp
09. Xehanort – Discovery // Facebook – Bandcamp
– BS