Hello again, fiends of physical music. We promised a quick turnaround time after catching up from our 2022 orders, and we delivered. This month, we tried to mostly cover stuff you can still actually buy in some form or fashion (but of course, some you can't, like a rare Wax Vessel that was pre-ordered two years ago), and we even pulled our very first bootleg!
In broader vinyl news, it would seem that, according to a report from NPR, vinyl sales have officially outpaced CDs for the first time since 1987.  It's not exactly surprising; over the past decade we've all seen vinyl becoming a standard part of release plans for bands, Record Store Day becoming an semiannual event, and stores like Target and Walmart getting into the game with their own record sections and exclusive releases. Streaming still reigns supreme of course (I use Spotify myself, shamefully), but after 16 years of growth, vinyl is firmly holding down physical media. My journey began in roughly 2009 with a pressing of Between the Buried and Me's Alaska, and I thought I was ahead of the curve compared to others, but seems to be in keeping with the early rise in the market.
Incidentally, digital sales dropped 20%, which makes sense to me; I don't know many people who buy digital albums and drag and drop them to their phones these days. Despite its setbacks with its abysmal artist payouts per stream, streaming services are too convenient and affordable to ignore for the casual listener. Bandcamp certainly plays its fare share in this market, but the vast majority of albums in my Bandcamp catalogue came from vinyl purchases on the platform, anyway. I'm sure I'm not the only one who splits the difference; it's Spotify in the car and vinyl at home.
Since I'm currently at home, let's grab some records out of the bag and tear into them before stuffing them in the shelf with this month's Heavy Buys, featuring Aeviterne, Black Matter Device, Botch, Fit For An Autopsy, iamerror, Limp Bizkit, Necrophagist, and Ulcerate.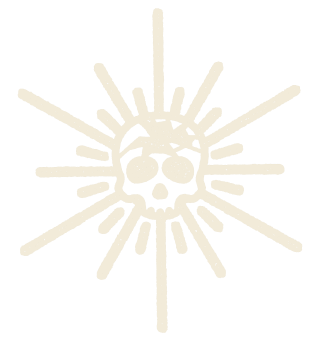 Aeviterne - The Ailing Facade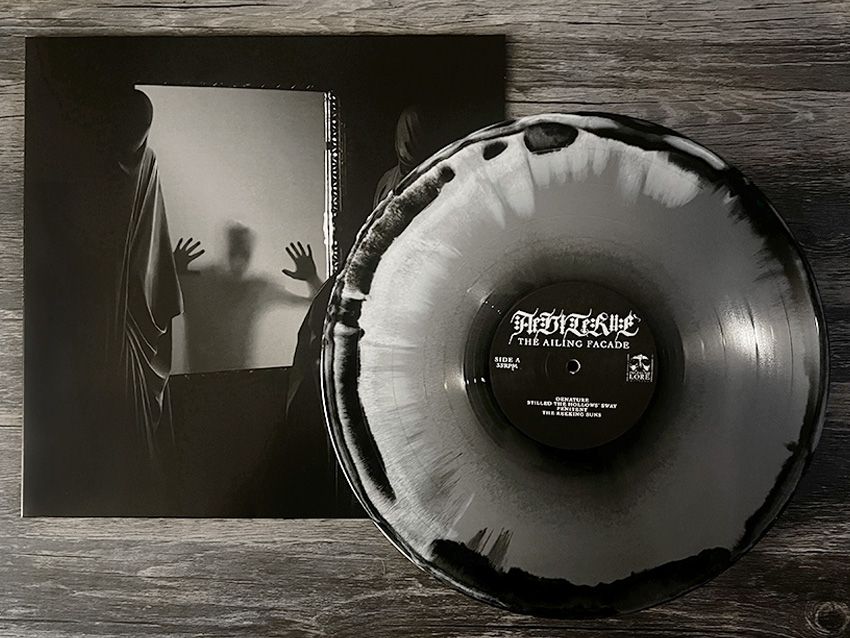 Black / White / Silver mix [limited to 200]
Profound Lore
Out of the ashes of seminal yet criminally underrated dissonant death metal band Flourishing comes Aeviterne. The full-length debut album from this New York based act dropped last year to critical praise, easily gaining enough consensus among Heavy Blog staff to land in our collective Top 50 Albums of 2022. Fans of Gorguts and Artificial Brain (whose bassist Samuel Smith rounds out Aeviterne's lineup) will find lots to love here. The Ailing Facade could easily become a dissodeath classic with its post-punk and industrial influences separating it from the Ulcerates of the world (more on that later).
This record was an easy top 10 for me in 2022, and I make an effort to grab a copy of albums that place so highly in my running list of favorites in a given year. Profound Lore make it easy with their very affordable, readily available, yet consistently high quality pressings. Standard black is under $20, but for a couple dollars more, you can grab one of the more limited runs, like this striking black/white/silver mix.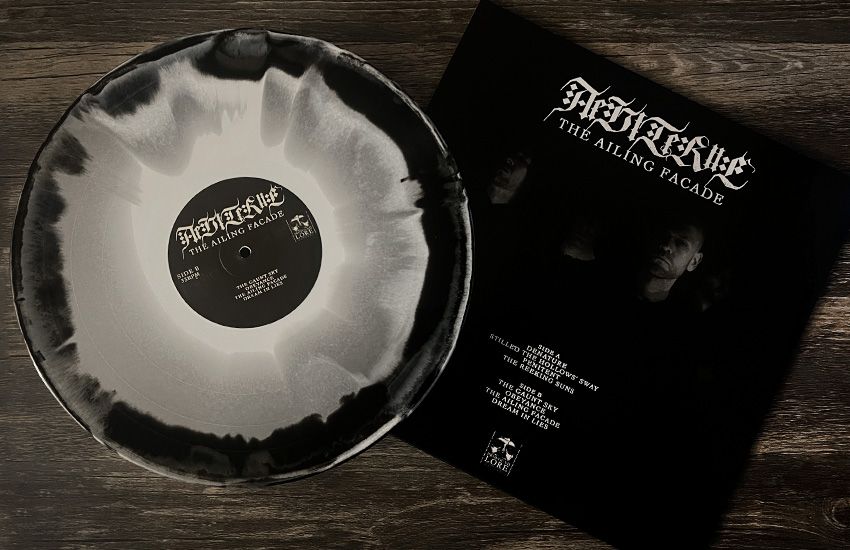 Not much to say about this pressing other than levying praise. This is a single LP in a standard jacket, with a six panel foldout insert with additional artwork and lyrics; you get what's expected. It's just worth mentioning because the disc is nearly flawless and rises to the occasion in matching the album art's aesthetic, and any time you can get one of the best albums from the past year for under $25 is a win. Catch up with this swirling and psychedelic death metal record if you haven't heard it, and consider picking it up while it's still available.
Available at Profound Lore | Discogs
---
Black Matter Device - AUTONOMOUS WEAPONS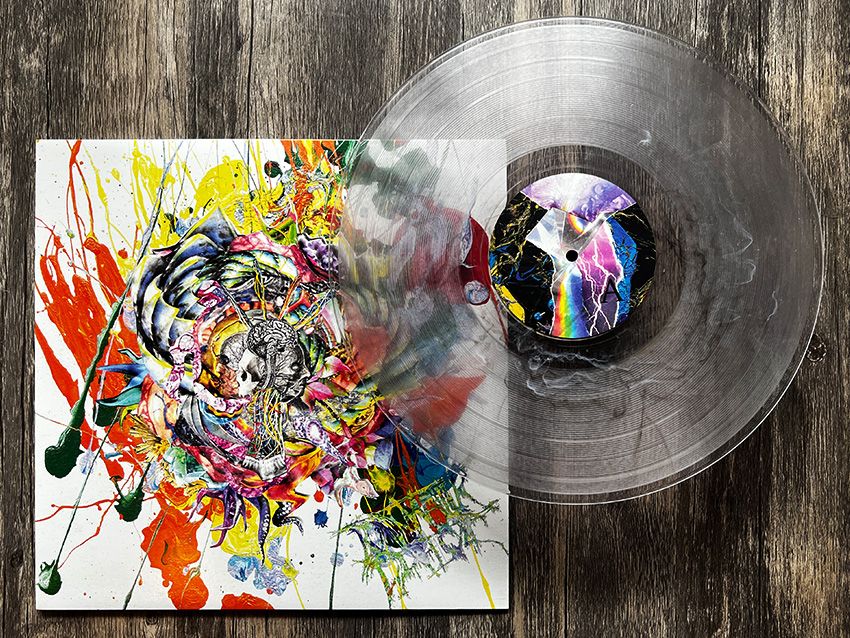 Ultra Clear [limited to 100]
Dark Trail

2022 was an incredible year for mathcore, further evidence of the tide turning on the genre's prevalence, relevance, and popularity. Richmond, VA's Black Matter Device, imbued with the spirit of grind and sass, dropped one of the best the genre had to offer last year with AUTONOMOUS WEAPONS. While it didn't creep through to our collective genre-agnostic Top 50, it did fetch favor among staff curating the hardcore column Rotten To The Core and the 20 best Core records of 2022. Black Matter Device isn't for everyone, but if it's for you, you're sure to love it.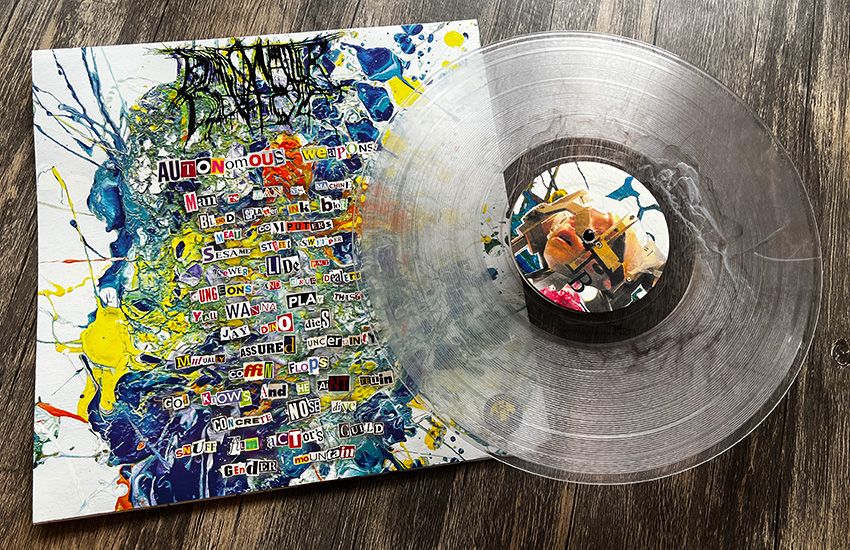 The album was released in collaboration with Dark Trail Records, and although we consider Dark Trail and Mathcore Index (they're essentially one in the same) friends around these parts, I haven't actually picked up much from the label aside from a release from our friend Chris Dearing's The Sound That Ends Creation, so I have a limited experience with their pressings. Prior to this release, Black Matter Device were also an unknown entity to me, and I didn't get to grab one of these pre-orders until two of the three available variants were sold out. Rough; but this ulta-clear record, which wound up having quite a wide variation due to what I can only imagine as the pressing plant used for this release being a little lax on keeping the machines cleaned and materials separated, wound up being a cool record. Some of the records from this line wound up having a nebula sort of situation going on. My particular copy doesn't have quite the extravagant variance that some of the others had, but you can see some flair here.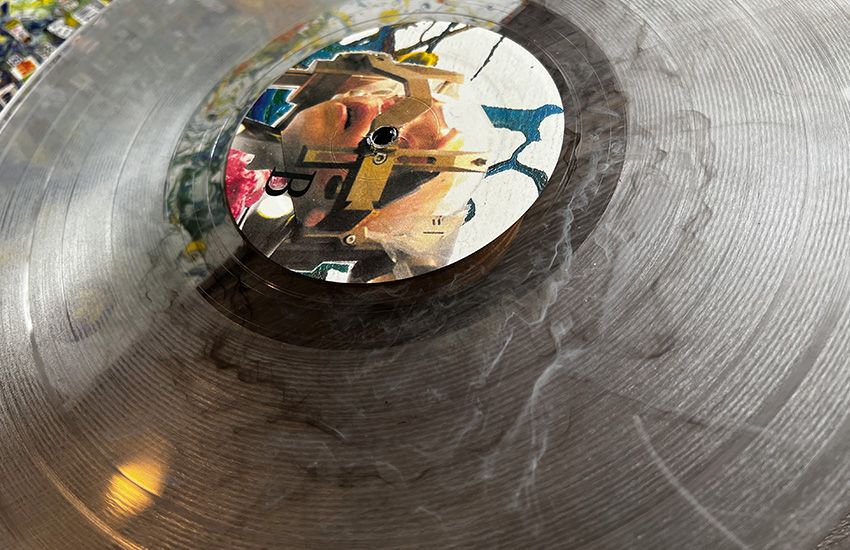 The release contains a 8x8 booklet of additional artwork and lyrics, which I'm always happy to see in a vinyl release. The disc itself also feels different than anything else I've ever had, both in texture and how it was cut around its edges. It's very interesting and difficult to describe. Playback itself is mostly fine, with some noticeable surface noise during the album's very few dynamic lulls, but you can sort of expect a degree of impurity in a clear vinyl record, particularly one with an effect like this one, however unintentional it may be.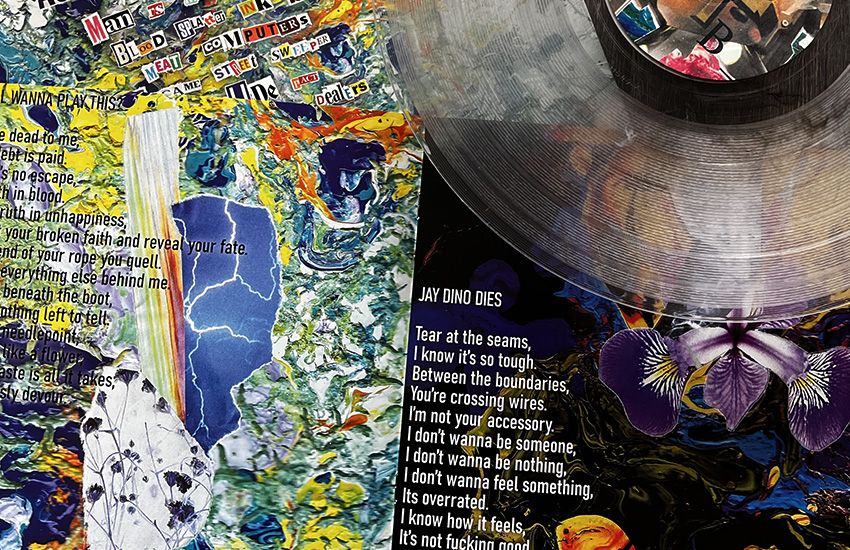 Unfortunately, these have all sold out, with no plans mentioned anywhere for another run. Dark Trail hasn't voiced a hard no on represses, but additional pressings from their artists tend to be few and far between. There's also none available on Discogs, nor have they ever been sold on the platform as of writing this post, so good luck tracking one down if you're interested.
Sold Out, Sorry! | Discogs

---
Botch - We Are The Romans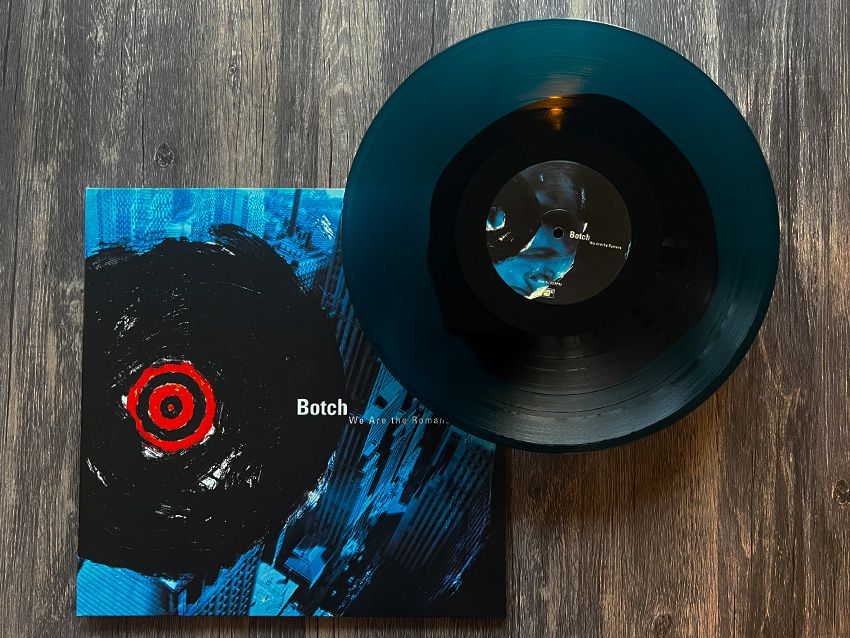 Black in Transparent Blue [Limited to 1000 copies]
Sargent House

The almighty Botch have been doing a "will they/won't they" insofar as reunion speculations, raising hope and subsequently dashing that hope against the stones when the preorders for the long awaited represses of their celebrated and widely influential 1999 mathcore classic We Are The Romans last year dropped. If you recall, the band released a brand new song which would be attached to these records and then within a day, they were batting away any talk about a meaningful reunion. Since then, they've played a show and announced a run of dates, so who knows? I'll keep my fingers crossed and pray for the ongoing proliferation of mathcore following The Dillinger Escape Plan's dissolution.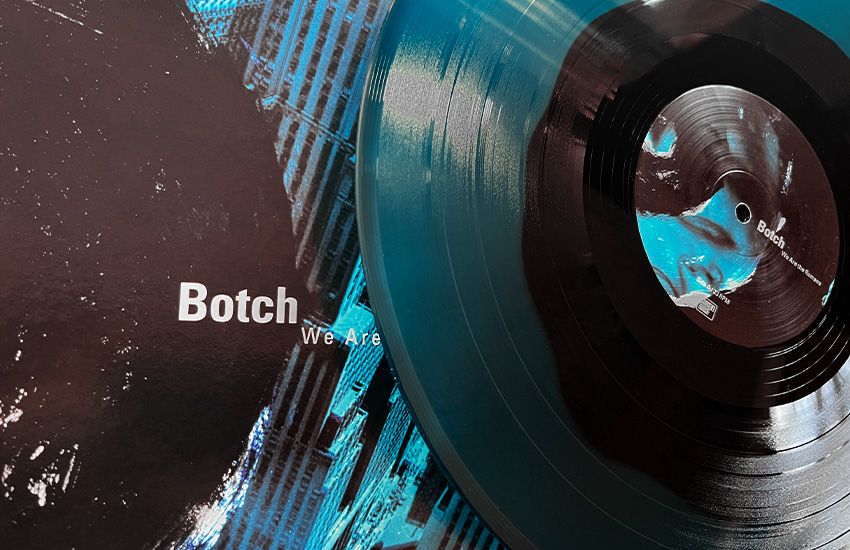 But now onto the present and tangible: in addition to tickets for live events that may or may not be near you (they aren't landing within four hours of me this time around), the band's back catalogue is getting a widely available vinyl pressings. First up was the groundbreaking We Are The Romans. Naturally, the first wave of variants for the new We Are The Romans represses sold out immediately last fall when they went on sale. I missed out because I was traveling to see a My Chemical Romance concert (which ruled, by the way), but I was able to snatch this second wave pressing which went up very shortly after sellout. As you can imagine, this specific variant has too since sold out, but there are others available, as well as a run of their debut American Nervoso (go get em!). It feels good to be able to easily grab the works of such an influential act without having to rely on flipper prices or a rare Hydra Head vault release like I did with an old pressing of the debut.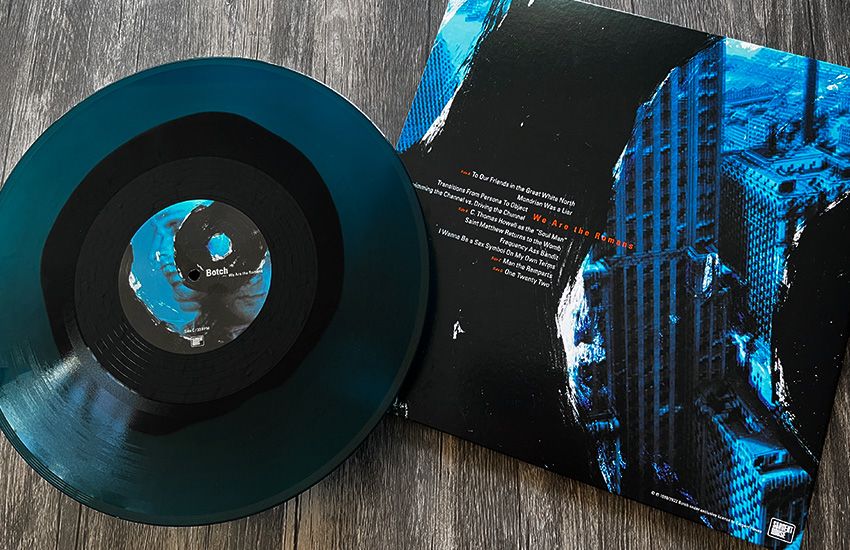 This is a 2xLP gatefold running at 33 RPM, with a single double-sided insert with lyrics and additonal art. Sargent House tend to have quality physical products from my experience, and this Botch repress is no different. The variant is a bit more subtle than I would have hoped while on the turntable and is dependent upon the lighting, but the colorways are a dream. I'm always a sucker for consistency between the cover and the disc itself, and this delivers.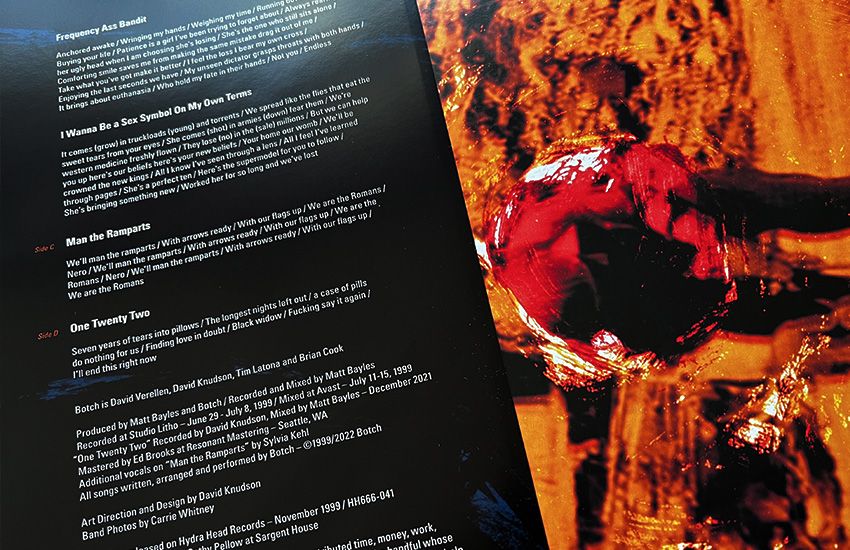 The discs feel substantial and play flat and mostly clean, but the audio feels a little distorted and overly compressed on my end, akin to a "fuzziness" you'd associate with playing a track through YouTube. I did an A/B through the same speakers of the version on Spotify, and I almost prefer the Spotify sound to the slightly muddier vinyl. It's a subtle difference, but perhaps one that someone with a more audiophile ear than I would notice. Of course, these are signs that a needle needs cleaned or replaced, but I don't believe that's the case: I'm using a Grado Black that I bought in 2020 that I clean pretty regularly. The vinyl is purportedly a new remaster, and there's no indication of that on Spotify, so perhaps it's attributable to a contemporary master having more compression. At least the vinyl plays spotlessly! This isn't a dealbreaker by any means, and I'm open to being wrong. This album is one of those mandatory records for fans of a certain genre, and I'm one of them.
Variant sold out! Sorry! (Other variants may be available) | Discogs

---
Fit For An Autopsy - Hellbound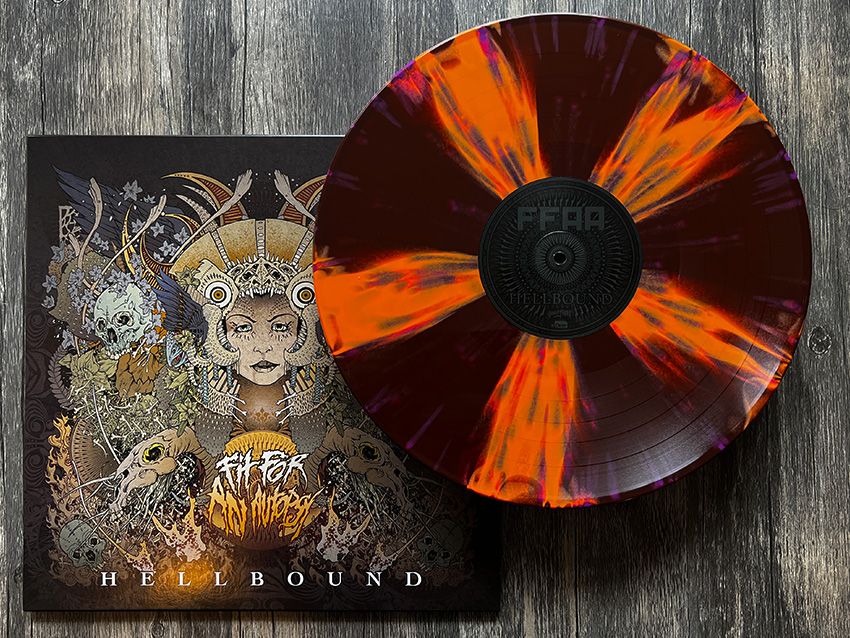 Brown & Tangerine w/ Orchid Splatter [Limited to 2000 copies]
MNRK Heavy / eOne / Good Fight Music
New Jersey deathcore titans Fit For An Autopsy's sophomore album Hellbound was my introduction to the band back in 2013 when it dropped, and in the years since, they've fast become one of my favorite bands in the genre. Where the genre gets a bad rap for stringing together breakdowns, FFAA's songwriting has always been on point and they've always felt like a true blend of metalcore and death metal influences. To this day, I believe "Thank You Budd Dwyer" is perhaps the best deathcore track ever written.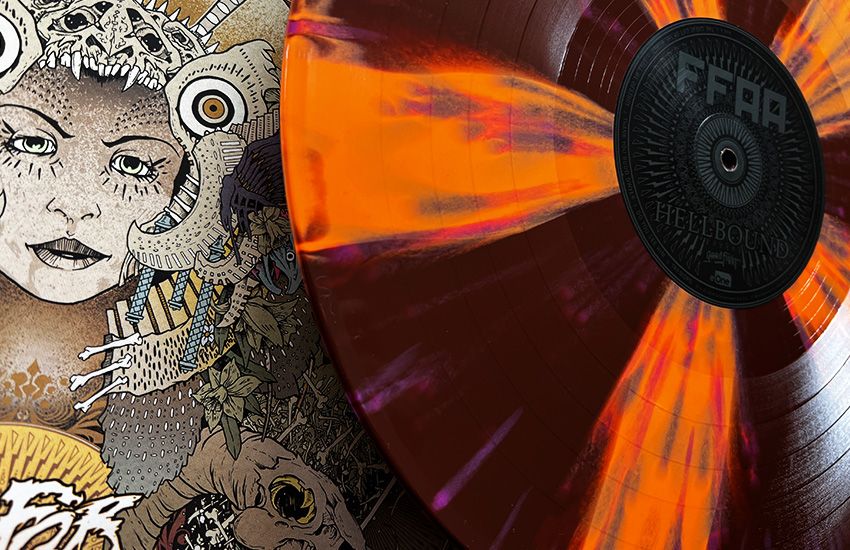 Hellbound has been haunting my Discogs wantlist for a few years before this edition had been released. It had been pressed in 2018 and I had evidently slept right through it and it had long been sold out. Fortunately, just in time for its ten year anniversary this year, MNRK Heavy (formerly eOne Music) dropped a new run of 2000 copies on 180 gram vinyl. I had gotten the email of the vinyl drop at 10:00 PM on January 12th and had the order confirmation in by 10:03 PM. As of writing this post, they're still available, so I didn't have to be as enthusiastic, but this is a must-have record in the genre and I wasn't about to miss it again.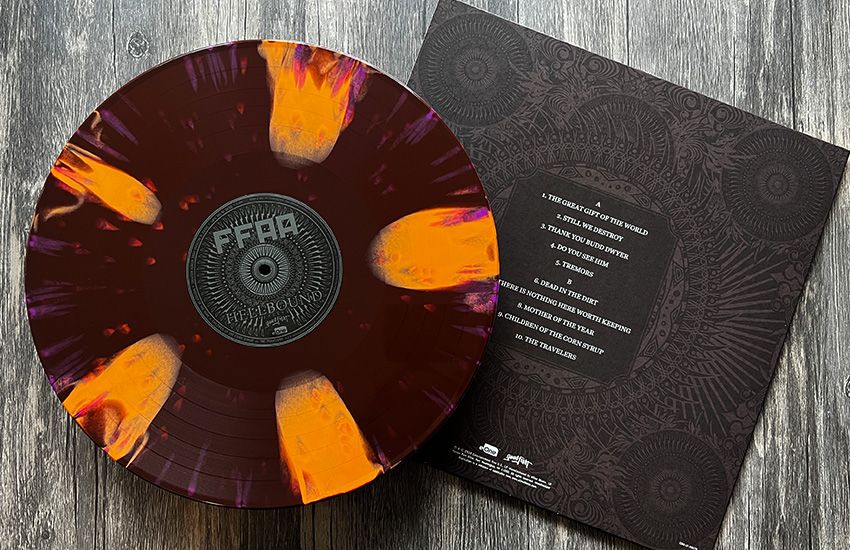 Hellbound is a single LP and comes housed in a printed inner sleeve with additional artwork and lyrics, with a pretty standard outer sleeve. Copyright information and catalogue number are the same as the 2018 release, so nothing special in that regard for this new pressing. The vinyl disc is dense as hell thanks to the 180 gram vinyl, but I'm always surprised by how thick and heavy these can feel. The record plays perfectly flat, and the audio quality and immersion is fantastic once you clear the first few rotations along the outer edges. The only track that suffers is the opening track due to its ambient buildup, but once the brickwall of guitars come in, we're grooving along without a hiccup. Not even the fade-out and silence between "There Is Nothing Here Worth Keeping" and "Mother of the Year" is dead quiet.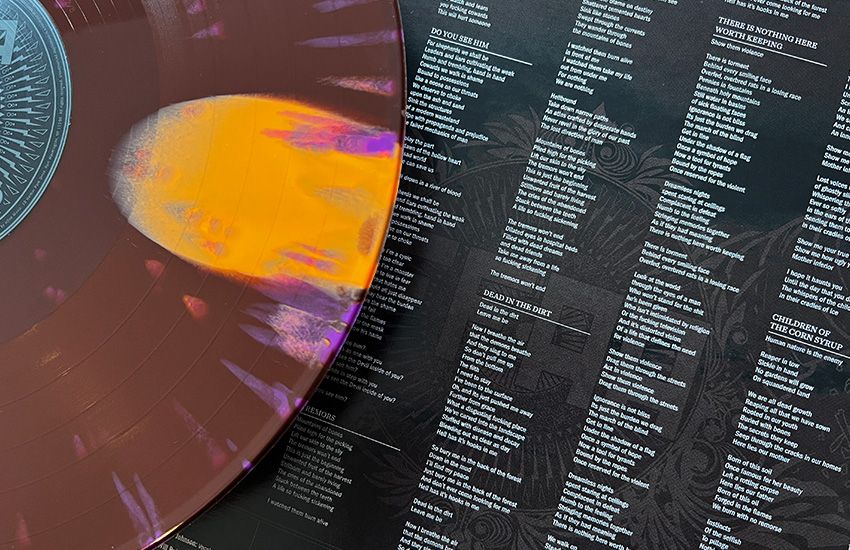 The vinyl variant itself is also fantastic and is a rare example of the physical product being far better than the digital mockup online. As I've mentioned above, this is a deathcore classic as far as I'm concerned, and with a disc this nice, there's no reason to not grab a copy of your own if you're a longtime fan of the band or the broader deathcore genre. Grab one while they're still around; they're sold out at the band's official store, but the label's got some ready to go.
Available through MNRK Heavy | Discogs
---
iamerror - Trout Yogurt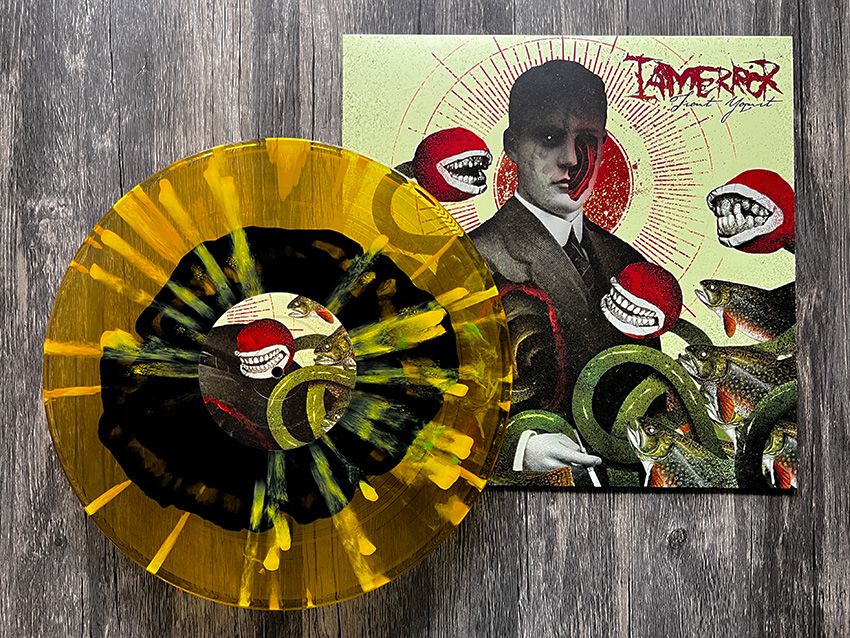 Iceclops [limited to 50 in this variant, 333 overall]
Wax Vessel
I have a complicated history with Wax Vessel. I vehemently disagree with their practice of placing a "hard no" on represses of any kind, and their niche yet high quality pressings are sold out within seconds, gone forever and lost to time. I wound up banned from their Facebook page due to arguments with others (I've changed, Nik, I swear!), but I still keep up with them on Instagram. It would just be nice to be able to buy records of the mathcore bands I cut my teeth on on MySpace is all. If anything, I'm passionate. But the reality of the situation is that the dude behind Wax Vessel is one dude with no employees and a full time job that doesn't involve slinging wax to weirdos. The boundaries he places are to preserve his hobby, and I get it, and their quality speaks for itself.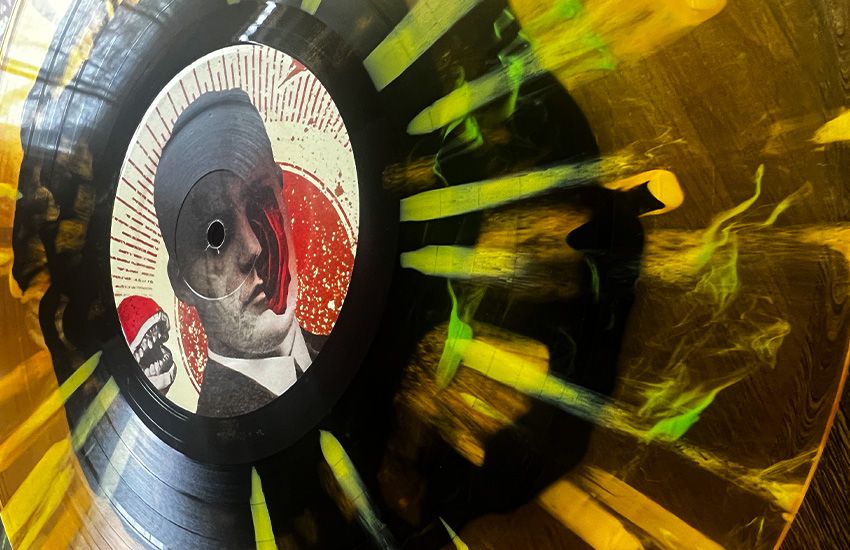 I had the luck and luxury to land a Wax Vessel drop for Hayworth's A Nostalgic Battle-scar (which I covered here), but I sold it late last year in order to purchase Gorillaz tickets for myself and my kids. I wish I still had that record, but the memory of my kids' first concert, being Gorillaz no less, was priceless. This one though, I'm keeping.
April 2021, Wax Vessel teased a pressing of controversial Nintendocore act iamerror's first and only full-length Trout Yogurt, but it was veiled under the guise of an April Fool's joke. Some people didn't take the announcement seriously, but I happened to catch it in time and prepare, just in case. With lightening-fast reflexes and blind clicking, I was able to get in through the mad rush of fellow dorks and grab one of the Iceclops /50 variants through sheer luck. I didn't even know what variant I was clicking on, I just started blasting.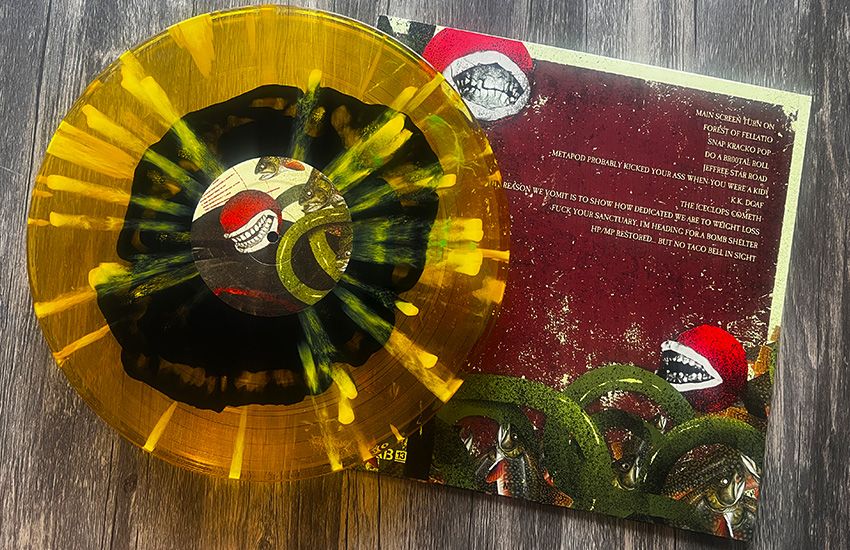 After waiting nearly two years, it finally arrived. Perhaps the longest pre-order wait time I've ever encountered, but Gotta Groove Records, the plant that presses all of Wax Vessel's releases, is highly sought after and fairly exclusive with who they work with. Gotta Groove is Wax Vessel's not-so-secret sauce, and are responsible for the infamous Wax Mages you may have seen out there online. They're pushing the boundaries of colored vinyl, but they're overworked and these things take time. While this Iceclops colorway isn't the most extravagant variant I've ever seen, it's still quite extraordinary for being the second-most available variant of this pressing.
As usual with most Wax Vessel releases I've seen, this LP comes in an antistatic sleeve outside of the jacket, within an outer sleeve (please make this industry standard). There's a double-sided printed insert with lyrics. A gold foil stamp on the back denoting number 152 of the entire run of 333 copies across six variants. The variant is unique and nothing else like I have in my collection; it was reffered to as a "double splatter", and has more going on with it than I had expected given that this release had no mockups or previews. Also of note: the entire record is pressed on side A, and side B is bare. Didn't know that when I dropped the needle down and had it go for a nice little slide across the back.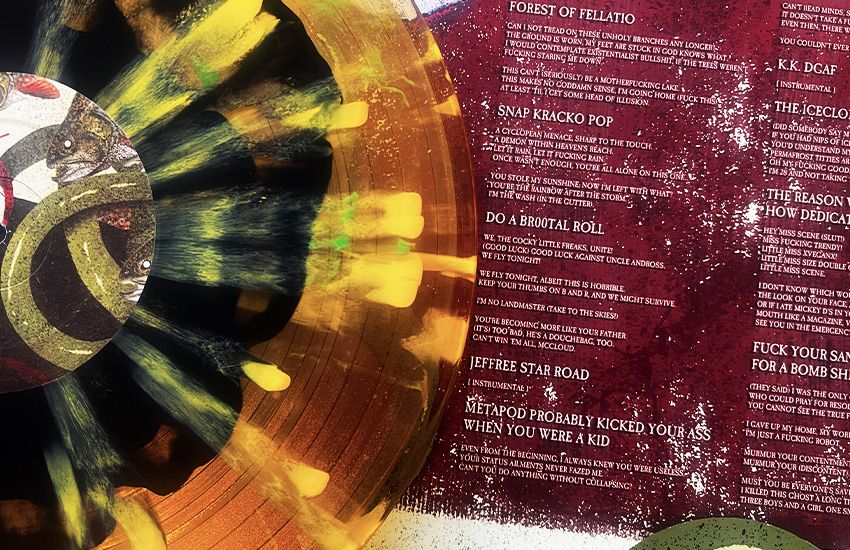 2000's Nintendocore hasn't aged particularly well overall, but this record sounds as good as you could hope for on vinyl. I honestly had low expectations for this wonky mess of a record (respectfully), but it's gotten a facelift for this release. The lyrics are questionable at best and misogynistic at worst (NOTE: Peet, the man behind IAE, has wizened over the years, as most of us have, is paying reparations of sorts and donated his proceeds from this pressing to the RAINN nonprofit to combat abuse and sexual assault) and the overall metalcore flair is sophomoric, but as a millennial who was there on MySpace following Peet's constant stream of scene drama before and after this album dropped, it's certainly a nostalgia bomb to have this otherwise very unlikely release. I mean, this was a record that we were playing alongside Genghis Tron's first EPs; Trout Yogurt is seminal cybergrind. The chiptune inspired instrumentals are well composed, and the genre-bending is charming enough. I'm glad I have this, but ultimately, this album is more of place-in-time sort of record, and I'm glad iamerror walked so that ZOMBIESHARK! could run.
WAX VESSEL TIP: be on a desktop with a mouse, LAN cable into the router, and sign into ShopPay early by going to another store that uses it and go through checkout right up to the end so you don't have to deal with waiting on a code to be sent to your phone while you're scrambling during a drop, because that'll certainly make a difference in whether or not you can grab one.
You already know it's not available | Discogs
---
Limp Bizkit - Still Sucks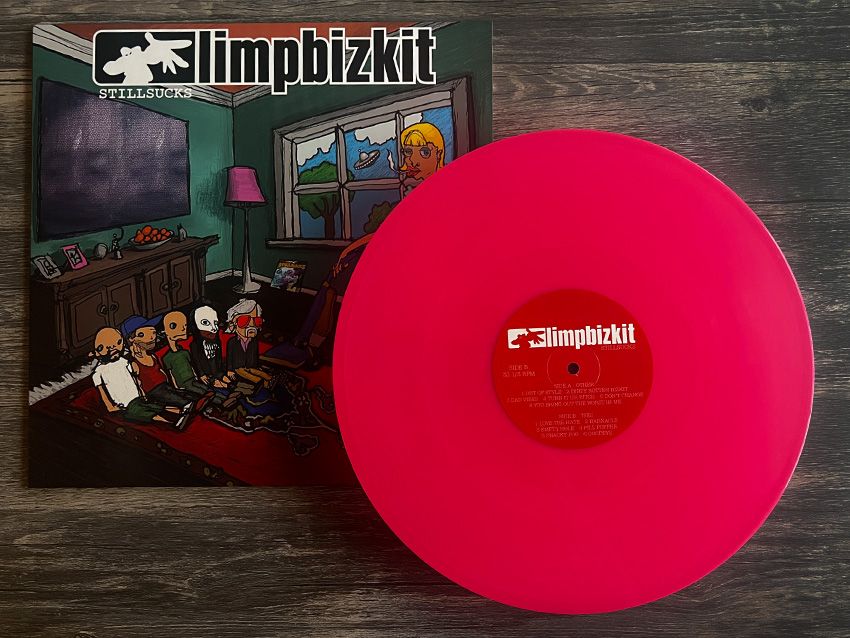 Pink
Unofficial Release

We're officially wading into bootleg territory in this column. When Limp Bizkit dropped Still Sucks back in 2020, I was pleasantly surprised. Not that it's a particularly high bar to clear, but Still Sucks was easily the best thing the band has released since Chocolate Starfish in 2000. I say this without a hint of irony: Limp Bizkit made a better comeback record that year than Tool. The album, to my recollection, had a pretty positive reception for Limp Bizkit standards. So why then, have there been absolutely no word on putting this thing out beyond digital?
I've never owned a bootleg before now. I feel that artists are entitled to the money generated by their art, but when giant bands and capable record labels offer no opportunity to own the record legally and meaningfully, I don't feel bad when bootleg options start popping up. If I had found an affordable copy of Iowa hand-cut in some Russian warehouse before Slipknot finally decided they liked money in 2022 and repressed the album, I would have absolutely gotten one. There's actually a mental shortlist of records that I have loved throughout my life that just never got a vinyl release, and I'll purchase unofficial copies if the opportunity arises.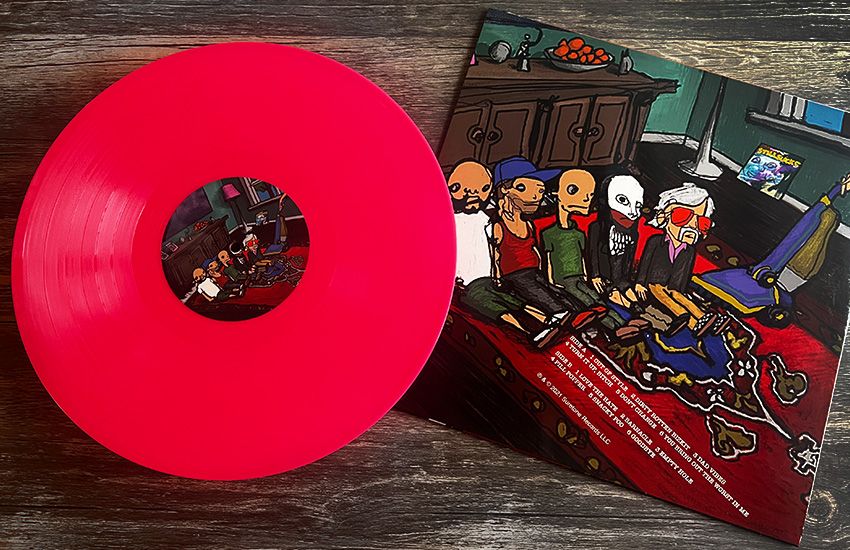 I stumbled upon an opportunity here when doing some Googling when I dug out my copy of Chocolate Starfish that I covered here last month and found a bootleg copy of the elusive Still Sucks from Australia. I'm not going to link the shop I bought it from here, but I believe you've been given enough tools to help you find it if you should so wish. All told, after shipping, this thing cost me just under $60, and it got here within a week. It was a gamble on several fronts, but I believe it paid off.
Additional materials are nonexistent. There's a hot pink disc in a paper sleeve within a standard outer sleeve that's plagued by limited resources. The goofy and hilarious Wes Borland artwork is blown up from a digital file that really doesn't have any business being stretched to 12" and beyond. The backside of the sleeve is just zoomed in from the cover of the cartoon band members, which exacerbates the issue and is clearly pixelated. It's actually hilarious.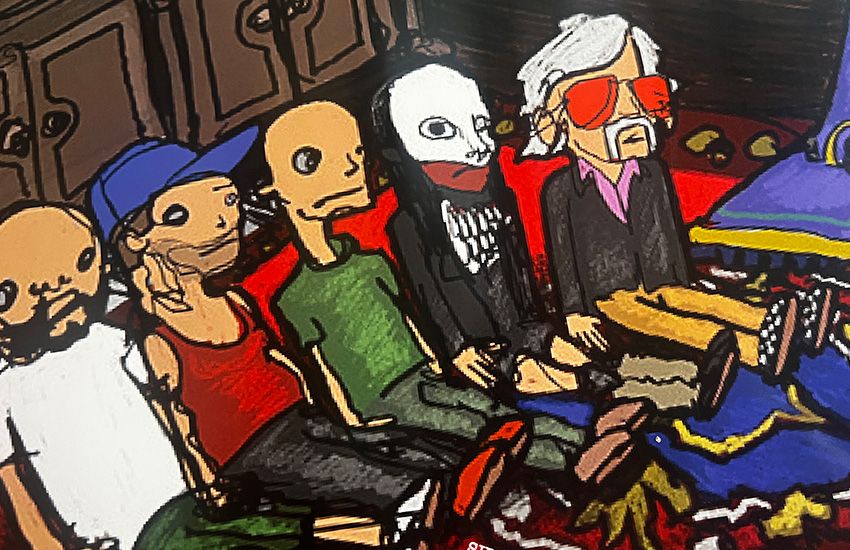 But what counts here is the music, and I can't fault the vinyl pressing itself at all. It's actually perfect. Super quiet, flat, and the riffs bounce right out of the grooves (figuratively speaking, the needle stays put). Not a single noisy artifact to speak of as far as I noticed in my copy. I'm in awe of it, really. I'm so impressed by this, that I rolled the dice again and picked up bootleg records of classics from AFI and Breaking Benjamin. I almost feel bad, but buying a goofy Limp Bizkit bootleg with shoddy artwork but perfect sound feels appropriately ignorant.
Google it, it's still available | Discogs

---
Necrophagist - Epitaph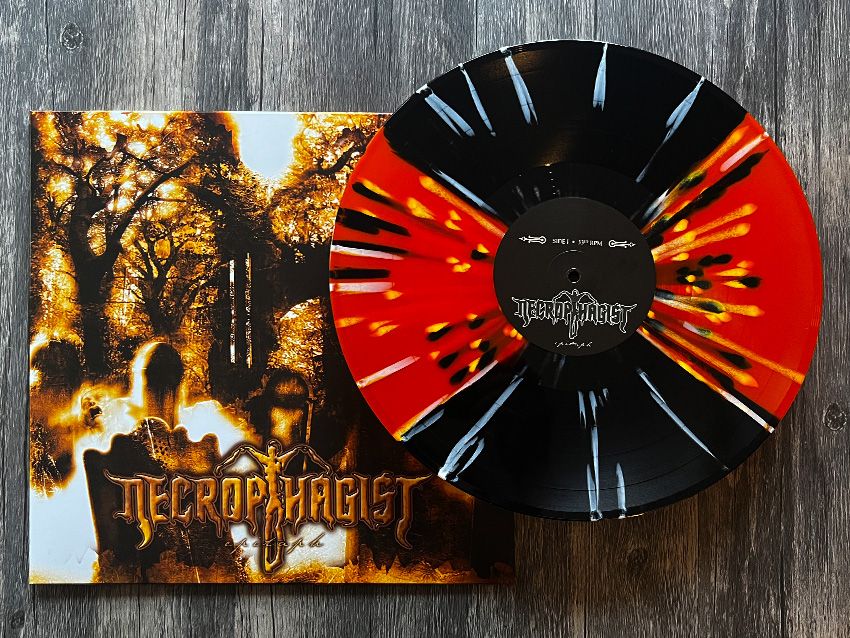 Orange Krush And Black Quad Effect w/ Splatter [Limited to 1500 copies]
Relapse Records

Cold take: Epitaph is one of the greatest and most important technical death metal albums out there. It's a shame the band fizzled out after this album dropped back in 2004, but it's incredible how well this album has aged nearly 20 years later. Who's to say where their discography and legacy could have ended up after all this time, but I suppose it's often better to leave on top than to carry on with diminishing returns.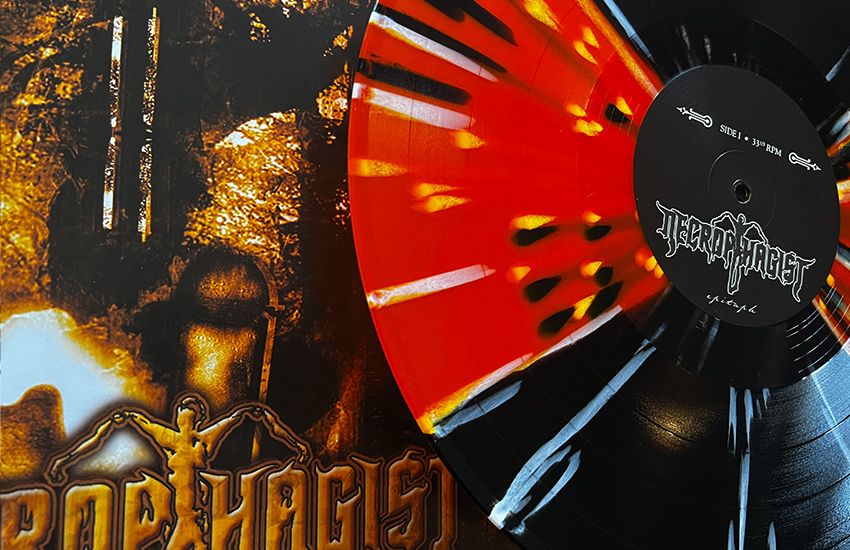 This record is the blueprint for technical death metal. Many acts out there may have taken this foundation and built even more ambitious than Epitaph, but they're standing on the shoulders of this giant. This was my first tech death album in high school, thanks to the dazzling guitar work, catchy songwriting, and incorporation of melody. There was a widely available run of Epitaph for years through Relapse, but I took it for granted, and the supply eventually dried out until this pressing popped up seemingly out of nowhere.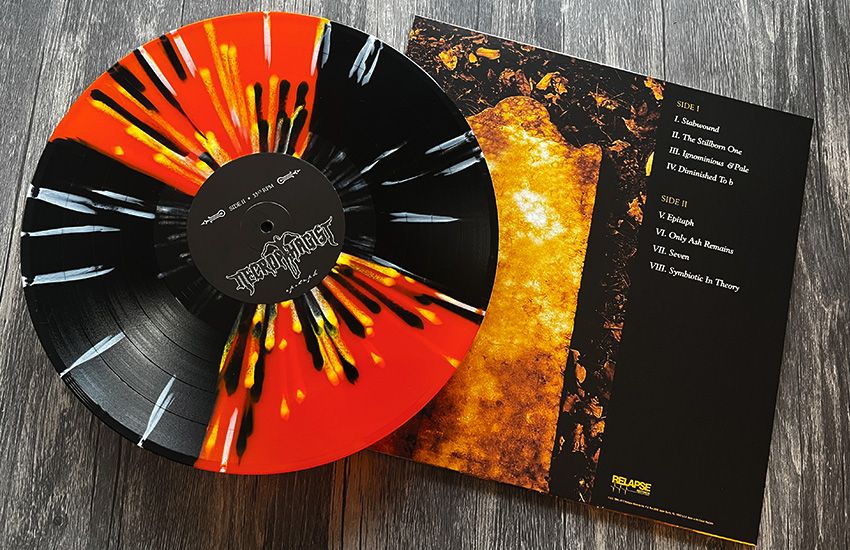 Relapse is a tried and true label, with only slight variance in the clarity of their presses that I've gotten. The dynamic Genghis Tron comeback LP Dream Weapon was noisey on two separate purchases, but death metal and grindcore seem to fare better on vinyl from the label. Indeed, this LP arrived perfectly flat and played relatively clean. This is on par for Relapse, as if there would be any surprises for a release that sits at a comfortable $20 retail.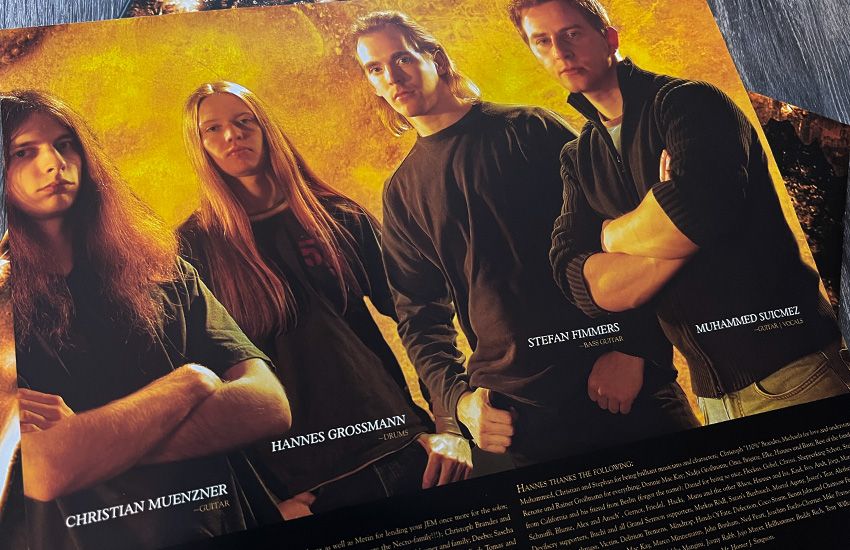 I had initially missed the announcement of this new run of LPs from Relapse, and by the time I got around to this, Relapse had sold out. Fortunately, I was able to grab my copy from the tried and true Meteor Gem out of Chicago. I love them very much. With the label out of their own stock, Meteor Gem could have raised prices, but I was able to secure my copy February 6th for $20 before shipping. Unfortunately, they've since sold out at Meteor Gem and a Google search isn't giving me much. Fingers crossed that you can grab one. I would imagine that there will be something for its 20 year anniversary next year though, if you feel like holding out.
Sold out, sorry! | Discogs
---
Ulcerate - Everything Is Fire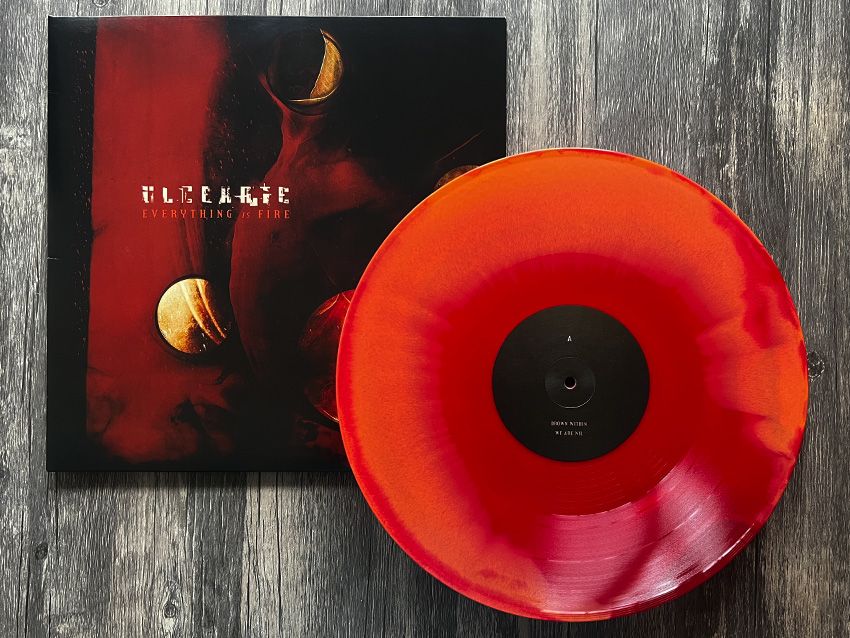 Orange / Red Merge
Willowtip Records
In late 2022, at long last, Willowtip released a long-awaited and much needed repress of seminal dissodeath act Ulcerate's breakout album Everything Is Fire. This album changed the game, and I recall hearing it for the first time in 2009 when nobody knew what to call it. I once made a case for post-death metal due to the atmospheric sludge qualities to it, but in the decade+ since this monstrosity dropped, we've collectively agreed on dissonant death metal. This blend of black metal, sludge, death metal, and prog wasn't really the kind of thing many bands were doing in the way Ulcerate had done it on Everything Is Fire; sure, you had Gorguts, Portal, and Deathspell Omega, but Ulcerate seemed to blend them all and push the envelope. They're now considered one of the more important and influential death metal bands currently active. Pretty big moves out of New Zealand.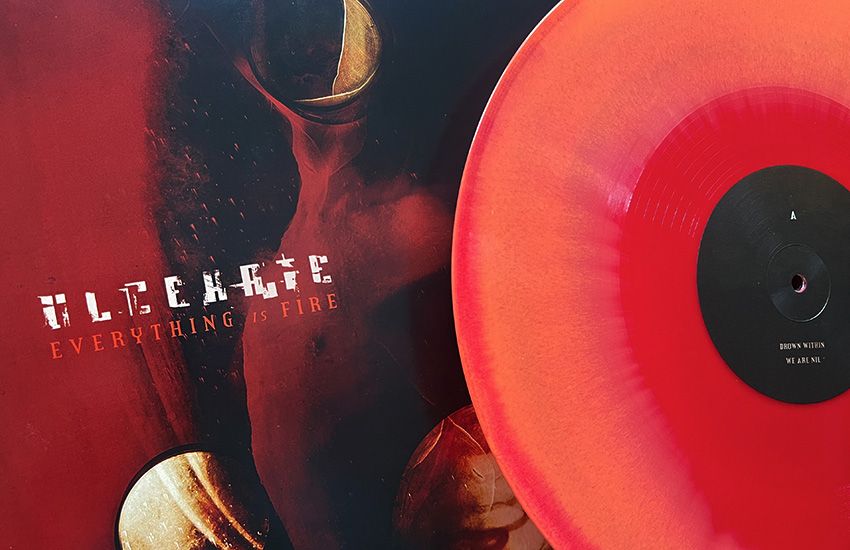 Everything about this pressing is as one would hope. The 2xLP comes in a gatefold, and everything just feels adequately substantial. The orange / red merge is glorious, with some incredible variance in the way the colors swirl and bleed across the four sides. The records come stored in printed inner sleeves with lyrics, but you'll want to remove the discs from those and put them in separate antistatic outer sleeves if you aren't doing that for every record you have anyway.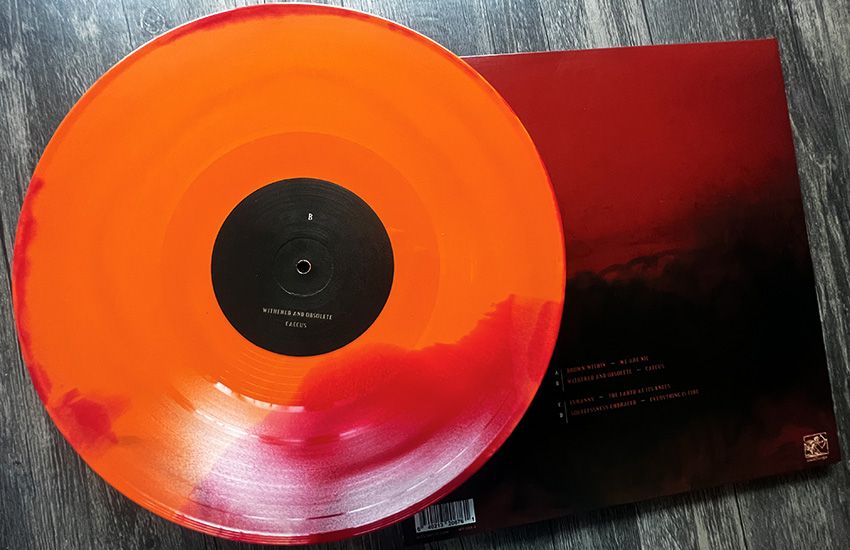 Although there were many clues that I overlooked, like two songs per side over two LPs, there's nothing here indicating that this plays at 45 RPM. The opening moments of "Drown Within" were doomy and sludgy as hell at a slower speed, which isn't even out of their wheelhouse, so it went unnoticed until the vocals roared in with uncharacteristically low tone. Swapping the belt over on my record player fixed the playback, which then goes without complaint. Ulcerate is a band I worry about on the format because their loud/soft dynamic can lay bare the limitations of vinyl, but thus far, between Willowtip, Relapse, and their current label Debemur Morti, I haven't had much reason to complain. The sparse moments across Ulcerate's records make their heavier moments that much more devastating, and this pressing stays relatively clear.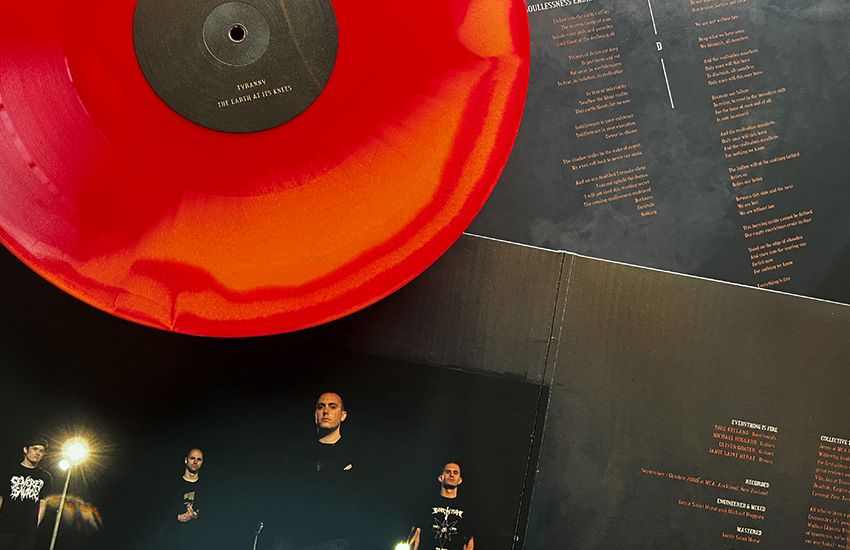 I say this often in this column due to the frequent featuring of long-overdue represses, but Everything Is Fire is one of those mandatory spins within its genre. It facilitated the creation of a new wave of death metal acts that we are seeing proliferate now, and if there's a band you want the entire discography of, it's Ulcerate. Speaking of which, can we please get around to a new pressing of their 2004 debut of The Coming of Genocide, please?
Available on: Bandcamp | Willowtip Records | Discogs