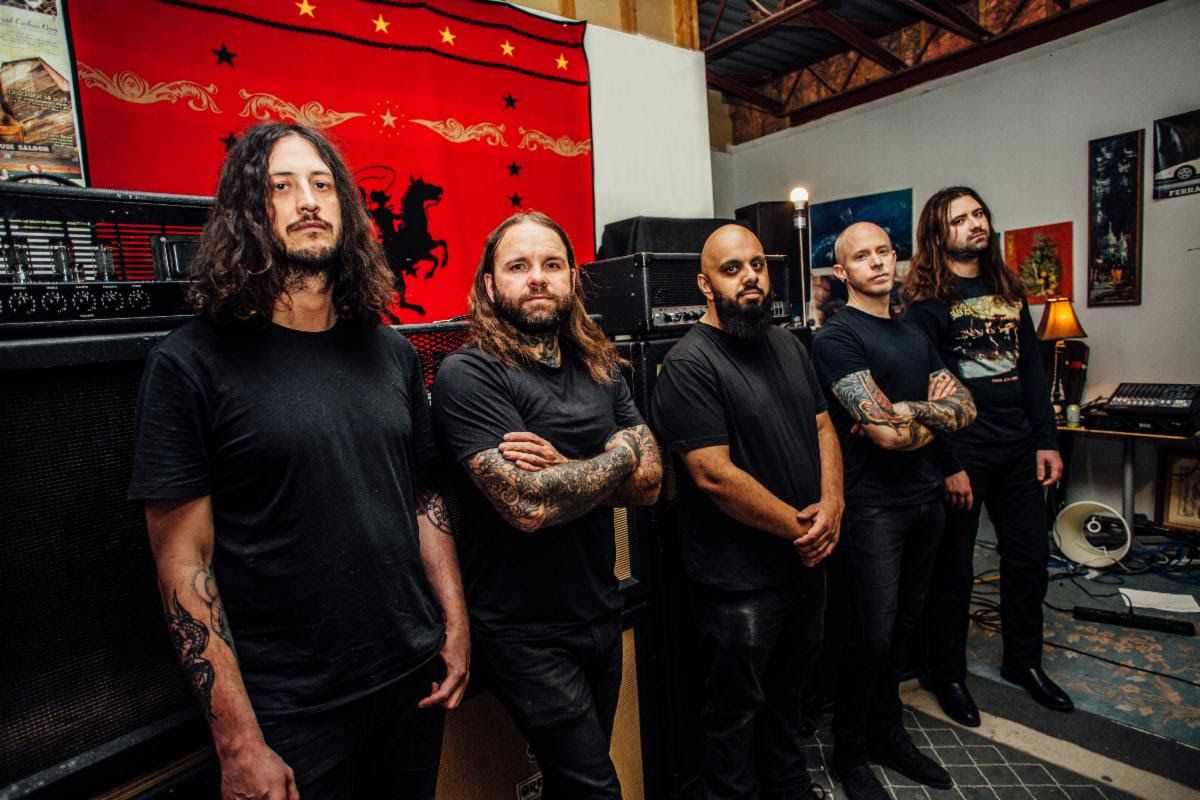 The ongoing transformation of Wake is a fascinating one. The Calgary-based atmospheric extreme metal act skirts around so many genre lines that we can't seem to agree on where to place them in the greater spectrum of metal subgenres. Black metal, post-metal, and death metal all seem to fit, but not quite so cleanly. Vestiges of a simpler time linger in reference to their early-era grindcore leanings within social media handles and tags on music sites such as Last.fm and Rate Your Music, but these days the act seem to enjoy being ambiguous in their progressive blend of influences as Wake sits comfortably on a playlist with the likes of Ulcerate, Wolves in the Throne Room, and Cult of Luna alike.
We reached out to Wake to gain some sort of insight into what inspires a once-grind band to become the fresh face of post-metal and the influential records that make up the sonic and melodic vocabulary you can expect to hear on their upcoming full length Thought Form Descent, out July 22nd through Metal Blade Records. Get an early glimpse via opening track "Infinite Inward" and a breakdown of the component pieces of Wake at large below.

Ryan Kennedy (bass)
Mercyful Fate – Melissa
I think this is probably the metal record I've listened to the most times, in total. I consider just about every second of it absolutely perfect. I listen to it regularly, but during the writing process for Thought Form Descent, it took on a new form as a kind of anchor; as I get older and make more albums and listen to all kinds of music and branch out in my life in completely unforeseen ways, ways that might change the way I create or think, Melissa is still here, a firm reminder of where I come from and what's important to both forty-year-old me and sixteen-year-old me. I want the music we make to have the same energy, songwriting, and absolute will as Mercyful Fate in this era. I doubt I'll ever make anything this complete but I keep it nearby as a constant reminder of what to strive for.

Iron Maiden – Seventh Son Of A Seventh Son
It's funny because I was listening to this album a lot during the writing process for Thought Form Descent, which I hadn't done for a very long time, and I think in that time it eclipsed Somewhere In Time as my favourite Iron Maiden record. I often prefer the albums from bands that are during transitional periods, or that don't represent the "classic" populist idea of what the band is. For Iron Maiden there's a tendency to see them as being completely defined by the albums up to Powerslave, but for me this one is the coolest, because it integrated the popular elements of the day – synthesizers, cleaner production – but without losing the really classic components the band has always had, the basslines and the perfect vocals. I think I felt like this record had an intent that matched my own in 2021, which was to find elements that could accentuate the format Wake has kind of commandeered for itself, but without having them be in the forefront or as a talking point, just as another element in the creative process. There is no debate the hooks on this record are brilliant as well, but as a resource I used the intent behind it more, I think.

Rush – Grace Under Pressure
I have the unpopular opinion that this is the best Rush album. I feel like people see it in a very specific light and as the beginning of an era of missteps for the band, but I completely disagree with that. I think that front to back this plays as the best, most complete example of all three musicians as players and creatives. The songs are surprisingly dark, which for some reason always gets forgotten or ignored in reviews; the central theme of the record to me is death and its passage, and the forms a person goes through during the different pieces of life which reflect either being adjacent to death, or experiencing death as a piece of our shared social experiences, or ultimately the experience of death itself. It mirrors a lot of what we were thinking about for Thought Form Descent, though I guess the question is whether or not that's a chicken-and-egg scenario, as a lot of what I make is influenced by both this record and Neil's writing at large. During the R30 "play the hits" tour, Rush resurrected "Between The Wheels", a song that wasn't even released as a single, and performed it every night – that should say enough about how they view this record themselves. If you haven't spun the whole record front to back, give it a go.
---
Rob LaChance (guitar)
Rush – Snakes and Arrows
Naturally, a Rush album was in heavy rotation during the writing and rehearsing of Thought Form Descent. Rush make every riff, fill and lyric serve a specific purpose within the tapestry of the song and that has been something that we've strived to do since Misery Rites.  There's a strange parallel between the emotionally charged riffs of Snakes and Arrows and Though Form Descent, which is cool. As far as the music goes, this was Rush firing on all cylinders and creating some of their most creative work since Presto.
Anathema – Judgement
I was jamming this album a ton while compiling the initial riffs for the first few songs of Thought Form Descent. A beautifully, dark atmospheric record that is a total mood. The Cavanagh brothers' use of arpeggios, atmosphere and purpose serving distorted guitar are unparalleled and are a huge influence.
---
Josh Bueckert (drums)
Rush – Signals
I have been obsessed with Rush, everything about them, since first learning how to play drums. My dad is a drummer and got me into tons of different music and drummers like Tony Williams, Vinnie Colaiuta etc, but specifically I remember rewinding this cassette in my room over and over practicing on a pad trying to figure out Neil's parts, reading about the gear he used, looking at pictures of his kit, just infatuated. It's still one of my favourite drum tones on a rock album, and it features everything I love about Rush: the songs are catchy and varied, there's technical stuff, synth stuff, killer guitar hooks, and lyrics that I didn't understand as a kid but definitely related to as a teen. Also, practicing to this helped me digest heavier technical music when I eventually discovered stuff like Death or Converge. Still a huge influence on me.
Darkthrone – Transylvanian Hunger
For almost the exact opposite reasons as Rush, when I first heard this album I got goosebumps and immediately "got" black metal. It's an exercise in simplicity, the production sucks, and it made me fall in love with and obsess over all of the other classic BM bands of that era. At the time I was really into technical death metal and stuff like Dillinger Escape Plan, so this album was a shock to the system and suddenly was all I wanted to do musically. I would walk around Edmonton listening to this for hours. There are like, 2 drum beats on the entire album, the guitar riffs are insanely simple and repetitive, and it completely captures everything about the mystique and and feel of black metal that opened the door to other similar music for me. In a weird way I think these albums, as different as they are, kind of sum up a big part of what WAKE is trying to do: combine musicality and catchy songwriting with heavy, dark atmosphere.

Wake's Thought Form Descent is out July 22nd via Metal Blade Records. Pre-orders are available at this location or by clicking through the Bandcamp player below.