Welcome to Heavy Buys, the column where Heavy Blog staff shows off and reviews recent merch purchases. The vinyl bubble has yet to pop; costs are on the rise, and records that get finished recording this week won't be able to ship on the format until next year. I've long admitted that vinyl collecting is a seriously privileged hobby, and it's increasingly becoming more difficult. Not only is the barrier of entry high, we've now got labels charging $50 and higher (see below) for relatively basic 2xLP runs. With fill-ups reaching $70 and climbing and a recession getting closer, the first thing on the budgetary chopping block for many is entertainment and hobby expenses. And that's not just for vinyl, either; I have to travel several hours to see a worthwhile show, so I'm going to have to make some decisions and skip out on a lot of tours this summer. Speaking of which, does anyone need tickets to the Meshuggah show in Columbus, OH for this September?
My concern is, with the cost of merch and fuel going up, at what point is touring no longer worth it for bands? Everyone's trying to make up for lost time from COVID and this summer was supposed to be the big return, but the competition for audiences and prices are high. The crowds might not be there, at least not if fuel continues to climb. I'm worried that the music scene will suffer. Capitalism flounders, but as long as buying plastic discs and rolls of magnetic tape make the serotonin flow, I suppose we'll keep buying them when we can.
Speaking of Heavy Buys, we've got merch as well! There's a shirt for several genre aesthetics, and we've also got stickers and pins (which you'll see cameoed below) if you're into that! C O N S U M E.

Abraham – Débris De Mondes Perdus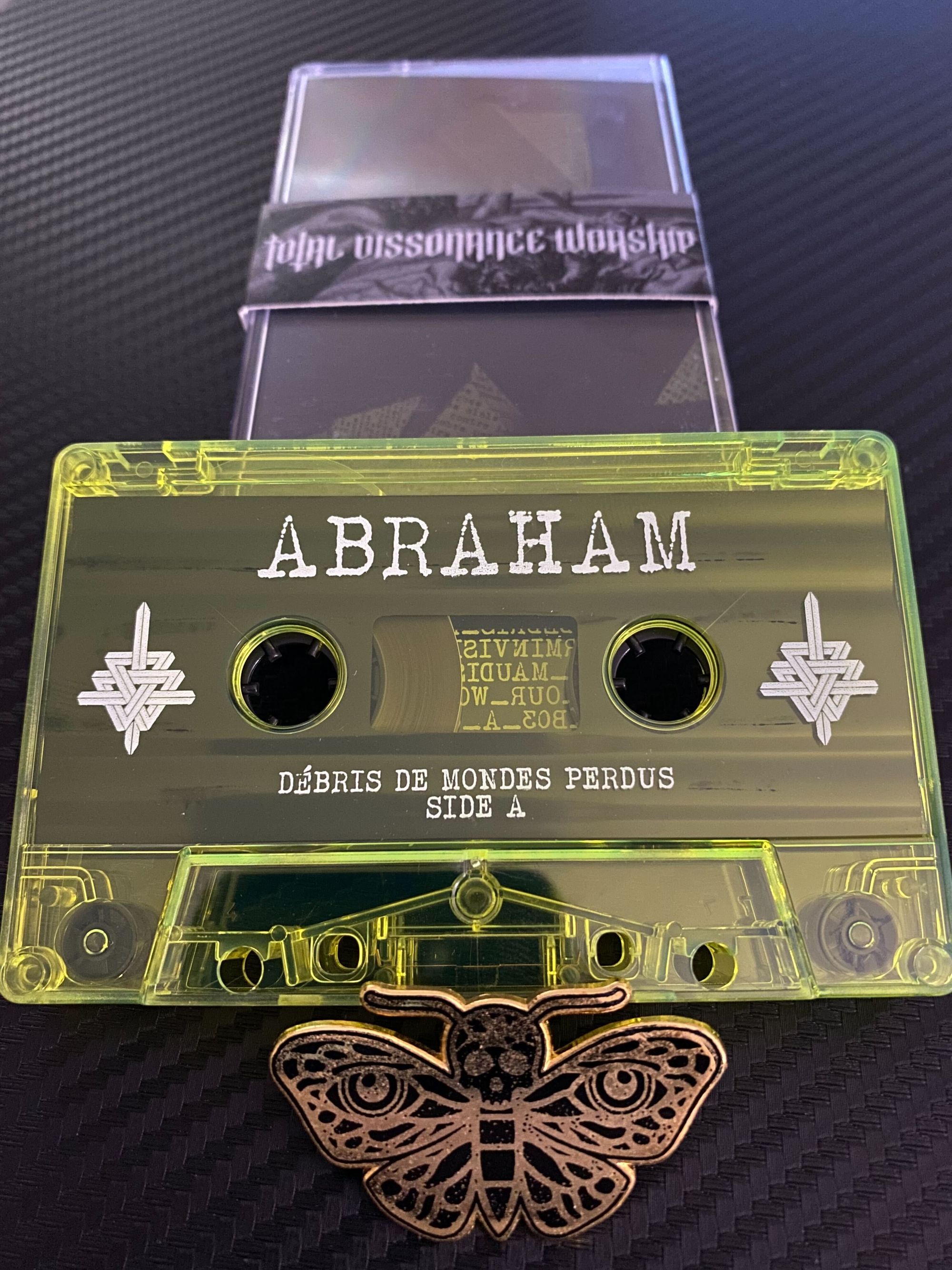 Trans Lime Casette /66
Total Dissonance Worship / Pelagic Records
I love a good boutique tape. Especially with limited runs, the collectability of cassettes is admittedly one of the big draws. Simon Hawemann (War From A Harlots Mouth, Nightmarer) knows how to scratch that niche itch through his label Total Dissonance Worship, which Jimmy covered extensively last month in vinyl form. Usually when you think of boutique tapes, the fully DIY, handcrafted works of distros like Zegema Beach come to mind, with unique hydrodipped paint swirl variants and stamped lettering. While TDW tapes don't quite reflect those methods, Simon knows how to bring that creative, made-with-love ethos to a professionally duped tape run.
Switzerland's Abraham deliver a lumbering, depressive post-sludge performance that translates well to tape. Discordant textures swim through melancholic compositions with clarity, sizzling in your ears like you're right there with them in a dingy basement of a venue. The shell design and packaging layout are the real winners here however, marrying the crisp manufacturing of Duplication.ca with the fervor of a collectible tape lover. Housed in windowed translucent lime shells with a white pad print and black liner, Side A features double TDW logos flanking the reels and the band name and album sandwiching the window. Side B, however, showcases a sick edge-to-edge alternate print with the tracklist repeated over and over in A/B format, almost resembling a cascade of code or rogue typewriter given the old type-set font. While that alone is a cool feature of this release, the crown jewel might be the hand-numbered TDW obi strip wrapped around its frosted Norelco case. That's the shit that makes tapeheads like me absolutely froth. I got my hands on number 21/66 direct from the source. If Simon's shipping these out numerically, that means a good few of you have a chance to snag a copy for yourself. Check the links below and join me in sweet, sweet dissonant tape worship.
Available for Purchase at Bandcamp | Discogs
-Calder Dougherty
---
Black Fucking Cancer – Procreate Inverse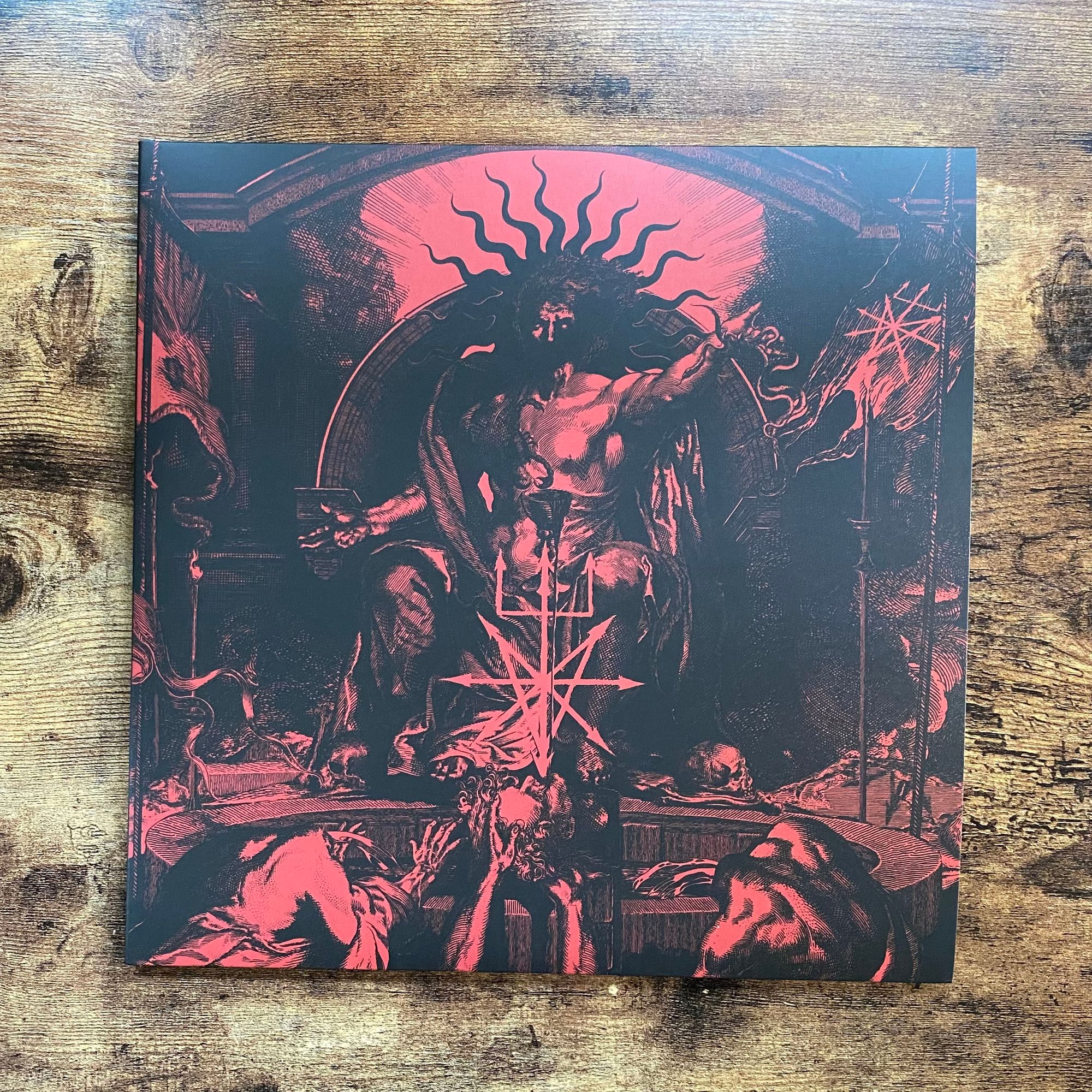 Black/Red Galaxy 2xLP / 100
Sentient Ruin Laboratories
Over the years there's been some noticeable changes in packaging quality, and usually not for the better. I understand labels are going to draw the line somewhere and can't give every release the bells-and-whistles package, but I've seen fairly-standard things like heavier cardstock for jackets, printed inner sleeves, and even lyric booklets go to the wayside over the last handful of years and I have some conflict about it. On one hand, these features are often beyond some artists' needs, desires, or budgets for their release, which is totally fine, it rarely has a bearing on whether or not I'm going to purchase it. On the other hand, I dig the "full-featured" releases that add to the listening experience.
All this is a semi-roundabout way for me to talk about Black Fucking Cancer's Procreate Inverse. I hadn't acquired a single record from Sentient Ruin Laboratories until I received this album as a gift and I must say, the package leaves me with a great first impression. The waxy, matte, two-pocket gatefold has a luxe feel with a thick, 3mm spine and black, poly-lined inner sleeves. It takes up some space on the shelf and makes a statement, as you may expect album from a band called Black Fucking Cancer would. The medium-weight (not quite 180g) vinyl is a looker; at a glance it looks standard black, but the deep red glows brilliantly when lit by LED lamp or flame. It plays wonderfully, too, capturing BFC's confrontational and oppressive nature with a full-bodied mix. It's good stuff that goes at least a little above and beyond in nearly every aspect, and I'm taking notice.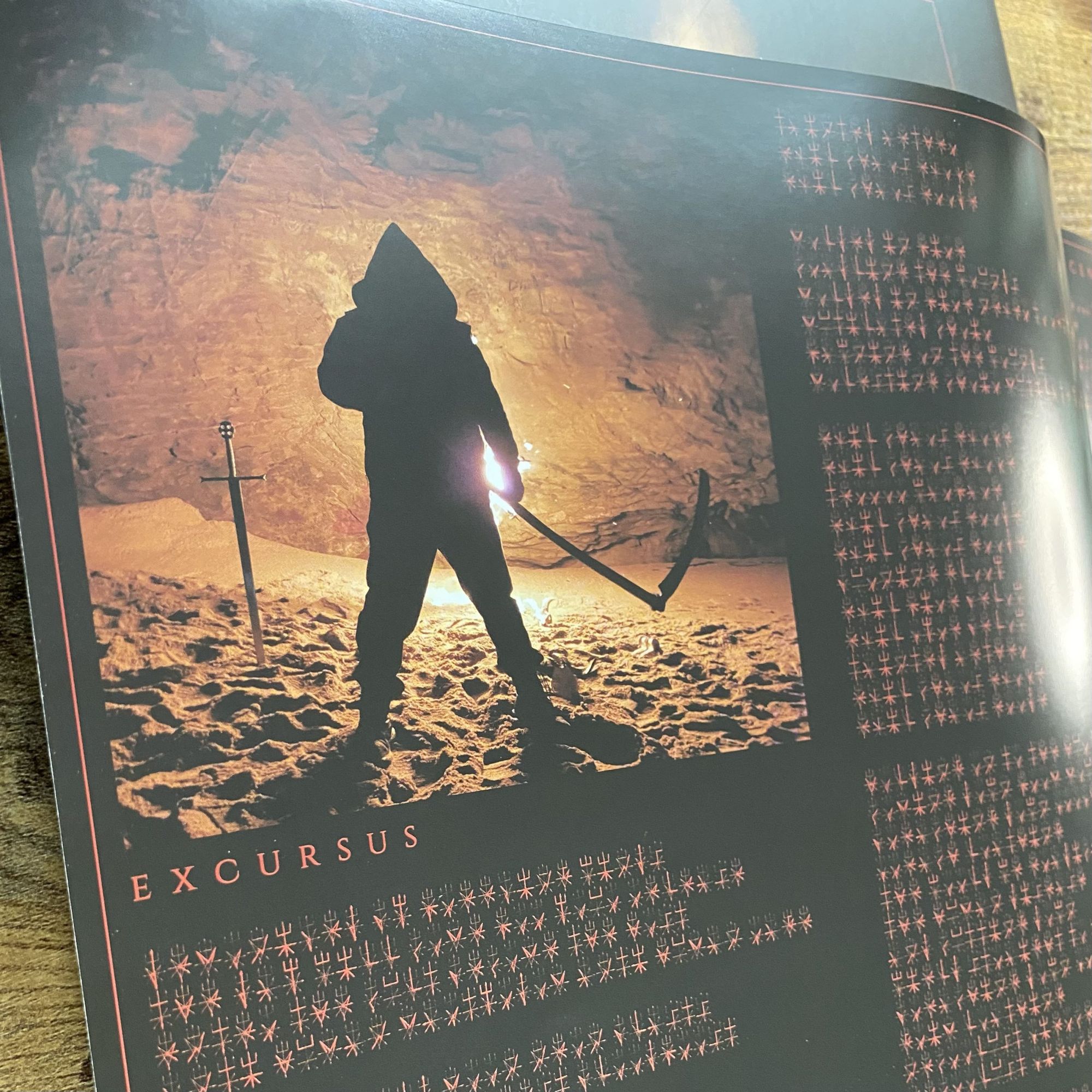 The art direction is as subtle as their namesake, the Artem Grigoryev cover (also etched into the D side) glows in vibrant red and black, while a band portrait on the inner gatefold has a complementary glow by way of a giant flaming sigil (which is seemingly everywhere). Another kvlty band shot is emblazoned on the Polaroid-style back cover featuring a track listing broken down by side – a nice touch that doesn't leave listeners guessing. It's a simple touch that can get overlooked or even or cutesy on over-designed layouts, and throughout this package is clean and clear. On the flip side, the eight-page booklet isn't quite as intuitive. Lyrics are written in runic typeface, making it indecipherable to …most(?). A few extra spooky band photos round out the booklet, making it a neat, over-the-top touch that adds to the mystery. Objectively, it's not anything fancy, but it captures that sinister occult vibe in an objectively nice package. Hell yeah.
Available for purchase via Bandcamp | Discogs
-Jordan Jerabek

---
Black Sheep Wall – I'm Going To Kill Myself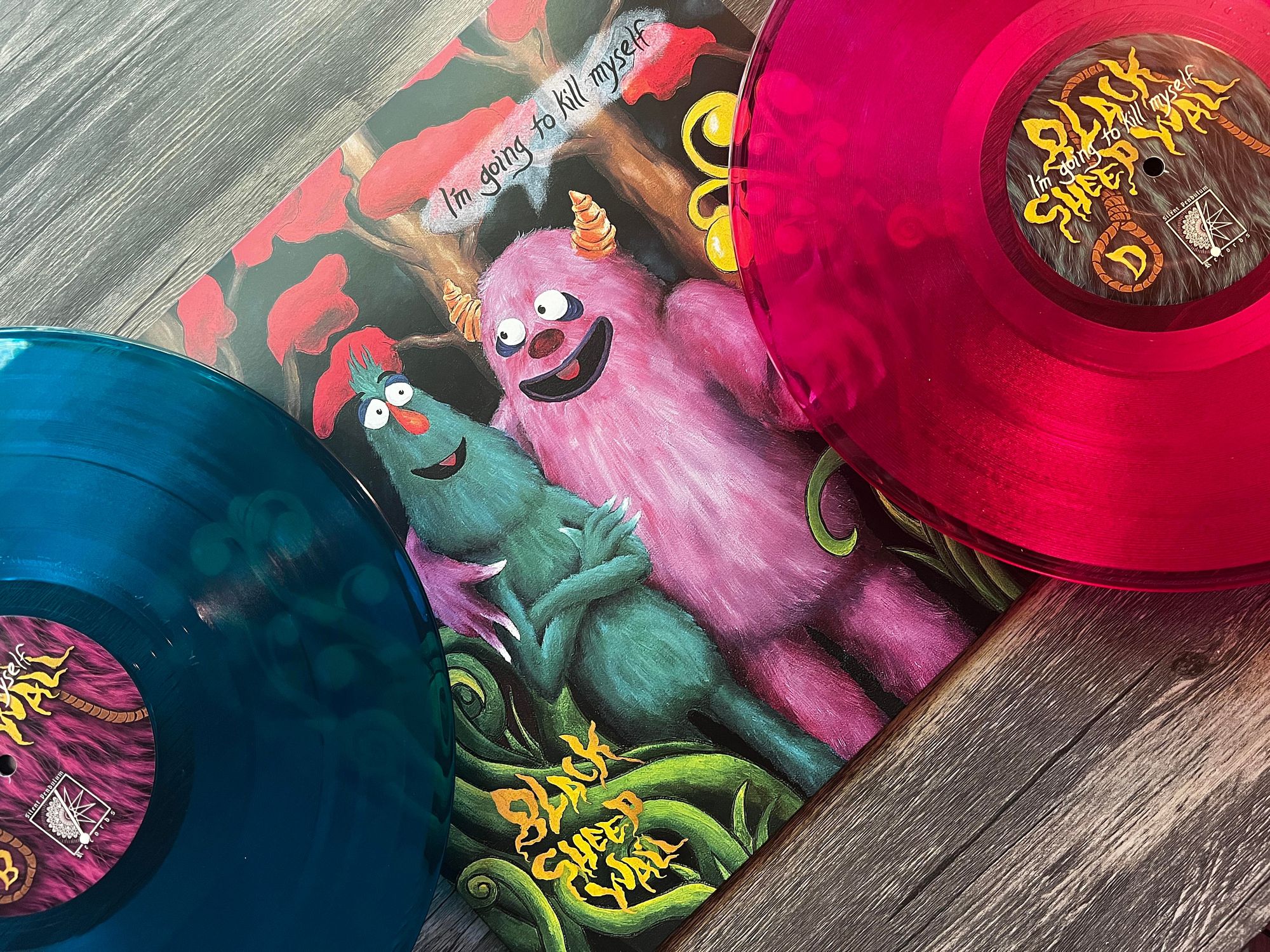 Transparent Pink and Teal 2xLP /200
Silent Pendulum Records
I think I've done it. I've reached my limit on what I'm willing to spend on records, and this new pressing of Black Sheep Wall's I'm Going To Kill Myself was what broke me, and I'm left with a good deal of buyer's remorse. I'm a fan of the California sludge-core act, and purchased their 2021 album Songs for the Enamel Queen for $44 on pre-order after shipping. Back in late 2020 during the pre-order period I thought that was a hair too much, but I've been a supporter of the band and Silent Pendulum Records for a while, so I let it go. In fact, I've sang the praises of Silent Pendulum here several times. After this, my thoughts on their operation has changed a bit.
This record has long been highly sought after for a long time. The original label, Season of Mist, never pressed this 2015 release on wax. Gotta Groove (the plant responsible for Wax Mage Records) were the pressing plant for this run, and the hype was high. All told, across three variants (one of which being a stunning /25 geoburst that was gone quick), 325 copies were made available on drop day. I didn't even get my hopes up for that geoburst and went into the mess settling for the transparent pink and teal, which made up the bulk of the run at 200 copies. During the speedy checkout process on Bandcamp, I quickly realized I had a decision to make: sit this one out and never own this record, or pay $80 after shipping. I had to check and make sure I wasn't accidentally buying two of them. I wasn't. I caved, unfortunately, and bought the records.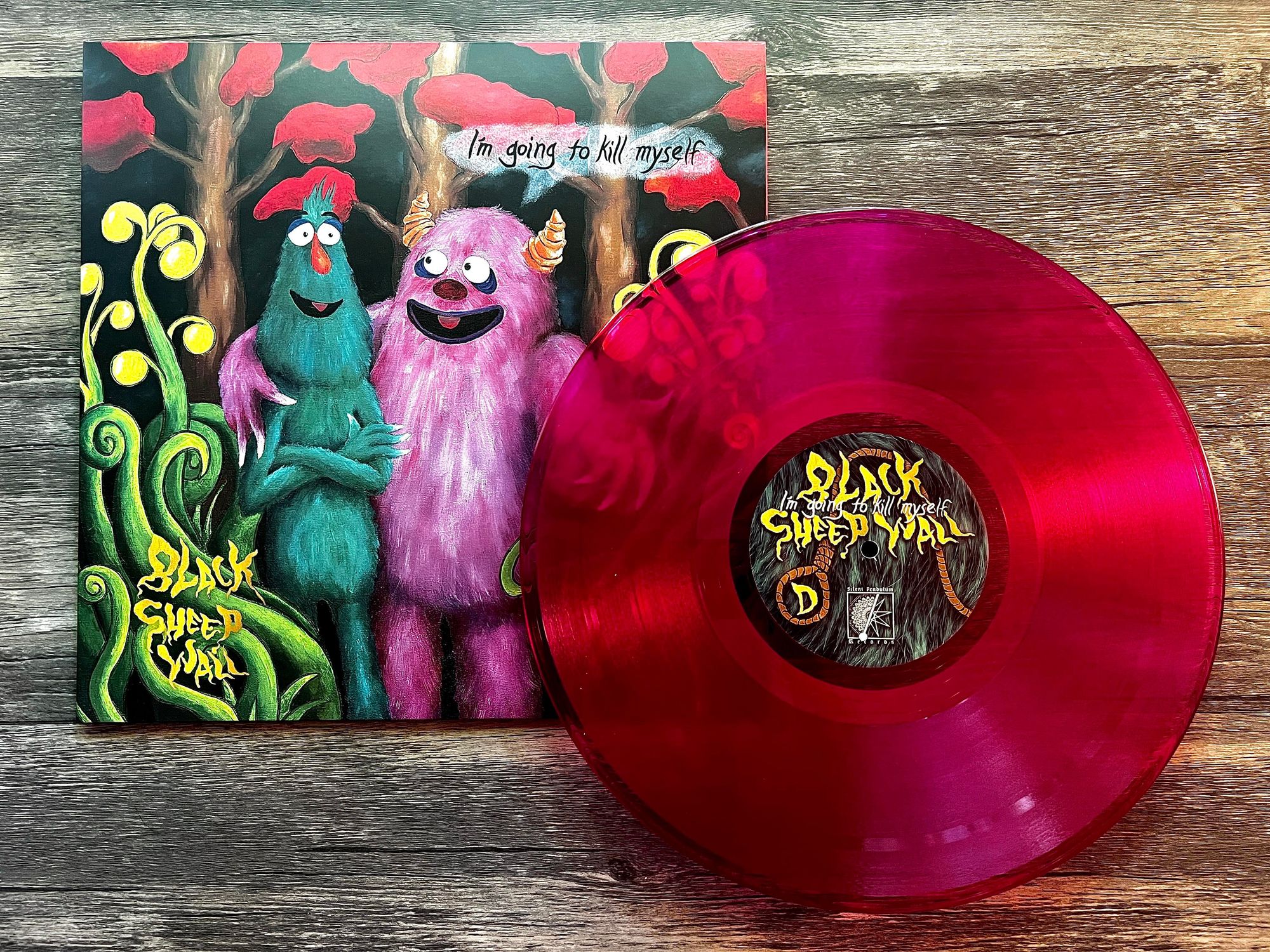 Don't get me wrong, these records sound fine, but why does this 2xLP cost $65 when it's less impressive than the $35 Enamel Queen 2xLP from a year and a half ago when it also featured two different variants between the two discs? Did manufacturing costs nearly double? Other labels have had to raise costs with inflation and other issues, and that's fine; the head of 20 Buck Spin was lamenting rising costs, but last I checked, the 20 bucks in the label's name has only inflated to about 23 bucks for the more involved variants, and is often still $20 for standard black. Brand new records from Profound Lore are also in the $20 – $25 range.
Granted, those are single LPs in standard everything, no bells or whistles. But where are the bells and whistles here? Perhaps I understand the niche handpoured wax mages they only make a dozen of being more costly, but these are two rather plain LPs. Shipping should not cost 12 bucks; media mail is still under $5, and it wasn't an option at checkout. Is this just the cost of doing business right now? If so, it hardly seems worth it when 300 of your 325 albums are honestly kind of plain looking, even if it is cute that they matched the colors to the characters on the artwork. Is that where the other $20 goes? There's really no way to justify these prices, especially when there's a The Number 12 Looks Like You 2xLP with a screen printed D side for $45 after shipping. Why does that record cost $35 less? Make it make sense.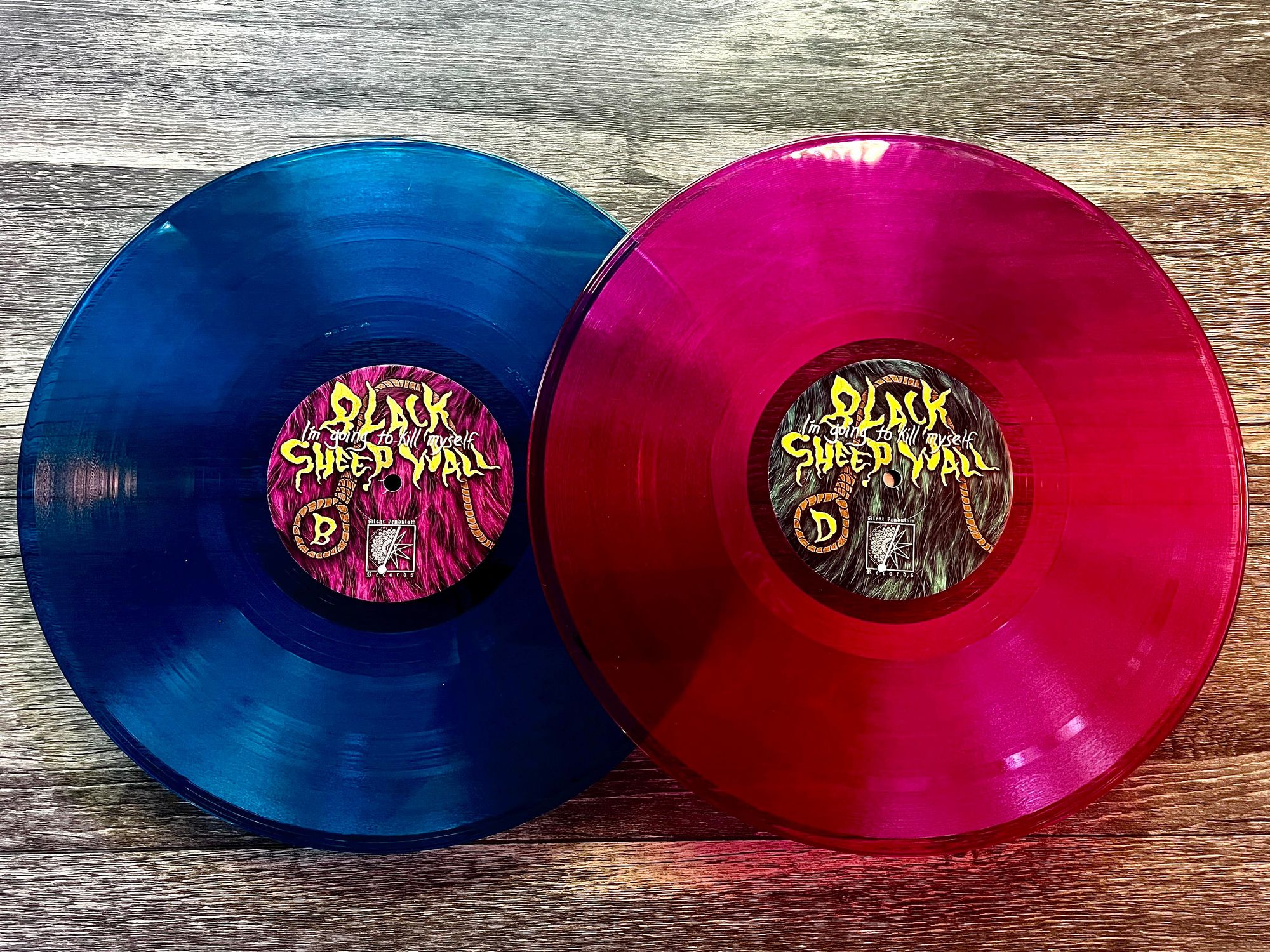 "My brother in Christ," I hear you say, "you bought the record." I did. I got caught up and caved to the FOMO. But unless there's some special circumstance (see Frontierer below), I won't be doing it again. Since this purchase was made, I sat out a Silent Pendulum drop for Heavy Heavy Low Low's Fuck It EP. They wanted upwards of $60 after shipping for a six-track EP where he average song length is around two minutes. Fuck it, indeed. Hopefully things are more under control if and when HHLL's Everything's Watched, Everyone's Watching gets a pressing, or a different label handles that one entirely.
Still Available at Bandcamp | Discogs
-JR

---
Frontierer – Oxidized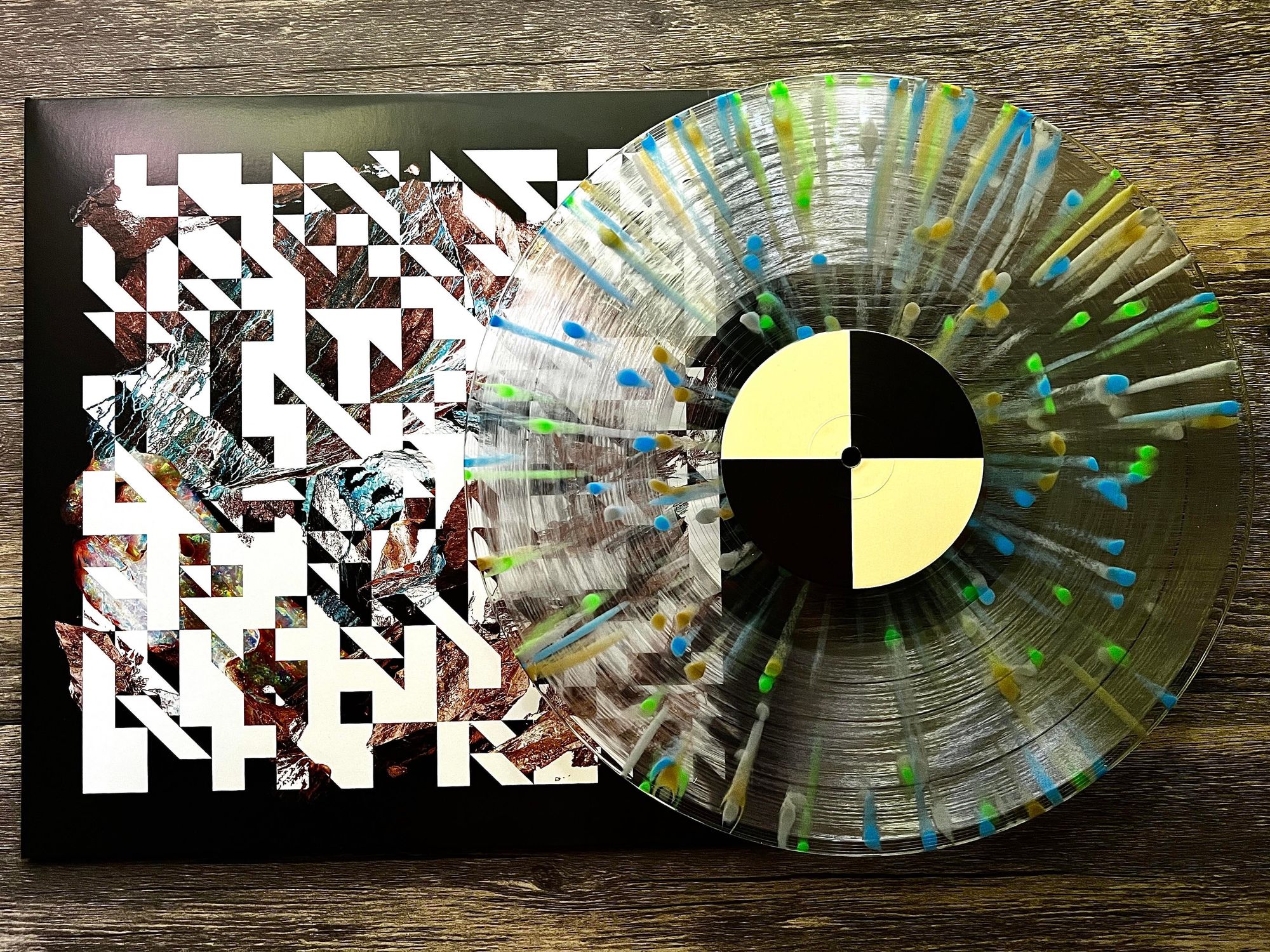 Copper Iris 2xLP /500
Self Released
I feel like I've been a fan of Scotland's Frontierer since their inception, eating up 2015's Orange Mathematics like everyone else. Despite this long-time fandom, I've not been able to get a single one of their records until now. Despite their standing among the mathcore community, the band is still fairly niche and fiercely DIY, eschewing label advances at every turn. So when they do a vinyl run, you've gotta buy it from the UK, and shipping to America easily doubles (if not triples!) the cost of the final product. I had to sit out two different pressings of Orange Mathematics as well as the release-window run of their follow up in 2018's Unloved all because they were over $50 shipped.
Further Reading: Heavy Blog's Top 50 Albums of 2021
But Oxidized was different and came at the right time. Not only is this their best record, I've personally been kept afloat by pandemic stimulus money, better access to credit, and the recent proliferation of buy-now-pay-later services like Klarna, PayPal's Pay In Four, and Affirm, among others. When Oxidized dropped a second pressing (the third variant total), I told myself I wasn't missing out this time. Good call, because it ended up being my album of the year in 2021. Unfortunately, that came at a cost of over $70 USD after shipping (roughly 38 USD itself). But at least there's a decent excuse for this one, unlike a certain other record in this article.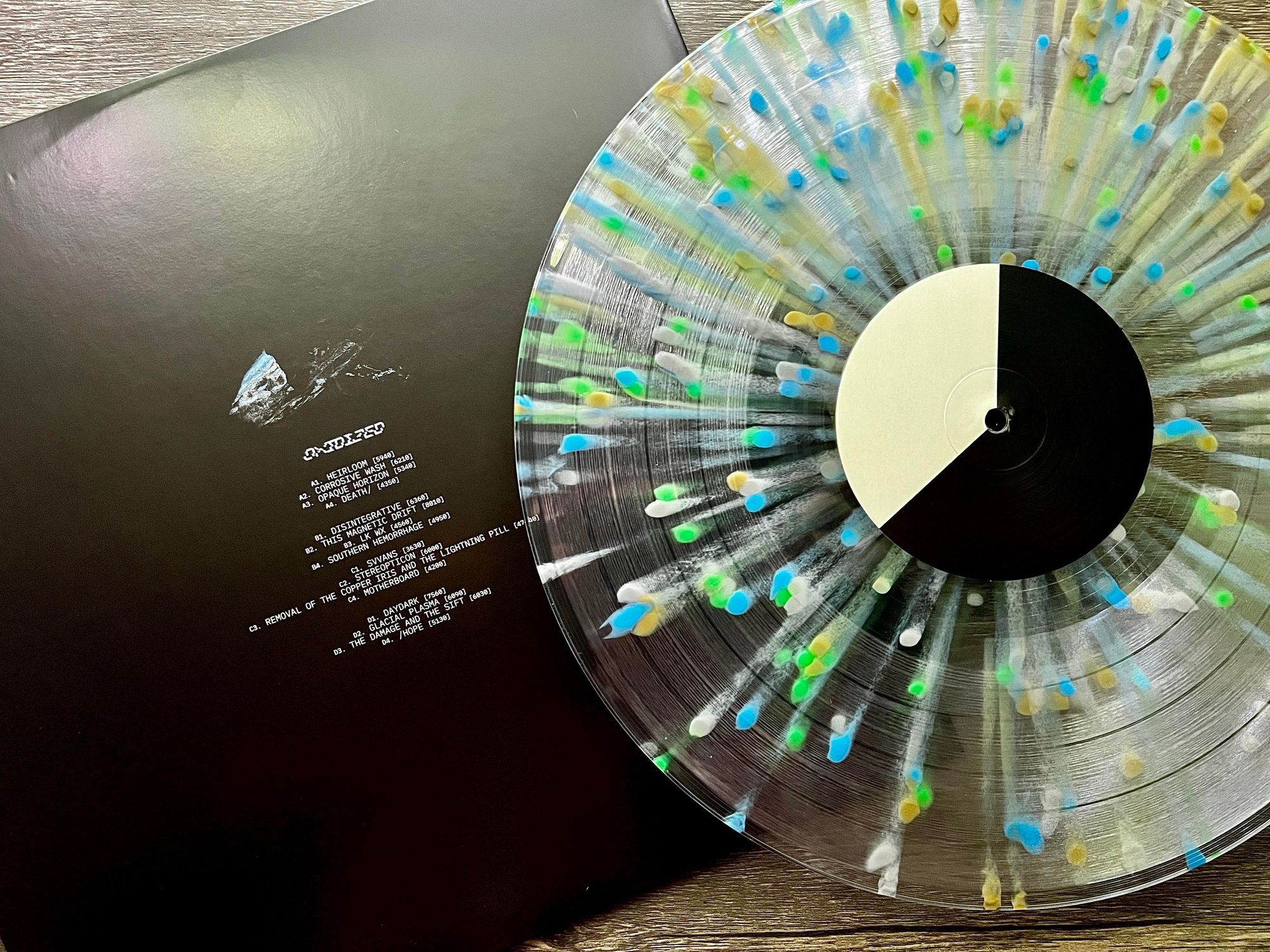 The record was purchased back in November 2021, but due to long delays with vinyl manufacturing, it arrived in late May. When writing this piece, I went back to the original receipt email and saw a very pessimistic (and unfortunately realistic) July – September 2022 window for shipping, so this actually arrived earlier than the band had anticipated. Overseas shipping makes me anxious lately, particularly as we approach summer, but the record came in an appropriate protective mailer and without the appearance of being backed over with a truck. The 2xLPs, in perfect condition after a standard surface cleaning, come in a thick gatefold jacket, with very minor ringwear (ie, evidence of use as intended), with no dings or knicks. The records themselves are housed in thick cardstock sleeves with lyrics and simple supplemental art complimenting the greater glitchy and abstract aesthetic.
Oxidized plays in 45RPM despite nothing seemingly indicating that anywhere on the records or packaging, which is always a fun realization to make upon first spin. I had anticipated that this record wouldn't sound the best due to not only ultra-clear, but the advertised inclusion of glow-in-the-dark splatter (which is actually very minor and without enough quantity to be all that worthwhile of a novelty). I'm happy to report that there were no major issues with playback here! It's not as punchy as you would anticipate, but those PEW PEW PEW PEW riffs are so clean, it's astounding.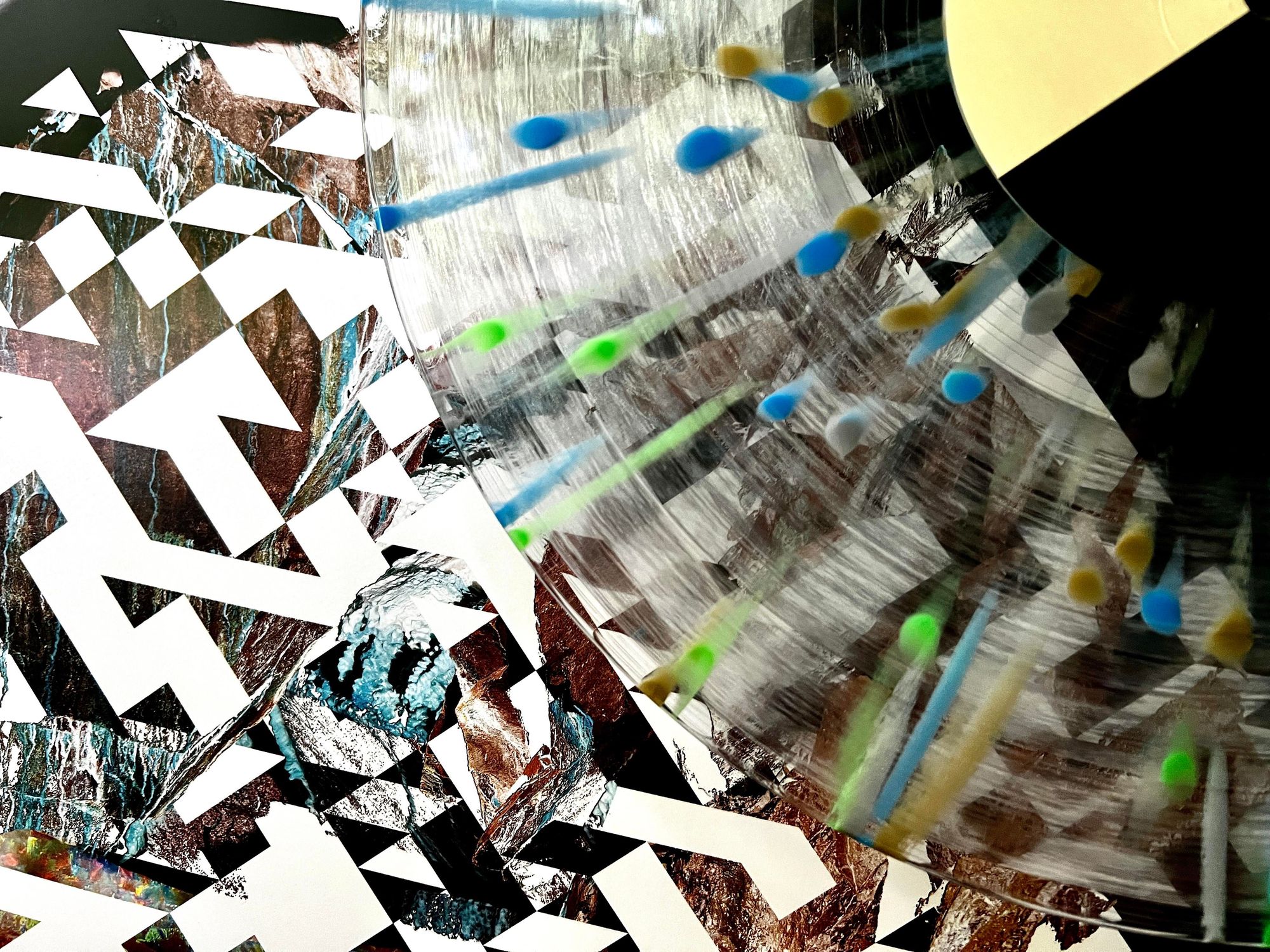 This was an expensive album to obtain first-hand, and I'm very pleased with the final product. Pedram, if you're reading, I know you hate dealing with it, but do the other records again! They didn't have Pay In Four when Orange Mathematics dropped! If there's a band I'm willing to finance a record over, it's Frontierer.
-JR
---
Living Gate – Deathlust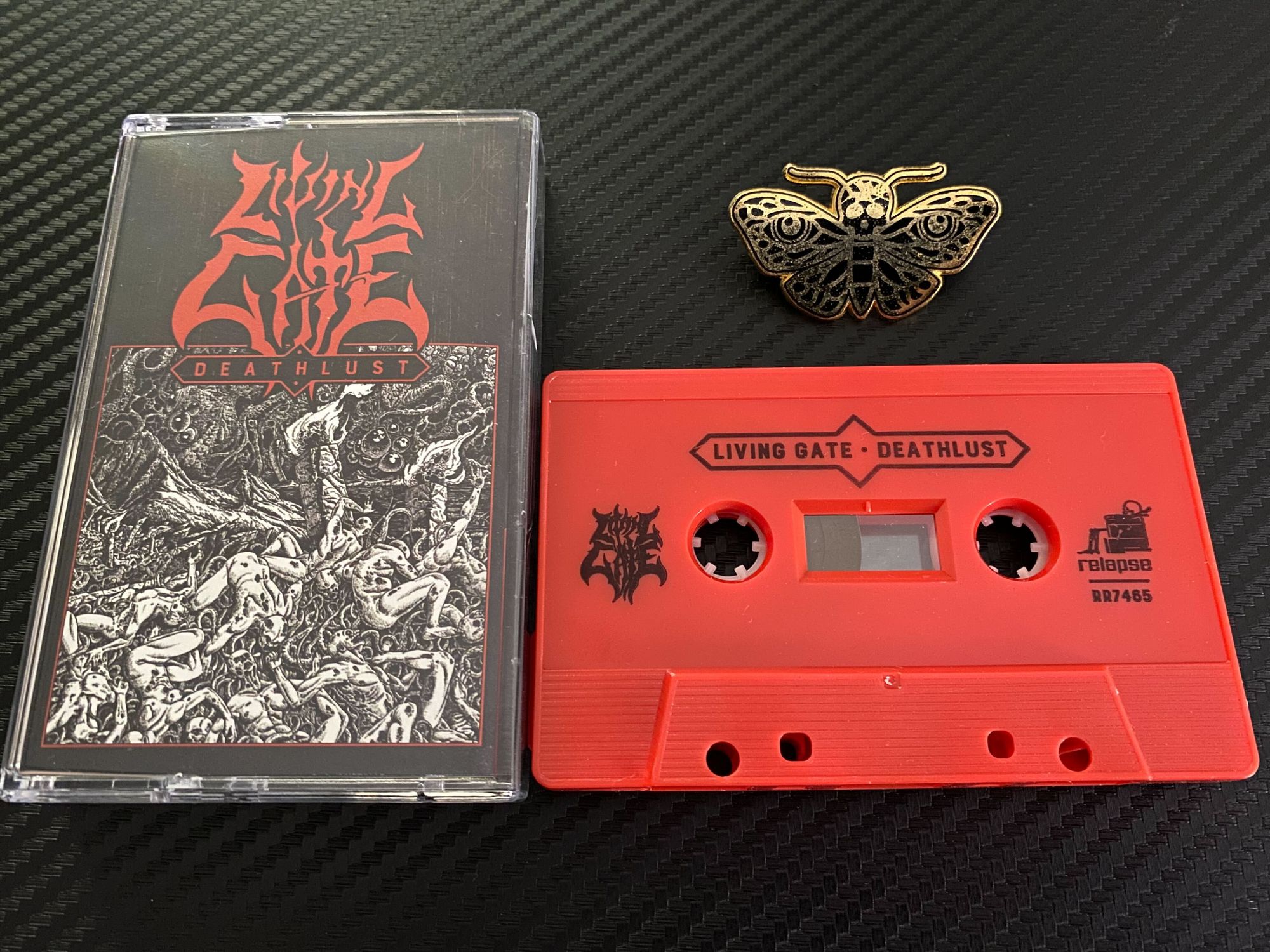 Sonic Red Cassette /100
Relapse Records
As I write this, it's been exactly two years since Deathlust dropped. Ahh, summer 2020. What a time to be holed up listening to brand new OSDM fresh off the HM-2. In most cases I'd have eschewed such behavior, but as with any popular trend, there will inevitably be the good examples that make the rest pale by comparison. Deathlust by international supergroup Living Gate is definitely among that camp. Comprised of venerated acts like Yob, Oathbreaker, Wiegedood, and Amenra, the Belgium-based powerhouse of underground trailblazers set their sights on good old-fashioned deathened metal without all the bells and whistles, and boy oh boy, did they succeed in writing one of the crunchiest EPs in recent memory.
Since diving headfirst back into analog, I've gained a new appreciation for this style of death metal. Little 5 track EPs propped up by the desperate, sweaty smack of drumheads, the belching, industrial clunk of heavy bass strings, and buzzsaw riffs played with abandon just hit different on tape. The shell design itself strikes the perfect balance between modern cassette affectations and classic pressings, with a simple, clean black pad print on windowed matte red sonic weld featuring the stylized logo on the left, label logo and catalog info on the right, and simplified title up top. Legible and to the point while still screaming "this is a death metal tape!" Absolutely one of my favorite contemporary OSDM releases, housed here in all its rightful analog glory.
Sold out at Bandcamp (Sorry!) | Discogs
-CD
---
The Odious – That Night A Forest Grew (10 Year Anniversary Edition)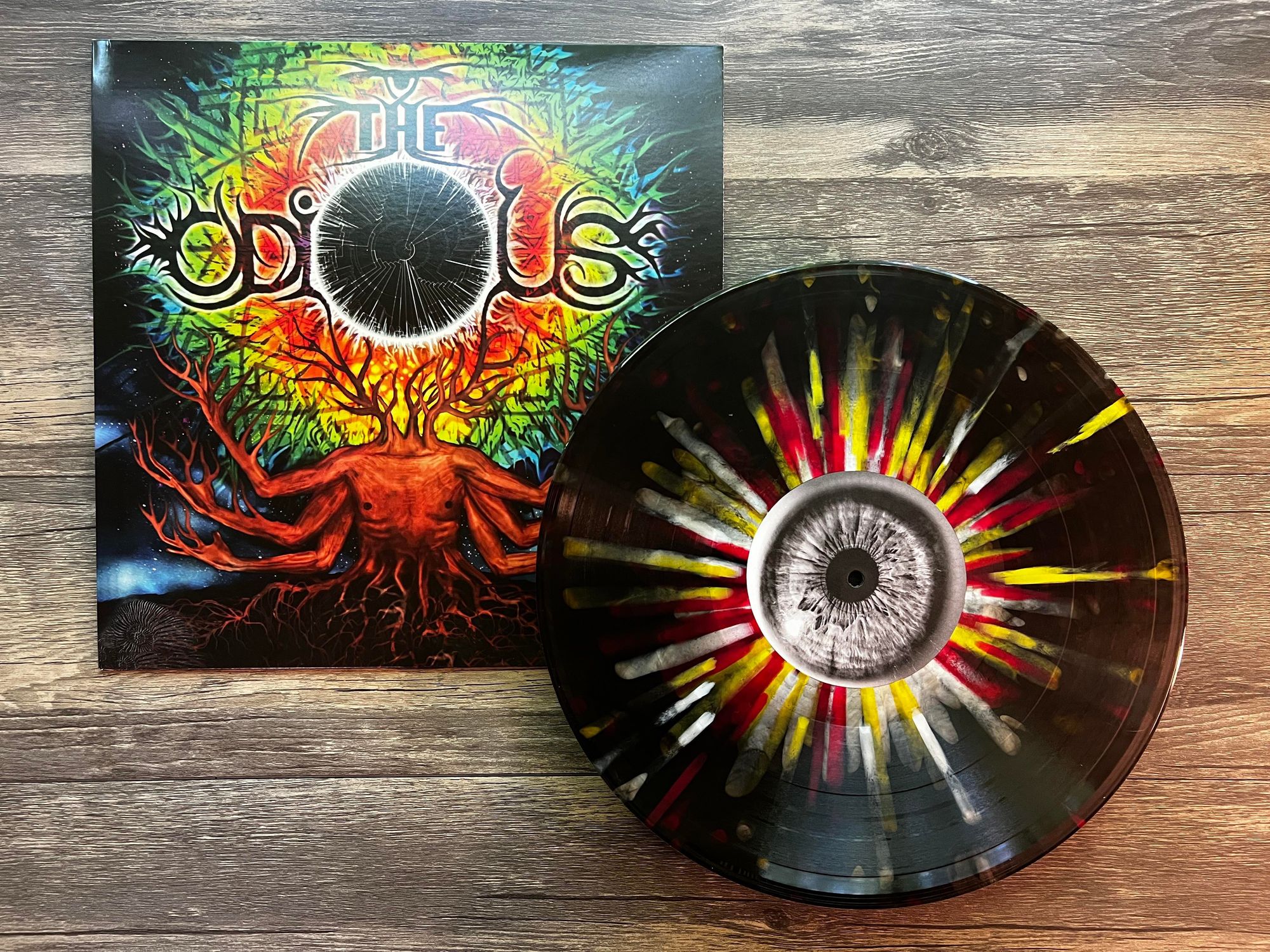 Void Eater LP – Translucent Black with Yellow White and Red Splatter /50
Cortical Records
The scrappy upstarts at Cortical Records are back with round two on a niche prog project: a 10-year anniversary edition of the cult prog metal classic That Night A Forest Grew by Portland's The Odious. This was our introduction to the band way back in 2011, and offered an engaging take on the post-Colors style of prog/tech metalcore that bands like The Human Abstract, Last Chance To Reason and White Arms of Athena had been developing in parallel. It's a shame that this area of metal kind of just fizzled out once djent came into the picture around this time; most of these acts, The Odious included, are either disbanded or in hibernation.
Naturally, pre-orders for this thing came and went almost an entire year ago, back in June 2021, with manufacturing delays really doing a number on the turnaround here. This first-time vinyl pressing of the album is a remaster that provides a bit of a facelift to help this EP hold up over the years, and was available in a run of 275 records across six different variants. This "Void Eater" edition caught my eye quickly, as a colorful splatter on dark vinyl isn't exactly super common and I was interested to see how it would turn out. Back when this pre-order dropped, I had not yet received my copy of Pathogen's Null Space, so this was another purchase on faith alone. Fortunately, it turned out beatifully.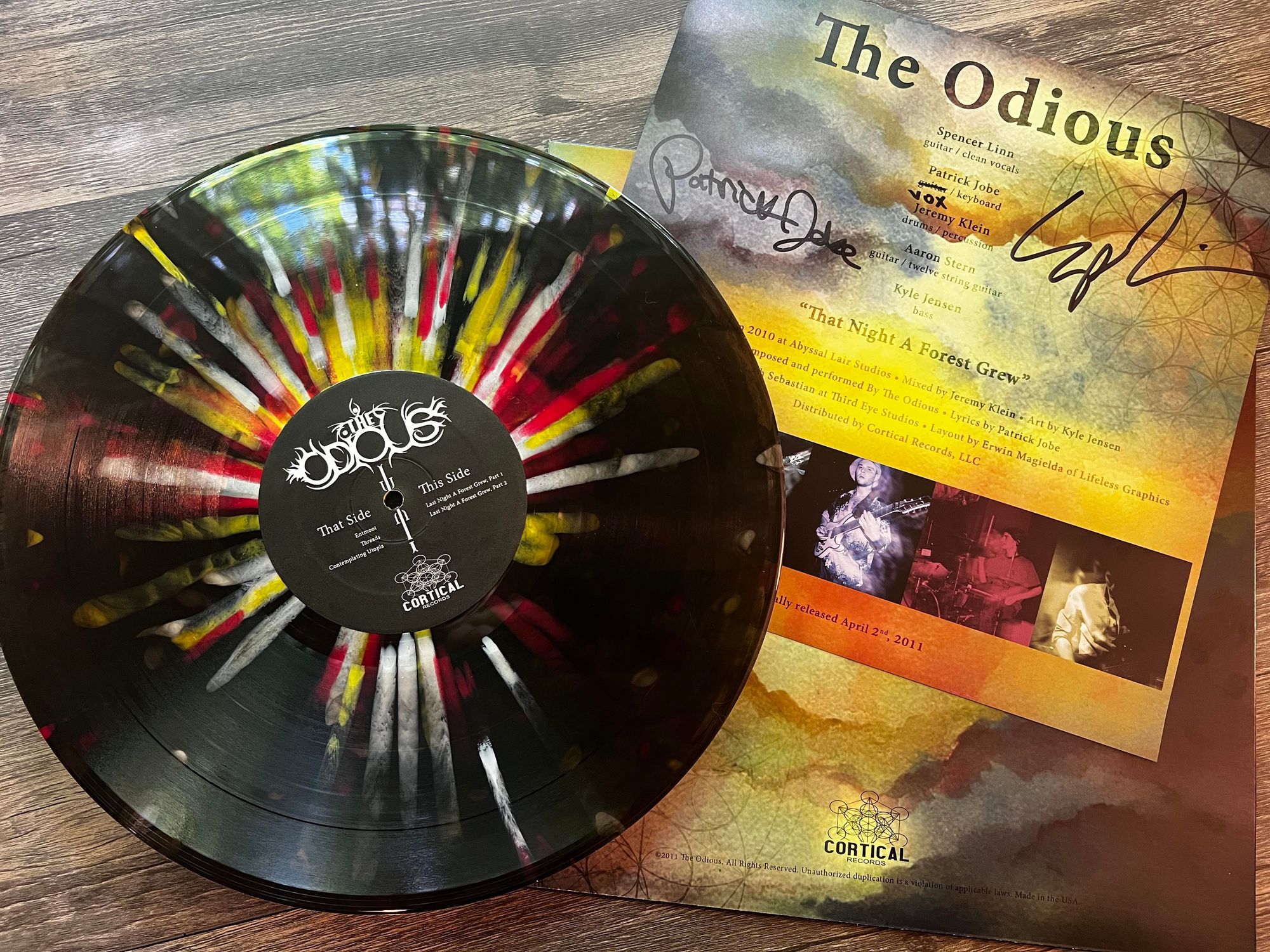 The vinyl itself is a thick and heavy slab of plastic, and I was again surprised by its heft like I was the Pathogen LP. The remaster sounds great, but the artwork could have used a facelift or re-interpretation, as it did not age quite as gracefully. The LP came housed in a white poly-lined sleeve (yay!) within a pretty simple jacket. The insert includes lyrics liner notes and signatures from two band members, presumably the only ones left in the band from that era. The owner of Cortical Records also slipped in a personalized and signed 'Thank You' letter for making the purchase and being patient with the delays on the final product shipping. A nice touch from the band and label really caps this one off.
Sonically, the LP — which plays at 45 RPM, which doesn't appear anywhere on the record — plays fine enough. As I've said, the remaster from Third Eye Studios is great. It's a gorgeous pressing as well, but as the needle comes closer to the center, I'm getting some noise during the second half of the title track, particularly during the quiet parts at the end. A common issue though, and as always, your mileage may vary.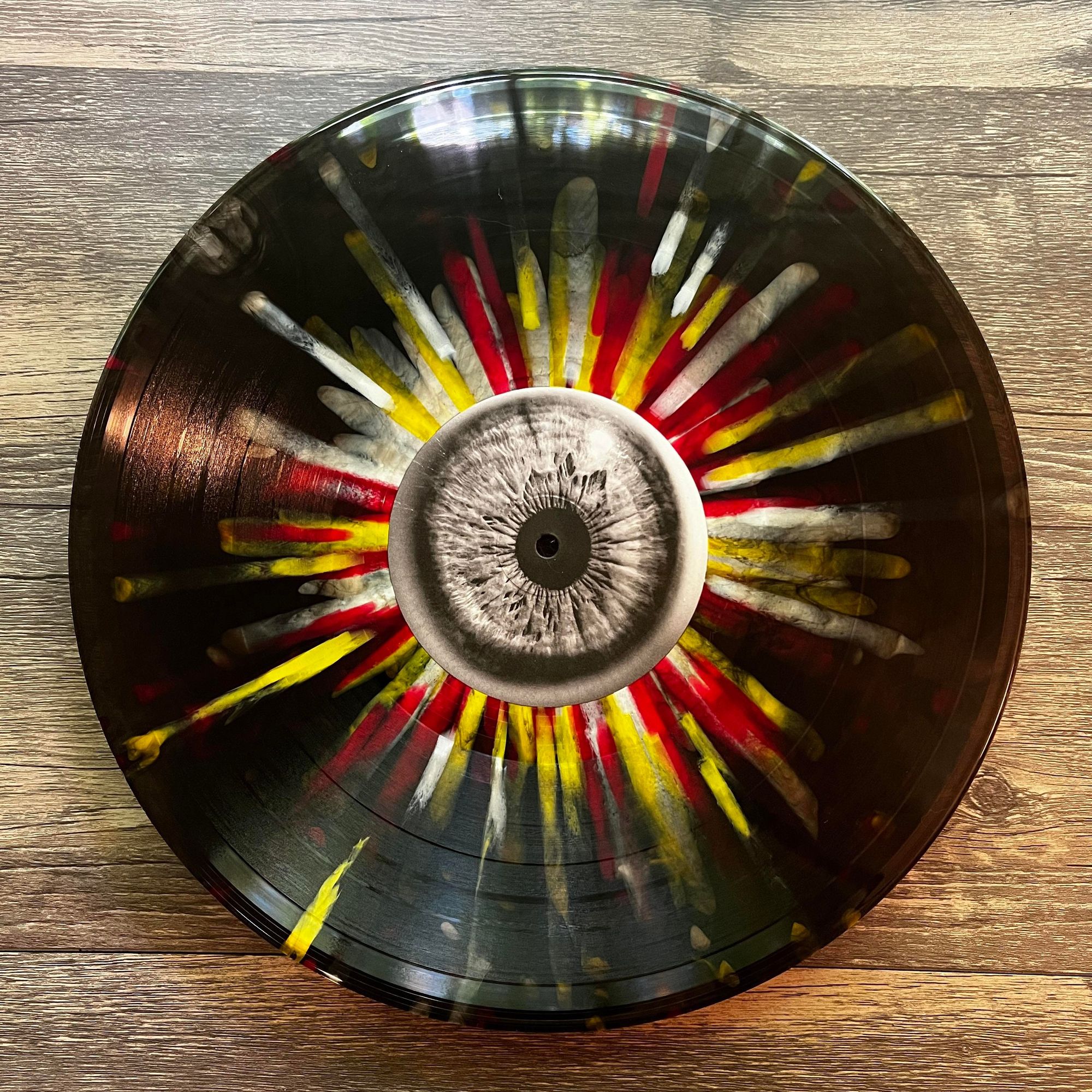 Hopefully we're not too far away from the 2012 follow up Joint Ventures coming down the pipeline from The Odious and Cortical Records, as I prefer that record, but this is a nice blast from the past that is worth the speedbumps.
-JR
---
Slipknot – Iowa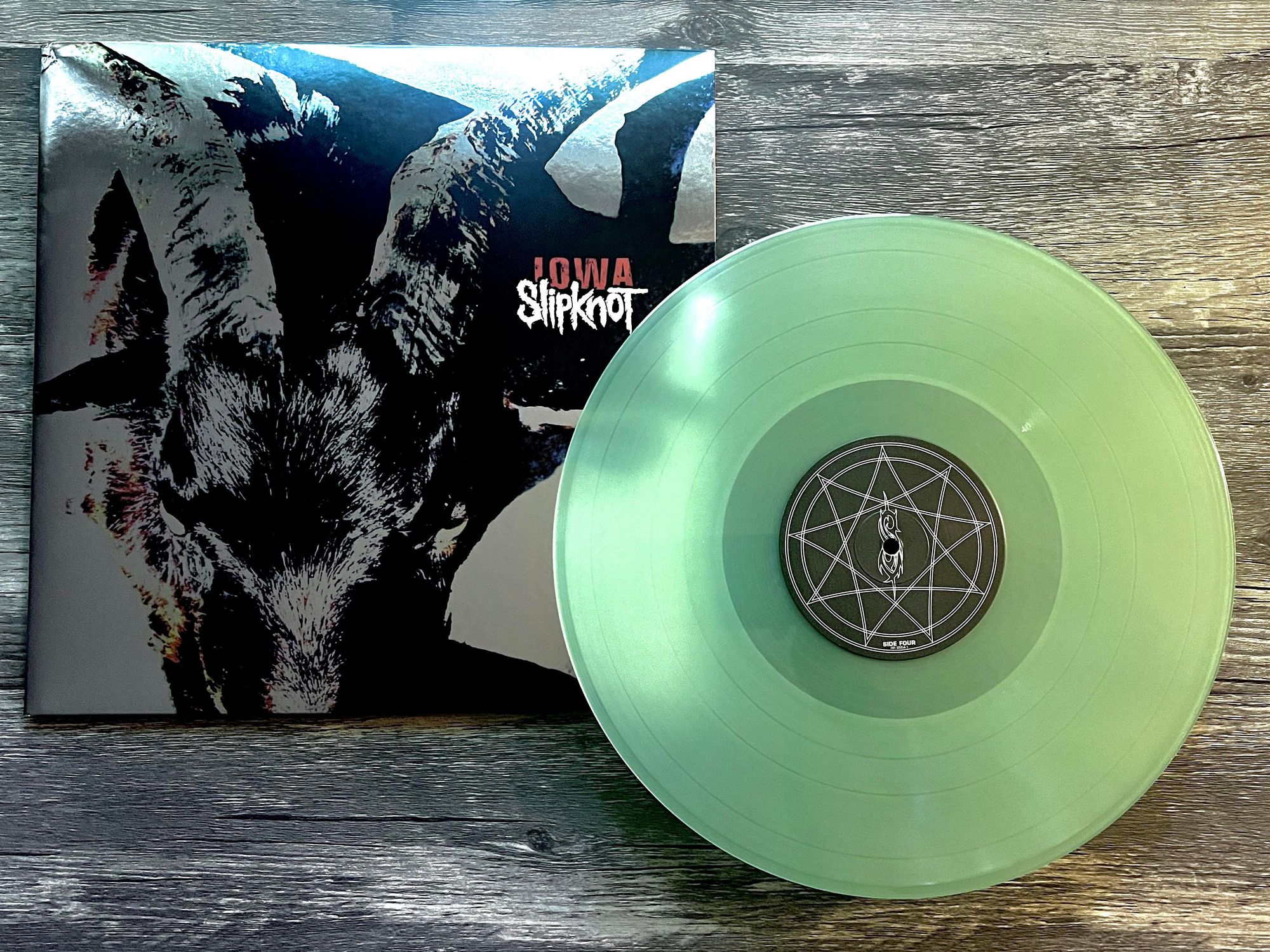 Translucent green 2xLP
Roadrunner Records
At long fucking last, one of the biggest grails in recent metal history has been re-pressed on vinyl. Originally ran as a limited LP way back in its 2001 release when the format was certainly dead and far more incredibly niche, fans have only been able to get insanely marked up originals or European bootlegs in the 20 years since. Who knows why Slipknot and Roadrunner took so long to press Iowa? Do they hate money? It certainly seemed like it for the longest time, but they finally offer a correction with a hotly anticipated run on translucent green.
Just like the original, this run is a 2xLP housed in a reflective foil gatefold. It looks incredible, even though I've found that foil gatefolds tend to crease (or at least show them) much easier. The translucent green looks nice against the foil and fits the overall vibe and aesthetic. I have to admit that anticipating a thin, clear record like this didn't put my hopes up very high, but my expectations were exceeded.
This record sounds surprisingly great. When the band gets going, everything is as it should be. There aren't many opportunities for the surface noise and other weird vinyl artifacts to pop through outside of the silence leading into and out of records; perhaps certain moments of the quasi-post-metal slow-burn of "Gently" and the title track, but given the circumstances, it could have been worse.
Naturally, as this record was such highly sought-after, pre-orders went fast. I grabbed one on Amazon as an insurance policy, and also ordered one at my local record store. My record store ordered six copies of this, but only received one copy. If this is you first hearing about this and you've long missed out, I apologize. At the time of this writing, they're going for about $50 on Discogs. Hopefully going forward the band and their people keep churning these out for more pressings, because the demand is still there, and the product actually meets expectations.
Sold Out Online (Sorry!) | Discogs
–JR
---
Undeath – It's Time… To Rise From The Grave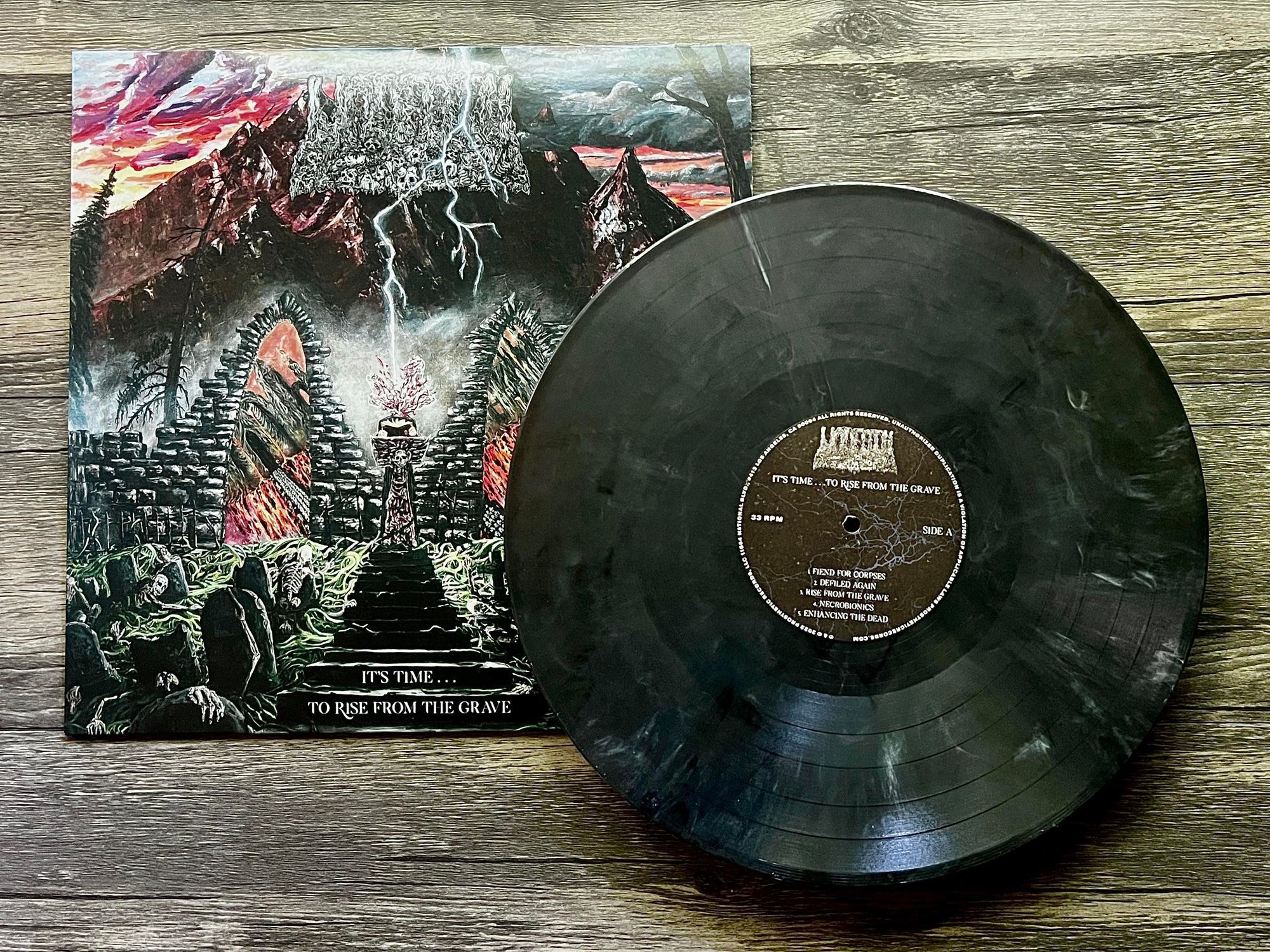 Headstone Grey Splatter LP; Decibel Magazine Exclusive /300
Prosthetic Records
If you ask me (nobody did), New York's Undeath are the kings of the current OSDM wave, because they so perfectly capture the essence of what makes the genre what it is. If you needed to find the mutual ideal from across the broad spectrum of death metal, it's Undeath. They're a perfect modernization of genre classics from the likes of Morbid Angel, Cannibal Corpse, and Suffocation. Their sophomore LP, It's Time… To Rise From The Grave, which dropped in April on Prosthetic Records, continues the trend of Undeath absolutely dominating this avenue of the genre.
Further Reading: Undeath – It's Time… To Rise From The Grave [Review]
According to Discogs, there are at least nine variants of this album floating around in the world at the moment, and likely more to come. I was in the right place and right time for this grey splatter variant, looking at my phone as an email pushed through from Decibel Magazine's web store telling me that not only was Undeath releasing a new album this year, but pre-orders were now available for this limited-to-300 variant. Undeath being immensely hyped in these circles, I knew to jump quick, and I was right. They were gone before release date. It can be obnoxious, but sign up for every mailing list you can.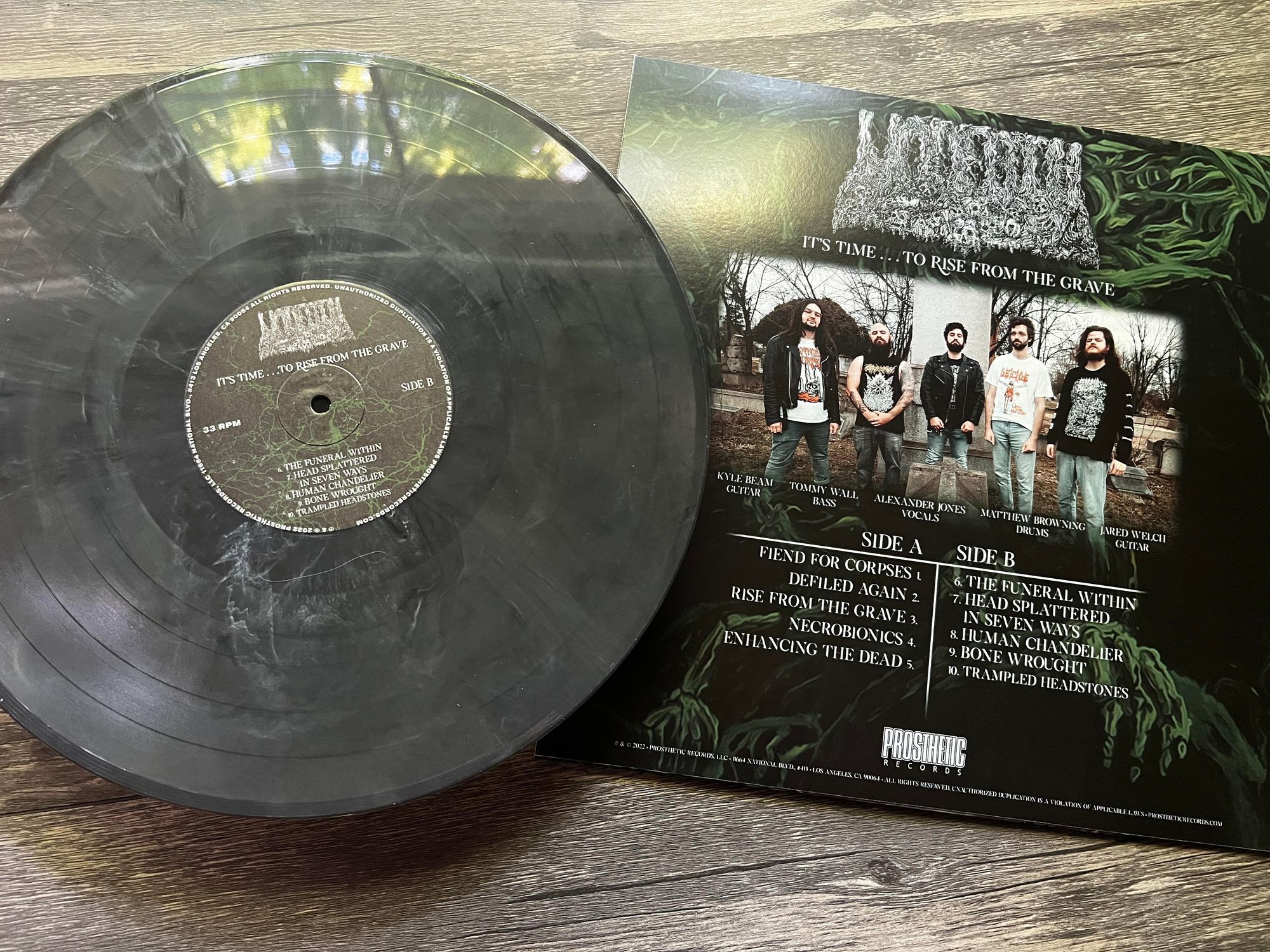 The record looks wonderful and matches the album's themes and aesthetic wonderfully. The LP is stored in a standard jacket with an insert with additional artwork, liner notes, and lyrics. The detail on the hand-painted artwork from drummer Matt Browning is nice to see blown up to a larger size, as well. Presentation is simple, but effective. I've always held that death metal just thrives on the vinyl format, and that holds true here. This record sounds great, as well. No noise, warps, or scratches; just thick, dank, IQ-lowering death metal at its finest. Pick it up on another variant if you can.
Sold Out at Decibel (Sorry! Other variants available online) | Discogs
-JR