It's a brand new year, yet with it come the same issues we faced last year insofar as the vinyl situation is concerned. We're just now getting some of the records in the mail we ordered last year, and records we order now often come with a tentative ship date that basically amounts to a shrug emoji. But that's not slowing down our purchasing habits, particularly coming off a holiday season and as we begin seeing the deposit of those tax returns. Considering this as the our first post back since December, this is perhaps the biggest Heavy Buys yet, and we've still got records sitting on the shelves that we haven't had a chance to talk about, not to mention the ones still arriving in the mail.
We've also got the list of Record Store Day exclusives we can anticipate to fight a crowd over this year, and there's not much that excites me this year. Feel free to give the list a look yourself, but here's what I'm seeing that may be of particular interest:
The Dillinger Escape Plan – Dissociation (limited to 1800; numbered; gold ripple vinyl)
Gojira – Live at Brixton Academy (limited to 3500)
Jazz Sabbath – Vol. 2 (limited to 4000)
The Offspring – Greatest Hits (limited to 7000; aqua blue with foil board cover)
Opeth – My Arms, Your Hearse (limited to 1500; purple, white, black swirl)
Sepultura – Revolusongs (covers collection, limited to 1800; picture disc)
Tesseract – Polaris (limited to 900; picture disc)
Voivod – Nothingface (limited to 4500; pink with blue swirl)
Voivod – Angel Rat (limited to 4500; deep purple with lime "monster" green swirl)
Really, the only thing I plan on getting is that Opeth record, but there's some cool options, particularly if you're missing out on Dissociation. What do you plan on picking up?
This month, we're taking a look at new vinyl records from: Author & Punisher, Demilich, Gorguts, Heavy Heavy Low Low, Pathogen, Satyr, Shadow of the Colossus, Wolves in the Throne Room, and Xythlia. We've also affixed a list of new releases and pre-orders we've been looking at that you haven't missed out on yet!
Speaking of Heavy Buys, we've got some new merch of our own! Visit our partners at A Thousand Arms for shirts, stickers, and a limited enamel pin featuring Crunchy 3.0.
C O N S U M E.
-Jimmy Rowe

Author & Punisher – Krüller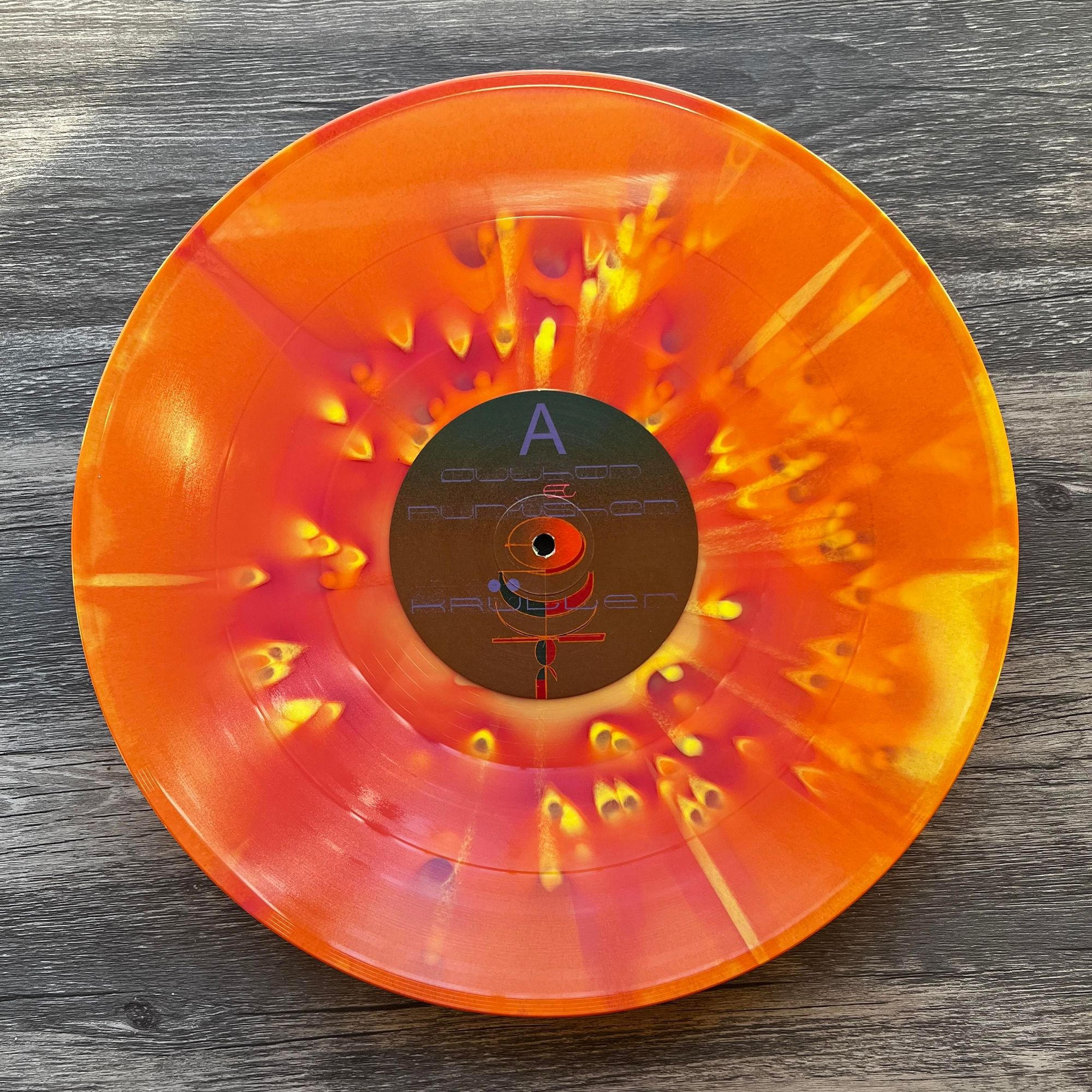 Custom Tri-color Merge w/ Splatter /145
Relapse Records
Up first this month is the latest album from California one-man industrial doom machine Author & Punisher. This was an instant blind purchase as soon as I received the email for it (get on those mailing lists wherever you can!) and I was shocked to be able to snag the most limited run of this. I've been a huge fan of A&P since seeing him live back in 2013 between the release of Ursus Americanus and Women and Children, and he's only gotten bigger and better since then. This album marks a huge shift in the A&P sound, so the blind purchase before streaming the single was a huge gamble, but this might be one of his best. For Krüller, Shone taps into his more goth and new wave influences for a more melodic take on his industrial doom sound, and it's a move that I certainly approve of. You can read more of my thoughts in the full review here.
Relapse are a long-proven entity at this point, and their products are fairly consistent in their high quality. This is a 2xLP with a gatefold sleeve, and the artwork is even better in person, particularly the extended art inside the gatefold. I love the way the artwork pops on this almost powdery matte sleeve. This specific variant is stunning as well, as is the case with most Relapse and Translation Loss limited-run variants thanks to product designer Drew Jeurgens. The only thing about the physical product that I don't like is that there's no indication of playing speed to the naked eye, and having it printed on the center label would be helpful. I was playing the first moments of Side A at 33rpm instead of 45. It's not like Author and Punisher needs to be playing any slower.
Is it surprising that something so bass-heavy as industrial doom sounds phenomenal on wax? It makes me appreciate this record more, being able to feel the bass droning while the twinkling melodies hang above the wreck. The tracks are also sequenced in a way that's suitable to vinyl, particularly Side A's "Drone Carrying Dread" and "Incinerator" bleeding into each other seamlessly. Justin Chancellor's bass performance on "Centurion" also feels more pronounced here compared to the streams and .mp3's I've been using previously, but I fully admit to a level of confirmation bias here.
The popping and noise between tracks and during the album's quieter moments were also minimal on this pressing compared to other Relapse pressings that I have experienced in the past. The most affected tracks are "Misery" and "Gloryboxy" with their low-key introductions, but it doesn't interfere with my enjoyment of the record like they did across my two copies of Genghis Tron's Dream Weapon. So that's good!
The variant I snagged sold out quickly, but at the time of publication here, there are two other limited run variants available at Relapse, so I'd recommend giving it a go.
Sold Out at Relapse (Sorry! Other variants available) | Discogs
-JR
---
Demilich – Nespithe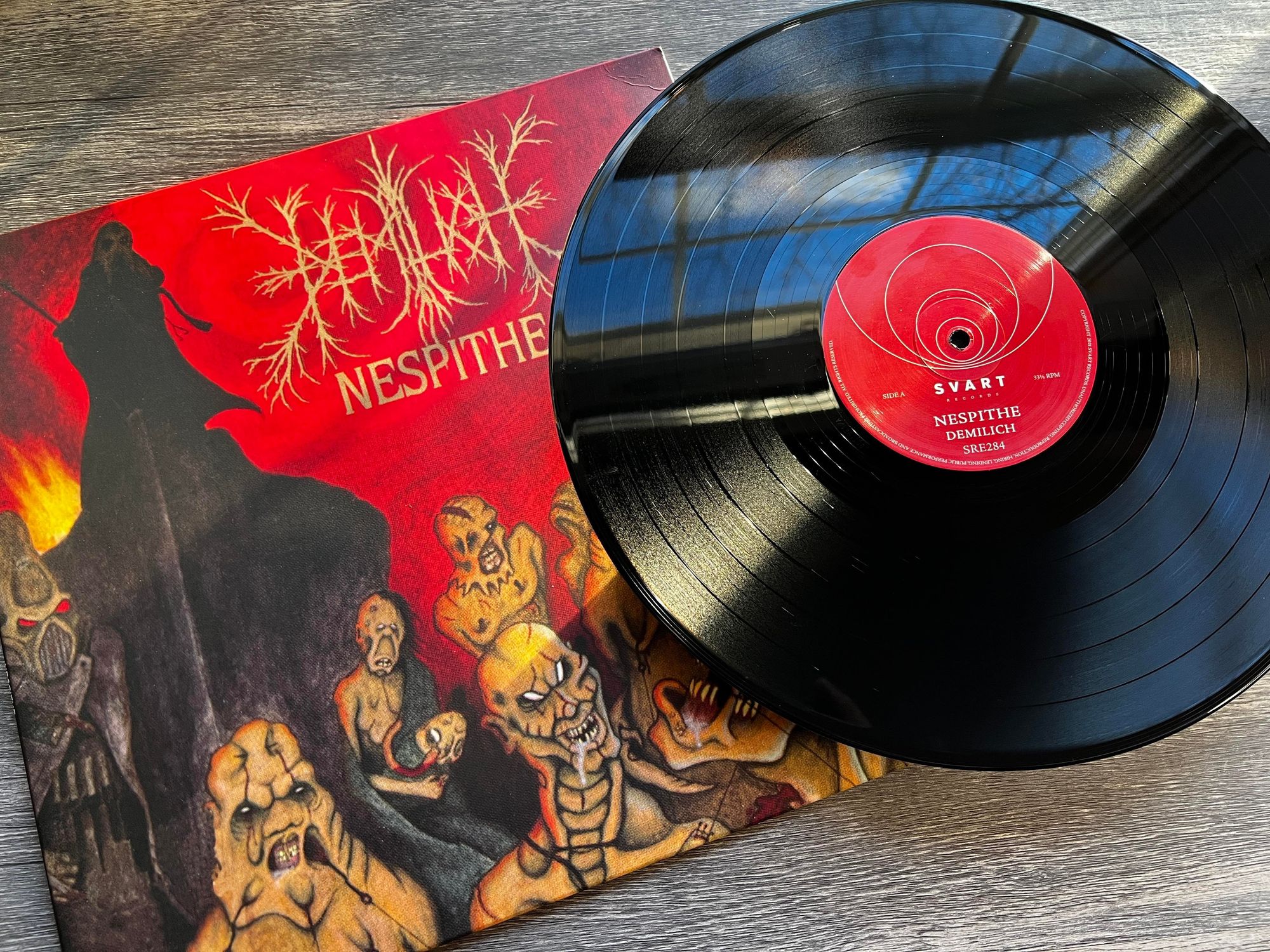 2021 Standard Black Repress
Svart Recordings
The next two entries are tech death classics that I bought from online record store and distro Meteor Gem, whom I wholly endorse as a place to check for all of your extreme metal vinyl needs. If there's a European pressing of something that you want and don't have the money for how outrageous the shipping costs are or want to get your hands at a reasonably priced NESI pressing (if you know, you know)? Check Meteor Gem. Just make sure you do some comparison shopping first, and sign up for their newsletter for a 10% off code and save some money where you can.
First up: the latest pressing from this croaky death metal classic, the one and only full-length studio album from Finnish death metal act Demilich, originally released in 1993. Despite being a one-and-done band, this record is a timeless classic that helped pave the way for all the wonky prog and tech death we have today. The vocals take some getting used to, but the record is undeniable and includes some of the catchiest riffing I've ever heard. This is an all-time death metal favorite for me and was a substantial find in my death metal education in recent years.
This 2021 repress from Svart is great and features a remaster done in 2013. Death metal sounds fantastic on the format anyway, but this record plays flawlessly. Not a lot to say about this one; it's a standard pressing for a genre classic and it checks all the boxes without being fancy. It'll run you between $25 and $30 wherever you can find it in North America. I originally bought this from Meteor Gem for $25 but they've since raised the price to $27, which is about the standard for Stateside record shops on Discogs. Your mileage may vary. I'd argue that this record is a must-have for any death metal enthusiast, but what do I know?
Available at Meteor Gem | Discogs
–JR
---
Gorguts – Obscura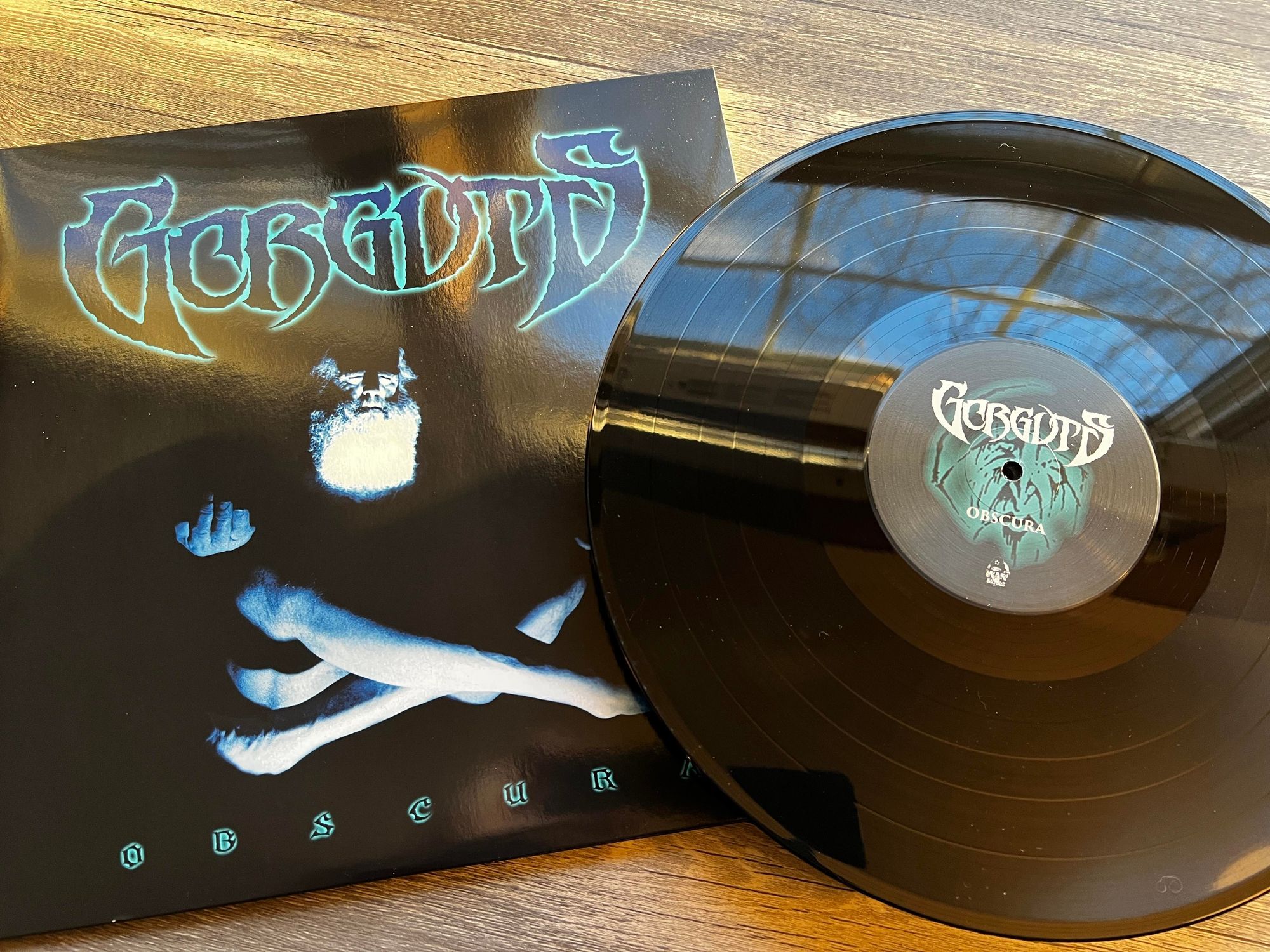 2019 Standard Black Repress
War On Music
Here's the second Meteor Gem grab from the last month. As you may be able to tell (and partly documented on my Patreon-exclusive column where I listen to a new album every day for the entire year) I've been really circling back to some classic death metal and exploring the genre. Obscura (originally released in 1998) is an album I've actually been a fan of for a long time, and it's a timeless death metal classic that is directly responsible for so much of the music we love today — obviously the band Obscura, but for the entire disso-death scene with bands like Ulcerate, Imperial Triumphant, and Ad Nauseam citing Gorguts as a central influence on their sound. I've been meaning to purchase this for a long time, and I'm happy to finally own it.
I'm not a fan of glossy gatefolds, bit I'm not mad about this. The artwork hasn't aged particularly well, but it is iconic. Standard black isn't something to be mad about, either; heavyweight vinyl on black tends to sound the best, and when I want to hear guitars-falling-down-the-stairs riffs, I want them pristine. This copy plays perfectly, with nary a pop or hiss between tracks or during the quieter moments. What can I say? This is an incredible pressing for an absolute classic and MANDATORY extreme metal record.
Unfortunately, between drafting this post and it going live, Meteor Gem sold out of their copies. They anticipate getting more, and if you're interested, you can sign up for email alerts for when they come in. Fortunately, the label has copies, but shipping is atrocious. There's also a brand new pressing coping up from Tentacles Industries, and copies will be sold by Season of Mist in Europe, so maybe check that out if you're in the market for peak avant garde death metal.
Available at War On Music | Check with Meteor Gem | Discogs
-JR
---
Heavy Heavy Low Low – Steak, Tits, Football (I Hate Myself)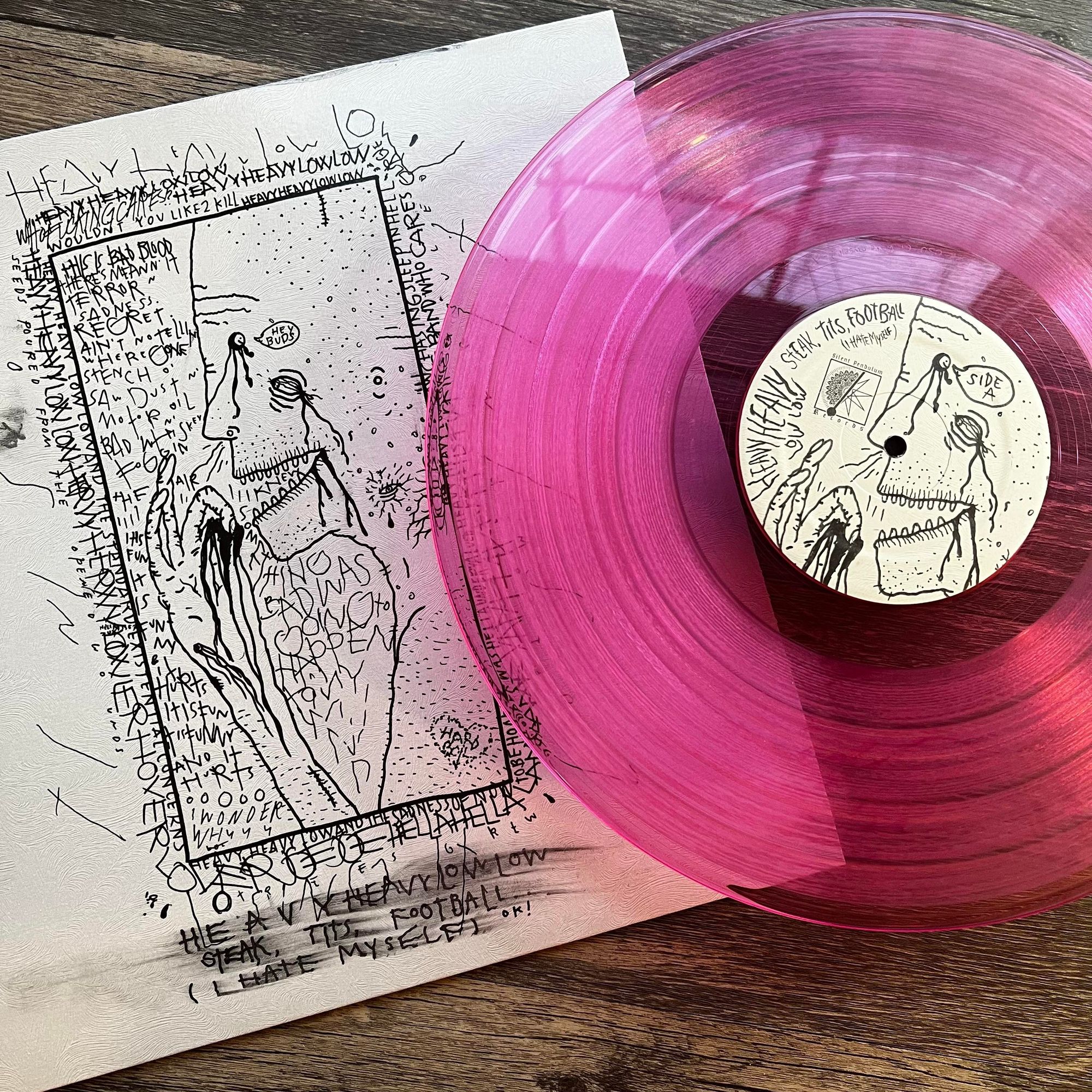 Transparent Pink Mix /100
Silent Pendulum Records
I remember finding HHLL back in the MySpace days. This band was pure white belt grind if it ever truly existed. They've been defunct for ages now with a hint of a reunion in addition to a promising new project featuring HHLL members in Bone Cutter, so to capitalize on the hype, Silent Pendulum (one of our favorite labels!) dropped this live studio recording from 2006 featuring cuts from their discography at that time. The pre-order for this thing dropped an entire year ago in February 2021, and it finally arrived this January. This one was a bit of a blind buy; I just saw HHLL and Silent Pendulum and I got the wallet out. It's nice to have a gamble pay off! Having this definitely of-the-era live recording play is fun as hell and super nostalgic, particularly the random between-song noodling and banter. It's like the band is playing in the room with you, and it's great. Largely unnecessary for anyone who had not already heard of this band, but as a mathcore dork, I appreciate the time capsule.
I missed out on the cooler, more exclusive variants (one day I'll own a Wax Mage, surely), but I do enjoy the shiny translucent pink against the grotesque black and white pen work on the cover, and hot pink sort of fits with the whole aesthetic. Beyond that, Silent Pendulum tends to do great work and has an incredible discography under their belts, most recently that Psyopus repress that sold out immediately. Now all we need is for them to get their hands on the rest of the HHLL catalogue, particularly Turtle Nipple and the Toxic Shock and Everything's Watched, Everyone's Watching.
Sold Out (Sorry!) | Discogs
-JR
---
Pathogen – Null Space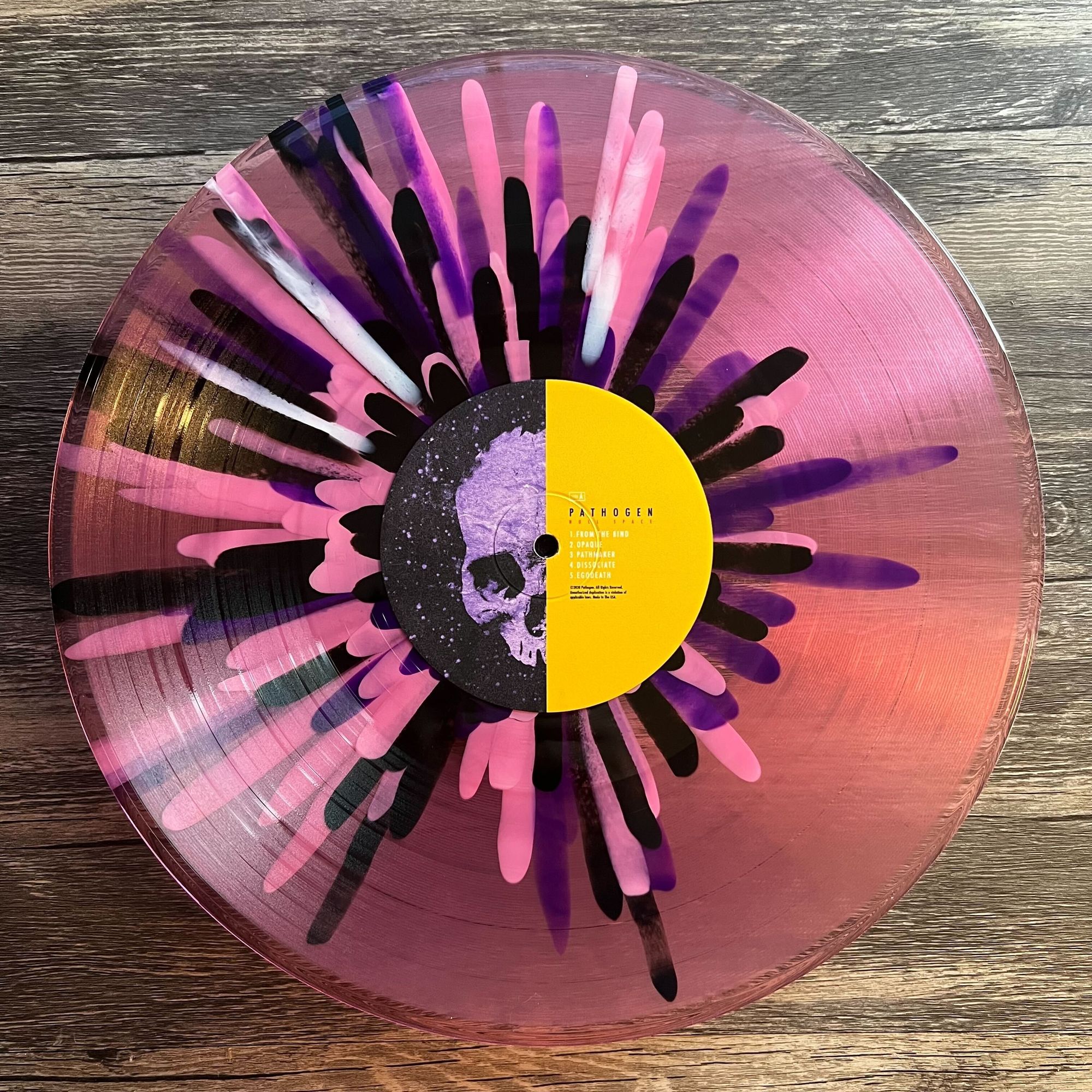 Pink Translucent With White Black And Purple Splatter (Sovngarde Splatter) /50
Cortical Records
This record was a another blind purchase (what can I say, I like to gamble) from a brand new and unproven record label, Cortical Records, back in April 2021. I'd never heard of the band beyond a brief clip from Bandcamp, but I liked what I heard enough to give the band and this upstart label a chance, and pledged to wait until the vinyl arrived before I heard the record in full. It's embarrassing how swayed by FOMO I am (it's why I'm completely waffling in Elden Ring right now despite having no meaningful FromSoftware game experiences thus far). This gamble fortunately paid off and I'm not stuck with what could have been the worst case scenario: a shitty $30 LP from bedroom djent project number x-thousand from a would-be Wax Vessel clone. Again, this ain't that.
Pathogen is actually a solid-as-hell djent / progressive deathcore project that fans of The Contortionist and techy metalcore like Within The Ruins would enjoy, with the rare foray into creeping Vildhjarta weirdness. Null Space is a groovy album with catchy guitar licks and rhythmic palm mutes bolstered with synths and atmospheric odds-and-ends. To me, it exudes overt Exoplanet vibes. I'd absolutely recommend this album on Bandcamp, and implore vinyl collectors to keep an eye on Cortical Records because the final product is actually quite satisfactory.
Obviously, the record itself is gorgeous (one of the flashier variants I've received the last two months!) and with a thickness to the disc you like to see out of a release like this. You've got a standard jacket, and the record was shipped outside of the jacket in a poly-lined inner sleeve. You love to see it. The record also plays relatively clear, and those chunky riffs really bounce.
Overall, I had no expectations for this and I'm over the moon with this one. I actually love this album. Cortical are coming out strong, and I'm excited about their upcoming (and sold out) pressing of Heavy Blog favorites The Odious' The Night A Forest Grew. More on that when it gets here.
Sold Out! (Sorry) | Discogs
-JR
---
Satyr – Locus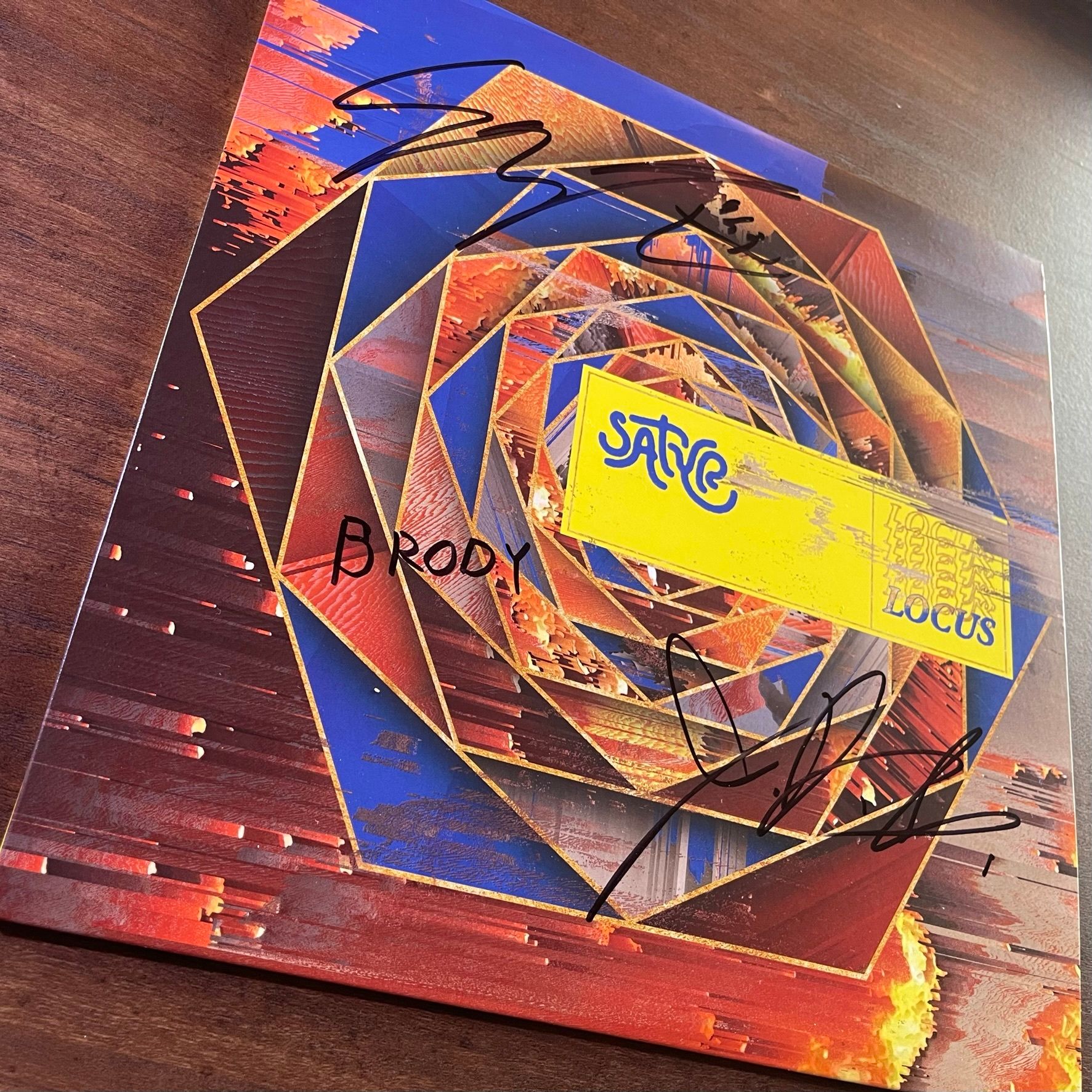 Solid Blue / First Pressing Limited to 500
Yellow Geometric Hoodie / Printed on Port & Company, 2XL
Self-released
Back in high school, I was enamored with bands like Fall of Troy and Dance Gavin Dance. It's that special blend of colorful, imaginative post-hardcore and math rock. Largely popularized by Will Swan, the musical stylings have been incorporated into the eponymous Swancore.

However as many people have progressed in their listening careers, the fondness for the Swancore brand fell off. Notably in tandem with various allegations, the retiring of Warped Tour and a new found proclivities for heavier and more self-serious music as the years passed by. Having kept an ear close to the ground however, you can feel the steam emanating off the sweat of the brow from the Swancore scene. These bands have remained some of the hardest working, prestigious heavy music institutions aligned with some of the biggest names in progressive metal and hardcore. Banded together, Swancore bands tour relentlessly, organize festivals and see much success maintaining relevance as fans ebb and flow from their affinity with some of the most outlandish music out there.

Enter Satyr, an exceptional newcomer with both feet firmly planted in math-rock and Swancore. This band has emanated the same kind of tireless work ethic that the heavy-weights like DGD, Eidola and Covet have become so well known for.
I bought Satyr's debut album Locus out of response from a plea for support after some equipment got swiped from them on tour. After a couple of days I had received an email from the band saying they wouldn't be able to receive it by Christmas and offered to refund the money, as merch orders would conflict with their touring schedule. I found the entire interaction to be so honest and refreshing. Long shipping times are a common reality in 2022. I knew they were on tour. I anticipated it to be a common order in a small influx of support after their gear got stolen. Surely a full time touring band run independently would have no time to send emails about shipping times in consideration of the holiday season for just one order. And yet here they were, apologetic and proactive. Offering stickers and assurances for the extra wait. It was so kind. They ended up signing my copy for when it arrived, just a mere 18 days after Christmas.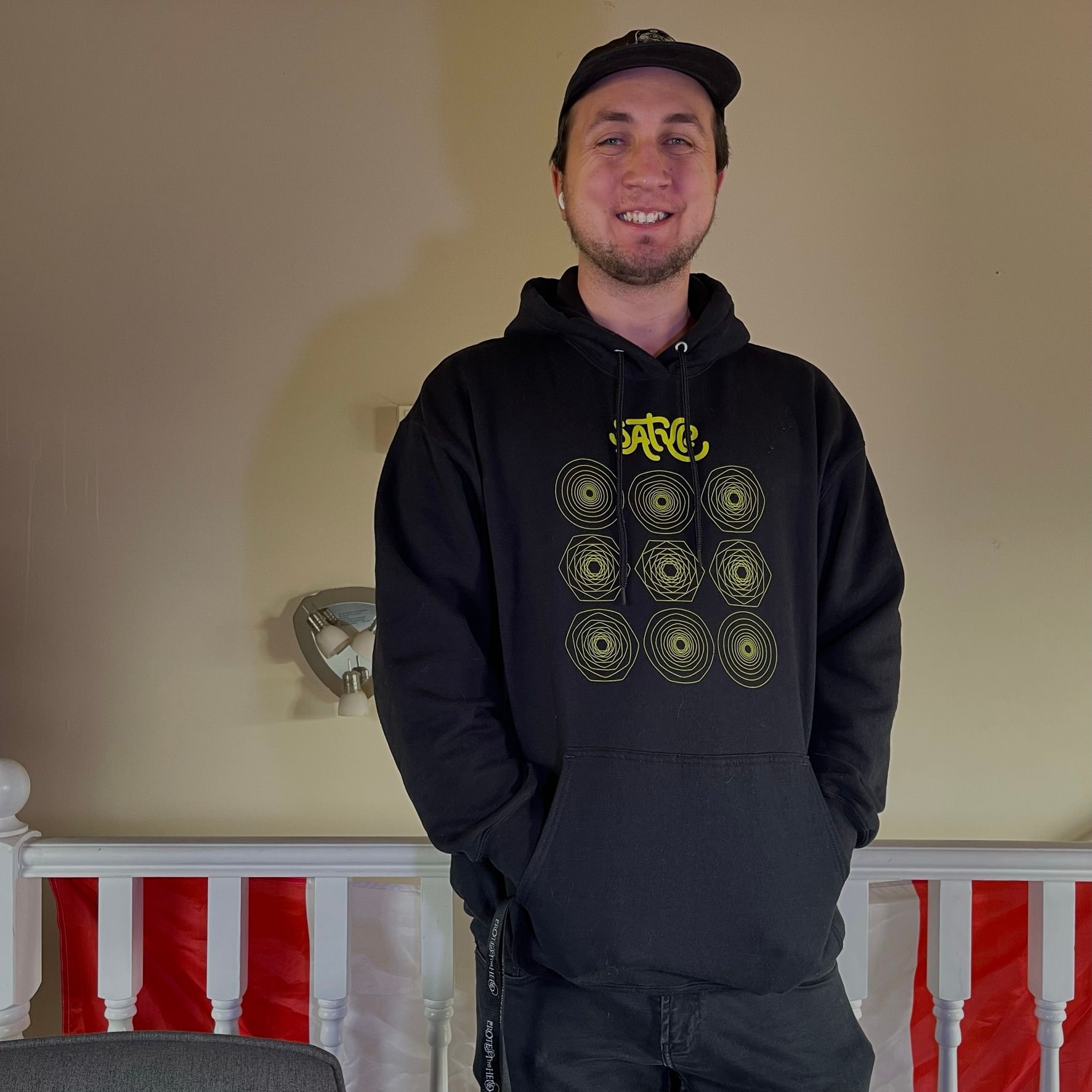 I've been rinsing Locus ever since and dreaming about the recently announced Swanfest line-up (of which Satyr are upsettingly absent from). The album itself is remarkable. Flawlessly pressed. A bit sparse on the extras with absent gatefolds or inserts. But like the band itself, the record is economical, straightforward and free from overindulgence. The stark blue, orange and yellow contrast on the cover with its kaleidoscopic designs evokes their sound perfectly. Centered around angular, dynamic guitar lines and performances oozing in band chemistry. The clean vocals and harsh vocals trade off from song to song giving every track its own style. I find the riffs and hooks get stuck in my head for days. The stripped down approach on aesthetics both sonically and visually make Satyr one of the strongest bands in the scene. Blink and you'll miss it but soon you won't be able to buy a ticket to a contemporary post-hardcore show without these guys being around, busting out some of the sharpest tracks to date.
Epilogue: I got a hoodie too. I love the design. The colors don't fade after multiple washes (I air dry). The fleece lining has kept me warm on many cold Canadian nights when I'm running deliveries. It's a 50/50 blend of polyester and cotton and probably the best pullover hoodie I've ever purchased.
Available at Satyr's Official Store | Discogs
-Cody Dilullo
---
Shadow of the Colossus – Shadow of the Colossus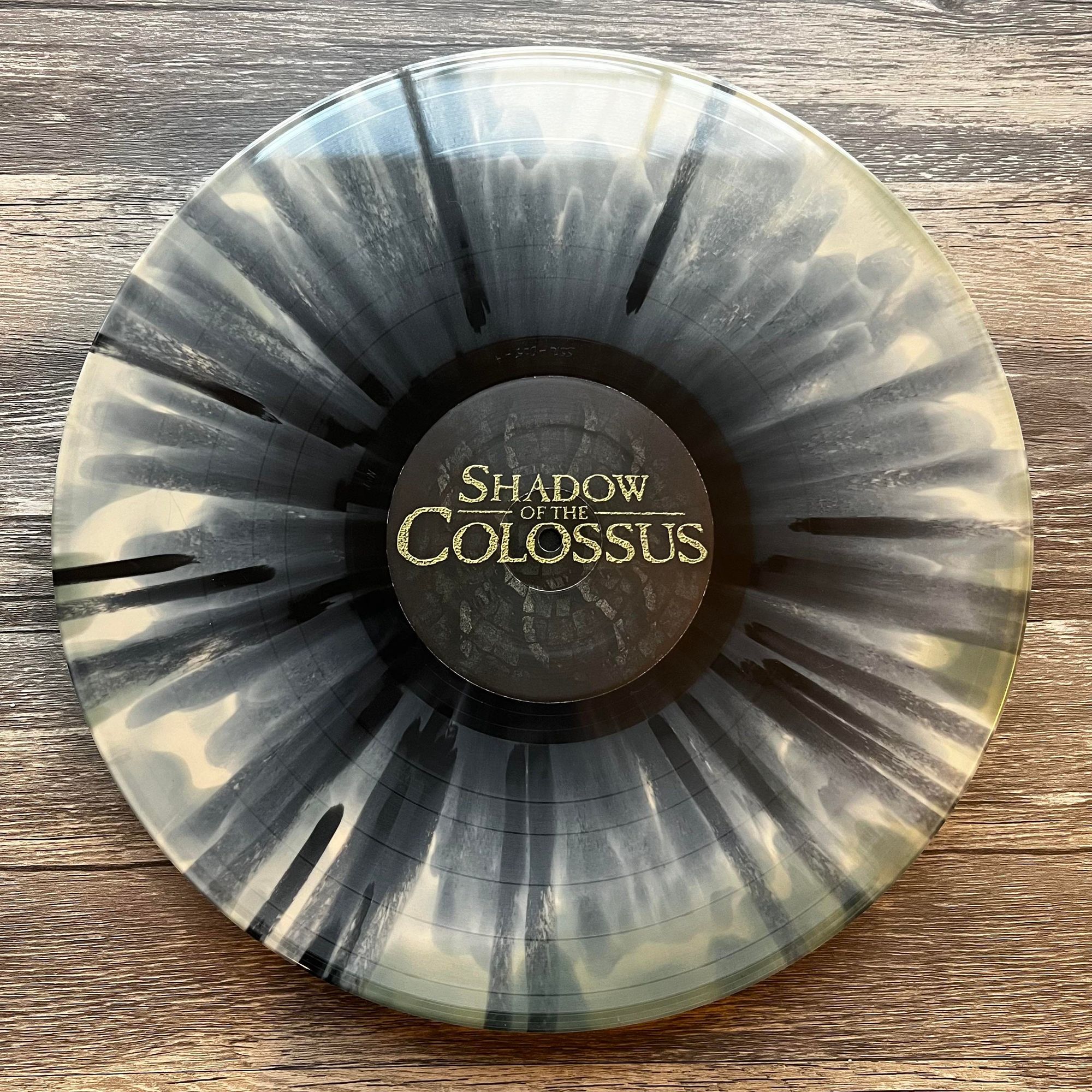 Temple Ruins /100
Secret Swarm Records
This is round two with Secret Swarm, a (relatively) new up-and-comer in the limited vinyl market that launched last year with pre-order drops from Belie My Burial, Knife the Glitter, and With Blood Comes Cleansing. I took a shot with the Knife the Glitter pressing and was impressed enough to ease my worries about the Shadow of the Colossus pre-order I scooped up, which was waiting in the wings since July 2021.
If you're unfamiliar, Shadow of the Colossus was a now defunct (?!) progressive deathcore band that dropped this masterpiece of a record way back in 2010 to some pretty decent buzz from the crowd following the then-dubbed "Sumeriancore" scene. The band apparently released a follow-up in 2013 (news to me!) and fell into obscurity, but people who remember this record look back on it fondly. Definitely a niche classic. This vinyl pressing sports a remaster from Jaime King (Between the Buried and Me), so we can be a little confident in the facelift.
Onto the record itself: this "temple ruins" variant is quite nice, and features a glittery quality to it that I could not pick up in the photos. Packaging and contents is pretty standard; no complaints here, as the vinyl itself is the main attraction, and it's a cool pressing. $35 after shipping for a single LP is steeper than I like, but I suppose that's the cost of doing business on a small run of a niche record during a borderline vinyl manufacturing crisis. If you're into a particular breed of experimental -core music, keep an eye on Secret Swarm. They've actually got a few records from their catalogue still available, so give those a look. So far for me, they're two for two.
Sold Out (Sorry!) | Discogs
-JR
---
Wolves in the Throne Room – Primordial Arcana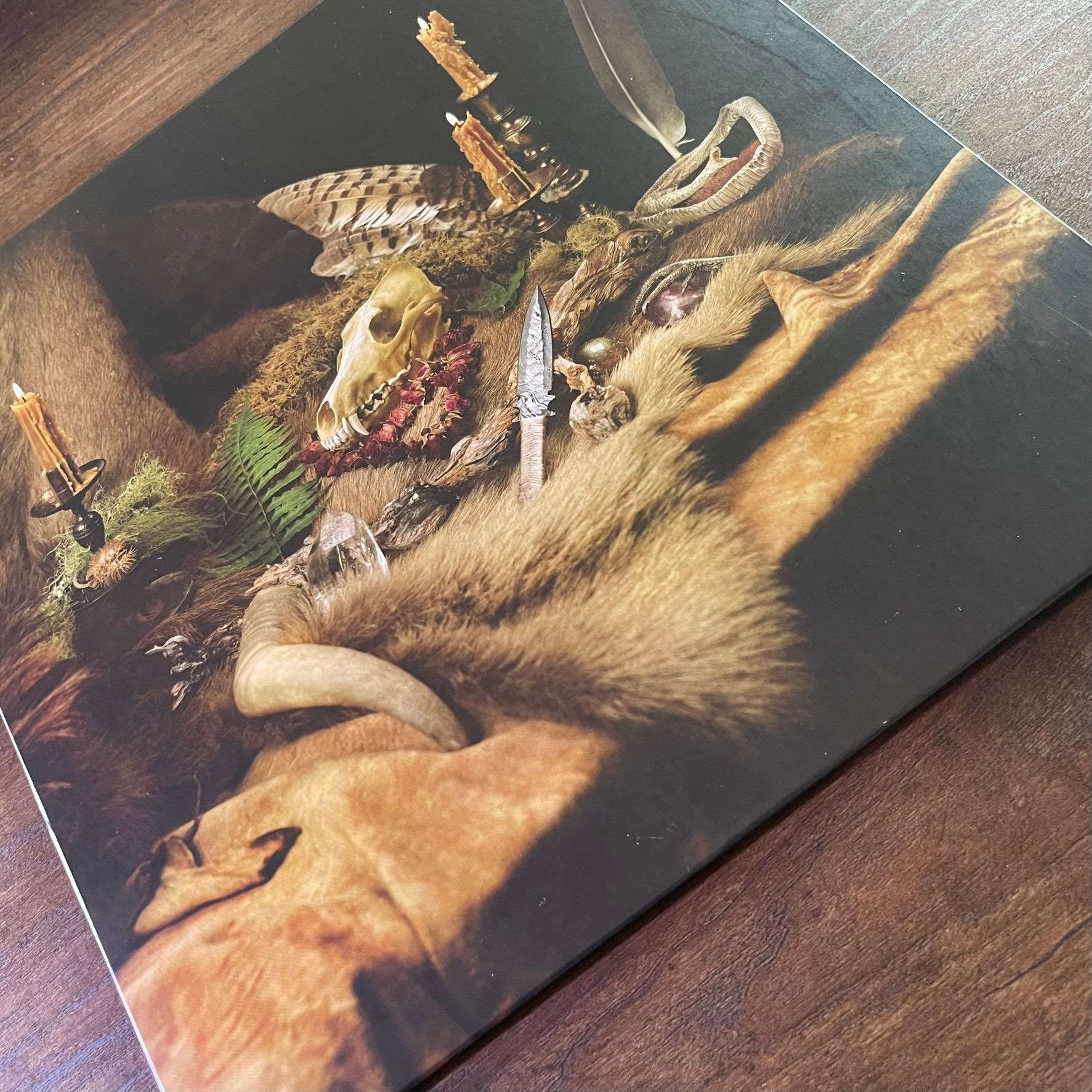 Gold with Black Splatter /750
Relapse Records
Late-career Wolves in the Throne Room have persisted as an immaculate black metal listening experience. They are often postured as uniquely American, evoking the sounds of the Pacific Northwest's ancient landscapes. A common theme with WITTR's fanbase is to postulate which of their albums is the best. Each one works at a distinct angle implementing new songwriting, production and instrumentation tactics. But ultimately they are regarded as one of the best contemporary black metal bands and even one of the best black metal bands of all time. That's a challenging position to live up to.

The Weaver brothers who front the band have claimed the spirit of the Pacific Northwest in their music by helming a studio, deep in the Washington forest. Primordial Arcana sees the band doing almost everything between the three of them with a sprinkling of guest features and session musicians. Whether you think this kind of atmospheric black metal is starting to sound homogeneous against the slew of atmospheric black metal bands that WITTR have helped inspire or it's your first foray into the band, Primordial Arcana is a very sharp distillation of WITTR's sound. Consistent with their entire career, the angling for some kind of unique innovation or trendsetting has given way on this record to aspects of the bands career that some might argue were done perfectly on previous releases.

But it could also be said that this is the band playing to their strengths. Creating a perfectly paced record, caked in luscious choir's and synths surrounding a robust structure of reverbing shrieks, endless blast beats and sublime black metal riffing. Taking cues from the small and dedicated Dungeon Synth community nestled within Black Metal's own history. Primordial Arcana is a fantastic record in the pantheon of atmospheric black metal. I have yet to hear black metal production so finely tuned and dialed in to such a robust and ambitious type of sound. Even on previous WITTR releases. This level of polish is rarely implemented in albums sharing these stylings.

I purchased this record from a New York record store by the name of Rough Trade records. It's a single sleeve with an insert detailing personnel and lyrics. The record itself is mastered beautifully. A simple pressing, black on gold splatter, limited to 750. The colors are very complimentary to the ritualistic cover art. The shell is also printed on black cardboard which is a detail I always appreciate coupled with a sturdy black sleeve. The centerpiece of the LP is adorned with the only instance of the classic WITTR logo.  I would have liked a more comprehensive double-gatefold or 180 gram experience. I consider Primordial Arcana an essential WITTR experience that deserves a more deluxe feeling record. But it's a nice pressing all the same. The record must have taken a fall at some point during its travels, as one of the corners of the sleeve is pushed in. But part of any record collection is the odd imperfection or two. It's a minor error of the shipping process and a record I'm happy to have. Primordial Arcana is easily my favorite black metal album to come out of last year. The track "Masters of Rain and Storm" remains one of the most immersive listening experiences I've had in years. If you allow sonic landscapes to take hold. If you let go of your inhibitions and listen to this rich and deep album, you can almost smell the deep forest mist.

"I am metamorphosed to a fungal cap on a shadowy log, rain pattering around me in the woods at twilight." -pinkytheent via Bandcamp
Available at WITTR's official store | Discogs
-CD
---
Xythlia – Immortality Through Quantum Suicide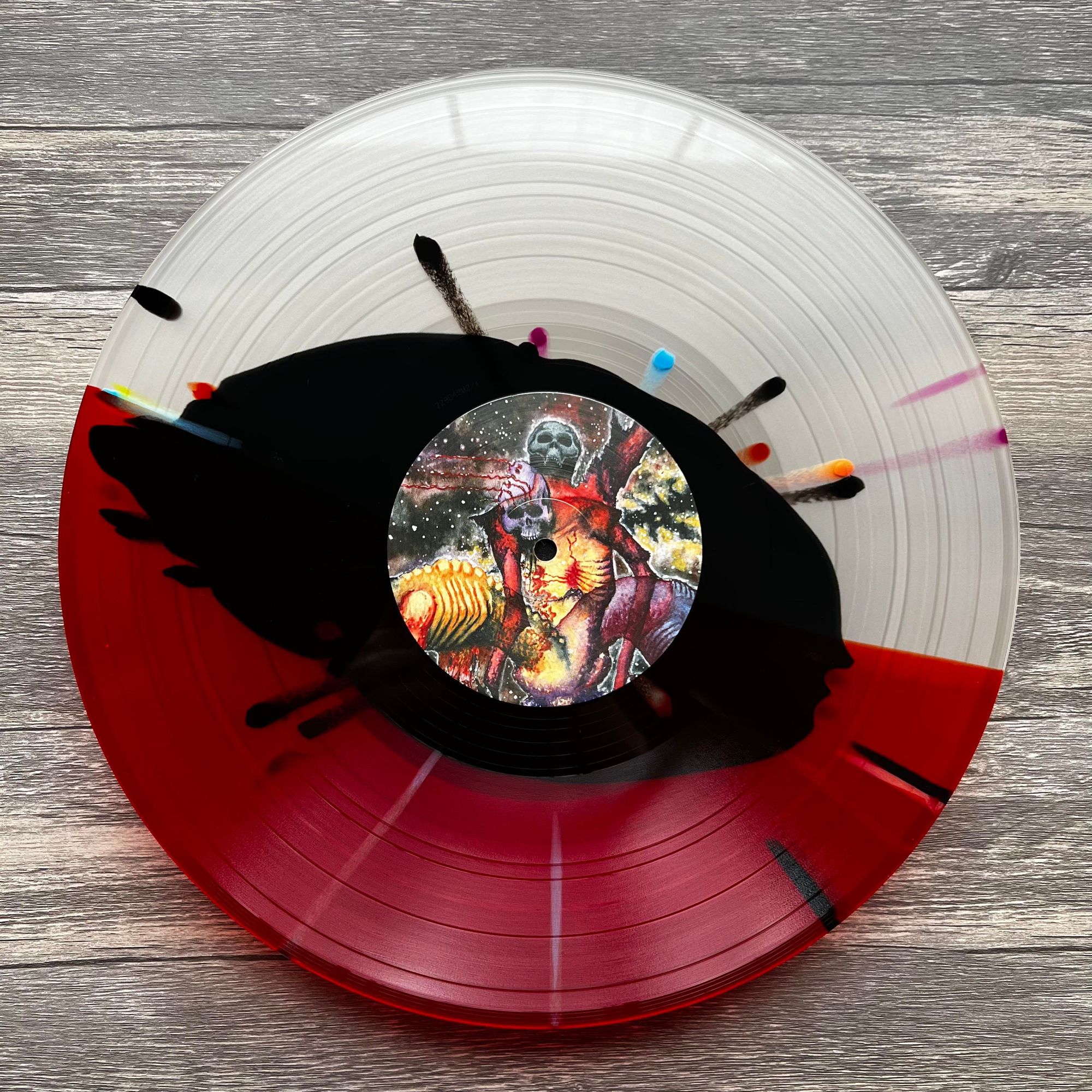 Black in Red and Clear Half And Half w/ Rainbow Splatter /100
Translation Loss
For those unfamiliar with Xythlia, it's a one-man cyber-deathgrind project from Ashbringer's Nick Stranger. The project's debut album dropped back in 2020 and was an easy favorite around these parts, and as if you couldn't tell by the genre I gave it, the record is batshit insane. This record looked like it was going to be woefully overlooked and criminally underrated, but Translation Loss swooped in and signed the project, issuing this vinyl release. Thank goodness for that too, because this album rules, and Translation Loss has an incredible track record lately with acts like WAKE and Teeth, who's fans will likely enjoy Xythlia as well.
We have the standard Translation Loss treatment here: a single sleeve with full color insert with lyrics and credits. The Xythlia logo is embossed in a shiny overlay on the cover, which is a nice touch that Translation Loss has done in the past, including the latest Teeth EP. The album itself has a bit of a wonky production quality to it that doesn't necessarily translate to vinyl super smoothly despite being remastered specifically for the format, and the ears can take a moment to adjust to what's happening once the disc starts to spin, mostly because this record is absolutely chaotic. My only complaint about this one is that the splatter effect isn't remotely as extreme as it looks in the mockup. That's just me needlessly picking if I had to; I'm just happy to own this monstrosity, and it still looks super cool and fitting for the album. Pick this one up when you can. Unlike many of the others reviewed here, this record is actually still available to purchase, and it's under $25!
Available at Translation Loss | Discogs
–JR
---
And now introducing: You Haven't Missed It Yet!
Reviewing vinyl records you often can't even get anymore comes with a certain amount of guilt, so we're appending this section with every Heavy Blog content drop a list of new releases and pre-orders we think you might care about that are still available when this post goes live. Don't say we didn't warn you.