Even a cursory glance of our biweekly playlist updates will reveal that there is a great deal of variety among our staff's musical tastes. Due to this, we brainstormed the idea of Playlist Swap, where two of our contributors pick their favorite track from each of the nine albums in their grid and then send the list over to the other person to listen to and comment on. Within these commentaries occurs praise, criticism and discovery, and we hope that you experience a few instances of this last point as well. This week's post brought Josh Bulleid and Nate Johnson head to head in a battle of the eclectic, the heavy, and the just plain great. Here we go:
Nate's Grid and Josh's Comments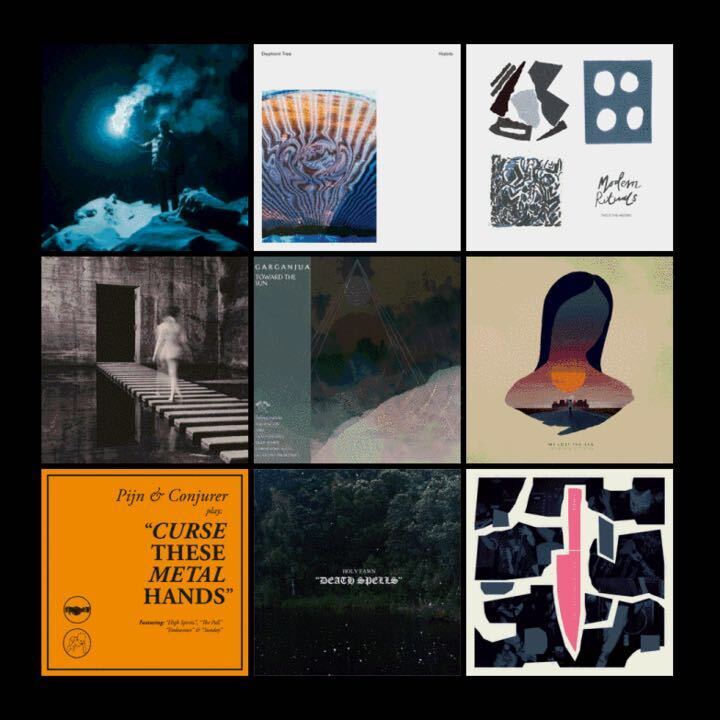 Slow Crush – "Pale Skin" (Reel, 2020)
Nate: I have always loved shoegaze as it goes hand in hand with a lot of post rock. Slow Crush's Aurora was one of my favorite records of 2018 and I was very excited when they decided to release new music this year. The atmosphere in this song is just incredible in how it just builds and builds.
Josh: Maybe it's just because my scope for this kind of music is fairly limited, but this song really reminds me of later-period Anathema, which is a reference point I've found cropping up a lot lately. It's been even more apparent since I finally cracked and delved back into that band's back catalogue, so call it confirmation bias if you will, but that's the major point of reference I have for this sort of thing. Weirdly, Slow Crush is a lot more downbeat sounding than Anathema, who have somehow become a lighter point of reference despite their doom metal origins.
If I'm talking too much about Anathema rather than "Pale Skin" itself, it's because I don't really have much to say about it. I like the overall "vibe" of the song, but I also feel like it doesn't really go anywhere. I've listened to it about half a dozen times now and I'm still caught by surprise every time it ends. It never really builds to anything and, while I find it rather pleasant to put on, it doesn't really engage me anymore than that, I'm sorry.
Elephant Tree – "Sails" (Habits, 2020)
Nate: If you were to ask me about this album a year or so ago, I probably would never have lifted a finger. In the past year I have really started to appreciate a lot of stoner/doom metal. I know a lot of people have been waiting for this record and it does not disappoint. It reminds me a lot of the most recent Torche, which was a favorite of mine from last year. The fuzziness and the feedback also really creates a sense of atmosphere, which I am all about. I also think the vocals work surprisingly well here despite how monotone they may come across.
Josh: This is more my speed. The pulsating bassline that kicks it off reminds me a lot of early A Perfect Circle, which I love, and the overall tone really reminds me of the Smashing Pumpkins—so I guess it's a James Iha thing. The hammer-on chorus riff also reminds me a lot of Porcupine Tree's "Shallow" and then it goes off on a sludgy, mid-Queens of the Stone Age-style tangent at the end. I really like this. I've been meaning to check out Habits for a while now and "Sails" has given me the push I needed to finally get on with it (I've downloaded the record, and it's sitting at the top of my que as we speak). If "Sails" is anything to go by, I'm in for a treat.
Modern Rituals – "The Bull Never Wins" (This Is the History, 2020)
Nate: Daughters 2018 album, 'You Wont Get What You Want" is hands down one of my favorite albums of the decade. I love their take on a dark, almost apocalyptic version of post punk, another genre I have truly come to appreciate. Ever since I heard it, I have been on a quest to find other music that sits in that wheelhouse. Two records that popped up this year that sort of scratched that itch are albums from New Primals and Modern Rituals. I picked Modern Rituals because they tend to be a little more accessible in that they lean on the artsy side of post punk. This sound is definitely not for everyone but I always looking for music that doesn't exactly sit comfortably in the pit of your stomach.
Josh: I don't like this song very much. This sort of low-fi punk sound is something I've never really been into (this is what Idles sound like right?) and it all just feels like it's trying a bit hard. I like when it slows down in the middle and then when it picks up more at the end (i.e. when the "singer" disappears). There's a lot here that reminds me of 90s-alt/grunge stuff that I really like and I can hear some stuff in there that I'd probably like if it had a bit more stank on it, but, as it stands, this song's just not for me.
Giver – "Every Age Has Its Dragons (Like and Empire)" (Sculpture of Violence, 2020)
Nate: Hardcore is one of the first forms of underground music I was ever exposed to and I can recall vividly my very first show. The energy alone was palpable and ever since then I was hooked and it in turn introduced to me to so many other forms of music. Germany's Giver brought me back to that first show and even though it isn't live, the energy is palpable. Their sound recalls some of the early Bridge Nine and Deathwish releases and reminds me the first time I heard bands like Blacklisted, Modern Life is War and Have Heart. I picked this song because I think it fully captures the overall sound the band is trying to deliver with anger and aggression. Plus, it has gang vocals which I am a huge sucker for!
Josh: Ok, this I like. A lot. It kind of has an unfair advantage, in that it sounds a lot like Carpathian's album Isolation (2008), which was a huge deal for me growing up (and which I'm definitely going to write about on here, one of these days). I'm sure there's a less regional, and probably more accurate, comparison out there I could make; Have Heart maybe? For me though, this song is pure Isolation. The start sounds so much like "Insomnia"—especially the vocal pattern—the drums at the end sound exactly like the build-up to "Isolation" itself, and the cathartic climax is pure "Cursed". I can tell, just from writing this, that tomorrow is going to be one of those days where I end up listening to Carpathian's entire back catalogue (which only takes about an hour and a half, thankfully), and then I'll definitely be checking out the rest of what Giver have to offer after that. (And after listening to Elephant Tree of, course.)
Garganjua – "Light Bearer" (Toward the Sun, 2019)
Nate: This album is on constant rotation for me this year. The combination of doom and post metal is just incredible. The contrast between light and dark shifting seamlessly out of one another just blows me away every time I listen. As I mentioned I have really come to appreciate doom metal as of recent and this album is really great introduction the genre without diving too deep. I see quite a few comparisons between this and the recent Elder album which I really enjoy as well.
Josh: Heads up: I'm going to be somewhat struggling with a lot of the post-rock/metal stuff that makes up the back half of Nate's list. Indeed, the first few times I listened through it I glanced over this song because of the way it sort of blends into everything that comes after. Taken in isolation, however, I really dig it. It reminds me of Cult of Luna but with "heavier" vocals and a pit of Mastodon-ian riffing and psychedelia thrown in for good measure. Cult of Luna's last album sent me on a search for more post-metal I like last year, and this is exactly the sort of style of the genre I found out I enjoy. It's a lot darker and more dynamic than a lot of the other examples on Nate's list and Toward the Sun is another album I'll definitely be checking out after this.
—hold up! I didn't realise this was the same band that put out that Through the Void album a couple of years ago. I really liked that album. I've seen Garganjua's name being thrown around a lot since then and I don't know why I never realised they were the same band. I think there's some stoner band I must have got them mixed up with. I'm even more excited to check out the rest of album now.
We Lost the Sea – "A Beautiful Collapse" (Triumph & Disaster, 2019)
Nate: I don't think there is a lot to say about this album. It is post rock in its finest form and a beloved one by many on the site. For me, it sits as one of the best releases 2019 and just makes me forget everything that is going on in the world and just lose myself in it. On a personal note: 2019 into 2020 was one of the darkest and hardest times in my life and I was ready to give it all up. This album, among many others, I credit with giving me a sense of peace to clear my head and see the bright side of things. I completely understand how this sound is not for everyone but I had a very strong personal connection with it and I am sure we all have those records that make sense to nobody but us.
Josh: I know Triumph and Disaster is a bit of a favourite around here and Karlo certainly seems to think there's a lot going on here, but I just find this really boring. It's fine, pleasant even, but nothing about it really jumps out and grabs me. Again, it sounds better in isolation, and the climate change concept is intriguing, but yeah, this is not doing it for me at all. For what is probably the most Heavy Blog acclaimed entry on Nate's list, I think it might also be my least favourite.
Nate: I have been a huge fan of both bands individually but when they decided to come together for a project, I couldn't have been more excited and it didn't disappoint. Then when they took it a step further and decided to take on sound made popular by bands like Baroness and Torche, it was a match made in heaven. To be honest, I wasn't the biggest fan of the most recent output from Baroness so this and the Torche albums were my go to albums for that sound. I gravitated toward this track because it just seemed to always put me in a weird sort of dream state and then jar you awake with crushing riffs. I do think the songs could have been bit shorter and do tend to wander but that is a minor criticism.
Josh: Apparently, Conjurer guitarist Brady Deeprose claimed—seemingly genuinely—in the lead up to Curse these Metal Hands' release, that it sounded like "Queen with screaming". IN WHAT WORLD!?!?!?!? He must have been taking the piss. This is straight up Baroness worship right? Good Baroness worship, but undeniably Baroness worship, and not much else.
I spun this album quite a bit when it came out but then it just sort of dropped off. Listening back to this track now is having much the same affect. It's very pleasant to listen to, but nothing about it really sticks with me. It's also way too long. A general criticism I have about a lot of the stuff on Nate's list—which I wholly acknowledge stems from my own personal preferences—is that they could do with about a minute or two chopped off, and I think "Sunday" might be the worst offender on that front. What is the point of the slow, quiet section in the middle? I gather it's to build tension for the crescendo to come, but when the song kicks back in it's just the same second-hand Baroness riff on repeat for about two-minutes straight.
Like the rest of Curse these Metal Hands, "Sunday" is perfect background music. Under closer scrutiny, however, I find it quickly falls apart.
Holy Fawn – "Take Me With You" (Death Spells, 2019)
Nate: I could go on for days about how incredible I think this band is but I will just say they are one of my best discoveries in the past couple of years. I know I have repeated this word a lot, but this band just creates an "atmosphere". It's absolutely a mood album and they perfectly meld shoegaze with post rock, creating this "wall of sound" that just takes my breath away every time I listen. Their surprise EP at the beginning of this year further cements how talented they are and I am excited to see what they do next.
Josh: I was really looking forward to checking this track out, after seeing all the hype for Holy Fawn—around here and everywhere else. Unfortunately—and maybe it's just because I'm getting a bit fatigued at this point—but this isn't really doing it for me either. This track has big Twin Peaks theme energy, which is great, in and of itself, but for seven minutes straight? This is just not my speed. I really want something to happen after about the first two minutes or so but it never does and, when the extra guitar finally does kick in, around the four-minute mark, it doesn't really bring anything to the song. Although it appears to reach a lot further than "Slow Crush" I, personally, feel like it still doesn't end up that much farther from where it began.
Nate: One of my favorite forms of hardcore is the metallic hardcore sound from the 00's. Bands like Deadguy, Disembodied and Martyr AD. Hell, just look at the entire Ferret Records roster from that time period. These guys just do that era of hardcore justice and then some. This entire record is fast, brutal and pure energy. This song just captures all that and I think there is a reason they released it as the lead single. The bass line leading into the band just full out exploding is jaw dropping. Also, the last minute where Dajmila bows out and lets the band just go nuts is a good way to get some pent up anger out. Speaking of Dajmila, her vocals are like someone spitting molten lava.
Side note: some of you may be noticing a trend in all my recommendations to Josh in that they are all Holy Roar releases. This was kind of by accident because I was going down a rabbit hole (which I tend to do with labels sometimes) with the label after checking out a few of their new releases. Although, I think they are a great label with a ton of diversity and are in line with a lot of my musical tastes right now.
Josh: Here we go! The Language of Injury was one of my favourite albums of 2019 and is easily one of my favourite Holy roar releases to date. Again, as with Giver, this song sounds like a lot of the stuff I grew up listening to, so maybe I'm just a sucker for nostalgia, although I don't think I've heard anyone do this sound this well for a long time, and I genuinely think Language of Injury has the potential to go down as somewhat of an underground classic. Having said that, I do find this song, on its own, can come off as quite repetitive, with how hard it hammers home those panic chords, and it doesn't really hint at a lot of the variation and nuance to be found throughout the rest of the record. In context, however, it's utterly crushing and is the perfect song to punch dance it out to after meandering around with all that post rock.
Josh's Grid and Nate's Comments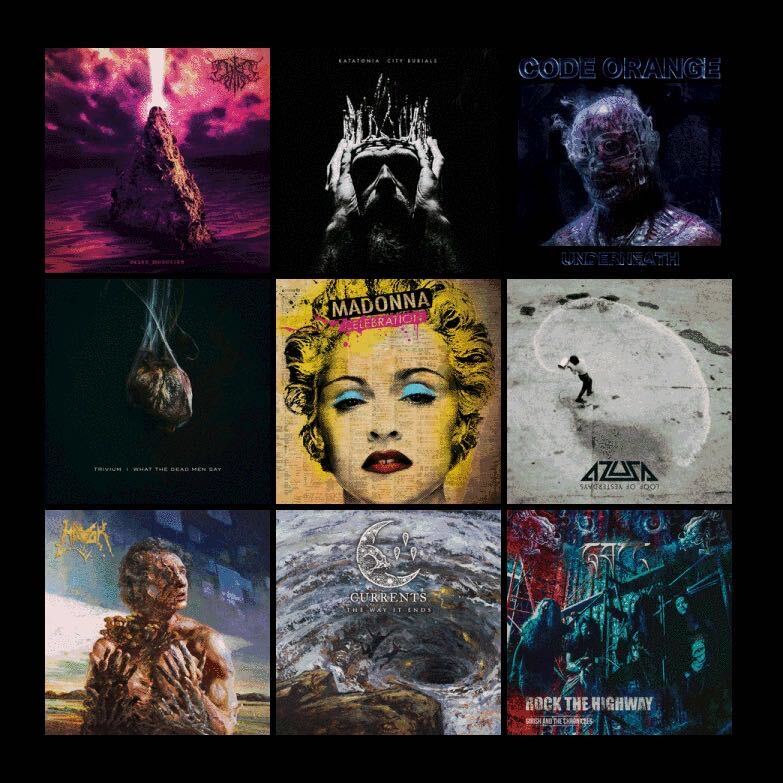 Like Rats – "Crimson Cosmos" (Death Monolith, 2020)
Josh: I've described Like Rats as Black Breath meets Obituary, but this song has a bit more of an early Cannibal Corpse vibe to it. Nothing too fancy, but there's little I like more than when death metal bands lock into a nice, crunchy groove, and "Crimson Chaos" is a sublime example of that. *chef's kiss*
Nate: I really enjoyed this album the first time I heard it and this is definitely one of my favorite tracks. Love the intro and how it is just builds into this monster of riffs and changes direction and heads towards death metal. They have done a great job of melding so many genres together and making it work. Also, this song definitely speaks to the hardcore kid in me.
Katatonia – "Beyond the Blood" (City Burials, 2020)
Josh: I'm still coming to grips with City Burials, but I fell head over heels in love with "Beyond the Blood" from the moment I heard it. This song has so much more energy than anything Katatonia have put out for about a decade now. The '80s guitar hero vibe is such a tasty addition to the band's usually downbeat sound and I absolutely adore the way Jonas Renske says "for all of my life" during the pre-chorus. Easily one of my favourite songs of 2020 so far.
Nate: I have always enjoyed listening to Katatonia and City Burials does not change that. There is something cathartic about listening to the band. Jonas' vocals sound just as good as ever and his delivery is almost trance-like. The thing I love the about the band is they making sounding complex and dense seem effortless. They are masters of their craft and this album sits among their catalog as one of their best.
Code Orange – "In Fear" (Underneath, 2020)
Josh: Speaking of 2020 favourites: Code Orange's Underneath is shaping up nicely as an early album of the year contender and "In Fear" makes it pretty clear why. Has anything else that goes anywhere near this hard come out this year? "In Fear" is white hot, blending the most extreme moments from favourites like The Dillinger Escape Plan, Sepultura and Iowa-era Slipknot and I absolutely love it.
Nate: This album is just pure brutality from start to finish. It has been on constant rotation so I was very excited to get a song from it and just spam it nonstop. This song perfectly captures where they came from and where they are now. I have been a fan since their early days as "kids" and now to see them further embracing the industrial sound they introduced on Forever even further solidifies their talent.  I know this a fan for favorite for the site and I most certainly am on board.
Trivium – "The Ones We Leave Behind" (What the Dead Men Say, 2020)
Josh: What the Dead Men Say is an album I have more mixed feelings about (which will be aired in the next edition of Into the Pit). When it's good, however, it's really great. It's a toss-up between "Beyond the Shadows and the Stones" and "The One's We Leave Behind" for my favourite track on the record, but I'm going with the latter today, since it hasn't been released as a single and is (I think) unfairly buried at the end of the record. Maybe it's just because the start sounds exactly like the start of "The Sin and the Sentence", which I still find to be a far superior album, but—although it took me a while to come around on them—there's little I enjoy more than when modern Trivium knock it out of the park.
Nate: The song just goes! I really enjoy this record and to be honest, I only recently got into the band in the past couple of years. This record definitely stands as one of their best. There is something familiar about this album (in a good way) and it brings me back to my youth when I first started listening to heavy metal bands with my dad and just jamming out.
Madonna – "Lucky Star" (Madonna, 1983)
Josh: Madonna is another one of those artists, like U2, whose legacy is often called into question within my generation, due to the simple fact that almost everything they've put out during our lifetime has been complete and utter garbage. Also like U2, however, Madonna's pre-1990 output is pretty phenomenal. I always feel a bit basic whenever my favourite song by an artist is the first song off their first album, but—having recently reviewed Madonna's entire back catalogue—I can't deny that "Luck Star" is my favourite song of hers, even if "Like A Prayer" is obviously her crowning achievement. This song is great and it makes me feel great. Listen to The Immaculate Collection if you haven't already, I guarantee you'll have a good time.
Nate: This song totally threw me for a loop but Josh didn't realize who he was swapping with. One of my favorite bands of all time (and one of the few that my wife equally likes) is Chromeo. The funk/electronic duo from Canada do just about everything in this song that was originally done in 1983, except for the incredible vocals from Madonna of course. This song got so many plays from me and my son was breakdancing in the living room to it!
Josh: I wasn't sold on Azusa's first record, but Loop of Yesterdays is a phenomenal step up, from which the very Meshuggah-sounding "Detach" is an obvious highlight. There some really cool genre-blending going on this record, but, really, it's all just about those "Bleed"-style grooves.
Nate: Ok back to punishing brutality! I knew this record would be on constant rotation for me once I heard about it. Members of Dillinger Escape Plan and Extol? Sign me up! This song is great because it really showcases the range of Eleni's vocals. This album shows it's chops in the last minute or so with the chugging, almost groove like, wall of sound and goes out with a solo. This band definitely hits that math/chaotic sound that Dillinger Escape Plan had with a unique twist.
Havok – "Ritual of the Mind" (V, 2020)
Josh: I recently described this song as Metallica's "Harvester of Sorrow" + "One" being played by early-90s Death. What's not to love?
Nate: Confession time: I haven't enjoyed thrash as much as I used to. I can't quite put my finger on it but it's just not something I gravitate too much anymore. With that being said, this album definitely sparked my interest the first time I heard it and this song stood at as one I enjoyed. I have followed Havok since their beginning and think they are a truly talented band. Although, I don't know how much I will revisit this but I can definitely see the appeal and how they are carrying the torch as some of the older bands in the genre bow out.
Currents – "A Flag to Wave" (The Way It Ends, 2020)
Josh: Currents are a recent discovery of mine. I'll have more to say about The Way it Ends closer to its release date but, for now, rest assured that I am loving it's blend of modern metalcore with chunkier Born of Osiris-style grooves.
Nate: Like thrash, metalcore has taken a back seat in my music listening but I am always on the lookout for something that really surprises me. They definitely have a progressive lean to them and remind me of bands like Northlane, Polaris or Architects. I was only able to check out a few songs as the album doesn't release until June but overall this sound doesn't do a ton for me. With that being said, I want to give the album a fair chance when it officially releases next month.
Girish and the Chronicles – "Rock n' Roll is Here to Stay" (Rock the Highway, 2020)
Josh: My love of super cheesy hair metal is no secret and this song is a pure distillation of exactly why. Everything about this is just super fun and, in the words of Wayne Campbell: That guy can really wail!
Nate: Another curveball! Every time I play this song, they do a fantastic job of transporting you to the heyday of classic rock. A band that comes to mind is Whitesnake before they went full on hair metal. They actually wrote some really great records early in their career. I really liked the bassline on this song as it has a very unique tone to it. The first thing that came to my mind when I heard this song: Mark Whalberg screaming STAND UP AND SHOUT!!! This song is just pure rock and roll and I am excited to check out the full album.