Burlington, VT is a small town. For those who are familiar with the name because of Phish or Ben and Jerry's or Bernie Sanders or some other such local claim to fame, there may be reason to believe otherwise, especially since it's basically the only town in the state with any name recognition. But in reality it's a town of 42,000 people, with maybe another 10-15k added on when the colleges are in session. So it's a testament to the strength of artistic impetus in the area that there is a music scene at all, never mind a diverse and intriguing one.
One thing that has always impressed me about Burlington is the depth of quality heavy bands. There is an ebb and flow of course, but tracing back to turn of the century bands like Drowningman and The Cancer Conspiracy through to modern staples like Rough Francis (whose drummer Urian Hackney recently filled in for Converge on a series of tour dates) and Tyler Daniel Bean, underrated acts like Mac Swan and Black Holly (post-hardcore with thrashy electric banjo replacing the traditional guitar role) and current torchbearers like Belly Up and Phantom Suns, there's a whole hell of a lot to like here. One of the most widely-embraced heavy bands active at the moment is the bass-driven post-hardcore/sludge metal trio Ghastly Sound.
Comprised of longtime local scene veterans TJ Maynard and Ryan Lewis and singer Ty Gurwicz (who is also local but spent a period of time performing in bands elsewhere in the country after a stint as a contestant on American Idol, of all things), Ghastly Sound is a band that has put in the work, paid their dues and come together as a pro unit well-familiar with the blood and sweat it takes to mount a successful musical endeavor capable of stretching its wings beyond the Burlington circuit. Last summer that work paid off with an appearance at Psycho Las Vegas, and this year, after two EPs and a single since 2017, they have emerged with their debut LP Have A Nice Day, released on Magnetic Eye Records.
It would be easy to look at the arrangement of the band (bass/drums/vocals) and say "ok, I know where this is going," but you'd likely be wrong. Each member has lengthy experience with a variety of genre stylings and their collective backgrounds come together to create a seamless blend of influences. It features elements of hardcore, punk, sludge, stoner and metal, but at its core this is simply a heavy rock record that is plenty muscular at the back end while delivering memorable melodic performances up front.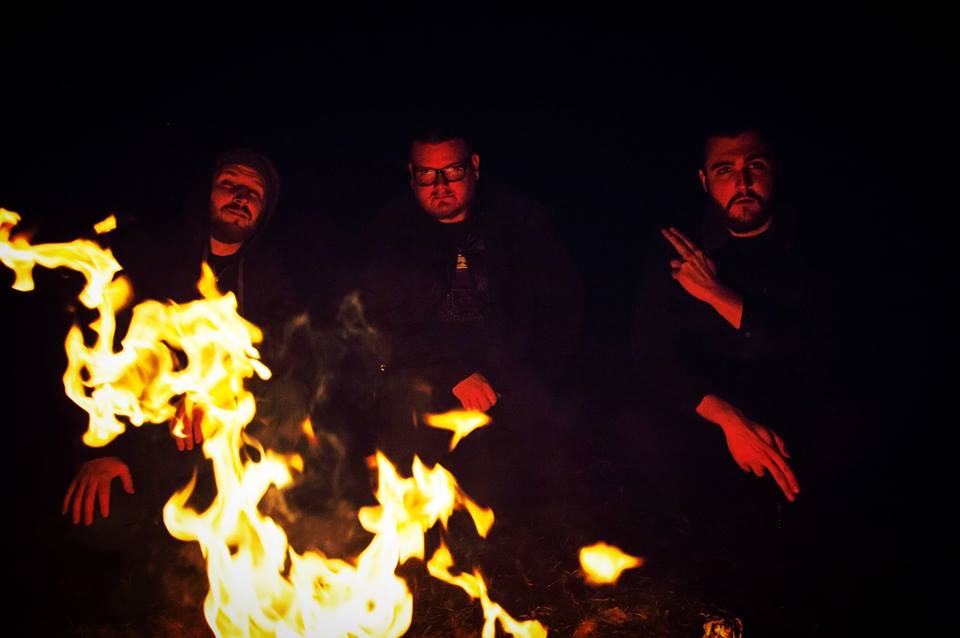 Maynard and Lewis have been playing together since they were basically kids and the chemistry between the two is obvious, with tightly interlocked rhythms anchoring each song even as Maynard carries the riff duties concurrently. Maynard is a tone wizard who effectively handles the responsibilities of multiple players at once, and Gurwicz's pro vocal delivery is the critical element that ties it all together. The live renditions of these songs reveal an individual who was meant for the role; assertive, engaging and bringing a true performance to the stage while employing savvy usage of vocal effects to enhance the experience for audience members. Every member of the band knows how to bring the noise confidently, and it shows in the record's blistering 28 minutes, a powerhouse barrage of stink-faced riffs and seemingly always-escalating intensity.
Have A Nice Day features a strong balance of everything Ghastly Sound does well, mixing fast-paced bangers like the album-opener "Bait and Switch" and the breathless "War" with the oppressively thick sludge-worship witnessed on tracks like "We're All Shadows" and "Selina Kyle." What's impressive about the latter tracks is the way that Gurwicz's soaring vocals bring an accessibility to the table that one would absolutely not expect from songs living in this kind of sonic realm, allowing for a thoroughly invaluable equilibrium between gut-punching heaviness and pop sensibility. It's surprising and exciting to hear the earworm melodies of "Selina Kyle" in the same space where you also find the absolutely crushing blast beat-driven violence on the following track "The Holocene Has Ended." It's a testament to the self-assuredness of composition and performance that this trio has worked tirelessly on building toward over the past few years.
The standout moment comes on "No Security," which features a dedication to the blend of brute force low-end, killer riffs and confident melodies that harkens back to essential bands like Torche, These Arms Are Snakes and Baroness. It's their finest recording yet, and an indicator that they are just getting rolling toward an even greater potential. Have A Nice Day was produced by Dave Parker (Coheed and Cambria) and mastered by Alan Douches (Converge, High on Fire, Chelsea Wolfe, '68, etc.), so they are clearly positioning themselves well to reach those heights. You can purchase this and all of Ghastly Sound's releases at their Bandcamp page or from Magnetic Eye Records.
…
Have A Nice Day is out now via Magnetic Eye records, and is available for streaming and purchase on the band's Bandcamp page.