One thing I can say about Russian Circles is that they have always been consistent. I've seen them open for Minus the Bear in Brooklyn in 2006, headline a tiny club in Milford, Connecticut in support of Geneva in 2009, open for Coheed and Cambria and Between the Buried and Me at The House of Blues in 2013, and headline to a small crowd at dunk!usa as well as 1100 people at dunk!festival 2018. Each time they were a pro unit, tight as could be imagined, with almost inhuman precision. They are a great live band – their sound is hard-hitting and the heaviness has a real sense of purpose; it's volume and concept blended into something that's truly compelling to see up close. The consistency is appreciated in that context, although I wonder if a little unpredictability might serve them well on record.
Blood Year is the newest in a series of Russian Circles records that sounds exactly like what you expect to hear from Russian Circles. If you like or love Russian Circles, it is very probable that you will like or love this album. If you haven't made that connection with them yet, it's unlikely that this is the collection of songs that will convert you. Allow me to discuss Blood Year by travelling backwards and discussing a song they released eight years ago.
The last song from this band that really stood out and grabbed me and worked its way into my heavy rotation is probably one of the more unlikely candidates, but if you work back to Empros – which is probably the best overall record of the back half of RC's catalog – the song "Schiphol" is one that I feel represents so much of what this band could and should be doing, but aren't. It has this balance of delicacy and epic explosiveness, a real emotional through line, a fervent sense of drama. The way it builds slowly to that stunning climax leaves you wide-eyed and wanting more. The band has touched moments like this elsewhere in their catalog: the second half of "You Already Did" showcases a softer and memorably melodic side, while "1777" strikes an effective middle ground between those gentler tones and the jaw-dropping crescendo of "Schiphol." So, it's not a question of whether they can pull it off.
When I wrote about the new Pelican record last week, I made mention of the differences in approach between some of the more well-known post-adjacent bands. I referenced Caspian as a band constantly re-evaluating and re-designing what they are, and contrasted them with Russian Circles' staunch dedication to the formula, and also noted how both bands have remained highly regarded by fans regardless of their chosen directions. However, I find myself frustrated with Russian Circles' insistence on continuing to release a very familiar product every time out. One of the things that distinguished them coming out of the gate was that they didn't sound like anyone else. They sounded like RUSSIAN CIRCLES, and that was a great thing. I want to make sure it's clear that I am in their corner. I've been there since the beginning and I own all of their albums. I can still remember blind-buying Enter from Phoenix Records in Waterbury, CT back in 2006, putting it in the CD player in my car and just being stunned by it. I went to band practice, we jammed for a while, and then I made my bandmates sit down and listen to the record front to back. That's the kind of impression Russian Circles made on me as a 25 year-old who wasn't exactly new to the whole music thing.
They have worked hard to establish a unique sound. They are undoubtedly on the current Mount Rushmore of American post-rock bands along with Explosions in the Sky, This Will Destroy You and Caspian. But the problem is, 13 years later, in the context of their own catalog, that uniqueness has transitioned into sameish-ness. In a vacuum, Blood Year is a very well-made album. But we don't live in a vacuum. We live in a world where Russian Circles has been around for a decade and a half and have spent the past 6 years (at least) kind of rehashing exactly what they do. Each successive record is more a reminder of what they can do than an exploration of what they could do.
And the thing that gets me is that they have absolutely nothing to prove. They've built up enough capital at this point that they could just get in the studio and fuck around and I don't think anyone would begrudge them. They could release an EP of entirely-improvised material culled from a single studio session; they could release an album where Brian Cook just plays synth and Mike Sullivan does weird loop textures and Dave Turncrantz backs it all with nasty grooves; they could do an entirely acoustic album. Hell, they could do an LP of instrumental Rage Against the Machine covers with a Russian Circles twist and I would enthusiastically welcome it just because it would show them stepping outside of their comfort zone and loosening the grip on what their sound is.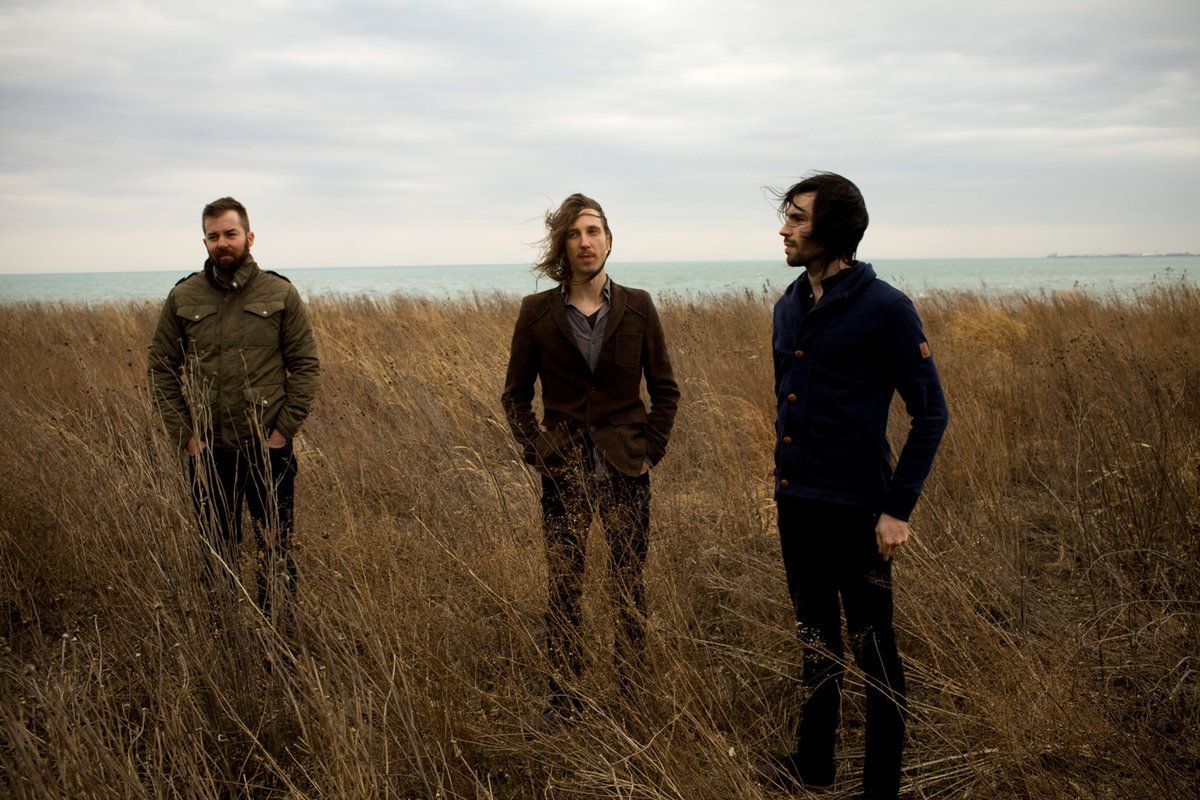 I'm going to draw a comparison that may ruffle a few feathers amongst my colleagues here, but it feels really apt. I recently went to the theater to see the movie Midsommar. I loved Hereditary, and I love the idea that Ari Aster is seemingly committed to the idea of being a genre filmmaker (side note: if anyone thinks me a music nerd, don't get me talking about horror films, that's a whole other spectrum of nerdiness and long-windedness that you have to really be prepared for). So, I wanted to love Midsommar. And in many ways I did. It's incredibly well-made; it has a dedication to visual style and subtext that I fully appreciate. It juxtaposes the brightness of its settings with the darkness of its content in a fascinating manner. It explores divergent cultural views on death and finds an exact middle point in its protagonist that stays consistent with the film's continued visual themes of mirrored images and symmetry. It pulls off almost everything it attempts spectacularly. Except it has no emotional impact.
Why does it lack this impact? Because from the beginning of the second act you know exactly what's going to happen, and then it happens, and you're left feeling like "well, ok, that was technically pretty great but I don't feel anything." There's no gut punch. There are visceral elements, and if you're evaluating from afar the protagonist certainly doesn't take a conventional route to where she ends up at the end of the film. But still, it feels as if there's no real conflict for her as things progress. There's a startling series of moments that begin the film where you're left crushed as a viewer, but then once everything else starts to unfold you feel like where she ends up is actually easier than where she began. It's one of those weird works of art where I like it because it's the kind of thing I would typically like, but it doesn't move me in the way that I need it to for it to be truly inspiring. It's somehow simultaneously very compelling yet not compelling at all.
What a coincidence that this filmgoing experience took place in the same week I first listened to Blood Year, because there are very clear parallels between the film and Russian Circles' catalog. Enter and Station are like that gut-punch where you're drawn in and impacted by the content, and the stylistic strengths are an additional bonus. Empros is like that first moment of startling violence where you're like "alright, here we go." But then their last three albums are like the back half of Midsommar, where you just know exactly what's going to happen and there's a diminished return when it does. You would never say you dislike it, per say, because it does so many things well. It's admirable in its uniqueness and stylistic vision, and that's more than a lot of artistic endeavors can claim. But when it comes to finding your core and shaking it, to stirring your emotions in a way that forces you to return again and again to re-experience the feeling, it just… never quite happens.
As I mentioned previously, I saw Russian Circles just over a year ago at dunk!2018 and they crushed. It was probably the best they've ever sounded. What they do just works in a live setting, there's no doubt about that. Those fierce palm-muted guitar parts, that filthy bass tone, Turncrantz like a T-1000 behind the drums, laser-focused and primed to crush everything in his path – it all works exceedingly well. I'm sure they'll take a couple of tracks from Blood Year and turn them into fan favorites live. And the next time I see them I'm sure I'll dig it in that context.
I'm now arriving at the final paragraph of this review and realizing that I haven't actually said anything specific about a single track on the album. But that's just the thing. I feel like every time I throw on a new Russian Circles album I know everything I'm going to hear before I hear it. So to go into analysis of individual songs almost seems unnecessary. The vast majority of people reading this already know exactly what they're getting themselves into. And in some ways that's fine; they're one of the few bands out there that can say they went down their own path and built their own sound and made it work for them. But paths are meant to be strayed from, and I can't help but think that I would be much happier if the next Russian Circles album shocked me by not sounding so much like a Russian Circles album.
…
Blood Year drops August 2nd via Sargent House, and is available for pre-order on the band's Bandcamp page.