With us now officially being into May, we've fully rounded the corner of the first quarter of 2019 into the meat of Q2, which – as Eden attested to in our most recent Editors' Picks column – is when we really start to see the cream of the crop come forth in terms of album releases. If you're in the northern hemisphere, April is also when most of us can finally start to emerge from our collective winter hibernation and take pleasure in the simple and profound beauty of the outside world.
Like much of the music we focus on throughout this site, winter is a fitting time for dark, moody introspection. But spring and its slow but unrelenting process of rebirth and growth is perfect for post-rock. Whether it's the more pastoral and cinematic brand of instrumental rock that is a staple of the genre or simply more energetic and joyful, post-rock has a way of re-invigorating the senses and pulling us out of ourselves to take a look at the greater places that surround us. You'll find plenty of that below in our picks for this month, as well as our usual fare of dark, introspective, and challenging sounds.
Also a quick note as we approach the warmer months in this half of the world that festival season is officially upon us. A few years ago you would be hard-pressed to find all that much in the way of consistently great and reliable post-focused festivals. But now there are several high quality ones to choose from both in Europe and North America. The premier one of these is, of course, dunk!festival, which recently finalized its lineup for this year's edition, and it's predictably impressive. Unfortunately our team will not be in attendance, but I look forward to seeing all of the great updates to come out from there.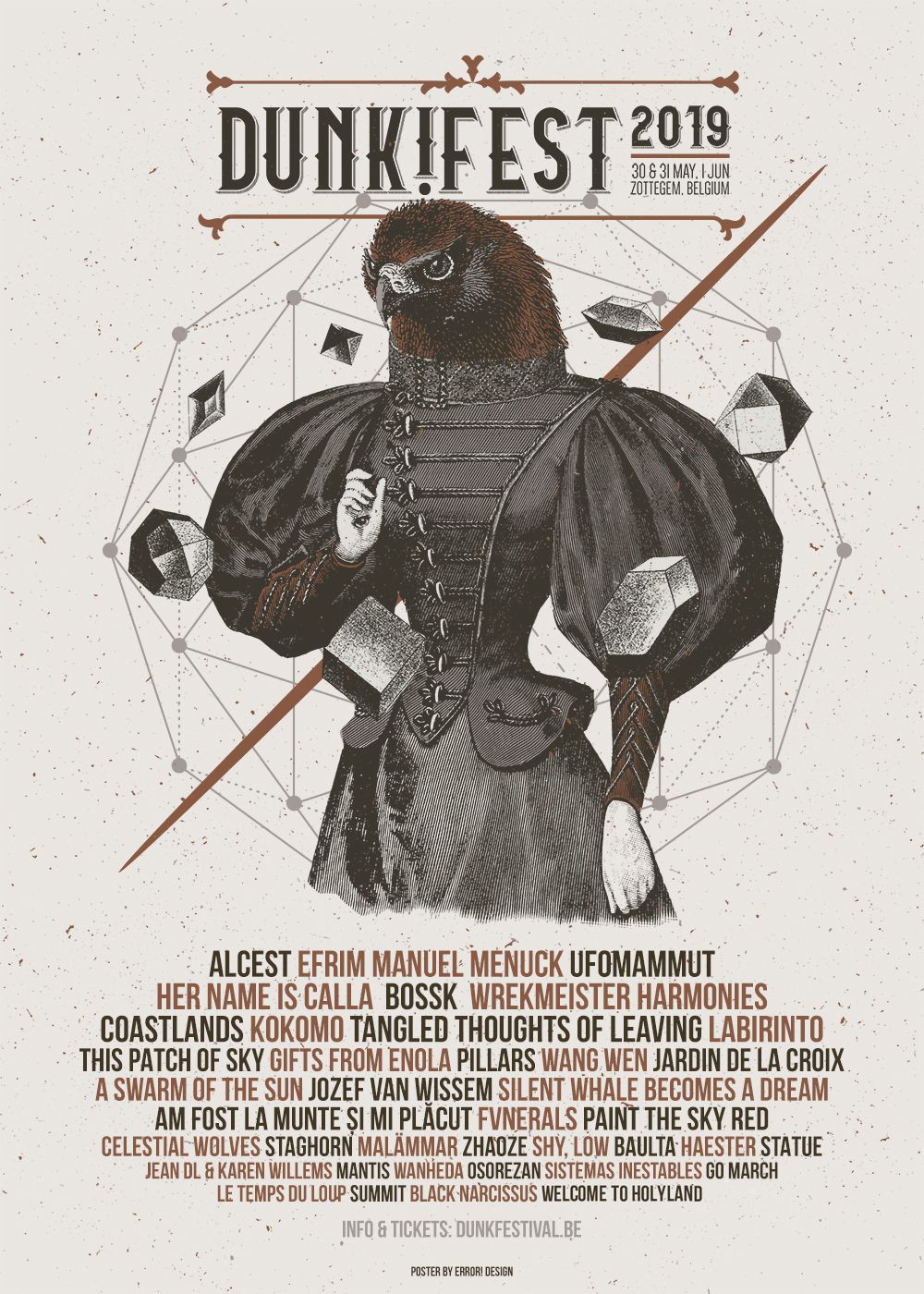 Our friends at Post. Festival have also been hard at work getting things ready for their sophomore event later this year, and having had the privilege of privately seeing the latest lineup recently, I can say with confidence that you all are not going to want to miss this one because it's going to be an absolute killer couple of days. Much more on all of that to come soon, but in the meantime, go take a walk outside and fill your ears with musical bliss below!
Post-Topper: Latitudes – Part Island
When I reviewed Latitudes' latest release almost two months ago, I mentioned that it was the band's most intimate release yet. The thing about intimate releases is that they also tend to grow on you the more you listen to them; the relationship between you and the album takes time to form. So, while I already loved the album when I was writing my review, it was hard for me to know just how much I'd fall for it. Now, when every one of my close to one hundred playthroughs has brought me to tears, I can easily say that this is one of the best post metal albums ever made.

The secret to Part Island lies in how much of its intention and expression lies beneath the surface, in the spaces that are revealed when the album has lived on in your memory. Because of its emotional nature, it tends to get associated with scenes, instances, and settings: the time you played it in your car, the time you played it late at night, the time you were walking down the street. Because the music is so tightly composed, with nothing going to waste, its meditative returns and intonations (like the elusive synths on "Moorland Is the Sea") just latch on to your memory.

The album becomes a palimpsest, layer after layer of music and emotive memory blending into each other. It's not just that there's more music to discover with repeated listens, although there certainly is (listen to the bass on "Fallowness" for example, several times, and see what you find in the interplay between it, the drums, and the backing guitars). It's also that the album is truly having a conversation with you, a conversation which grows more and more important the more you have it, the more you respond by listening.
-Eden Kupermintz
The Endless Shimmering (AKA Best of the Rest)
Blankenberge – More
Russia's Blankenberge graced us this month with one of the more peculiar and fun albums I've heard in the genre so far this year. I've settled on a bit of a comparison tagline that I think describes them well enough: Blankenberge is to post-rock, as Astronoid is to black metal. If that doesn't mean anything to you, basically they take your standard post-rock genre traits, and soak them in bubbly dream pop and shoegaze. The first few songs on More, "Look Around" especially, feature prominently a summery, nostalgic, and somewhat indie vibe, not unlike the upbeat parts of Cocteau Twins or Beach House. Like many dream pop and shoegaze bands, the ethereal vocals act more as another texture to the colourful pallet of dense atmosphere rather than a standout instrument. The soft shimmering timbre of them really compliments everything else going on perfectly.
"Go" delivers one of the first noticeable breakaways from what we've heard so far in this album, with a purely instrumental tapping guitar section that could be on a math-rock album. It's a fun little outro in contrast to the shoegazing reverb prominent across the album. This track also showcases an especially meaty bass tone. "Until the Sun Shines" is probably the most straight up post-rock song on the album and is also just a masterclass in how to effectively combine shoegaze and dreampop with the genre. I think these genres have always inherently been semi-related due to their mutual strong use of textures and noise as a song-writing device. This take at post-rock is something that I haven't heard nearly enough of, (if anyone has more examples feel free to link them in the comments) and I look forward to hearing what else these Russians have to offer in the future.

-Trent Bos
Dead to a Dying World – Elegy
"Elemental dark metal." I sure love playing the genre tags game, and this is a new one for me, but it honestly fits. This is another thing that makes the whole "post" tag great for some and problematic for others. Does this really fit in the "post" discussion? Who knows? But it doesn't quite fit anywhere else, so to me that says that it does fit in with all things "post." We've certainly grown accustomed to certain tropes that have emerged from traditional modern post-rock, but don't let that make us forget that true post-rock is really just music that utilizes the basic structures and principles of rock music as a platform to subvert those understood traits into something uniquely their own. (Which then makes one wonder whether "traditional modern post-rock" ceases to be post-rock at all since it's largely conforming to a now-existing style rather than subverting it, but that's a whole other discussion).

Dead To A Dying World is definitely blazing their own pathway on Elegy, and it really doesn't matter where this is discussed, it just needs to be discussed somewhere, because this one is a real barnburner. A blend of elements from post-metal, black metal, post-rock, doom and crust metal, focusing on huge ideas and ambitious execution, with multiple lead vocalists, and featuring guest appearances from some pretty legit names (including members of Swans and Bell Witch), Elegy is a record that feels like it exists alone on its own terms. It recalls bands like Cult of Luna, Subrosa and Deafheaven in spots, to give an idea of what you're getting, but it's a unique and powerful work of art all its own that demands careful exploration. I have to admit I was actually surprised when I realized they were from Texas — there's a distinct otherworldliness about the record that makes it hard to picture them being from anywhere. That simultaneously feels like (a) a totally nonsensical thing to write and (b) the most accurate method of describing this band.
This is one of those records where the album art really fits the music held within; the sprawling, fog-enshrouded, foreboding landscape depicted on the cover conveys the tone perfectly. The three central tracks on Elegy are like the looming summit at the center of the image, rising powerfully, but not comfortingly, inspiring both awe and disquiet, with the promise of a dark and chaotic heart at their core. I know that I'm mostly waxing poetic without discussing the tangible elements of composition, but I honestly feel like this isn't a record meant to be broken down and explained, rather one to be fully immersed within. Hence my choice of language – this kind of dramatic verbosity feels in line with a record that is unafraid of its own ambitions, totally willing to take creative risks, and capable of doing so with confidence and eloquence.
-David Zeidler
Lazybones Flame Kids – Beyond
[full disclosure: I run a PR company and Lazybones Flame Kids were on a 2-month contract with me during the lead-up to the release of Beyond, so I wanted to ensure transparency, but also I've been dying to talk about this record because I feel that it deserves to be heard on a wider scale]

When I heard Sardinia, Italy's Lazybones Flame Kids for the first time a couple of years ago after the release of their self-titled debut, I realized I had discovered a band whose sound was completely integral to me considering my musical tastes and the genres that have proven formative for me over the years. There are a collection of bands, in Southeast Asia and South America especially, that combine a clear love of Midwestern American emo with instrumentally-driven post- music, but oftentimes those artists lean heavily into math rock territories, which to me often means that I am immediately intrigued by them, but there isn't always the kind of staying power that keeps me coming back. LFK, on the other hand, directly address my passion both for emo and more traditional post-rock. While they possess faint remnants of the mellow mathiness of American Football, they are more focused on the kinds of emotionally resonant textures that band has been known to explore. Add to this a devotion to the expansive-yet-intimate soundscapes that have served rich rewards to fans of modern post-rock, and you have yourself a potent blend that delivers huge in that ever-essential heart-swell department.

One of the real standout tracks from L. F. K. is "A Ride In An Amusement Park," which in many ways tells a concise version of the history of modern emo and post-rock in a relatively concise six and a half minutes. One of the most compelling aspects of that song was the inclusion of ever-intensifying narrative piece near the end that uses a Bill Hicks quote to impressively poignant effectiveness. This is an element that LFK explores even more on Beyond, with deeply-rewarding payoff.  Here we find more involved vocal passages and chant-alongs like the ones on "That One Is Cacus," a track that suggests a real potential for communal catharsis in a live setting, blending the carefully constructed layers of guitar melodies with inspired vocal calls to revel in what becomes an increasingly upbeat anthem. This theme of vocal accentuations follows through the following two tracks, leading up to an intriguing collaboration with avant-garde artist Miles Cooper Seaton on "Seven Kings of Rome."

Beyond traverses varying tones with plenty of success, moving back and forth from darker, heavier vibes (""A Part of You"), to more contemplative compositions (the album-opening title track), and then to more overtly joyous uplift (lead single "Greek Fire"). The record's greatest strength is tied to its mission statement, which revolves around enduring the hardships of the journey to in order to savor the accomplishment of coming through it all. These songs are all tinged with melancholic elements, but the feeling you're left with when the album is complete is that of deeply satisfied contentment. As with so many things in life, joy comes sweeter with the understanding of sadness, and this is a path that Lazybones Flame Kids walk incredibly well.

-DZ
Lost In Kiev – Persona
I have made it no secret how much I adore the more electronically and synth-tinged strand of post-rock. From 65daysofstatic to Three Trapped Tigers and Reformat, this sound harnesses all the best aspects of post-rock's immediate energy with a distinctly sci-fi edge. It seems we can now add Parisians Lost In Kiev into the pantheon of bands excelling in this area. Taking their initial experimentations with more ambient synth from their previous record Nuit Noire and running with it in a completely different direction, Persona goes full sci-fi as it tells the story of a likely not-so-distant future in which humanity has fully integrated with AI.
The closest comparison to make here musically and conceptually of the group listed above is Reformat, whose stellar The Singularity tackled a similar futuristic premise. But while Reformat's "dystopia" of sorts explored a world of artificial intelligence and robots seemingly already having run of the joint and just having a great time doing it, Persona has its feet planted firmly on the side of humanity and how we reckon with it in the face of our own creations on the cusp of surpassing us. The tracks are more meditative, more complex and nuanced, while still containing all of the big electro-rock energy I crave from these releases. "Persona," "Lifelooper," and "Mindfiles" are all certified bangers, certain to get the body moving even if you don't stop to appreciate the deeper meanings contained within its spoken word vignettes.
Persona is best enjoyed as a singular package though, a patchwork of moments and stories weaving together to form a greater whole. It's a tremendous album of depth that rewards repeat listens as much as it immediately satisfies and scratches any itch you might have for this kind of cinematic, electronically-focused music.
-Nick Cusworth
Lost in the Riots – Bonds
For anyone who isn't familiar with the London band Lost in the Riots previous record Move On, Make Trails, the time is definitely come to investigate that brilliant gift to fans of high-energy post-rock/math everywhere. It's probably one of the more underrated albums of the past five years. They're back now, and their sound is in a similar ballpark but they're most certainly working from a darker, heavier palette. Gone are the joyous upbeat jams of Move On, Make Trails, replaced by a grittier, nastier sound that will almost certainly appeal to anyone who loves both the most recent And So I Watch You From Afar record and riff-y prog rock.

Like the aforementioned ASIWYFA, Lost in the Riots possess an assertive sound marked by super-crisp production, precision shredding and a deep dedication to stink-faced grooves. The opening track "I Was A Fucking Jet Engine" should give you a pretty solid idea of what to expect. This is one of those bands that is working from a small-band arena, but they present like rock stars, and it feels likely that they'd mow down most artists working from more high-profile positions if they faced off in a battle of the bands. They're certainly no fresh-faced neophytes though; guitarist Adam Edwards runs Lonely Voyage, a small label and artist management copy that has a profile not unlike Lost in the Riots themselves: under the radar but impressive, including releases from well-regarded acts like Poly-math, Fall of Messiah, Bearded Youth Quest and Jean Jean.
This is definitely one of those records that maintains a fairly consistent tone throughout, which could be seen as a potential drawback by some, but overall, when you're doing something so right it's hard to complain. My best advice would be pay close attention to the back-to-back tracks "TRAPPIST" and "Telomeres." These two songs give a nice overview of what the band is capable of; the former is a fang-bearing riff 'n groove jam with a breathtaking middle section, while the latter is a more contemplative and melody-driven track, while still retaining a strong energy. If you're someone who likes jagged rhythm guitar heroics, power percussion and instrumental rock that goes for the throat instead of sitting back and making you wait for it, Bonds is an album you'll find cruising with the top down straight down your lane.
-DZ
Memory of Elephants – Beachballin'
I first discovered Memory of Elephants like probably many people will this year, from seeing them announced as a late entry to my most anticipated musical event that I'm happy to say I'll finally be attending this year – ArcTanGent, a post/math/prog/experimental rock festival in Bristol, UK where Memory of Elephants also happen to call home. While I think the festival has gradually been widening its schtick to appeal to a less niche crowd, MoE is decidedly a classic 'ATG' band – math rock that isn't afraid to get weird, but also doesn't neglect how FUN this genre can be. That fun weirdness in Beachballin' (if that name didn't do it for you alone), comes in the form of noisey strings, disharmonic heaviness, quirky pop sensibilities and delightfully energetic jazz flourishes. There's a lot of different ideas going on here but everything they do works.
It's hard not to compare any band that blends math and post-rock with non-twinkly distorted guitars to ASIWYFA but that feels to me like one of the easier comparisons to draw, especially on tracks like "Teflon Wombat". However, and nothing against them but I think that comparison undermines the creativity and uniqueness of this album. The experimentation is near on par with The Physics House Band at times, with both very jazz-fusion virtuosity, yet a restrain to let these catchier signature math-rock riffs carry many of the verses. "Sex in Sevens" offers a lovely departure back towards more post-rock roots, with prominent cello usage and this overall just joyously triumphant feel across the whole track which is undeniably a standout for the album.
They love to do this thing throughout Beachballin' where they'll repeat a riff over and over but alternate the tempo of the bar both faster and slower, like a math-rock equivalent of the "bring the main riff back but slower" metal meme. I guess it's almost like a beach ball getting bounced back and forth at different speeds. Let's go with that. This is most prominent at the start of the album closer, an eleven-minute opus of the album, "Tiles, You're Dead" which does come off as relatively heavy. There's a driving drum beat and rhythm section for most of the track that really gives it what I like to call, a "getting shit done" feel. This track as the kids say, slaps. Beachballin' is a wonderfully good time and I really hope they actually throw beach balls out into the crowd during their live sets.
-TB
Spotlights – Love & Decay
If I could go off into a short tangent for a moment, I wanted to talk a little about Deftones and their impact on niche rock music. I am a self-identifying Deftones fan, as many are. But I think there is something of an unspoken understanding that their dreamier, more melodic shoegaze-driven songs are consistently superior to their more straightforward aggro post-metal. I'd wager that the songs that have made the greatest impact on fans and musicians over the past 20+ years have been "Be Quiet and Drive (Far Away)," "Change (In The House of Flies," "Pink Maggit," "Beauty School," "Leathers" and "Phantom Bride." It's odd to see a band that's been mainstream for basically their entire career not only span a number of stylistic directions within their catalog, but have one of those directions help create an entire niche movement. But I would posit that "Deftones-style shoegazing" and the modern doomgaze scene share an incredibly similar DNA, and we should all be thankful for this narrowly specific trail that's been blazed.

The new Spotlights record Love & Decay is one of the finest examples of this burgeoning form. Whereas shoegaze of days past was "heavy" in the sense that it was sonically chaotic and unpredictable, essentially musical impressionism, the new crop of doomgaze bands (others who have touched upon the form include HOLY FAWN, SOM, A Film In Color, Nadja, Planning For Burial. Sound Architects, and Tunnel Blanket-era This Will Destroy You) are just HEAVY. These bands are adept at hitting really hard when they decide to go all out, but what makes them all so intoxicating to listen to is their firm grasp on melodic sensibilities. Love & Decay manages to do all that while standing out with some seriously strong production. It's a delicate tightrope act to sound great while you're also trying to capture an aesthetic marked by sludginess and a purposefully obscured vocal mix, but the balance here is undeniably great. Mario and Sarah Quintero's layered vocals are exquisite even as they shimmer primarily from the background, and while the tone on both the guitar and bass is decidedly filthy it has a clarity and confidence of delivery that is greatly appreciated. Rounding out the trio is Chris Enriquez on drums, and he really is the one who pulls it all together, perpetuating a sense of immediacy and groove through each track that keeps Love & Decay both grounded and engaging, and actually allowing the Quinteros more freedom to experiment with layers and textures.

While the entire running time is top-level stuff, I would point to the album-closing "The Beauty of Forgetting" to not only highlight all of the things Spotlights does well, but also to circle back to my original point. As with the aforementioned Deftones material, while there is much to be said about their more relentlessly heavy work, it's ultimately the "power ballad" (so to speak) that proves to pack the most punch, with its weighty blend of trembling beauty and snarling rage. The opening minutes are delicate and melancholic, its finale a swirling and furious storm, and it's tied together by a riff that kicks in around the 4:11 mark an immediately stands up against the best that post-metal has to offer, a huge anthemic moment that demands instant replay. In 2018 we were able to hold up Holy Fawn's Death Spells as the shining example of doomgaze's intense forward momentum; to this point Love & Decay is holding that exciting torch for 2019.
-DZ
Town Portal – Of Violence
Town Portal is intended to be confounding and near impossible to pin down. The Copenhagen trio have been exploring the fringes of math rock, post-rock/metal, prog, sludge, and beyond over three albums now, and with each successive release they only seem to become knottier and deeper. Of Violence, their knottiest and deepest album yet, is a brilliantly-titled examination of beauty and bliss found in brutality.
Jackhammered riffs and pummeling patterns continue to be their blunt instrument of choice, but one only need to listen to a track like the opening one-two punch of "Better Angels" and "Archlight" to understand how they've refined and elevated that conceit. The addictive and downright pretty simplicity of "Better Angels" leads into pure fury at the beginning of "Archlight," but it doesn't stop there. Through the bleak depths plenty of light shines through in brilliant guitarwork on top, alternating between typically bizarre dissonant riffs, dreamy strumming, and muted harmonic plucking. Or better yet, listen to "Soil To Return" and its simultaneously fervent and bright sound. It's angry as fuck, but somehow still awe-inspiring in its ability to grab that frenetic energy and constantly shift it towards the light.
Perhaps the single most distinguishing quality of Town Portal's compositional work is the hauntingly cyclical nature of their songs. To listen to their music is akin to finding oneself caught in a vicious whirlpool, looping complex figures and phrases and constantly whipping the listener back and forth. "Veyshnorians" is the aural equivalent of a teacup ride, constantly spinning in on itself and thrilling the listener even as they find themselves ensnared by it. Standout track "Roko's Basilisk" is a masterclass in taking a single oddly-metered phrase and building a mammoth structure from it all through subtle tweakings of tone and brightness.
Much like the raging volcano adorning the album's cover, Of Violence is a treatise on unstoppable forces, both of the absolute apocalyptic damage they can wrought and of the unspeakable beauty that can only be found in something so raw and massive. Frankly, the only reason why it's not the top album this month is because it had the misfortune of going up against Part Island. But make no mistake, with Of Violence, Town Portal have made an incredible statement of power and ambition, one many people are unlikely to forget anytime soon.
-NC