Today we're bringing you not only a track premiere, but a newly emerging band. Hailing from Chicago, the burgeoning slow-core capital of the United States, Brady is the newest signing to the underrated Flesh and Bone Records, adding to a roster that has seen some of the truly great smaller-scale North American bands come through the ranks (current artists and alumni include Au Revoir, Trench, Atsuko Chiba, Lume, Tides of Man, Pray For Sound and Vasudeva). We're excited to give you a first look at their tightly-wound brand of post-hardcore with the premiere of the calmly searing, uncompromising track "Family Photos."
Awash in gloomy atmosphere, "Family Photos" features a blend of dark alternative and quietly seething slowcore that never strays from the path, a determined quest to expose the rot and murk beneath the seemingly mundane American existence. Featuring a series of snapshots of Jason Dalton, the Kalamazoo Uber killer who was once simply a part of the everyday landscape before something inside drove him to kill, it's not a song meant to ask or answer why, but rather to simply acknowledge what is, which is an infinitely more haunting portrayal of this subject matter.
It's a testament to the level of attention paid to mood and tension-building that lines like "I'd like to see some family photos" and "Fried chicken and a new Ford Taurus" can have an absolutely jet-black undertone. Vocalist/guitarist Sam Boyhtari posits: "disaster is never far away, and it usually doesn't make sense. Life is fragile and subject to chaos. The universe doesn't care about us or our dreams." It's not the cheeriest outlook, but it's uncomfortably close to the version of America that's on display before our increasingly less-disbelieving eyes. "Family Photos" is a gaze into the deep, black pool of American psychosis, and what we see reflected back to us can look startlingly familiar.
The simplicity is key here in building the perfect balance between drifting moodiness that almost sounds disaffected and razor sharp edginess. Using uncomplicated but painstakingly evocative guitar melodies, taut, carefully controlled percussion and Boyhtari's unique vocal cadence that leans on the brink of a sneer without ever over-reaching, "Family Photos" feels like a bomb that should have gone off seconds ago, leaving the listener caught hopelessly in its grip. The song has a feel not dissimilar to what Fugazi might have sounded like if they were observing the dead-eyed, dissolving soul of average, everyday Americans rather than that of our corrupt systems.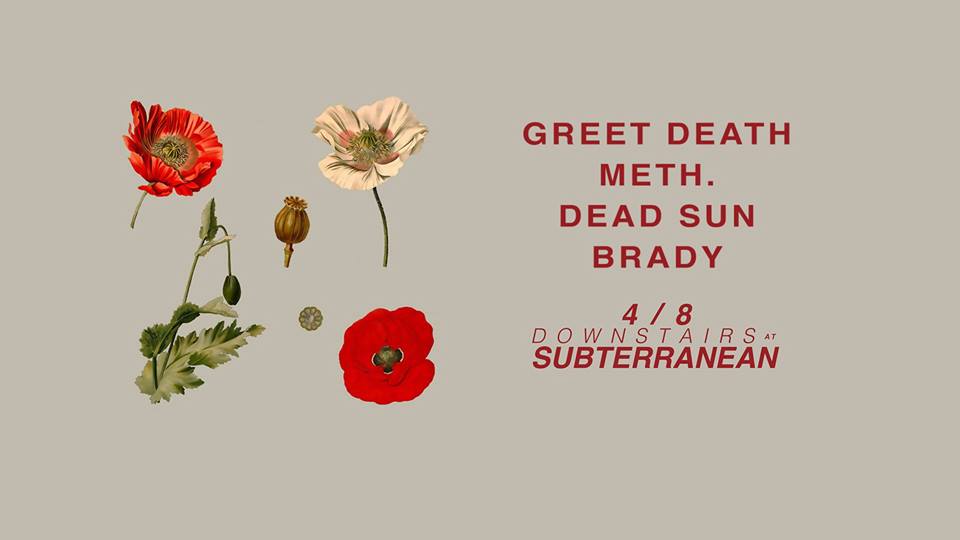 There is currently no announced release date for further material, but those in the Chicago area can check out Brady's live show on April 8th at The Subterranean with labelmates Greet Death, as well as my choice for band-you're-gonna-know-soon-if-you-don't-yet, Dead Sun, and the eardrum-threatening experimental powerviolence band Meth. You can also continue your discovery of Brady by checking out their Facebook page