Synthwave is, in many respects, a hard musical genre to nail down and many disagree as to what exactly categorizes any particular act as such beyond the simple utilization of synthesizers. While most might immediately conclude that it involves imitating the sounds of the 1980s, there are those who blur that decade divide and bring in influences from the 1990s as well. Such is the case regarding Robots With Rayguns, an act which has been in the scene for quite a number of years now, who describes themselves as being "inspired by 80s and 90s electro, breakbeat, and RnB." Indeed, with catchy beats and a healthy dose of vocal sampling, one gets the sense that their music would have been right at home in a dance club from that era or featured quite prominently on MTV alongside La Bouche and C+C Music Factory.
Robots With Rayguns is therefore a bit of an outlier in this respect and Lucas Smith, the sole person behind the act, more or less agrees when asked about how the scene has changed and his place in it since he released his first album, Electro Isn't Dead, back in 2010. "Since then there has been an explosion of producers making synthwave in the past few years and I think, generally, there has been more darker and grittier stuff than the more pop and dance influenced music we were making back then. I'm not sure if I even fit into what most people now consider synthwave anymore" Lucas declared, "which I think is a bit ironic, as back then there wasn't the term "synthwave" yet and only a few artists were making similar music such as Mitch Murder, FM Attack, and Fear of Tigers."
Regardless of if the scene has passed him by or not, the fact still remains that Robots With Rayguns produces a wholly unique and original sound that doesn't follow or even lead; it marches to its own electric drum kit. This can all be traced back to his influences and humble beginnings as a producer. "I got into making music in high school when a friend gave me a copy of a digital audio workstation and I just started playing around with it by making mashups and remixes. Today it's still pretty much just my computer with a handful of software synths and drum kits" Lucas admitted, "I'm pretty low key."
In regards to his influences, Lucas went on to reminisce how "back then I was making industrial music because that's what I was really into and what inspired me. Later on, in college, I started RWR as a side project as something I could have more fun with as I listen to a lot of House, Hip-Hop, Trip-Hop, Liquid DnB and modern RnB. My taste is quite diverse and I go through phases. Right now I've been listening to a lot of Euro House, Chris Brown, and modern pop. I'm very inspired by strong melodies."
These strong melodies have certainly manifested themselves in Robots With Rayguns' latest release, Slow Jams, as it brings those RnB influences to the forefront with an assortment of sultry vocals and hypnotic beats. While some of the tracks on the album are in fact remixes of prior RWR offerings, they don't feel like simple rehashes as Lucas has given them a fresh coat of paint thanks in part to the new vocal work. "Many of the vocal tracks on Slow Jams are either revamped ballad versions of songs from previous albums like "Get Over U" and "Unicorn", re-released ("Right Through Me") or remixes I did of other songs ("The Best Revenge", "Illuminate")" Lucas explained. "I've been lucky to meet some very talented vocalists along the way and I think the vocals really bring in unique perspectives to the RWR sound. I think at the core of synthwave there is a lot of pop structure so vocals do a lot to complement that."
Speaking of complements, the synthwave scene has always been one which has embraced that retro feel and perhaps there's been no better way of showing that than through the resurgence of once thought dead media formats. While Robots With Rayguns has previously released some of their prior albums on cassette tape and compact disc, as well as digital, vinyl seemed like the next logical step for Lucas but for awhile he wasn't sure how to go about making that a reality. Enter Sofa King Vinyl, an independent record label run by Max Wallis, who is looking to help make such a reality possible for not only Lucas but other producers as well.
"I always wanted to release an album on vinyl but it's quite expensive and time consuming and it just never lined up" Lucas revealed. "I was contacted by Max from Sofa King and it just seemed like good timing to give it a shot. I know a lot of fans have been asking for vinyl for quite some time now, so I'm really happy to be able to make them available. If this goes well we may open up the RWR back catalog for vinyl such as Fresh As It Gets and Wild Style." You can make this possible, and ensure a copy of Slow Jams, by pre-ordering over at Qrates.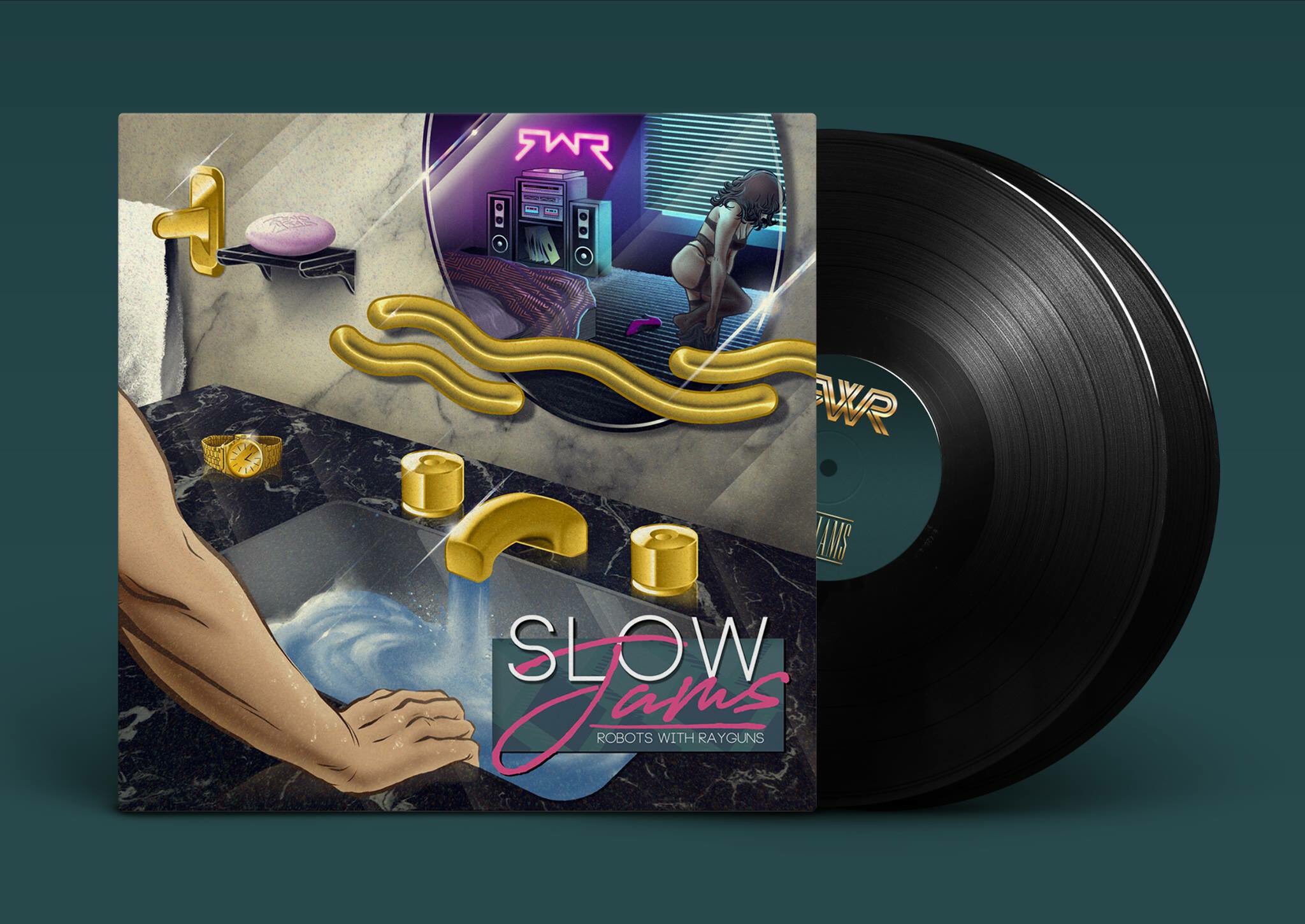 Not one to rest on his laurels, as he is constantly looking to improve himself, Lucas has already hit the ground running in the wake of Slow Jam's release. When pressed on what's next, he proclaimed that "I plan on returning to form and making new dance music. I'm definitely going to switch it up though and throw in new elements to the mix. I want to surprise people. I also want to do more producing for other pop and RnB artists and even make music for film which I've always wanted to do." When asked about playing any more live shows in the future, as he has dipped a toe into the public performance pool a bit in the past, Lucas seemed cautious about the prospects. "I have played a few live shows before and overall it's not really my thing" Lucas lamented. "I enjoyed those shows but my music isn't really set up the best for it. I do plan on exploring that further in the future, although not extensively, but then again you never know."
While he may not know when his next tour will be, or not to be, he certainly knows what goes on his perfect pizza and inside his ideal burrito. "Pizza is my favorite food" Lucas proclaimed, "and I love all the meats on it, no veggies. Sometimes even extra cheese. I'm pretty basic with my burritos. I just like rice, meat, and cheese." Regardless of if said meals are enjoyed on the road, or off, the most important thing is that the ingredients are always fresh like the music of Robots With Rayguns. Oh yeah, wait, where did that name come from anyway? "I don't really remember how I actually came up with the name" Lucas confessed, "I think I just thought it sounded cool and the logo would be pretty dope." Needless to say, he was right.