We like to joke around here pretty constantly that the amount of quality music out there in the world for us to consume and critique is magnitudes more than we can possibly manage, that we are drowning in a sea of music and are suffering mightily for it. We are all the "Why can't I hold all these limes?" guy.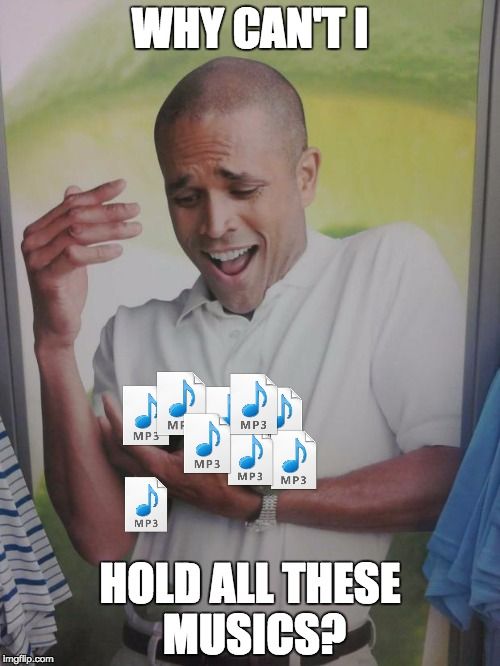 It's months like these though where our jobs are basically impossible, and all we can do is just laugh and throw our hands up in the air. We're accustomed to March being a busy month release-wise. It's the official "thawing" out month from winter hibernation (not that January and February were slouches) to the real meat of release season. I don't think any of us were prepared for this particular March though. We cannot stress enough just how many top-notch albums were placed in front of us this past month (several technically before, but you get the idea). We normally try to limit the number of entries each editor contributes to this list and writes up, but in this case we essentially have thrown caution to the wind. Expect to see many of these albums pop up quite high in our individual (as well as likely staff) lists at the end of the year. If you haven't been paying much attention to either this column or music in general of late, this is the one you're gonna want to use to catch up.
And with that, let's get to our top picks for March!
---
The Bug/Earth – Concrete Desert (industrial drone)

While my fellow Earth fans on Heavy Blog agree that Primitive and Deadly was a low point in the band's discography, none of them share my intense disappointment with the record. With the addition of vocals on three out of five tracks and a general sense of stagnation, the drone-doom pioneers started to sound like a washed up stoner band; seriously, the two tracks with Mark Lanegan (former lead vocalist for Screaming Trees) sound like scrapped Saint Vitus demos. Sure, the (few) remaining tracks were decent renditions of the band's established Hex-era sound, and despite the hindrance of vocal guests, the band more or less plodded along with what they've been doing for the past five albums. Yet, what upset me most was their serious lack of ambition—the same band that crafted two distinct styles of drone metal and consistently evolved their sound was now limping along and going through the motions. This is partially why I'm so enamored with Concrete Desert, which sees Earth mastermind Dylan Carlson teaming with experimental electronic producer Kevin Martin (a.k.a. The Bug) for a full-fledged realization of the ideas the duo toyed with on 2014's Boa/Cold.
To be clear, this isn't a typical Earth release, both in it's genre and the fact Carlson and Martin are collaborating without any credited input from the band's remaining members. Of course, one could argue that Carlson is Earth, due to his distinct approach to composition, guitar tone and methodical performance. But the lack of a dedicated drummer, bassist, cellist or organist truly makes this a product of Carlson's meditative approach to guitar. He leverages every sound from the band's career and offers both power ambient drones (à la Earth 2) as well as his signature melancholic Americana (à la Angels of Darkness, Demons of Light). Juxtaposing this with Martin's eclectic track record seems admittedly odd, especially since he incorporates several pages from his genre playbook. Armed with drone metal guitar riffs fused with elements of illbient, industrial and dub, Carlson and Martin execute this collaboration with seamless chemistry and a fulfilled artistic vision.
With the duo's clash of styles, the result at its core comes across as a heavy electronic remix of tracks falling somewhere between spacious Godflesh (like the longer dirges on Streetcleaner and Pure) and industrial Jesu (think "Friends are Evil" from Jesu), all with a much more low-key vibe. Appropriately, Justin Broadrick—who founded Techno Animal with Martin—appears on the back end of the album for a couple of tracks under the JK Flesh moniker, providing some ferocious vocals for some equally visceral compositions on "Dog" and "Pray." But while these tracks do stand out for their particular intensity, Carlson and Martin crafted a set of songs that feel unique and work toward a complete album. Some tracks lean more heavily on the balmy, hypnotic licks from Carlson's guitar, while others are more firmly routed in an industrial, urban environment more fitting for Martin's standard electronic fare. Though an unusual collaboration on paper, Concrete Desert brings together two iconic experimentalists for an album unlike any in their discographies and worth as much attention as their most lauded projects.
–Scott Murphy
Dodecahedron – Kwintessens (avant-garde black metal)

Weird post-black or avant-garde metal is my jam. The more hyphens, the better, really. Dodecahedron have always been a band that I meant to spend more time with, but something didn't really click with me previously. When one is operating in such uncharted space as this band, it's hard not to trip on small things and lose your footing. Well, with kwintessens, they've firmly planted their feet in and made a statement. And it's fantastic.
You see, oftentimes this space occupied by bands like Deathspell Omega, Blut Aud Nord and Portal gets mischaracterized. The extreme abrasiveness of the bands in kwuestion leads some to think that that's the point. Go weirder, harder, and your album will be better than anything else. That's not really the case though. The point is in finding beauty within the roughness, order within chaos. Pure chaos isn't appealing beyond novelty value, and Dodecahedron know that. With kwintessens, they've become one with the chaos to write riffs that are oddly serene. Of course it's still extreme and hostile, but their ability to shape and direct that is what gets them a spot on this list. At times they lean heavily on post-metal elements, adding a vast atmosphere to the soundscape. This bizarre yet compelling air of otherness is a fresh breath of air for a genre so unstructured, and that alone means this album is worth putting the time into.
-Noyan
Mastodon – Emperor of Sand (stoner rock)

It has come to my attention that my review of the latest Mastodon record Emperor of Sand is controversial in its praise. Surprisingly, Emperor of Sand is more divisive than I had anticipated, and I don't quite get it. This record is easily the band's best record since Crack The Skye and serves as a bit of a return to form for the group. It's a remarkably focused record with a consistent tone that compliments the deeply personal desert-themed concept. The songs are catchy but don't sacrifice on the riffs. What's not to love?
Something that wasn't touched on in my review is the fact that no song feels like filler. There's character all across Emperor of Sand and compelling reasons for each song to exist, which is something you can't say for The Hunter or Once More Round The Sun. A Mastodon record that balances the rock and roll sensibility with heady prog and has wall-to-wall bangers? That's all I ever wanted from Mastodon post-Crack the Skye. Perhaps given some time more people might come to appreciate Emperor of Sand, but for me personally, it won't be leaving rotation any time soon.
-Jimmy Rowe
Pallbearer – Heartless (doom metal/progressive metal)

Not to be "that guy," but I honestly didn't think either Sorrow and Extinction or Foundations of Burden were that great. Sure, they were good doom metal albums, but I didn't really understand the mountains of praise from both inside the metal community and out that Pallbearer received for either album. The former sounded somewhat amateurish and was, I feel, less than the sum of the parts they collected from across the doom and stoner spectra; the latter, while more diverse, didn't really feel like it had anything to gain from its diversity. (I realize this sounds like I'm setting the band up for a catch-22, but what I mean is that the variations in sound didn't really go anywhere or provide any new context for what they were already doing.) I had basically just stored Pallbearer away as a band that seemed overrated and unnecessarily put on a pedestal for their extra-community appeal. I didn't really find "Thorns," the debut single for this new outing, to be a super interesting song on first listen, either, so while I checked out Heartless pretty quickly after I got it, it was more out of curiosity than anticipation.
That may seem like an odd way to open my pick for best album of the month, but it's all to just add context to the "holy fuck" moment I had when I was going through my first listen of Heartless. Although I didn't find it to be the transcendent religious experience Michael Nelson over at Stereogum did, I was still pretty blown away by how much Pallbearer had improved between FoB and this record; they've gotten better in just about every conceivable way and definitely earned the hype they're getting this time around. Everything about this record glows. The songs have a much more progressive sense of structuring than before, the production perfectly fits their one foot in the 1980, one foot in 2017 sound (and holy shit, that guitar tone is great), and the vocals have taken several steps forward from where they were when last we saw these guys. They've mastered their methodology and struck gold with a sound they can totally own.
Heartless is undoubtedly Pallbearer at their absolute best yet. Seriously, I don't really have much to say besides that this album is an amazing step up from what they were doing before, and pretty much the exact proper execution of the sound they've been going for so far. Everything just clicks, and each listen of this record is so damn satisfying for a myriad of reasons. If you enjoyed them before, you're gonna love them now, and if you didn't think their previous releases were up to snuff, prepare to be extremely surprised. I know this pun is already played out, but bear with me here: Heartless is anything but. This album fucking rules.
-Simon Handmaker
sleepmakeswaves – Made of Breath Only (post-rock)

I was incredibly anxious for this release. sleepmakeswaves are one of my all time favorite bands, within post rock or without and third releases (although they have plenty more EPs under their belt) are always a tricky thing. Luckily, the band's approach to Made of Breath Only proved to be perfect; it presents them in their heaviest and most direct form yet, utilizing truly thick tones for both guitar and bass to transform their signature sound into something much more than it ever was.
In case you're foolishly unaware, that sound is like a groovier 65daysofstatic where electronica, rock and post rock all blend into one. Here, the rock influences are much more pronounced, with the bass sounding larger than ever. The electronics haven't been forgotten however and have been escalated to match, going toe to toe with the biggest of riffs on the album. In between these sound, the smooth, mellow elements of sleepmakeswaves are also very present. All in all, this album is an extension and an amplification of their beloved sound which makes it a fresh and immediately convincing release.


–Eden Kupermintz
Spoon – Hot Thoughts (indie rock)

There are few descriptors I can think of more difficult to be labeled as for a band than "consistent," nor are there few labels I can think of that are as much of a double-edged sword. Nor are there many bands I think this can apply to nearly as well as Austin indie legends Spoon. Over the course of 20+ years and now 9 albums, the band have grooved, swaggered, and experimented their way into defining much of what has come to define cool, artful indie rock through the 2000s and beyond. Though most fans agree that the period between 2001's Girls Can Tell and 2007's Ga Ga Ga Ga Ga represents the height of the group's creative prowess, the band have never approached anything resembling a "bad" album. But that's where being consistently great can work against a band. Albums like 2010's Transference and 2014's They Want My Soul have their ardent defenders, and they're both good to very good albums depending on who you ask, but both met relative sighs and shrugs compared to their previous work. They're good, but at least in my mind both suffered from being able to really stand out and demand multiple listens like so many of their other albums had.
All of this is what makes Hot Thoughts such a revelation and accomplishment. Right from the frenetic dance-rock of the eponymous opening track through the bizarre yet strangely beautiful sax-laden textural and fully instrumental closing track "Us," Hot Thoughts represents a band still committed to stretching themselves out in every direction. There is certainly a greater emphasis on electronic and synth sounds than previous albums (a continuation of sonically dense and dancey experimentations like "Outlier" from They Want My Soul), but the album is far too eclectic overall to be defined by it. Tracks like the dance-floor synth meets Wolf Parade-like angular art rock of "WhisperI'lllistentohearit," the gritty and twisted blues translated through a Hall & Oates song of "Do I Have To Talk You Into It," the rhythmically-thrilling and beautifully smooth vibraphone-laden "Pink Up," the pulsing krautrock blended with smooth synth grooves cut only by guitar stabs and Spoon frontman Britt Daniel's howls of "Shotgun," and many others defy easy description and categorization other than "Yeah, it's a Spoon track. A damned good one at that"
That the band can continue to incorporate so many different styles and bring in so many different influences yet never for a second call into question who is performing it is the prime reason why the band have managed to remain as unflinchingly consistently great over the past two decades as they have. In my mind it is easily their best since Ga Ga Ga Ga Ga, and it is absolutely up there among their best overall, if only because it is perhaps their most interesting and daring to date. With Hot Thoughts, Spoon prove once again that consistent in no way is the same as boring.
-Nick Cusworth
OTHER NOTABLE RELEASES
Heretoir – The Circle (post-black metal)
Former patriarchs in the post-black metal scene, Heretoir took the six years between their archetypal self-titled debut album and their follow-up The Circle to expand beyond the realm of the genre and started reaching into the type of melancholic prog that acts like Hanging Garden and Katatonia are best known for. Shades of black metal remain, but The Circle is like an ode to all things post/progressive. If you miss The Mire, Heretoir are the band for you.
Iapetus – The Long Road Home (prog death)

Baking folk elements right into the mix, The Long Road Home is an incredible progressive death metal release from Long Island. Listen if you like expansive tracks and forward thinking metal which can still be heavy when it needs to.

Junius – Eternal Rituals for the Accretion of Light (art rock/post-metal)
Just the third full-length from the long-standing Boston veterans of gloomy and heavy art rock, Eternal Rituals takes everything well-established in the Junius canon and adds in a few unexpected twists and turns, resulting in one of their most thrilling and satisfying offerings to date.

Netra – Ingrats (avant-garde black metal)
The fields of "weird" black metal are endless and genre descriptions are beggared by then. Netra blends noir samples, lounge jazz and oppressive black metal to create an edition to those fields which will leave you immensely satisfied while scratching your head in askance.

Pharmakon – Contact (death industrial/power electronics)
This point truly can't be stressed enough: be prepared for a physical reaction to Pharmakon's music, one which will likely not be particularly pleasant. Margaret Chardiet's excellent third album as Pharmakon takes death industrial to its most tangible, perturbing extreme, and as we said in our review, "this is challenging music for people who want to experience immolation while watching the world burn with them."
Planning For Burial – Below the House (doomgaze)
Below the House is the best Jesu album we've gotten in a decade. If you like your music crushing and funereal, shimmering with almost-elated melancholy and beautiful atmosphere, you're going to absolutely love this album.

Telepathy – Tempest (post-metal)
After releasing one of the most-promising post-metal debuts in recent years in 12 Areas, the UK-based Telepathy return with a more ambitious and sleeker follow-up that mixes the sludgy ferocity of their debut with grandiose beauty.
Aeternam – Ruins of Empires (blackened death metal)
Some bands make their mark by owning their cheese and Aeternam is a case study in that. Epic, melodic death metal which wears its heart on its sleeve, juggling choirs, powerful riffs and oriental influences baked right into the composition and its writing process.
Ascended Dead – Abhorrent Manifestation (war metal)
Bereft – Lands (doom)
Fen – Winter (prog death)
Fit For an Autopsy – The Great Collapse (deathcore)
GRID – GRID (avant-garde jazz/noise)
Mount Eerie – A Crow Looked at Me (singer-songwriter)
Orm – Orm (black metal)
Replacire – Do Not Deviate (tech death)
Stolas – Stolas (prog rock/post-hardcore)
Talaboman – The Night Land (deep house/balearic beat)
Violet Cold – Anomie (blackgaze)