Even a cursory glance of our biweekly "What Heavy Blog Is Really Listening To" posts will reveal that there is a great deal of variety among our staff's musical tastes. Due to this, we brainstormed the idea of "Playlist Swap," another biweekly segment that takes place between playlist updates. We randomly select two of the participants from each update, have them pick their favorite track from each of the nine albums in their grid and then send the list over to the other person to listen to and comment on. Within these commentaries occurs praise, criticism and discovery, and we hope that you experience a few instances of this last point as well. This week's post has Scott and Jordan duking it out again, in what will surely be a battle for the ages:
Scott's Grid and Jordan's Thoughts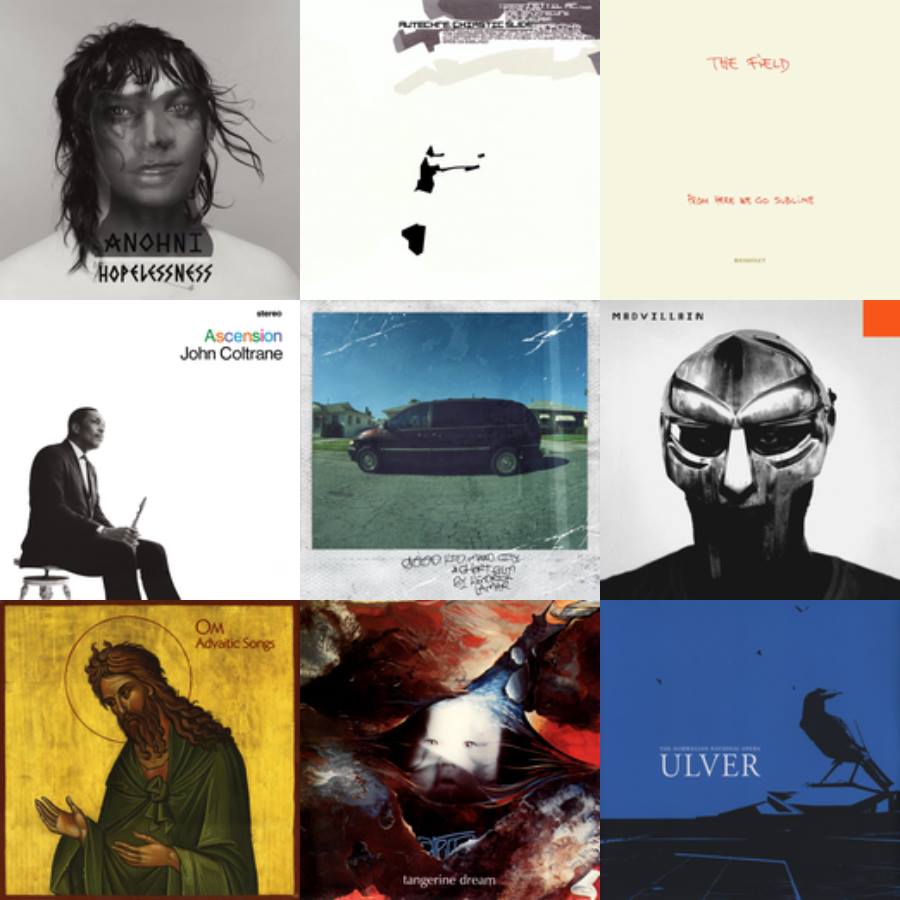 ANOHNI – "4 Degrees"
Scott's Thoughts: Other than Chance the Rapper's Coloring Book, I don't think I spun another 2016 album more than Hopelessness. It's an incredible pop album with lyrics that effectively present political ideas without becoming to obscure or pretentious (except for "Obama"…shudders). Plus the production from Oneohtrix Point Never and Hudson Mohawke is incredible throughout.
Jordan's Thoughts: Okay, I've heard this one somewhere before. A commercial, maybe? This is my first time giving it a real listen. I can get into this. I mean, these could pass as some eco-conscious death metal lyrics: "I wanna hear the dogs crying for water / I wanna see the fish go belly-up in the sea / And all those lemurs and all those tiny creatures / I wanna see them burn, it's only 4 degrees" This is a dark song, but feels like dancy world music with the big brass/string sound – very cool production. The earthy vocals are really great, cementing that aesthetic. This is pop music I can get behind – the music is interesting, the lyrics are thought-provoking, and it doesn't overstay it's welcome. Great stuff!
Autechre – "Cipater"
Scott's Comments: After finding and falling in love with Exai a few years back, I've checked my local Bull Moose every since to see if they have any of their back catalog in stock, unfortunately to no avail. But while I was spending this past New Year's weekend in Portland, ME, I finally found not one, but two of their older releases at the Bull Moose right outside of the city – Tri Repetae and Chiastic Slide. I honestly couldn't pick a favorite track from TR, so I opted to pick one of my favorite, glitchy tracks from Chiastic Slide for Jordan to try out.
Jordan's Thoughts: Autechre must be Pink Floyd fans. The first couple minutes of this sound like an EDM version of "Money" with that sorta cash register-y sound. This isn't normally something I'd be into, but I dig the craftsmanship and progression here. They do this sleight-of-hand transformation and this becomes basically an entirely different song by the 5:00 mark. The samples themselves are really weird – do they work with all found sound stuff? It sounds like there's a door creaking, blocked punches from Street Fighter II, and something crunching or scuffling. This just doesn't sound like late 90s electronic to me, it's too weird, bringing to mind Animal Collective or something. I appreciate how this isn't super busy, making it easy to dissect, almost as if they're encouraging listeners to pick this apart.
The Field – "Over the Ice"
Scott's Comments: Oddly enough, I had the exact same experience with The Field as I did with Autechre (much to the chagrin of my wallet). There's something about Axel Willner's hypnotic, repetitious production that makes me want to turn up the volume and let the techno goodness wash over me.
Jordan's Thoughts: This, on the other hand, is definitely not for me. Maybe it's the vocal samples, but this track is oddly wearing. I enjoy the uber-chill and relaxed vibe, but the aforementioned vocal samples kill it for me. It gets soo redundant. I'm definitely no expert when it comes to electronic music, but I can't find a reason to revisit this. It gets too bonkers for simple background music, but it's not stimulating enough for active listening. No mas.
John Coltrane – "Ascension 1/4"
Scott's Comments: Ok, I swear this is the last one, but this was also another rare find that I'd been looking for eagerly since I first go into Coltrane. Both Ascension and Interstellar Space turned up at the same time at my local Bull Moose, and since it was Christmas Eve day, I could justify shelling out the cash right before I was showered with gifts. Obviously a free jazz jam of this length isn;t for everyone, so just to be safe, I only passed the first quarter along to Jordan to check out.
Jordan's Thoughts: This is wild. I've always wanted to listen to more jazz, but the sheer volume is overwhelming. I mean, this guy alone has over 30 albums! Needless to say, I'm glad I got the little push I needed to check this out. It feels so loose and busy, but when things come together, it's unlike anything else. It's so amoebic and alive, even a bit disorienting at times. Unlike The Field, this is perfect for both background music and active listening.
Kendrick Lamar – "Swimming Pools (Drank)"
Scott's Comments: I know this makes me a hypocrite, but I first heard and fell in love with Kendrick (and this song) the first time I got high. But to me, that's exactly why this song works so well – it effortlessly juxtaposes a hazy, party-ready beat with lyrics of inner turmoil and the peer pressure surrounding substance abuse. It's hard to pick a favorite track now that I've spun Good Kid, M.A.A.D City many times in full, but I owe it to this song for getting me into Kendrick in the first place.
Jordan's Thoughts: I love Kendrick (who doesn't?). While this isn't one of my favorites from the album, I really dig the message and love his use of that "inner monologue voice." These extra dimensions and layers just put him way ahead of his peers. The hype is easy to understand with a handful of damn near classic albums under his belt. The guy is a storyteller, a performer, and a wonder of the highest caliber.
Madvillain – "All Caps"
Scott's Comments: I'd be genuinely curious to find out just how many times I've listened to this album. From the moment I bought it on a whim after I splurged on a ton of a hip-hop classics, it it instantly became my soundtrack for that summer. I could go on endlessly about how much I love this record, but eventually I'd like to write a full-fledged piece on why it's one of the greatest rap albums ever recorded, thanks in no small part to "All Caps."
Jordan's Thoughts: Madvillainy is one of my favorite hip hop records. MadLib's production so damn smooth and classy. And paired with MF DOOM's dense and silky flow? It doesn't get much better than this. I feel like I'm always hearing something new in each listen, and I absolutely adore his food metaphors (now I gotta get some Cheetos…) As much as I'd love to hear these guys do another full-length, it'd likely pale in comparison to this record.
Om – "State of Non-Return"
Scott's Thoughts: Why the fuck haven't Om put out a record for so long? That was my exact thought when I decided to spin Advaitic Songs again for the first time in a while, and as much as I loved reminiscing about some of my favorite meditative tunes, it also made me want to track down the duo at their next show and as kwhat it'll take to get them back into the studio. Hopefully I'm whining for nothing and there's a new record already in the pipeline.
Jordan's Thoughts: Man, I haven't listened to Om in a long time. Too long. HUGE mistake. This is so unbelievably rich and heavy, and perfectly satisfying with the cushy runtime – and this is one of the "short" songs! Al's vocals are spot on, meshing perfectly with the bass. The addition of strings and other accompanying instruments take this to another place entirely. Jackie Perez Gratz (who plays cello on Advaitic Songs) is someone I haven't heard from in forever and hearing this makes me really want to dig back into other work she's done, in particular, Giant Squid and Grayceon. Strings are awesome! Everything needs more strings, damnit!
Tangerine Dream – "Circulation of Events"
Scott's Comments: I've been slowly collecting Tangerine Dream records since stumbling upon Zeit by accident, and this was one of the my latest acquisitions courtesy of my parents coming in clutch for Christmas. Atem is definetly rough by TD standards, but it's amazing to hear firsthand just how much ground they broke for electronic music.
Jordan's Thoughts: Minimalist music isn't my usual jam, but I can get behind this ambient stuff. This in particular is really eerie and unsettling, yet oddly calming. Perfect for passive listening – really spacey and weird. It's reminiscent of Oval's Dok, but without the glitch and more than two decades older. I'll be checking more of this out, for sure.
Ulver – "Hallways of Always"
Scott's Comments: Is there really much to say here? Ulver are one of the most consistent and incredible bands in music, a point made even more impressive by the fact they've never truly stayed on any one style for all that long. Though I hardly ever buy live albums, this caught my eye because of how singular an event it was, as well as the beautiful packaging.
Jordan's Thoughts: I've never heard Ulver before, so I was super excited to see why I'm always seeing this name pop up. I had always pegged them as some generic OSBM band (probably due to Bergtatt's artwork) who had transformed themselves into some kind of artsy Agalloch wannabe (probably due to Shadows of the Sun's artwork). So yeah, I totally judged them by their covers… Needless to say, this is not what I was expecting to hear – at all. Whoops. This is like… trip hop! This absolutely blows my mind, and I think I'm in love.
…
Jordan's Grid and Scott's Thoughts
Krallice – "Transformation Chronicles"
Jordan's Comments: I couldn't wait to hear what Krallice were going to do when they announced Prelapsarian, and this track sums up much of it. It's as though they've taken the crushing death-leaning style from Ygg hurr and released it from the confines of a 6:41 runtime. There's so much space and room to breathe on this one. They still disorient the listener by racing through maze-like tremolos at an inhuman pace, but instead of snaking through endless twists and turns, they get a chance to sprawl out into the void. It's every bit as unnerving, but with a completely different flavor.
Scott's Thoughts:
There are a ton of bands and artists that I know would fit well into my regular rotation but always slip my mind.

Krallice

is perhaps the most frequent victim of this trend; I loved both

Ygg Huur

and

Prelapsarian

on first listen but just never bothered to venture backward into their catalog. Every excuse to listen to them helps, though, and parsing through the dense swirl of technical black metal on this track – and the album as a whole – makes me want to finally throw on

Years Past Matter

after I'm done spinning Jordan's playlist.
Run the Jewels – "Call Ticketron"
Jordan's Comments: The kings of brag are back and better than ever. El-P's production is at its most ear-tickling yet, and I couldn't help but crack a smile at the "It Takes Two" sample in this song. Killer Mike is at his best, the final verse with the Bill Cosby burn is an instant classic. I don't think there's really much that needs to be said, at this point everybody should know what they're gonna get with RTJ.

Scott's Thoughts:
I was really surprised at how consistent

RTJ3

was as an overall listen. Track by track,

RTJ1

wobbles between a 6 and an 8 for me, and

RTJ2

shifts between a 7 and a 9. I've spun

RTJ3

several times now (more than I've spun the other two front to back), and it's a solid 8 all the way through. It kind of sucks there's no big single like "Get It" or "Close Your Eyes and Count to Fuck," but it's a wicked fun listen that never really falters. And if I were to pick some highlight cuts in the tracklisting, this song would definitely be one of them. I love the simple, digital beat and the way

El-P

juxtaposes his lines on the hook with the "live at the garden" announcer voice. And per usual, he and

Killer Mike

deliver great flows and solid lyrics.
Iron Age – "The Sleeping Eye of the Watcher"
Jordan's Comments: I found The Sleeping Eye on vinyl a few weeks back and couldn't pass it up. I feel like this is still a unique take on thrash. It's like Metallica by way of Sleep, and I can't believe this sound hasn't been entirely aped by some up-and-comers. The way the drums plod behind the attack of the guitars is absolute gold, and the solos teeter on the heavy psych end of things whilst still appeasing the denimest of shredbangers.

Scott's Thoughts:
So now we've arrived at the portion of Jordan's playlist that I'm completely unfamiliar with. I don't really listen to this style of metal much, but to me, it sounds like a slightly thrashy version of

High on Fire

, with vocals that sound like Pink Eyes from

Fucked Up

. Oh, wait – it's

Goatwhore

these guys are making me think of; I knew it'd come to me as the track unfurled. Unfortunately, this style doesn't really do much in the way of "unfurling," and I found myself pretty lukewarm about the music by the time the track ended.
Anicon – "Robed in Torments"
Jordan's Comments: Progressive black metal doesn't have to leave you scratching your head. I feel like they're sort of a Krallice-lite (also sharing criminally underrated drummer, Lev Weinstein), serving as a good launch point for anyone interested in technical or progressive black metal. There's also an unsubtle amount of attitude here, and it really makes this song (and album as a whole) go by in a flash – it's an unexpectedly fun and easy listen.


Scott's Thoughts:
Funny story – I legitimately thought this was going to be a

Baroness

style band based on the intro, so when I came back into my room after grabbing a beer, I thought the black metal blaring through my laptop speakers meant that the next track had already started playing. Nope – same track, kind of odd band. It's kind of impressive to hear grittier

Blue Record

riffs flow seamlessly into a straight up BM romp, though after the tremolos and drums really kick into gear, the riff starts to blend in a bit more. Still, this is a neat song that caught me off guard.
All Them Witches – "The Marriage of Coyote Woman"
Jordan's Comments: Hear that? That's Willie Nelson's harmonica player Mickey Raphael shreddin' the tin sandwich. While this steers towards the bluesier end of their sound, All Them Witches' heady hard rock makes them one of my favorite bands of this decade. I'm particularly psyched for their upcoming release, Sleeping Through The War, in February.


Scott's Thoughts:
Fuck do I love me some blues. Something about that soulful guitar playing and plodding, methodical pace makes me want to lay back and chill on a hot summers day.

All Them Witches

is definitely more detail-oriented and fleshed in their approach than I'm used to; this is a ways-away from the lo-fi, solo-guitar wailing of Robert Johnson or Howlin' Wolf. This isn't a bad thing by any means, though; the fact that I can picture Earth playing this style if they found a penchant for blues is alright with me.
Morrow – "Forgiving Grin"
Jordan's Comments: Deep concept progressive crust. I would've never fathomed that something like this could exist, but it does, and it's awesome. It's as if the more elaborately arranged Precambrian-era The Ocean dropped the nerdier prog leanings in favor of some D-beat. This doesn't sound like it should work, but it does. And strings!


Scott's Thoughts: I love when an album cover instantly confirms that you're going to love the music lying underneath. Honestly, I never thought I'd describe anything crust-related as "beautiful," but the way Morrow blends their d-beat romps with gorgeous melodies and some subtle violin presents an impressive level of dynamic songwriting. It always sucks to find great music from the previous year after you've so recently published your AOTY list, but I'm glad these guys are on my radar now so I can look for their work in the future.
Jamie xx – "Loud Places (ft. Romy)"
Jordan's Comments: It wasn't until Coexist that I got into The xx, and that fandom largely stemmed from the fact that they sound so amazing with quality headphones. Jamie xx's solo stuff does too, but overall it translates much better to an "open" listening experience. Party jams. The album is so varied and literally every song is great, but I'm just a huge sucker for Romy's velvety voice. She exudes so much emotion while keeping her cool, it's unreal.
Scott's Thoughts: This was easily one of my favorite records of 2015 from the moment I put the CD on in my old Grand Cherokee. I remember blasting this song in particular with my surprisingly high-quality speakers, and the massive, artsy dance track always had my bouncing in my seat. I particularly love the way Jamie approaches production; his songs are simultaneously danceable and incredibly detailed. The way he builds this track into a massive crescendo of chorus vocals and stretches out that simple, ear worm guitar lick never ceases to impress me. Plus it's a great transition into "Good Times," my favorite song on In Colour.
Cinemechanica – "Vietnamese Pool Party"
Jordan's Comments: These Athens-based math rockers take the hyper-concentrated energy of Converge (fun fact: Cinemechanica was mixed by none other than Kurt Ballou) and cram it into a noisy post-hardcore mold of a slamming-through-the-gears rock'n'roll band. Relentless drumming courtesy of Mike Albanese (also of Maserati) drives this record forward at a near-stupid pace. It's all rhythmically intense, making for a white-knuckled listen, front-to-back.


Scott's Thoughts: It's funny – my first thought when looking at the cover was "Huh, this reminds me of Calculating Infinity; wonder if these guys are going to be math-y too." And though these Georgia boys pour on the Southern twang more heavily than Dillinger do, they still capture that driving energy and chaotic noodling while focusing a bit more on fun in the process. I feel like this ended a bit sooner than it should have, but it was an enjoyable listen nonetheless.
Wyrding – "Poltergeist"
Jordan's Comments: This is some pretty damn inspiring funeral doom. The organs and the guitars are so pristine and awe-inspiring, and astoundingly (ironically?), Troy Schafer's vocals are somehow able to match these heights with this almost ceremonial baritone. This isn't for everyone, but top-notch songwriting makes it a feasible leap into new territory from a band that's eons more popular, like Ghost.


Scott's Thoughts: …Huh. I guess that whole "book by it's cover" adage carries some weight after all. After the band first came into frame in the song's music video, I prepared myself for a Ghoul-esgue goofy thrash band based on their "bloody" burlap sack masks. Instead, what I got was…I guess Ghost playing funeral doom? It seemed a bit odd to hear this music coming from these set of guys, but the result is honestly pretty incredible. It's an epic and somber dirge that makes me curious to hear more.