About one year ago, close to an hour before going to a show, I was watching Archer. It seemed like a perfectly normal day, perhaps a bit rainy, and I didn't think anything would change that. That was until my Dad told me to pause it and delivered the news that my best friend, Mac, who had recently moved to Florida had been diagnosed with cancer. I was terrified as in the past two years I had dealt with two separate incidents of people very close to me dealing with cancer, and both had been hard. However I opted to go to the show and try to have a normal night. Instead I left as soon as the last band was done playing, went home and listened to the ska demo Mac and I had recorded in our sophomore year of high school (band's name was Skankenstein, still super clever), and bawled my eyes out. Again, I was terrified and didn't know how to process any of it.
The next day I called Mac while he was in the hospital. He had informed me that they found out about the tumor after he spent several days with an intense pain in his chest and an average fever of 104. Apparently, the tumor grew around one of his ribs and broke it, resulting in the aforementioned intense fever and pain. Despite all of this, Mac was normal self. He told jokes, kept laughing the best he could, and, oddest of all to me, remained his normal optimistic self. Mac didn't seem to care that he was now hospitalized for cancer, or that he was missing the final part of his junior year of high school, or even that he was most likely going to miss his senior year. He just wanted to remain positive in the face of the overwhelmingly negative. In part, this helped my fear to subside and I vowed to myself that I would do something to help Mac and show him just how much his friendship meant to me.
This vow is what lead me to start organizing the comp, but I wanted to make it a very big deal, so I decided 100 bands would be a fair number. After all, that number would allow for bands of all genres that Mac and I loved to be represented and, ideally, attract buyers just by sheer size. I settled on this idea and the fact that the money would go to Mac's bills, as well as give him something to do (messaging bands, exciting) while he was stuck in the hospital. He loved the idea of the comp, but told me that he didn't want it to be about him. Instead, he wanted the comp to help everyone going through what he was going through. This led to us settling on donating all of the proceeds to the Sarcoma Foundation of America, a non-profit organization that helps to raise awareness for the extremely rare, cancerous family of Sarcoma tumors, which Mac's form of cancer, Ewing Sarcoma, fell under.
After this was decided on we hit the hard part. First, we decided that the best way to proceed was to get directly involved with the SFA so that we could put their paypal into the bandcamp, allowing the money to go directly to them. This was not so bad, as the SFA proved to be some of the most kind, patient people dealing with two then 17 year olds attempting to do the near-impossible. The hard part with them, then, was when we at first confidently said that the comp would be done and ready by late August. This was, of course, around when we started in mid-July of 2015. That of course did not happen as contacting 100 bands and getting them to sign on proved to be enormously difficult, and then waiting for tracks and going through labels proved to be a whole other set of issues. But, eventually, we managed to do it, even surpassing the original goal of 100 bands.
Now, with over 100 bands pouring in over the course of approximately a year, we hit a new snag, and that was keeping everybody updated. Being the tech-savvy geniuses we were, we decided that we could easily keep 100+ people updated through email and Facebook messages. This also proved catastrophically difficult as messages get buried deeper and deeper, eventually becoming close to unfindable. This left a lot of people (unintentionally) in the dark as we sent out mass message and email chains and, if you're one of those people and are reading this, we apologize for that. Luckily though, for the most part, everyone was completely understanding and is now all caught up.
Which brings me to this portion of this rather long winded article, and that is that through all of this I learned that the independent music community is home to some of the most beautiful people this world has ever seen. The kindness and enthusiasm that went into submissions astounded me, as did the number of people who shared their personal experiences with cancer. It was touching and in the face of the truly terrifying, I never felt more love and support in my entire life. I know it means the world to a lot more people than just Mac and I, and so I want to thank everyone involved.
As for the actual release date of the comp, that is August 30th, 2016 (a year later than initially planned). It contains bands spanning all genres (about 140 of them), and will go on sale for $15 through bandcamp. 100% of the proceeds go to the Sarcoma Foundation of America. Below is a list of all the bands involved in order of appearance. The album art is also below, which features Mac with the bucket he threw up in during chemo on his head. Thank you again to everybody who has helped.
And, finally, the most important thing we realized is that we want to continue making these charity compilations, but cannot do it alone. We are seeking to make a team to benefit various causes, so if you're interested please email me at [email protected]. Thank you all again for putting up with my rambling in this article and below are all the wonderful bands who have contributed.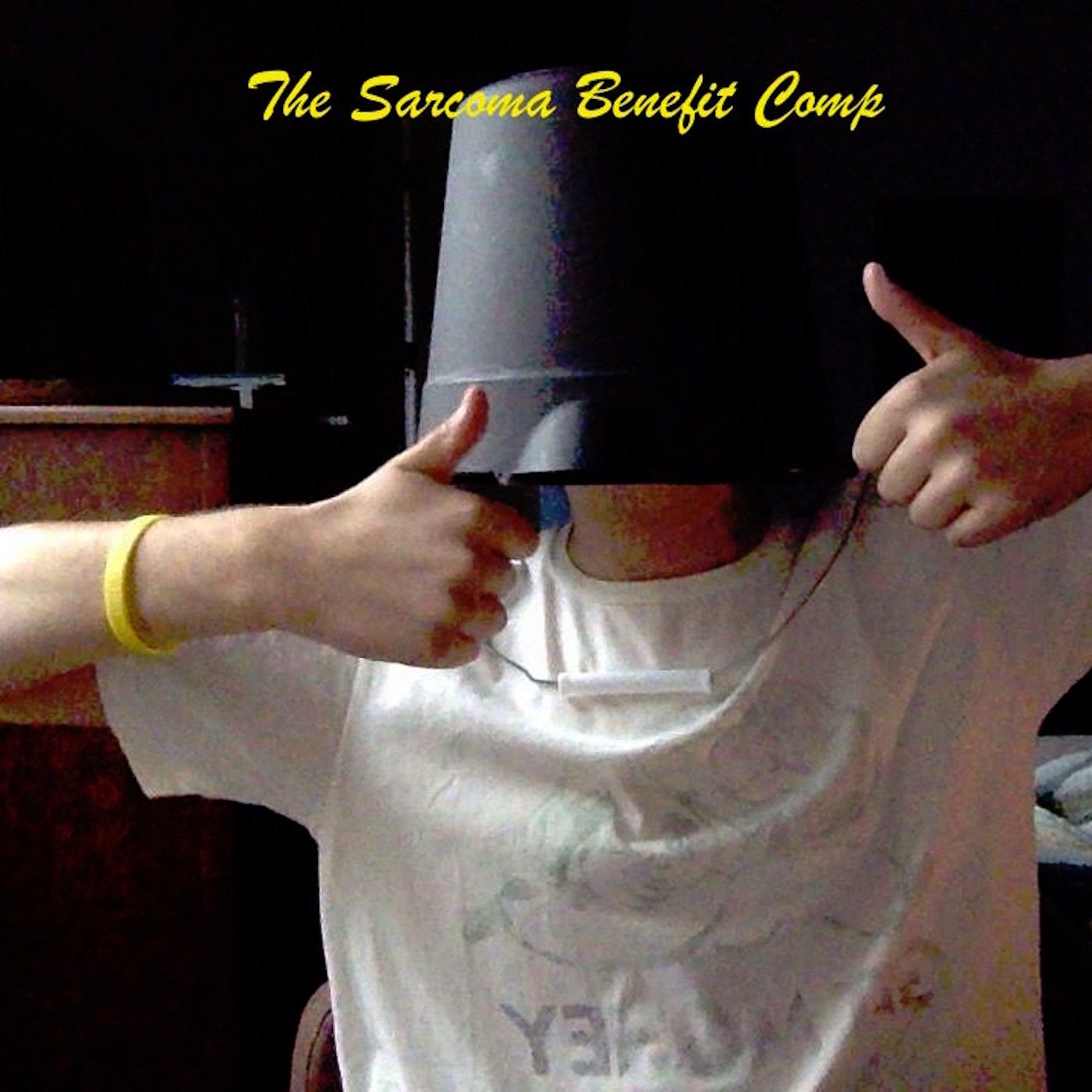 Western Settings (Skate/Pop Punk)
Yankee Brutal (Skate Punk)
Orenthal (Melodic Hardcore)
Bad Year (Pop Punk)
Survay Says! (Ska/Pop Punk)
Kill Lincoln (Ska Punk)
Big D and the Kids Table (Ska Punk)
Poor Jeremy (Ska Punk)
Stiff Burrito and the District of the Salsa Rainbow (Pop Punk)
Some Nerve (Hardcore Punk)
Still Alive (Ska Punk/Thrash Metal)
The Best of the Worst (Skacore)
Darko (Skate Punk)
4 Aspirin Morning (Ska Punk)
Huge Puppies (Ska Punk)
The Brass Action (Ska Punk)
The Last Slice (Ska Punk)
Demon Waffle (Ska Punk)
Mad Conductor (Ska/Hip Hop) (Former members of No Cash)
Get Killed (Punk)
All Over The Place (Ska/Indie)
Flying Raccoon Suit (Ska Punk)
Taj Motel Trio (Ska Punk)
The Couch Bombs (Ska Punk)
Yugoskavia (Ska Punk)
Atrocity Solution (Crusty Ska Punk)
Dead Rejects (Crusty Ska Punk)
Joystick (Ska Punk)
Jeff Rosenstock (Punk/Power Pop)
Spumoni (Punk/Quality Television)
Math The Band (Analog Synth Punk)
Rozwell Kid (Power Pop)
Not Half Bad (Folk Punk)
Zap Dragon (Garage Rock/Power Pop)
Dizzy Bats (Power Pop)
Soda Bomb (90's Nostalgia)
Break Anchor (Pop Punk) (Jay Navarro of The Suicide Machines/Hellmouth)
Meltman (Pop Punk)
Dollar Signs (Folk Punk)
Radiator Hospital (Power Pop)
Crab Legs (Punk)
The Lousy Annas (Power Pop)
Holy Crust (Power Pop)
The Weak Days (Power Pop)
Adult School (Folk Punk)
The Tenebaums (Pop Punk)
Oklahoma Car Crash (Pop/Folk Punk)
Dad Legs (Surf Punk)
The Soft Spots (Dream Pop)
Blood Sound (Darkwave)
Black Friday Death Count (Noise Punk)
Lavender Blush (Shoegaze)
Wild Patterns (Shoegaze)
Suburban Living (Dream Pop)
Whimsical (Shoegaze)
Airs (Shoegaze)
Crisis Arm (Shoegaze)
Melanie's Magic Mellotron (Psych Pop)
Lenclair (Psych Folk)
Vacations (Surf Rock)
Olympic Formal (Instrumental Hip Hop/Jazz)
Moonbend (Prog Metal/Instrumental Hip Hop)
Velveteen (Shoegaze)
Voodoo Youth (Surf Rock)
Wavevom (Surf Rock)
Burglary Years (Indie) (Members of Cerce/Lovechild)
ROMP (Indie Punk)
Devon Goods (Emo)
Creeks (Emo/Indie)
Old Notes (Emo)
Sunbather (Emo)
Nam Le (Emo)
Remo Drive (Emo)
In Writing (Emo)
Tanks (Emogaze)
Handheld (Emo)
Beds (Emo)
Handwriting (Emo)
The May Runners (Emo)
Michael Cera Palin (Emo)
Everybody Row (Soul/Punk) (Members formerly in Comadre)
Jonah (Post Hardcore)
Frameworks (Screamo/Post Hardcore)
Viva Belgrado (Screamo/Post Rock)
Young Mountain (Screamo/Post Rock)
Landforge (Post Rock/Post Metal)
Pichalka (Post Rock/Post Hardcore)
We Cook Meat (Post Rock/Post Hardcore)
Gillian Carter (Screamo)
Foxmoulder (Screamo)
Terry Green (Screamo)
Funeralbloom (Post Black Metal)
Cacciato (Post Hardcore)
Nionde Plägan (Screamo)
Mantispidae (Electronic/Ambient)
We Lost The Sea (Post Rock/Post Metal)
Split Tongue (Post Punk/Experimental)
Bonjour Tristesse (Depressive Black Metal)
An Open Letter (Post Black Metal)
Hydra Kyll (Prog Metal)
Fields of Elysium (Prog Death Metal)
Robot Zombie Army (Death Metal)
Encircle (Death Metal/Deathcore)
Pyrrhon (Technical Death Metal)
NYN (Death Metal)
Black Matter Device (Prog Death Metal)
Chivalry's Not Dead (Metalcore)
Verse Vica (Prog Death Metal)
Lorelei (Deathcore)
Existem (Prog Metal)
Geniverse (Prog Death Metal)
Instar (Prog metal)
Potmos Hetoimos (Prog Sludge/Doom Metal)
Forgotten Gods (Sludge/Doom Metal)
Horehound (Sludge/Doom Metal)
Slug Mammoth (Doom Metal/Desert Rock)
Sins of Magnus (Trad Metal)
Babby Hammer (Folk Metal)
Break-In (Hardcore)
Blame God (Powerviolence/Grindcore)
The Armed (Noisey Hardcore)
Vatican (Metallic Hardcore)
Vacate (Metallic Hardcore)
Wvrm (Grindcore)
Voyage of the Blastronaut (Grindcore)
Bandit (Powerviolence/Grindcore)
MOUTH BREATHER (Powerviolence/Grindcore)
Venkman (Powerviolence)
Witch of the Waste (Mathy Hardcore)
Melolagniac (Mathcore)
Fuccis x Drukk (Noise)
Ego Massacre (Blackened Hardcore)
Disterror (Blackened Crust)
Mind Funeral (Blackened Crust)
Realm of Lunacy (Black Metal)
Espada (Blackened Hardcore)
Siberian Hell Sounds (Blackened Hardcore)
Wildspeaker (Blackened Crust)
Ancient Emblem (Blackened Crust)