A Venn Diagram of prog metal nerds and cat lovers is sure to be a near total eclipse. Joseph Spiller of prog metal act Caricature (which features former members of bands such as The Binary Code, System Divide, and Last Chance To Reason) has taken it upon himself to become a prominent figure of this subset of enthusiasts by writing a powerful and epic ode to his beloved feline companion Parmesan.
"Some people might be wondering why I made a song that is almost a half hour long about my cat," Spiller explains.
"Well, he's awesome. That's why."
The roots of Spiller's connection with Parmesan trace back two years to 2014 after he had discovered the kitten as a blind stray in the road by his home. Spiller. himself nearly incapacitated by complications stemming from Crohn's Disease, struggled to help the kitten any way he could.
"I was really sick and in and out of the hospital/seeing doctors weekly/all around having a real dumpster fire of a time back in 2014 and start to finish there was over a year and a half where I was battling some complications from [the disease] that were further complicated by a not very ideal environment. I don't remember a lot due to how sick I was and the different types of meds the doctors had me on, but I do remember hearing this tiny kitten in the middle of the road in front of my house crying as if his life depended on it who was blind and couldn't walk. I was using the walls and my wife to hold myself up and get places, but even though I was home alone, I got myself outside to get him before a car hit him."
Apart from his own health issues, Spiller became increasingly concerned about the kitten. A visit to the local veterinarian uncovered a hernia, intestinal parasites, ear mites, low blood pressure, and a host of bacterial infections throughout his eyes and respiratory system.
According to Spiller, the exact quote from the vet was, "We've never seen a cat before that was this bad off and still alive."
"From there it was the both of us fighting to get better. When I would pass out for 20 hours at a time, he would lay on me and watch over me then lick me to wake me up. I don't remember a lot for a good 8 months, but I remember him."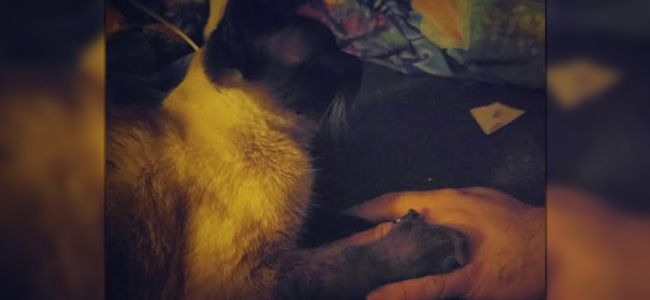 Fortunately, with the love and support of each other, both Spiller and Parmesan recovered. Spiller recalls that during a return to the vet clinic months later, "the entire staff came out to see him and couldn't believe he was still alive and actually getting stronger. They treat him like a celebrity when I take him in."
The local celebrity of Parmesan would eventually inspire Spiller to commit the spirit of his cat to song in a sprawling prog jam, "Stampede." With the help of bandmates Evan Sammonds [drums, Last Chance To Reason] and Gerard Vachon [guitar, mixing] as well as added personnel via Abigail Williams' Ken Sorceron [mastering], Spiller builds cinematic ambiance through a series of Meshuggah-inspired drum-and-bass grooves, jazz breaks, and melodically-inclined guitar tech in an almost industrialized atmosphere.
"I wanted to create an 'Experience' track," Spiller elaborates. "Something that wasn't just told by the lyrics but by the tone of the instruments and how they were being used; overall moods in the music. Having a song as epic as my cat Parmesan was only fitting. We wanted it to sound clean, but not overly edited. Real people playing real music and to top it off, there are samples from videos that I took of Parmesan while he was growing up that we have sprinkled throughout the song."
"To write a solo about such an incredible creature…. I knew it had to convey his elegance, but also the ferocity that was deep in his heart. If I was going to do it, I knew I had to do it right," Vachon adds. "Mixing a song about Parms… Well, I learned his purr resonates at a lower frequency than every death metal vocalist, and even most bass instruments!"
"It was honestly almost overbearing, but we had to let the true nature of this beast come through! It ended up being the binding element of the mix!"
The absurdity of dedicating a half-hour long single track to his cat isn't lost on Spiller, but the way he sees it, it beats your typical metal lyrical fare, and it certainly comes from a real and deeply personal place.
"Bands go out and write about a lot of stuff like quantum physics that they don't actually understand, murders they would never commit, women/men they will never get up on," Spiller argues. "So why not pay tribute to a member of the family that gives everything he can at all times, had a rough start to life, and who's story intertwines with my own?"
The big takeaway?
"We hope people enjoy this one and go home and give their furry friends a big hug."
Grab your closest loved one and get comfortable. "Stampede" is available for streaming below:
[bandcamp width=100% height=120 track=88502809 size=large bgcol=333333 linkcol=4ec5ec tracklist=false artwork=small]