It's been a while since we did one of these, but…for those who missed our last installment, We post biweekly updates covering what the staff at Heavy Blog have been spinning. Given the amount of time we spend on the site telling you about music that does not fall neatly into the confines of conventional "metal," it should come as no surprise that many of us on staff have pretty eclectic tastes that range far outside of metal and heavy things. We can't post about all of them at length here, but we can at least let you know what we're actually listening to.
You're definitely aware by now that music legend David Bowie passed away on Monday, a loss that several of us here at Heavy Blog felt (just look at how many grids have ★ on them). We'll be publishing our review for the album later today.
For those that would like to participate as well (and please do) can drop a 3X3 in the comments, which can be made with tapmusic.net through your last.fm account, or create it manually with topsters.net. Also, consider these posts open threads to talk about pretty much anything music-related. We love hearing all of your thoughts on this stuff and love being able to nerd out along with all of you.
Scott Murphy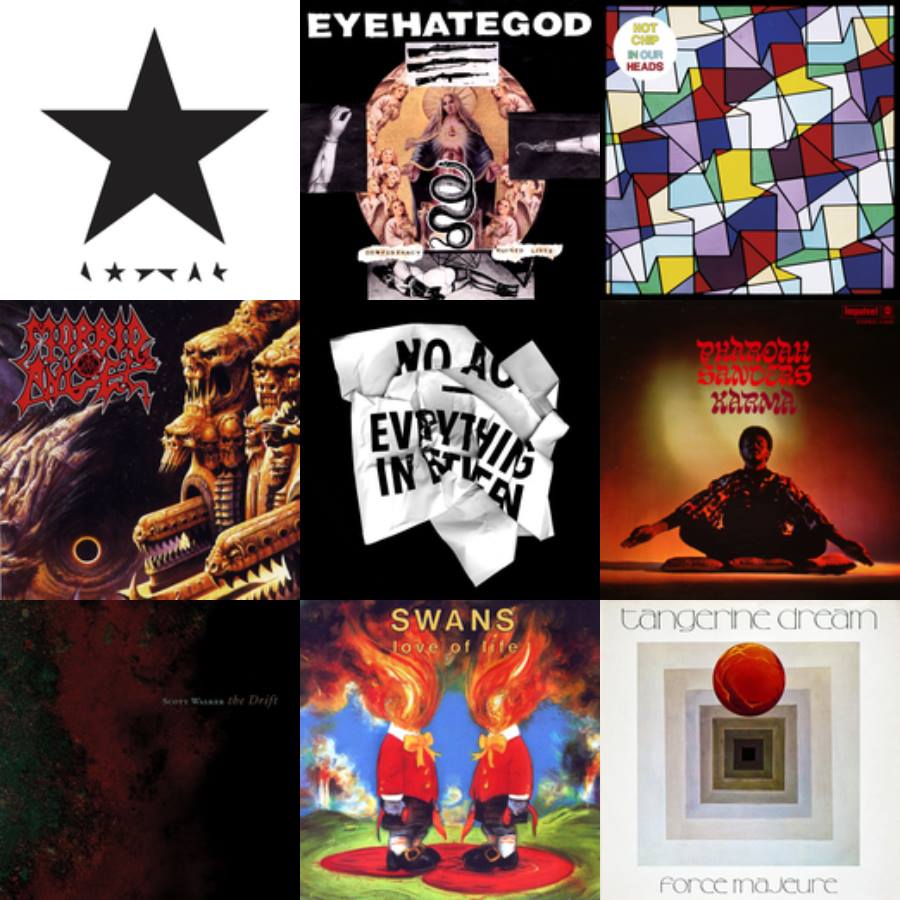 David Bowie – Blackstar
Eyehategod – Confederacy of Ruined Lives
Hot Chip – In our Heads
Morbid Angel – Gateways to Annihilation
No Age – Everything in Between
Pharaoh Sanders – Karma
Scott Walker – The Drift
Swans – Love of Life
Tangerine Dream – Force Majeure
Simon Handmaker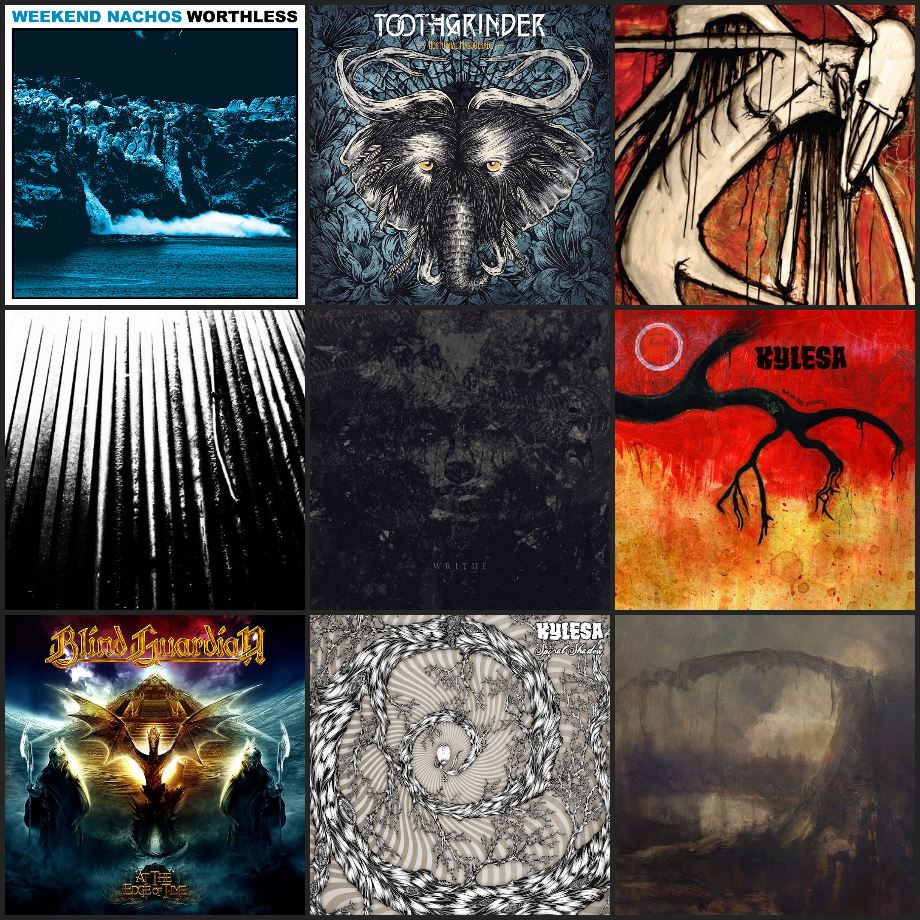 Weekend Nachos – Worthless
Toothgrinder – Nocturnal Masquerade
Converge – Petitioning The Empty Sky
The Crinn – Shadowbreather
W R I T H E – W R I T H E
Kylesa – Time Will Fuse Its Worth
Blind Guardian – At The Edge Of Time
Kylesa – Spiral Shadow
Lycus – Chasms
Karlo Doroc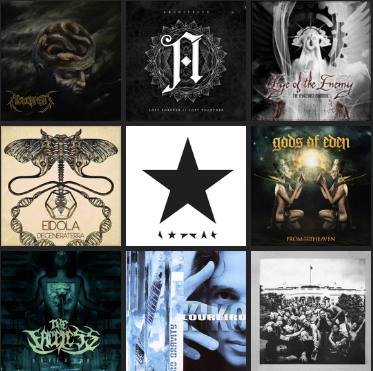 Abhorrent – Intransigence
Architects – Lost Forever // Lost Together
Eye of the Enemy – The Vengeance Paradox
Eidola – Degeneraterra
David Bowie – Blackstar
Gods of Eden – From the End of Heaven
The Faceless – Akeldama
Kiki Loureiro – No Gravity
Kendrick Lamar – To Pimp A Butterfly
Matt MacLennan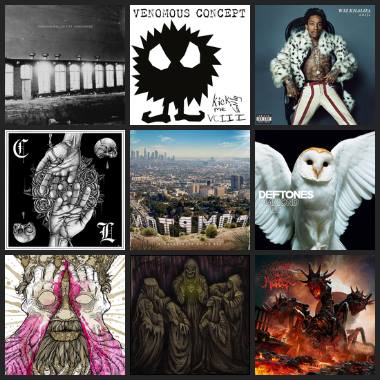 Kowloon Walled City – Grievances
Venomous Concept – Kick Me Silly – VCIIII
Wiz Khalifa – O.N.I.F.C
Cult Leader – Lightless Walk
Dr Dre – Compton
Deftones – Diamond Eyes
Every Time I Die – New Junk Aesthetic
Grieved – Samaritans
Thy Art Is Murder – Hate
Nick Cusworth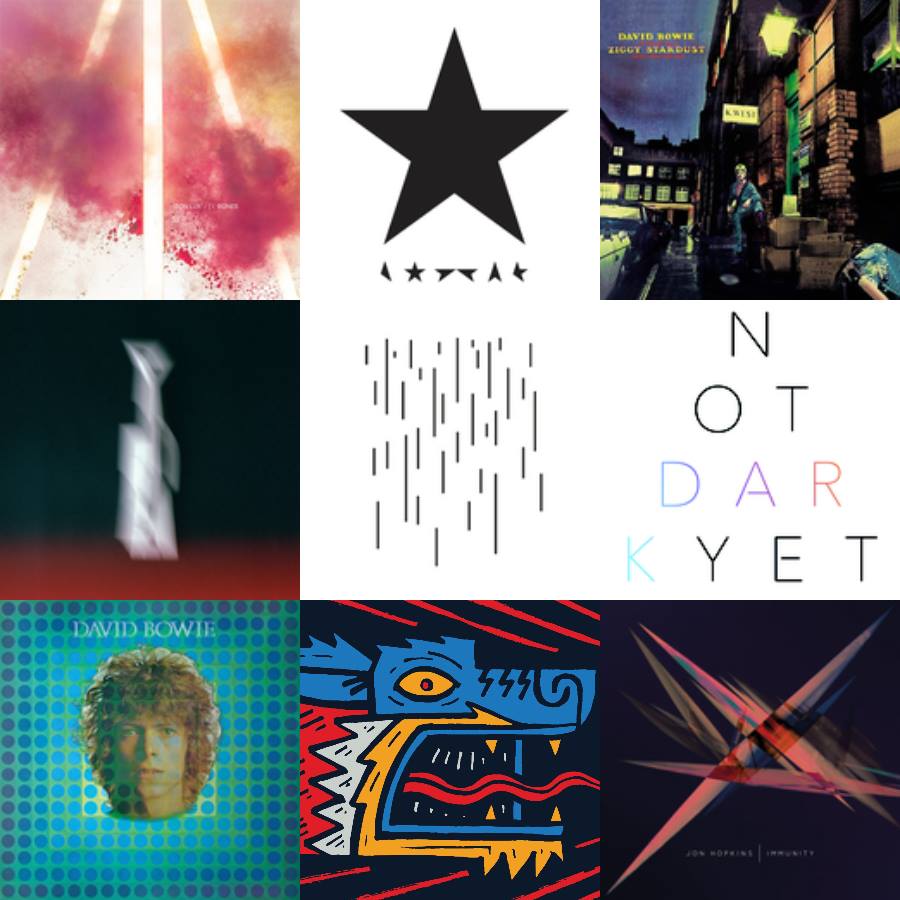 Son Lux – Bones
David Bowie – Blackstar
David Bowie – The Rise and Fall of Ziggy Stardust and the Spiders From Mars
Portico – Living Fields
GoGo Penguin – V2.0
Nathan Parker Smith – Not Dark Yet
David Bowie – David Bowie (Space Oddity)
Moon Tooth – Chromaparagon
Jon Hopkins – Immunity
Eden Kupermintz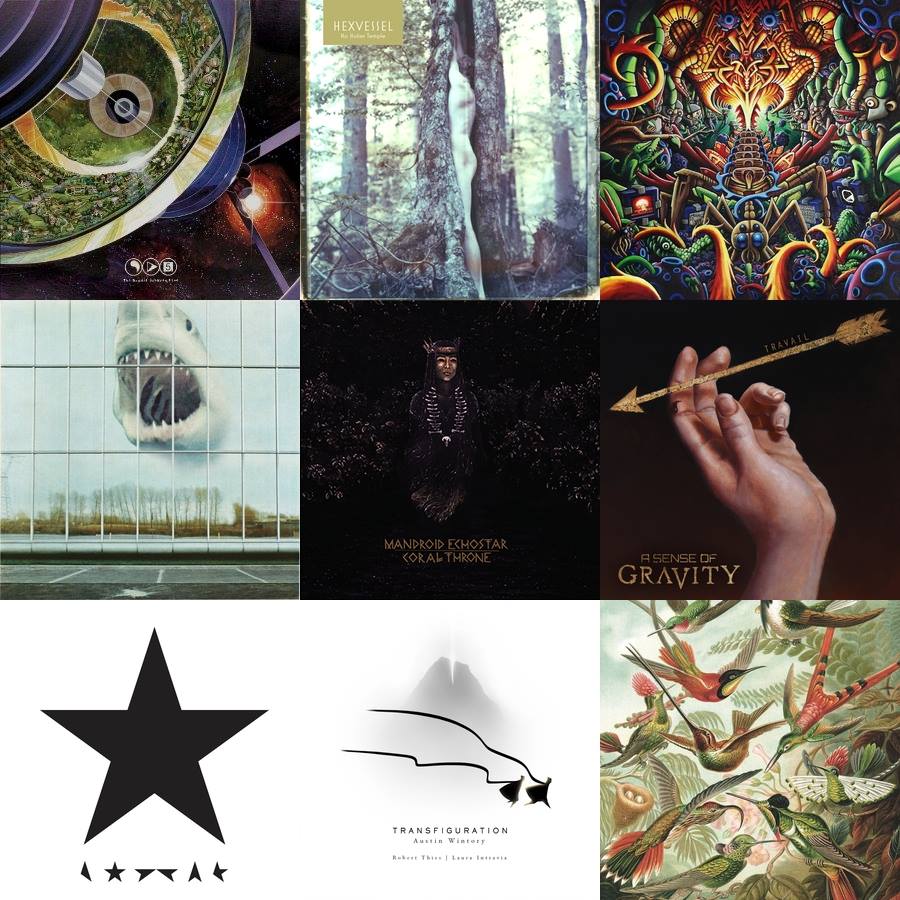 The Samuel Jackson Five – s/t
Hexvessel – No Holier Temple
Culprate – Deliverance
Black Mountain – Wilderness Heart
Mandroid Echostar – Coral Throne
A Sense of Gravity – Travail
David Bowie – Blackstar
Austin Wintory – Transfiguration
The Samuel Jackson Five – Seasons in the Hum
Mark Valentino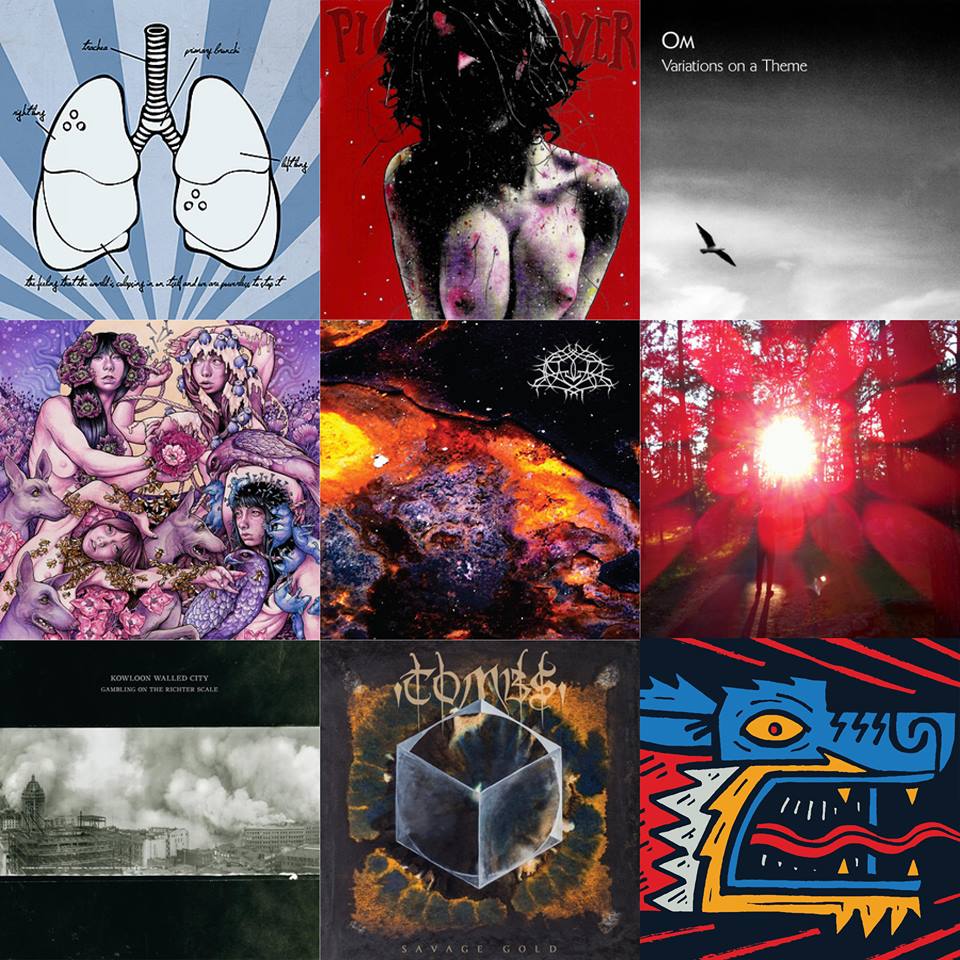 Maybeshewill – Sing The Word Hope In Four-Part Harmony
Pig Destroyer – Terrifyer
OM – Variations on a Theme
Baroness – Purple
Krallice – Years Past Matter
Russian Circles – Empros
Kowloon Walled City – Gambling on the Richter Scale
Tombs – Savage Gold
Moon Tooth – Chromaparagon
Ahmed Hasan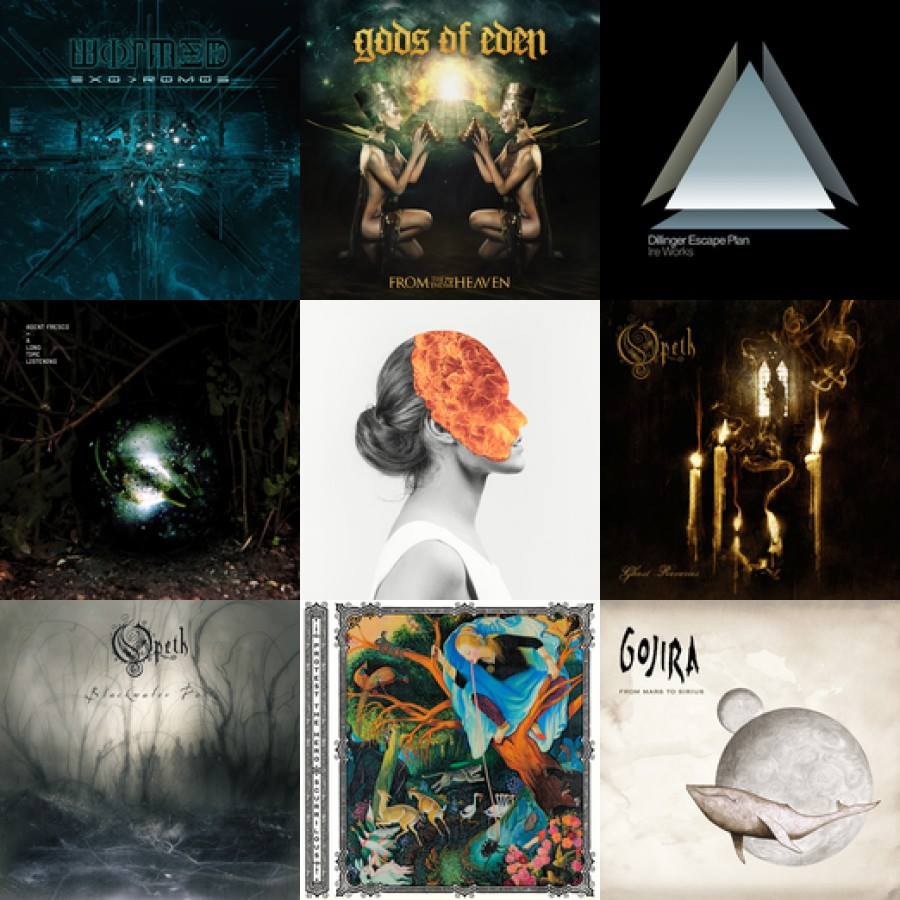 Wormed – Exodromos
Gods of Eden – From the End of Heaven
The Dillinger Escape Plan – Ire Works
Agent Fresco – A Long Time Listening
Agent Fresco – Destrier
Opeth – Ghost Reveries
Opeth – Blackwater Park
Protest the Hero – Scurrilous
Gojira – From Mars to Sirius
Jake Tiernan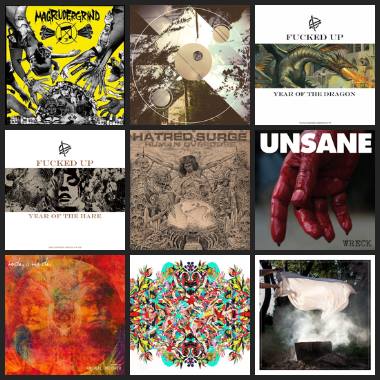 Magrudergrind – Magrudergrind
The Appleseed Cast – Illumination Ritual
Fucked Up – Year of the Dragon
Fucked Up – Year of the Hare
Hatred Surge – Human Overdose
Unsane – Wreck
Today is the Day – Animal Mother
Nai Harvest – Hairball
Pianos Become The Teeth – Keep You
Kit Brown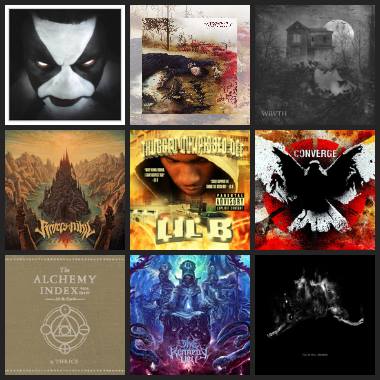 Abbath – Abbath
Hexvessel – When We Are Death
Wrvth – Wrvth
Rivers of Nihil – Monarchy
Lil B – Thugged Out Pissed Off
Converge – No Heroes
Thrice – The Alchemy Index Vols. III & IV: Air & Earth
The Kennedy Veil – Trinity of Falsehood
Full of Hell – Full of Hell & Merzbow
-SM & HB