"Home is where the heart is."
This phrase has been rattled off numerous times, almost to the point of being rendered meaningless, but we have come to find that in our occasionally-nomadic life its meaning is constantly being redefined. Through the ups and downs, the story we get to tell through music is a privilege that we refuse to let down. So after earning the opportunity of a lifetime to play at Knotfest in California, our vision became tunneled, the eyebrows paralleled and we fixed on the goal to obliterate the stage. Nothing was going to get in the way of that, but that doesn't mean the universe didn't try its damndest.
As Murphy's Law would have it, anything that could have gone wrong in the two weeks prior to our trip did. We had a founding member decide that the band life just wasn't for him, equipment was breaking down left and right, our day jobs got insanely busy and there were several times where we thought, "we simply can't fucking pull this off." Luckily for us, we have a lot of great foundation of support in the As Oceans family. Family and friends who just want to see us succeed at what we love. With that support they proved to us every reason why we needed to do this. In that strength we were able to adapt to the incessant maelstrom of shit thrown at us and on Monday October 18th, 2015, a little band from the mountains of Boone, North Carolina was on its way to San Bernardino, CA to perform at Knotfest 2015.
Simply put, the trip out to California was a blast. For us, it was further proof that everyone in the band treats each other like brothers. 14 hour days in a car, especially driving through states like Kansas and Oklahoma, will certainly test how interesting and durable people are. We'd be doing you a disservice if it wasn't made perfectly clear that taking I-70 through Kansas is an absolutely wretched experience that we wouldn't wish on even the most hardened criminals. If you haven't been through Kansas but have seen the movie "The Book of Eli," you basically get it. Despite this, none of us have been brought to tears from laughter this hard, or this often, ever. We challenge any human being to not crack up while confined in a small space with Ben Dunlop and Pat Tarpey. Between the excitements of getting to play with bands we had been influenced and inspired by since even our pre-teen years and getting to see the country, there was nothing but positivity the entire 4 days of driving. It's pretty probable that most of those reading this couldn't even say that about their own immediate families!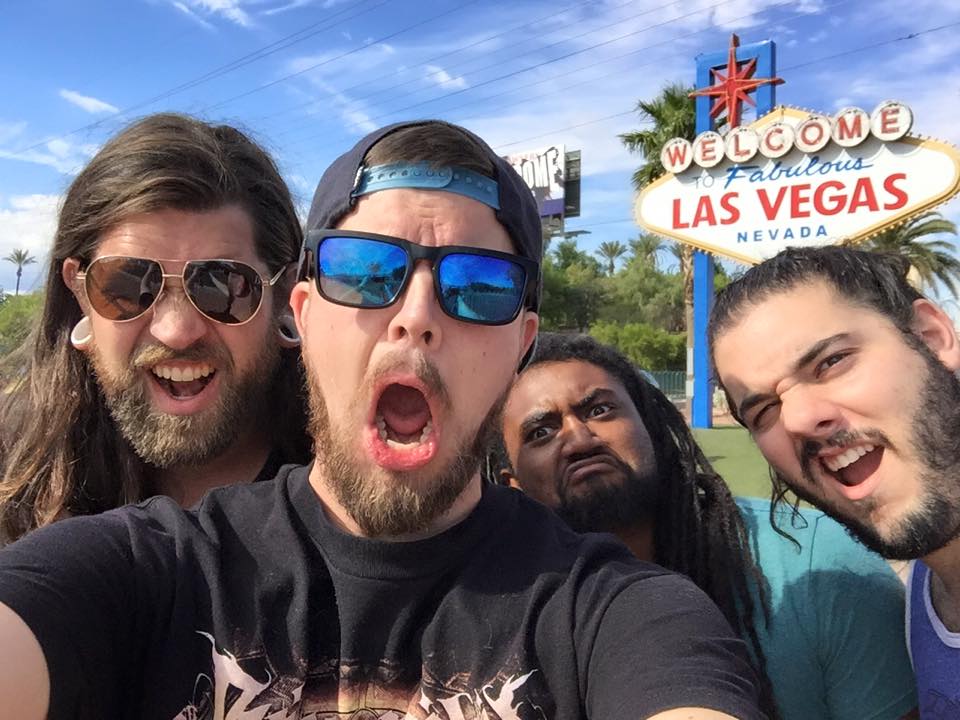 We got to make a couple stops along the way like Vail, Colorado (for the scenery and gnarly powder to shred, of course!) where we got to see an old friend who provided us with a place to sleep and an insane breakfast that was a test of every member's gastronomical fortitude. Consider yourself lucky that you weren't in the van with us. It's agreed upon by every member of As Oceans that the journey through Colorado and Utah through I-15 was definitely the best part of crushing miles. We will always love the lush greens of the Appalachians at home, but this section of the country was somehow a deeper and more soothing experience. We also got the chance to stop at every sinner's favorite place, Las Vegas, a place three out of four members had never set foot in. We were so stoked on that night walking the strip that both Kit and Logan got blisters on their feet from the speed-walking (and crusty socks?). For those who have never been and who enjoy forgetting the night before, believe the hype. Money was lost, liquor was consumed in borderline-ignorant quantities, and buffets were laid to waste. It's understandable why Vegas will forever be the go-to spot for bachelor parties. We're sorry we ever doubted you. We will forever be in debt to Krystin Glass for hooking us up with a place to stay at Circus Circus!
After sobering up, we pulled into San Bernardino, California and so we had a day to enjoy California luxuries like the world-famous In & Out Burger (Animal Style is the truth and the light, and Pat still fantasizes about it), Amoeba Records (Kit's favorite place in the universe), and getting to gaze upon the fastest 300-pound man on a bike in the world while exploring Santa Monica.  Oh, and then we got to go to Knotfest! We pretty much got to spend the day geeking out over every style of metal out while getting to check out legends and huge names like At the Gates, Body Count, Gwar, Trivium, Mastodon, Korn and Judas Priest! San Manuel Amphitheater is a beautiful place, it was a perfect battleground for mosh pits, head banging, and random trash fires all over the lawn. It was a real treat to see Korn come out with the first seven tracks off of their debut self-titled record, and Davis' bagpipe solo at the beginning of "Shoots and Ladders" was pretty stunning. Oh, and did we forget to mention that Rob Halford hasn't lost any of his vocal power and rocks the most metal cane of all time while performing? We were already in the company of greats and knew that the next day would be even better.
Load in was at 9 in the morning so we got up and rushed out of the hotel as quickly as we could, both ecstatic and nervous for the day to come. Thousands of questions and concerns were swirling through our heads – but we had earned this and fought for this, no amount of worry could sway our determination. As luck would have it, load in ended up being a piece of cake and all the crew working on the stages for Knotfest were cool and collected as hell. It was a nice change from the touring circuit we're used to where you're playing some shitty bar and the promoter or venue owner may or may not decide to even show up! We had a couple hours to kill while waiting for the festival to open its doors. We were all kind of just walking around, enjoying the benefits of free Rockstar drinks and private portapotties when we saw Corey fucking Taylor of Slipknot. Most of you reading this won't know this, but Logan has the biggest man crush on Corey Taylor.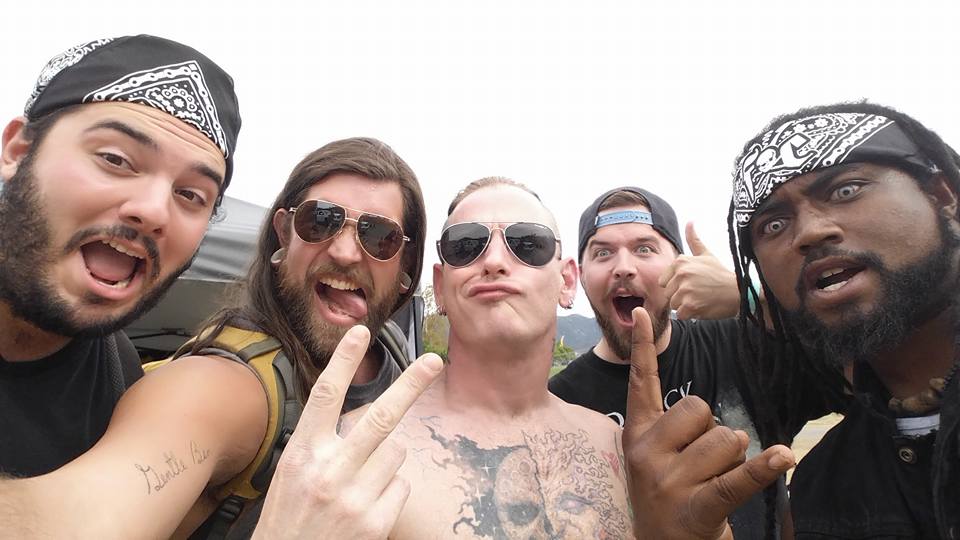 Corey single-handedly inspired Logan to pursue vocals in the first place and obtain the stage presence that he currently has. The man is a fucking legend of heavy metal at this point, and he wanted to make that perfectly clear. He unseemingly came over, took a picture with the whole band, and preceded to hang out with us for little while and talked about how Slipknot has been wanting to do something like Knotfest for the past 10 years, and he jokingly told us that if there was anybody who needed to be fired to report back to him and that he'd "Donald Trump the fuck out of them." It was only after that moment that we felt as though we were in the midst of living a dream, and the butterflies soon took flight in our stomachs. Luckily there was a lot of talent to be observed on the Headbang for the Highway stage, a lot of talented kind people from around the country getting to live the same dream we were. We met bands from New Jersey, Baltimore, Portland, Texas, and a ton more that we can't even remember at this point. It was great to see so many young faces in metal getting the biggest shot of their young lives.
Before we knew it we were thrust on stage with a 7-minute set up time for a 15-minute set. The festival had been going on for a couple hours by the time we were able to play, and the crowd in front of the stage was filling out nicely. Folks from all spectrums of color and creed came out to enjoy some heavy music, which for 15 minutes we got to provide. The view of the mountains, people and sky was almost overwhelming but accounted to our performance which can speak for itself but from my perspective was a great time and 15 minutes that none of us will ever forget.  Yes, we did drive over 3,000 miles to play only three songs! We promise that isn't a complaint.
Most of us in As Oceans have been pursuing music for the better part of the last decade. It is nice to see that the hard work from everyone in the band is starting to finally bear fruit. We got a chance to perform with our heroes, the legends that came before us and held our own. We also got to make some amazing new connections and even secured the band's first endorsement deal, a huge achievement for a DIY group that handles every aspect of the band's business and sound. We will never give up on our love for the culture, the art and the struggle that is metal. Remember that life is what you make it. Thanks for taking the journey with us! We've got to go write a new album now, but we'll see you back out on the great open road soon enough! Life is good.
Words by Kit Brown, Logan Lawson, and Pat Tarpey of As Oceans
Video edited by Ben Dunlop of As Oceans