For those who missed our last installment, We post biweekly updates covering what the staff at Heavy Blog have been spinning. Given the amount of time we spend on the site telling you about music that does not fall neatly into the confines of conventional "metal," it should come as no surprise that many of us on staff have pretty eclectic tastes that range far outside of metal and heavy things. We can't post about all of them at length here, but we can at least let you know what we're actually listening to.
The clear highlight from this week's update is New Bermuda, an album that almost everyone at Heavy Blog has listened to at least a song from since it began streaming at NPR. Considering how divisive Deafheaven is, we decided to capture that by allowing staff voices from both sides of the fence to be showcased in our review of New Bermuda. While both reviews are well-written and argued, they differ starkly in tone, with Ryan praising the album as a triumph (here) and Simon arguing that the album does a passable job at an already established sound (here). Check out both reviews and let us know what verdict New Bermuda most deserves.
For those that would like to participate as well (and please do) can drop a 3X3 in the comments, which can be made with tapmusic.net through your last.fm account, or create it manually with topsters.net. Also, consider these posts open threads to talk about pretty much anything music-related. We love hearing all of your thoughts on this stuff and love being able to nerd out along with all of you.
Head past the jump to see which receiving regular rotation on our headphones, stereos and turntables:
Jake Tiernan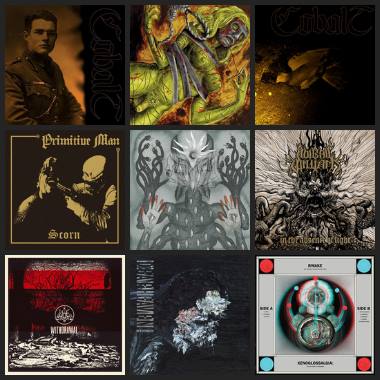 Cobalt – Gin
Lord Mantis – Death Mask
Cobalt – Eater of Birds
Primitive Man – Scorn
Leviathan – Scar Sighted
Abigail Williams – In The Absence Of All Light
Woe – Withdrawal
Deafheaven – New Bermuda
Rwake – Xenolossalgia: The Last Stage of Awareness
Simon Handmaker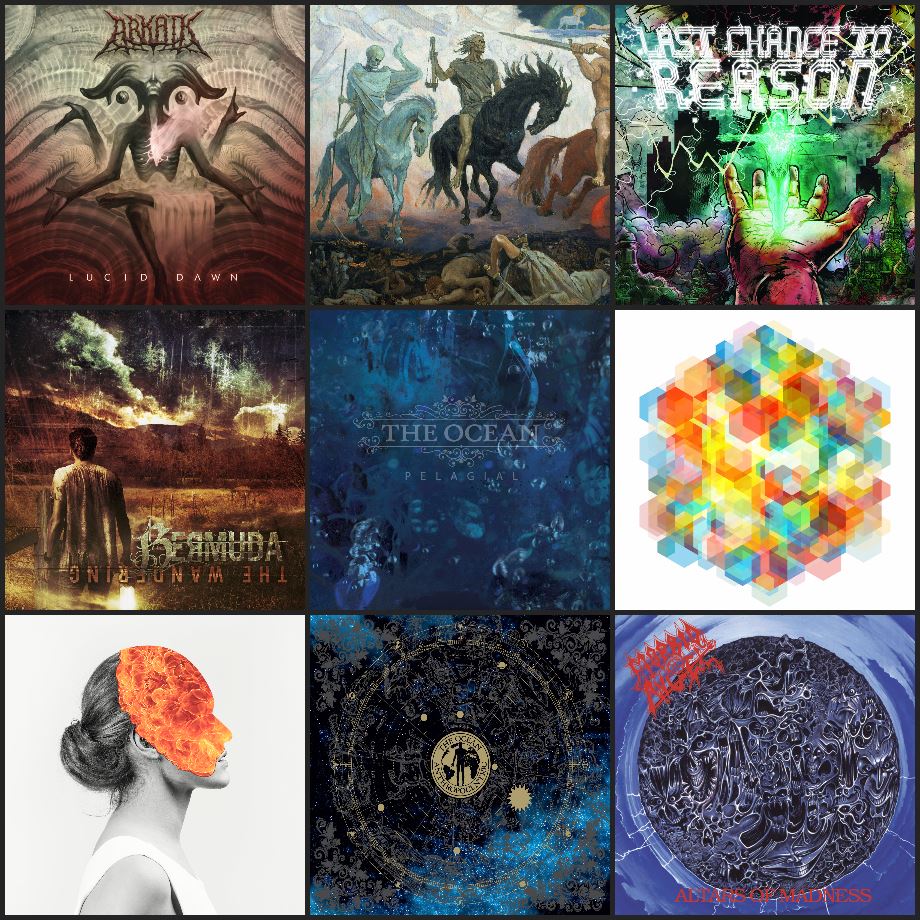 Arkaik – Lucid Dawn
Cederstrom – On Life And Death I
Last Chance To Reason – Level 2
Bermuda – The Wandering
The Ocean – Pelagial
Tesseract – Polaris
Agent Fresco – Destrier
The Ocean – Anthropocentric
Morbid Angel – Altars of Madness
Kit Brown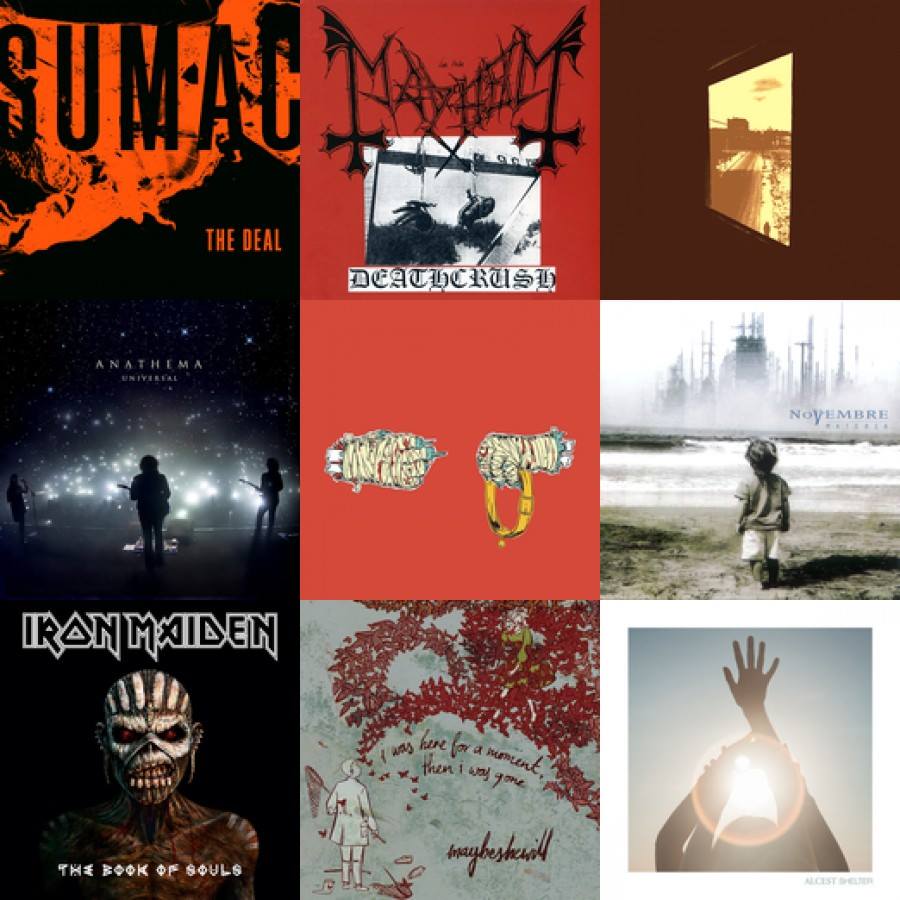 Sumac – The Deal
Mayhem – Deathcrush
Jesu – Jesu
Anathema – Universal
Run the Jewels – Meow the Jewels
Novembre – Materia
Iron Maiden – The Book of Souls
Maybeshewill – I Was Here For a Moment, Then I Was Gone
Alcest – Shelter
Eden Kupermintz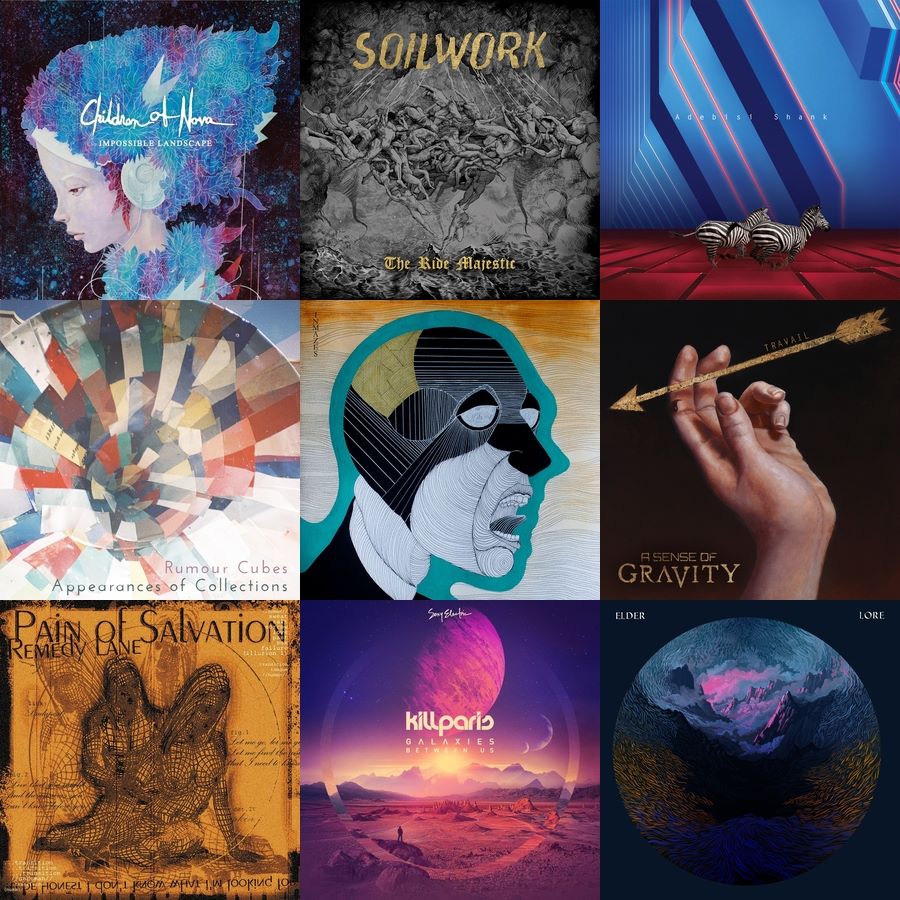 Children of Nova – Impossible Landscapes
Soilwork – The Ride Majestic
Adebisi Shank – This is the Second Album of a Band Called Adebisi Shank
Rumour Cubes – Appereances of Collections
VOLA – Inmazes
A Sense of Gravity – Travail
Pain of Salvation – Remedy Lane
Kill Paris – Galaxies Between Us
Elder – Lore
Mark Valentino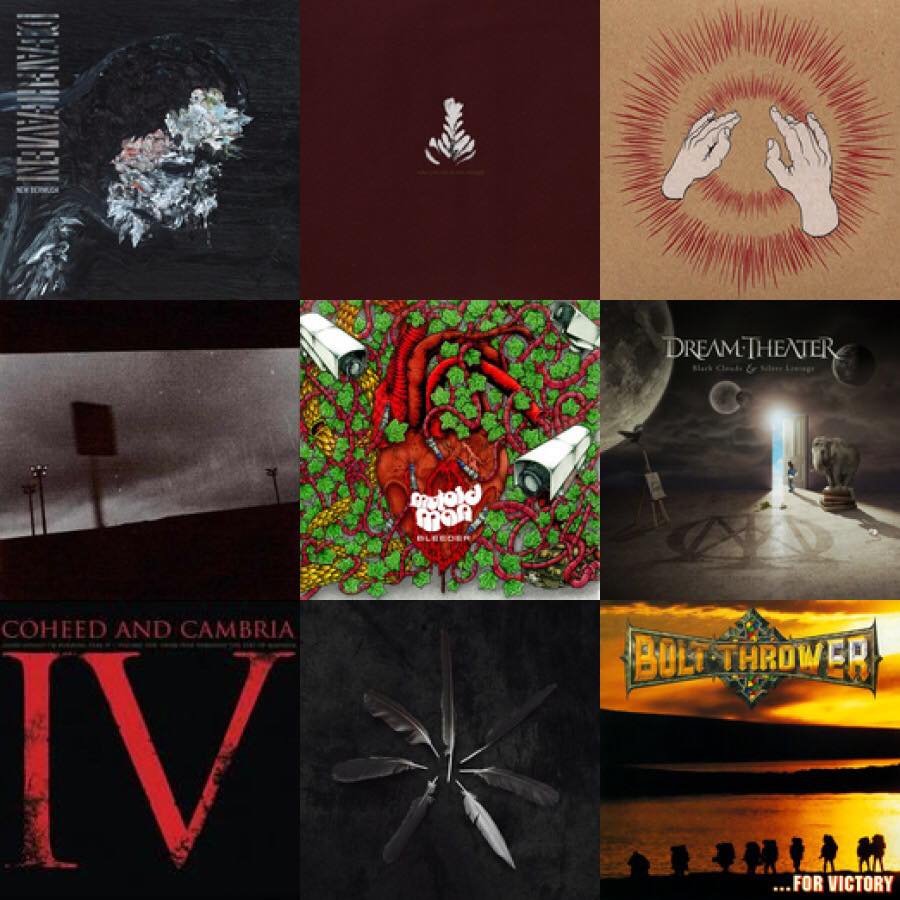 Deafheaven – New Bermuda
Athletics – Who You Are Is Not Enough
Godspeed You! Black Emperor – Lift Your Skinny Fists Like Antennas To Heaven
Godspeed You! Black Emperor – F# A# Infinity
Mutouid Man – Bleeder
Dream Theater – Black Clouds and Silver Linings
Coheed and Cambria – Good Apollo I'm Burning Star IV vol 1, From Fear Through The Eyes Of Madness
Caspian – Dust and Disquiet
Bolt Thrower – …For Victory
David Aleksov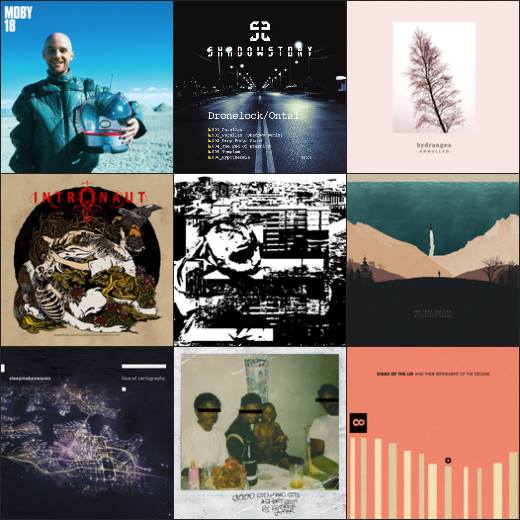 Moby – 18
Ontal & Dronelock – Parallax
Hydrangea – Dawn Lights
Intronaut – Habitual Levitations (Instilling Words With Tones)
Shapednoise – The Day Of Revenge
We Lost The Sea – Departure Songs
sleepmakeswaves – Love Of Cartography
Kendrick Lamar – good kid, m.A.A.d city
Stars of the Lid – And Their Refinement of the Decline
Matt MacLennan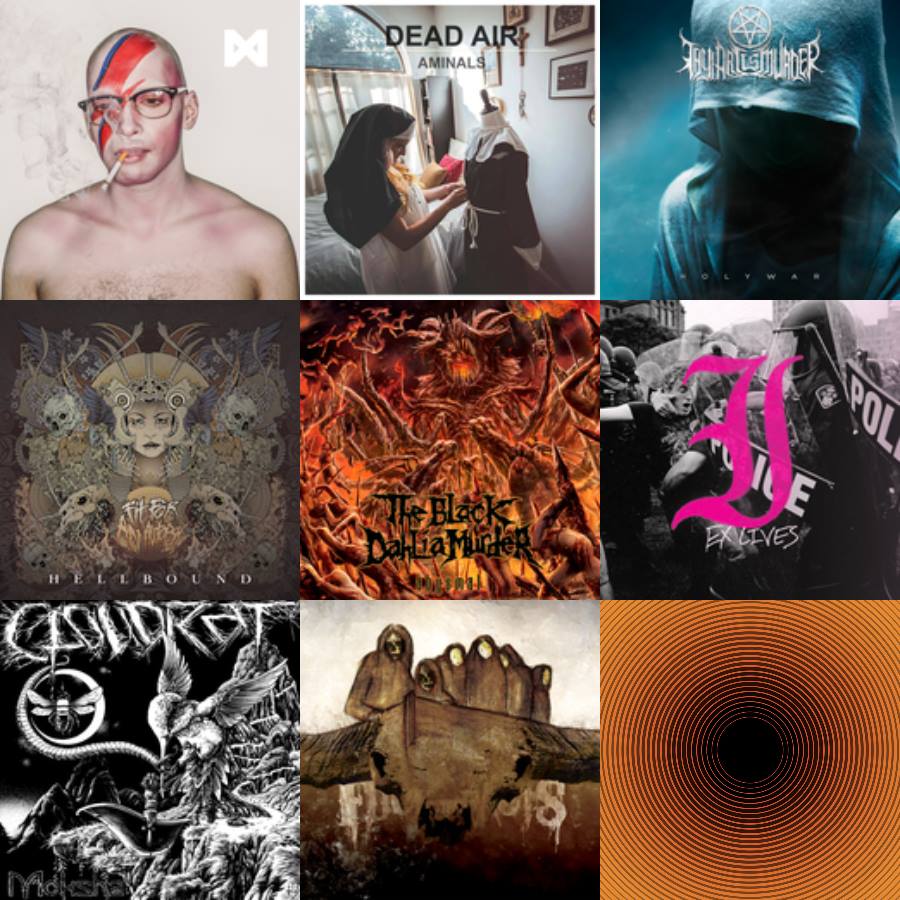 The Armed – Untitled
Aminals – Dead Air
Thy Art Is Murder – Holy War
Fit For An Autopsy – Hellbound
The Black Dahlia Murder – Abysmal
Every Time I Die – Ex Lives
Cloud Rat – Moksha
Fuck The Facts – Desire Will Rot
Frontierer – Orange Mathematics
Ahmed Hasan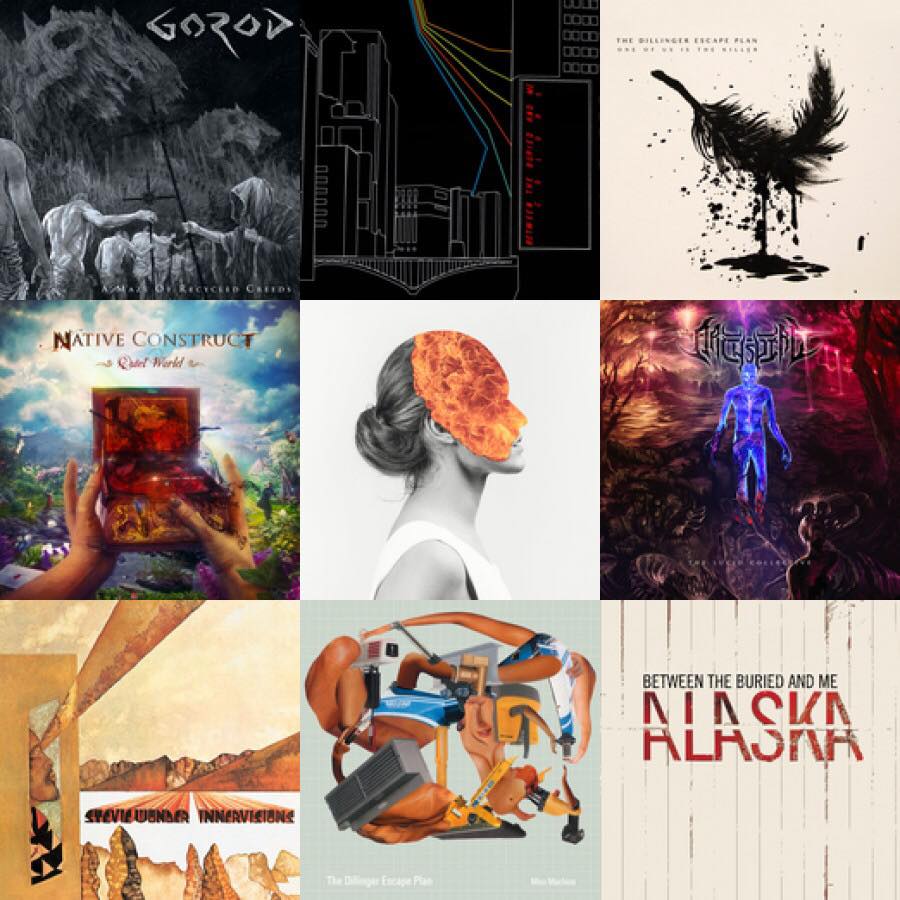 Gorod – A Maze of Recycled Creeds
Between the Buried and Me – Colors
The Dillinger Escape Plan – One of Us Is the Killer
Native Construct – Quiet World
Agent Fresco – Destrier
Archspire – The Lucid Collective
Stevie Wonder – Innervisions
The Dillinger Escape Plan – Miss Machine
Between the Buried and Me – Alaska
Scott Murphy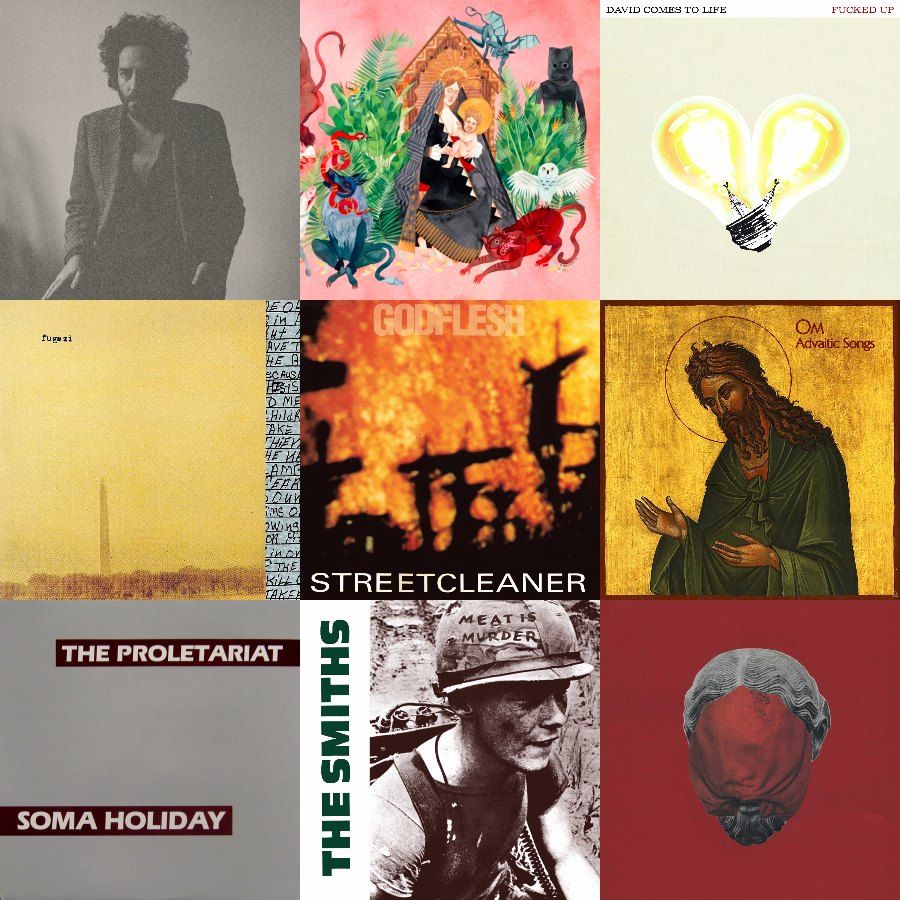 Destroyer – Poison Season
Father John Misty – I Love You, Honeybear
Fucked Up – David Comes to Life
Fugazi – In On the Kill Taker
Godflesh – Streetcleaner
Om – Advaitic Songs
The Proletariat – Soma Holiday
The Smiths – Meat Is Murder
Soft Kill – Heresy
Ryan Castrati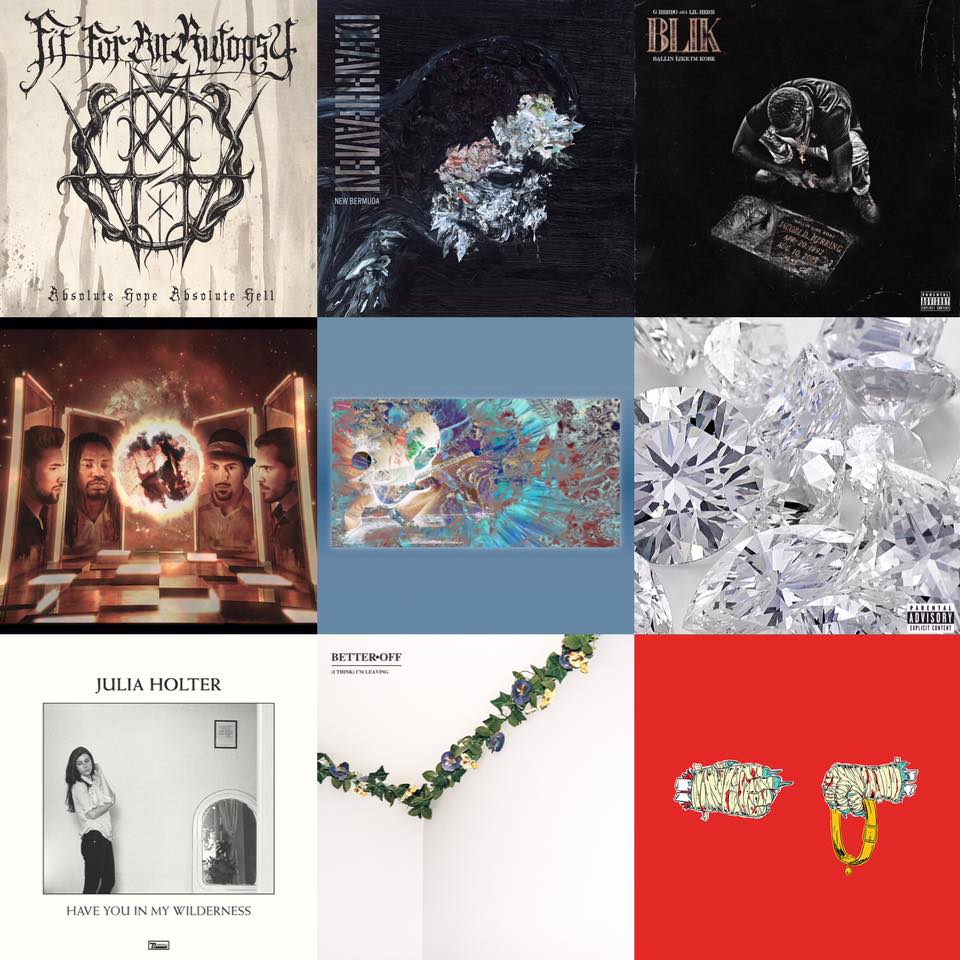 Fit for An Autopsy – Absolute Hope Absolute Hell
Deafheaven – New Bermuda
Lil Herb – Ballin' Like I'm Kobe
Novallo – Novallo II
Se'nam Palmer – EP1
Drake & Future – What a Time to Be Alive
Julia Holter – Have You in My Wilderness
Better Off – (I Think) I'm Leaving
Run the Jewels – Meow the Jewels
-HB