For those who missed our last installment, We post biweekly updates covering what the staff at Heavy Blog have been spinning. Given the amount of time we spend on the site telling you about music that does not fall neatly into the confines of conventional "metal," it should come as no surprise that many of us on staff have pretty eclectic tastes that range far outside of metal and heavy things. We can't post about all of them at length here, but we can at least let you know what we're actually listening to.
Spencer's playlist is dominated by two bands whom we have covered recently with in-depth features. In our most recent 8-Track installment (here), we explore the key songs that compose the career of Meshuggah, and Spencer himself sat down to write an in-depth intro guide to Rush's career in an entry in our Starter Kit series (here). Additionally, many members of our staff have been waiting with great anticipation for the latest chapter in The Dear Hunter's Act saga, Rebirth in Reprise (purchase here). Nick has been preparing for Act IV's release for the past several weeks with a series of Prognotes on the preceding three chapters (Act I  here, Act II parts one & two and Act III parts one & two). Nick is now primed for a review of Act IV, which you should expect in the near future.
For those that would like to participate as well (and please do) can drop a 3X3 in the comments, which can be made with tapmusic.net through your last.fm account, or create it manually with topsters.net. Also, consider these posts open threads to talk about pretty much anything music-related. We love hearing all of your thoughts on this stuff and love being able to nerd out along with all of you.
Head past the jump to see which receiving regular rotation on our headphones, stereos and turntables:
Scott Murphy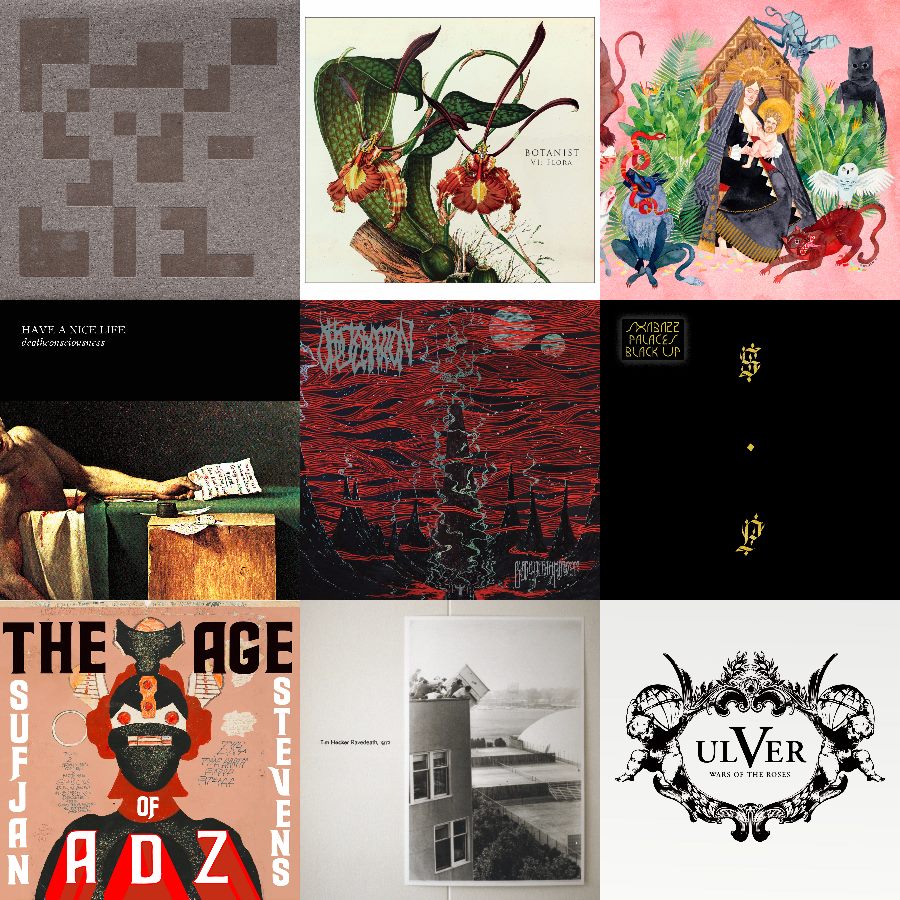 Autechre – Exai
Botanist – VI: Flora
Father John Misty – I Love You Honeybear
Have a Nice Life – Deathconsciousness
Obliteration – Black Death Horizon
Shabazz Palaces – Black Up
Sufjan Stevens – Age of Adz
Tim Hecker – Ravedeath, 1972
Ulver – War of the Roses
Simon Handmaker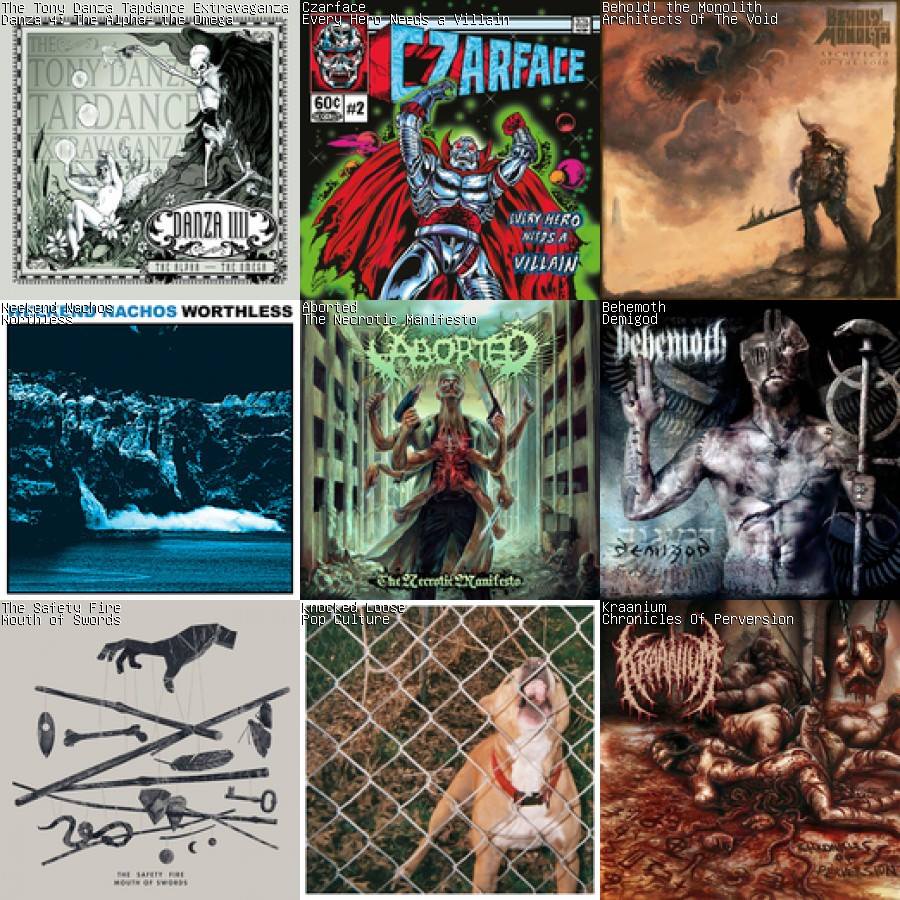 The Tony Danza Tapdance Extravaganza – Danza 4: The Alpha & The Omega
CZARFACE – Every Hero Needs A Villain
Behold! The Monolith – Architects of the Void
Weekend Nachos – Worthless
Aborted – The Necrotic Manifesto
Behemoth – Demigod
The Safety Fire – Mouth of Swords
Knocked Loose – Pop Culture
Kraanium – Chronicles of Perversion
David Aleksov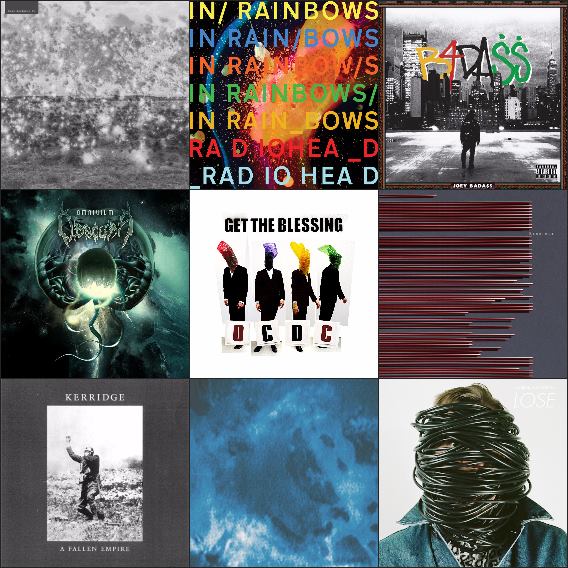 Post Scriptum – Post Scriptum 01
Radiohead – In Rainbows
Joey Bada$$ – B4.DA.$$
Obscura – Omnivium
Get The Blessing – OC DC
Samuel Kerridge – Always Offended Never Ashamed
Samuel Kerridge – A Fallen Empire
Acronym – Mu
Cymbals Eat Guitars – LOSE
Kit Brown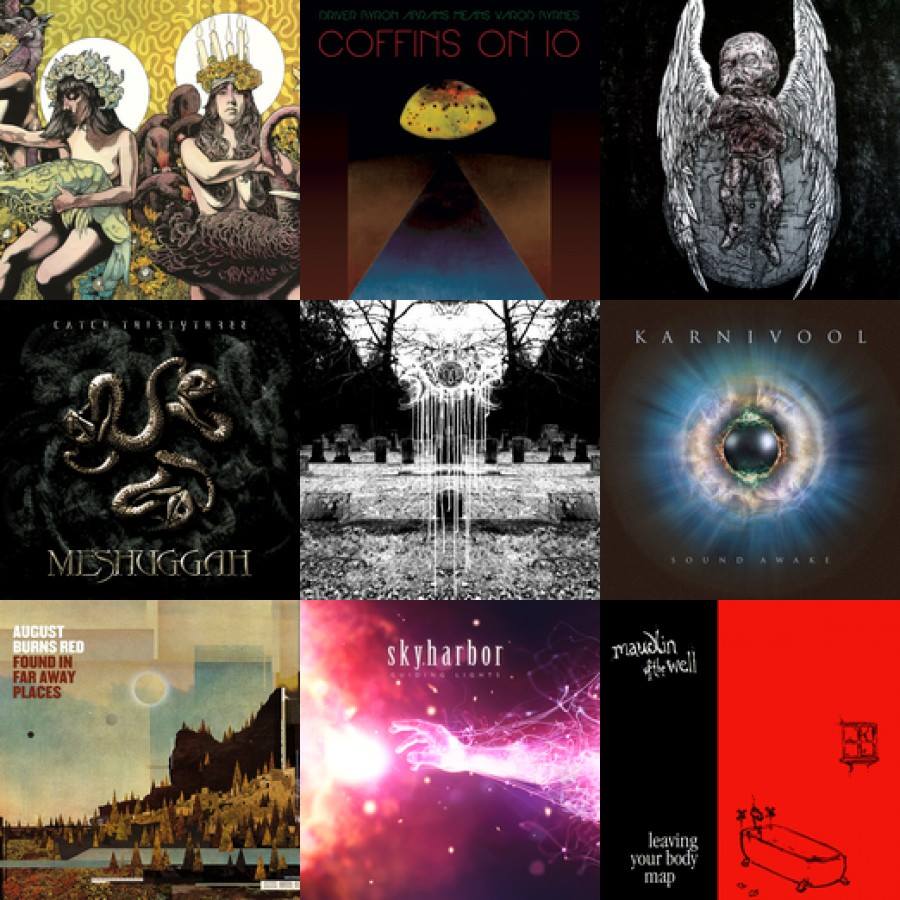 Baroness – Yellow & Green
Kayo Dot – Coffins on Io
Deathspell Omega – Si monvmentvm reqvires, circvmspice
Meshuggah – Catch 33
Xasthur – Defective Epitaph
Karnivool – Sound Awake
August Burns Red – Found in Far Away Places
Skyharbor – Guiding Lights
maudlin of the Well – Leaving Your Body Map
Nick Cusworth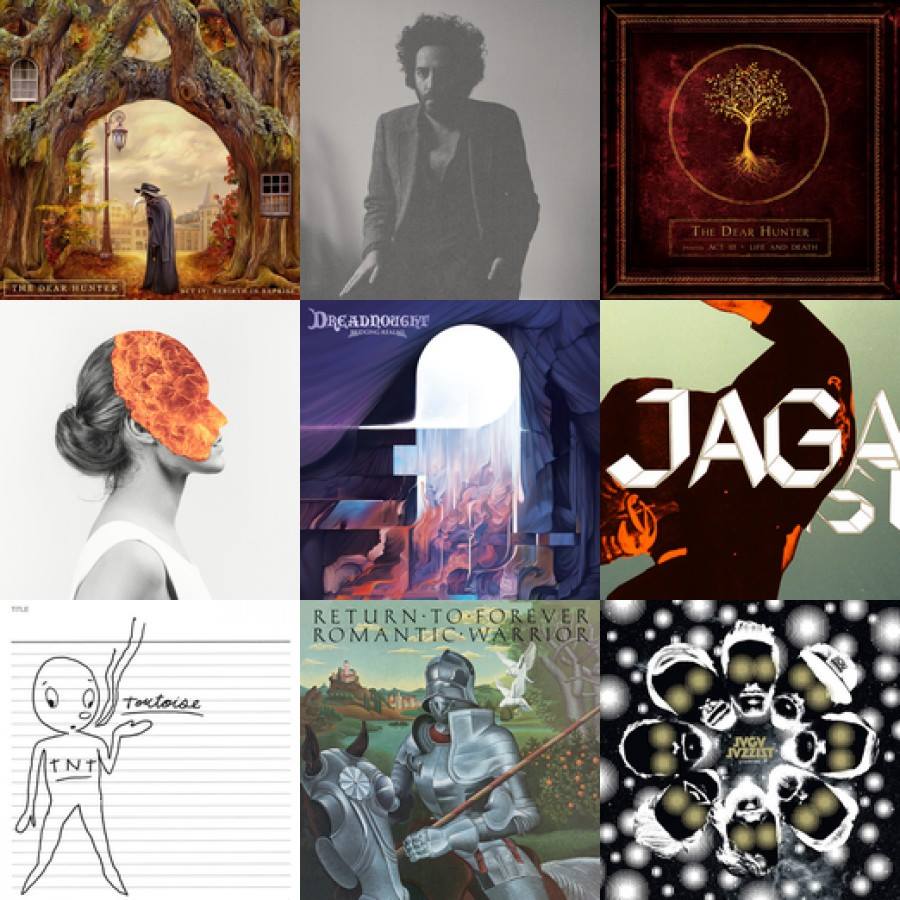 The Dear Hunter – Act IV: Rebirth In Reprise
Destroyer – Poison Season
The Dear Hunter – Act III: Life and Death
Agent Fresco – Destrier
Dreadnought – Bridging Realms
Jaga Jazzist – A Livingroom Hush
Tortoise – TNT
Return To Forever – The Romantic Warrior
Jaga Jazzist – Starfire
Spencer Snitil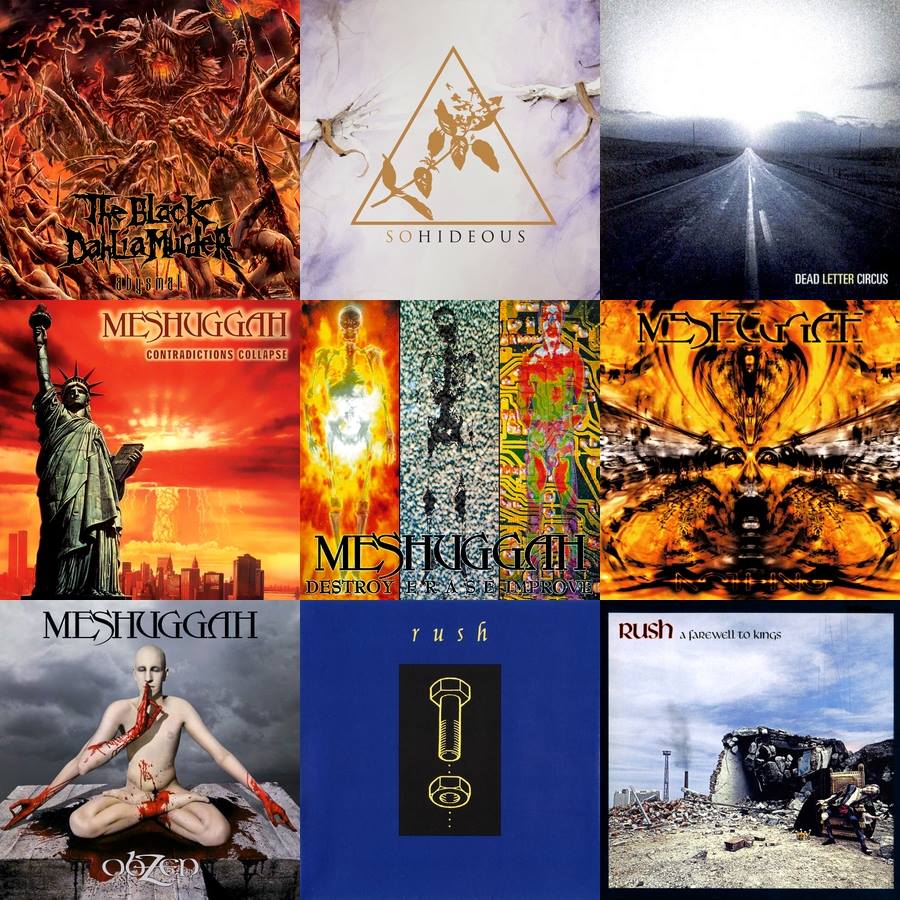 The Black Dahlia Murder – Abysmal
So Hideous – Laurestine
Dead Letter Circus – Dead Letter Circus EP
Meshuggah – Contradictions Collapse
Meshuggah – Destroy. Erase. Improve.
Meshuggah – Nothing
Meshuggah – ObZen
Rush – Counterparts
Rush – A Farewell To Kings
Mark Valentino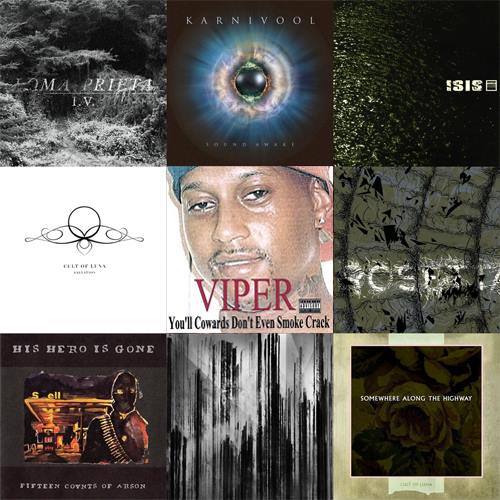 Loma Prieta – I.V.
Karnivool – Sound Awake
Isis – Oceanic
Cult Of Luna – Salvation
Viper – You'll Cowards Don't Even Smoke Crack
Rosetta – The Galilean Satellites
His Hero Is Gone – Fifteen Counts Of Arson
Cult Of Luna – Vertikal
Cult Of Luna – Somewhere Along The Highway
Ryan Castrati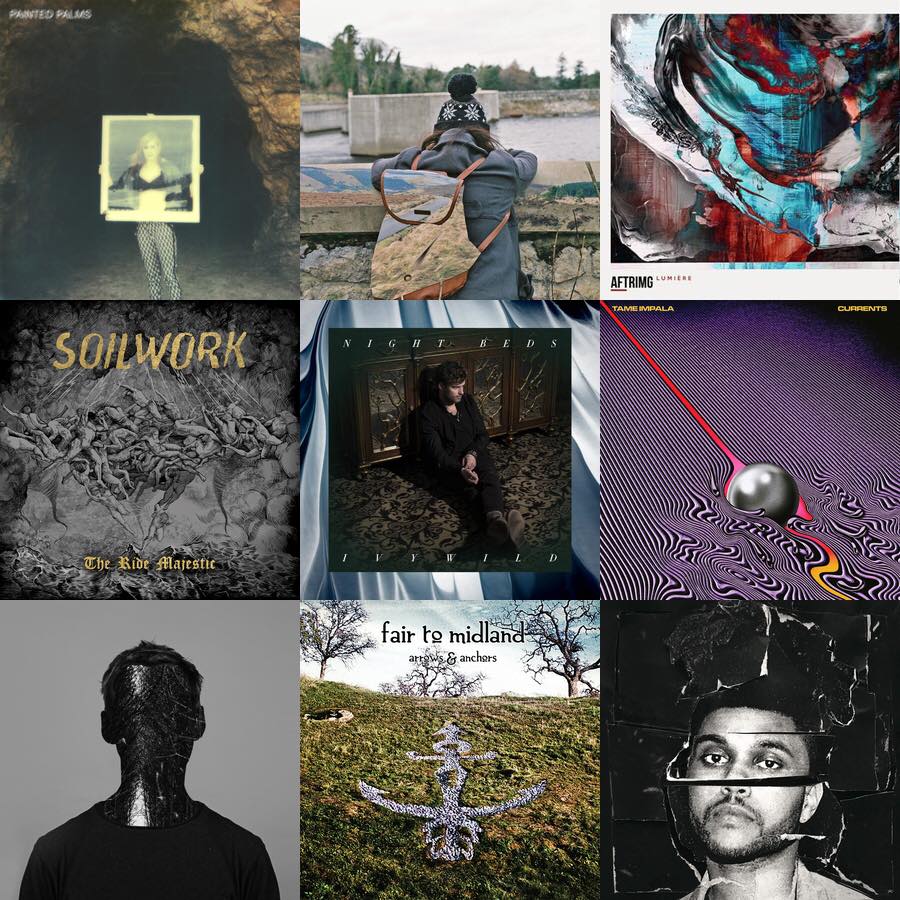 Painted Palms – Forever
Basement – I Wish I Could Stay Here
The Afterimage – Lumiére
Soilwork – The Ride Majestic
Night Beds – Ivywild
Tame Impala – Currents
Clark – Clark
Fair to Midland – Arrows & Anchors
The Weeknd – Beauty Behind the Madness
-HB