We recently revived one of Brian Shields' columns here at Heavy Blog. His influence spread far and wide and we're striving to keep things going in his good name, the way he would like it. This week, we're giving you a chance to check out what A Trust Unclean have been listening to. Some surprises might follow but that's what this column is all about. Check it out below!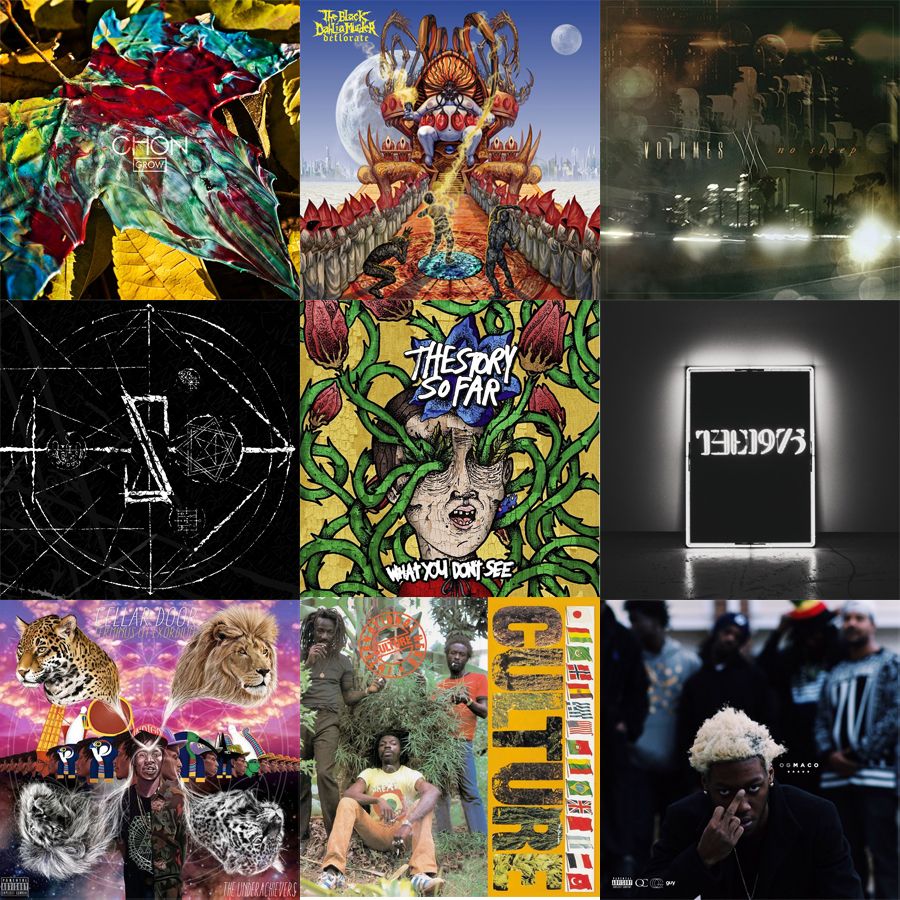 Chon – Grow
Chon are a young band but they've been doing what they do for a long time and it comes across a lot in the strength of their playing andsongwriting. This is their first full length after a string of EPs and every track is a beauty! Particular favorites include "Can't Wait' and "Book".
The Black Dahlia Murder – Deflorate
Old but so golden. 2009 was a great year for metal and this was one of the best albums. We were at college when it came out and it's been essential listening ever since. As a successor to 2007's Nocturnal it more than matches up, with a fresh line up (at the time) and much more intricate lead guitar work. Standout tracks would be "Necropolis" and "I Will Return", the latter being especially epic.
Volumes – No Sleep
Volumes are a great band; they make awesome use of dual vocals and massive guitar grooves. This album is the follow up to the debut "VIA" which was decidedly more "metal" but the outcome is a really enjoyable record. Plenty of heaviness and breakdown sections that have some serious impact, but also some strong melody and restraint. Massive album! "Erased", "Across The Bed" and "The Mixture" definitely hit the hardest.
Lorna Shore – Psalms
Lorna Shore skullfucked us all with half time beatdowns and massive bass drops with Maleficium in 2013 and they're back with another beast with Psalms. All the good aspects of the band are still there; some absolutely crushing moments that would paint a panicked expression over the face of the solidest crowd-killer. Sound wise it seems like they've gone in a more black metal direction, which is completely fine by us. Definetely check out "Grimoire" and "Wretching in Torment", really wicked shit.
The Story So Far – What You Don't See
The Story So Far tick every conceivable box when it comes to American pop punk; every song features a chord progression or vocal consonant that you can be sure you've heard somewhere else, but who the fuck cares? It's awesomely melodic, evocative music and its great from start to finish, which is obviously somewhat rare in that genre. "Small Talk" "Right Here" "Empty Space" and "Things I Can't Change" are all excellent tracks.
The 1975 – The 1975
You've probably heard the 1975 even without being aware of it because they're giants on the Radio. This is their debut album after a couple of EPs that felt too artsy, not musically driven; more by the lyrical content. A lot of the songs on this album feel specifically written for the radio and others feel more personal or meaningful. In terms of sound the band would probably fly under the indie flag but there are strong 80s pop, Funk and even Hip Hop characteristics to what they do. Guitar and vocal melodies combine to make seriously good British indie. "Settle Down", "The City", "Pressure" and "Girls" are all great tunes with plenty of replay value.
The Underachievers – Cellar Door: Terminus Ut Exordium
The Underachievers are an American hip hop duo whose lyrics often focus on forbidden knowledge, hallucinogenic substances and utilization of the power of the mind. Issa Gold and AK make a sick duo, Issa Gold coming across more whimsical and AK providing the intellect. There is serious wordsmith action on this album from start to finish. "Chrysalis", "Metropolis" and "Nebulous" are awesome tracks.
Culture – International Herb
When it comes to down time, there's nothing better than reggae. There are a whole load of reggae bands we like, but this is one of our favourites and definitely one of the most brilliant/hilarious albums ever recorded. The best thing about this album is the title track, but listen to "If A Guh Dread" and "Chiney Man" too.
OG Maco – OG Maco
OG Maco is a don without reason. All rappers make an obvious effort to sound cool but Maco does it effortlessly and that makes him even cooler, definitely one of our favourite rappers. He's got this swing feel about most of his flows and he practically screams his lyrics – it sounds so G it's unreal. "Been Thuggin'", "FuckEmx3", "U Guessed It" and "Want More" go hard.
---
If you need a bit more familiarity with A Trust Unclean then check out our short review (kinda) of their latest sick EP. Either that or you can just click play below and have a blast of UK technical deathcore for yourself. Peace!
-MM