A few month ago I popped over to catch Monuments' most recent UK headline run. In support were Basick reps No Consequence and Murdock. Now, I surprisingly enjoyed the new No Consequence album but it was Murdock who I was there to see. After waiting (im)patiently for their first full length, I was left reeling by just how good it was. If you haven't already given time to Dead Lung then you are a fool and I will smite you. It's a frenetic, rich sounding album that skips across genres faster than the brain can comprehend. Before their raucous set, I managed to catch Aidan, the singer/songwriter/guitarist of Murdock for a couple of words. We jumped in his van (he was very gentle) and shared some words about Basick Records, Ireland and of course, chicken shits.
---
How did your working relationship with Basick Records take form?
Let me think, basically… Basically, good way to start the interview, honestly no pun intended. I hate puns. We were demoing for the album and we did some good quality demos 'cuz we wanted to hear what the songs sounded like. We sent them over to (Nathan) Barley who's the label boss over there and he literally got back to us the next day saying, "yeah, we like this". We initially signed to their Destroy Everything label to put out one single as a stepping stone kinda thing. Just to see how it would go down and how we'd work with their team, that kinda stuff. That went pretty well so they decided to release the album on Basick. They're known for more of the techy, djenty, lasers and prog stuff so at the moment they're experimenting with the other side of the spectrum with bands like us. We're still a tech band, some would say but yeah, it's been awesome.
How is the deal with them going to move forward? Are you penned in for more releases?
We've another album to release but we'll be starting to write after this tour. We'll have to start banging out some new songs. After that we'll have the album out on Basick, after that, who knows. We'll see how we get on. We've been so lucky with the way they've looked after us and with the release. They've been so supportive of our creative ideas and they always suggest stuff. We're in charge of creating it but they look after all the stuff that we don't know enough about.
The crunching of the numbers basically.
Yeah man, all the emails and numbers and that. We just wanna play some riffs y'know?
How about where you're from, is there much of a scene around? I noticed you shared a track from a band called Bailer which you produced. I checked them out and they're legit good.
They're banging, yeah.
Any other acts you can kick our way to check out?
It's not a huge scene in Ireland, you can literally tour Ireland in a Bank Holiday weekend. It's something we always joke about as there's three major cities really. You've got Dublin, Cork, Galway then I guess Belfast up north too. There's Bailer, they are awesome. They're a new band and they're doing it so right man. Our buds in Red Enemy in Dublin, they're on Mediaskare Records. They're technical and groovy, heavy as fuck, you'd like 'em. There used to be a lot more bands but it's kinda tamed down a bit. Those two are our buddy bands. Where we're actually from is a town called Tullamore which is right in the Midlands and there's no scene at all. I'm sure there are a lot of bands that I'm forgetting who'll kill me if they read this. Oh sorry, there's another band called Ilenkus from Galway that I'm actually recording as well. Really good band, some sort of child of Mastodon, Converge and Cult Of Luna. I'm recording their new EP and it's very dark, bit of a Deafheaven vibe. Very interesting band and I'm glad I remembered them!
Awesome, will definitely check them out. Now, forgive the overload of praise but I really, really did love Dead Lung. Before anyone asks, we can set the record clear here that you did not pay for the positive review! I really do think it's a fantastic debut. Now, I dunno whether this was just me hearing it but I picked up on some cool Poison The Well vibes from some of the material. The brash, in your face qualities but with that subtle injection of melody throughout. What were your main listening habits while you were writing and recording it?
Yeah, I definitely grew up listening to Poison The Well, that's definitely in there somewhere. You Come Before You is one of my all time favourite albums.
"Ghostchant" is one of my favourite songs ever!
Man, we're buds like! I fucking love that band. Oh wow, normally… I dunno how to answer this. When I'm writing songs I don't really sit down to write a song. This is gonna sound really pretentious but I hear them in my head and I have to get them out on guitar after. That's the way I go about it. I'll be most likely listening to some weird jazz or not heavy stuff. I do listen to a lot of heavy stuff though. The album was initially written over a long period and was gonna be an EP. As we were about to record it we started to write more songs and were like, we have to turn this into an album. So I guess everything is the answer to that question. The heaviest of heavy stuff and the cheesiest of pop, whatever we listened to in that long period of time. Obviously you've got Dillinger, you've got Converge, you can hear that in our stuff but I don't think we sound like either of those bands. They definitely played a big role in who we are. We wouldn't be the band we are without those bands having existed. I have no shame in saying that.
You're not one of those bands plugging in an HM-2 and screaming about heartache.
Through a cupped mike, yeah absolutely.
We touched on your recording work with Bailer and the like. What does the rest of the band do in their day to day existence? How do you afford to come to lovely places like this?
Yeah man, Glasgow on a… Monday night? Well, Ronan, (drums) just drums. He does drum lessons and does a lot of session work. He even records on a lot of cheesy pop songs and country and western. He's played on a lot of records no one would ever know. He's a pretty in demand studio drummer. Our bassist Rob balances the band with working in pharmaceuticals. A real job with a desk and everything. We slag him for that but he's got money at the end of every month. Me, I'm so lucky that when I'm not playing music I'm recording heavy bands. I don't know how I managed to make that my living but my career guidance councillor would be, how do I say it… They looked at me a bit funny when I told them what I wanted to do. So far it's okay, it's been a lot of hard work to get myself to that level where bands are coming to me for that particular sound. Yeah, that's what we do.
Now, as I'm sitting in your tour van, any your habits and hates you could bring up? Who picks their nose and wipes it, who farts in their sleep?
Oh, we were actually only talking about this recently but we think we smell pretty good for a band. I guess maybe 'cuz it's only the three of us in the van.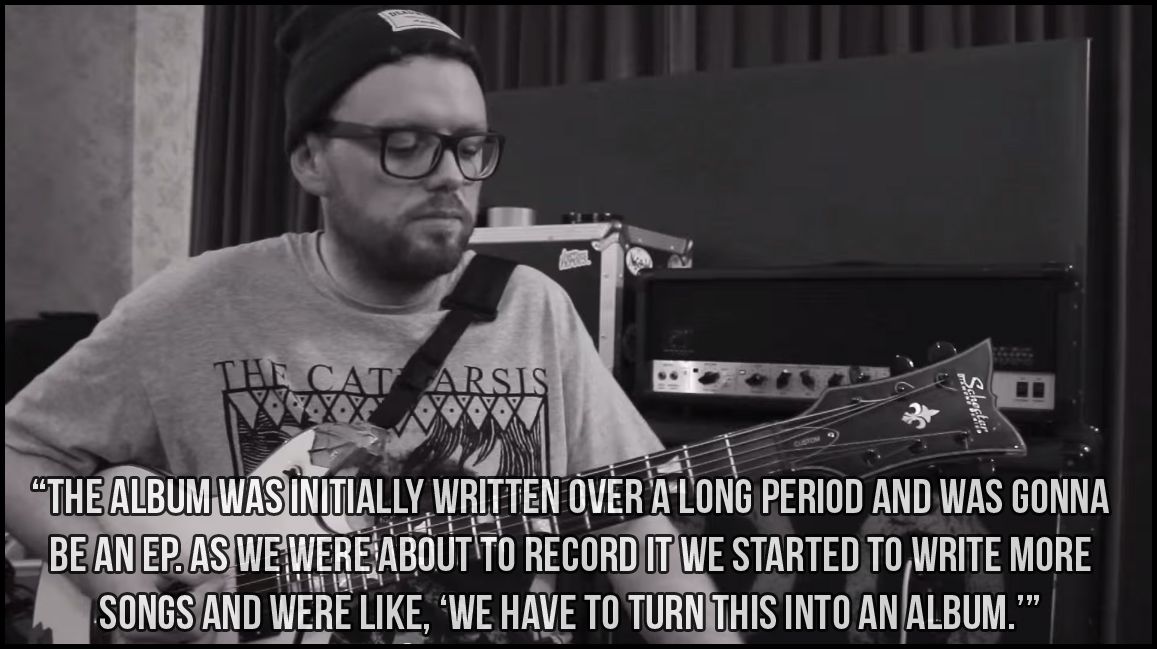 I should note for the purposes of the interview, your van does indeed not smell. In fact I think I can actually smell myself in here. I'm very sorry.
We've been sleeping in this for six days but we're actually pretty clean cut guys. If we go two days without a shower though, we all start getting a bit weird. That's kind of a priority for us. Ronan is the farty guy though, he likes a few pints in the evening so that always comes out in the morning. We're actually pretty good at knowing when not to annoy each other and to give each other a bit of space to chill. We don't get on each others nerves at all and that's probably 'cuz there's only three of us.
I guess if you have five or six people in a band then there's so many more mini relationships that you have to be mindful of.
Yeah, with three of us it's really tight knit. The only downside to being a three piece is having to lift all of the gear in. There's only three guys to do it all! Aside from that it's beautiful. Even sleeping in the van, you've got that extra few feet of space.
Small comforts! Dead Lung has been out for a bit now and it's been pretty damn well received. Obviously you said you're going to write the new album but what does Murdock have in plan for after that?
I imagine most bands would answer this the same way. Bigger shows further away from home. We're pretty much concentrating on getting support slots for bigger bands so we can build up a rep for ourselves in these cities so maybe we can come back and do a headline run. The team at Basick have been brilliant for that and were huge in getting us on this tour with Monuments. There's past relationships there and everyone knows each other so it was easy. Nothing else is confirmed but we've got some support things we're in for. We're gonna tour this album into the next year though. Who knows, maybe this time next year we'll have a new album out. It could all work out.
Fingers crossed!
I'd be keen to get this one out quicker because Dead Lung nearly killed me.
Yeah, there was a hefty delay between me seeing "Brainface" on Scuzz (UK music video channel) and Dead Lung coming out was nearly two years I think?
Something stupid like that, yeah.
Now, the real biting question, which you may not even be able to answer depending on your culinary choices.
Oh yeah?
How do you like your eggs?
How do I like my…. Well, I love eggs so that's a good start to the answer. I'm kind of a scrambled eggs, scrambled eggs on toast kinda guy. Cup of tea, bit of salt and pepper. even a bit of chilli some time.
Fresh choppped chilli? That is my jam!
There you go man, nothin' better in the morning. Sets you up for the day.
Thanks very much, take care!
Good stuff, thank you!
---
-MM