For those who missed our last installment, We post biweekly updates covering what the staff at Heavy Blog have been spinning. Given the amount of time we spend on the site telling you about music that does not fall neatly into the confines of conventional "metal," it should come as no surprise that many of us on staff have pretty eclectic tastes that range far outside of metal and heavy things. We can't post about all of them at length here, but we can at least let you know what we're actually listening to.
As is typical of these posts, quite a few inclusions recently received the Heavy Blog seal of approval via positive reviews. KEN Mode's Success (here),  Jaga Jazzist's Starfire (here), Thy Art Is Murder's Holy War (here), WRVTH's WRVTH (here), Tempel's The Moon Lit Our Path (here) and Mutoid Man's Bleeder (here)  are all excellent albums worthy of your time. Of course, perhaps the most notable of these recent reviews is Coma Ecliptic, the latest offering from Blog favorites Between the Buried and Me. While reception to the new album has been mixed, Jimmy's in-depth review (here) details exactly why so many members of our staff are fawning over the new record. Finally, a a few members of our staff have been listening to Maïak, the topic of our most recent Post Rock Post. If you love post rock as much as we do, be sure to read the post and check out Maïak here.
For those that would like to participate as well (and please do) can drop a 3X3 in the comments, which can be made with tapmusic.net through your last.fm account, or create it manually with topsters.net. Also, consider these posts open threads to talk about pretty much anything music-related. We love hearing all of your thoughts on this stuff and love being able to nerd out along with all of you.
Head past the jump to see which receiving regular rotation on our headphones, stereos and turntables:
Simon Handmaker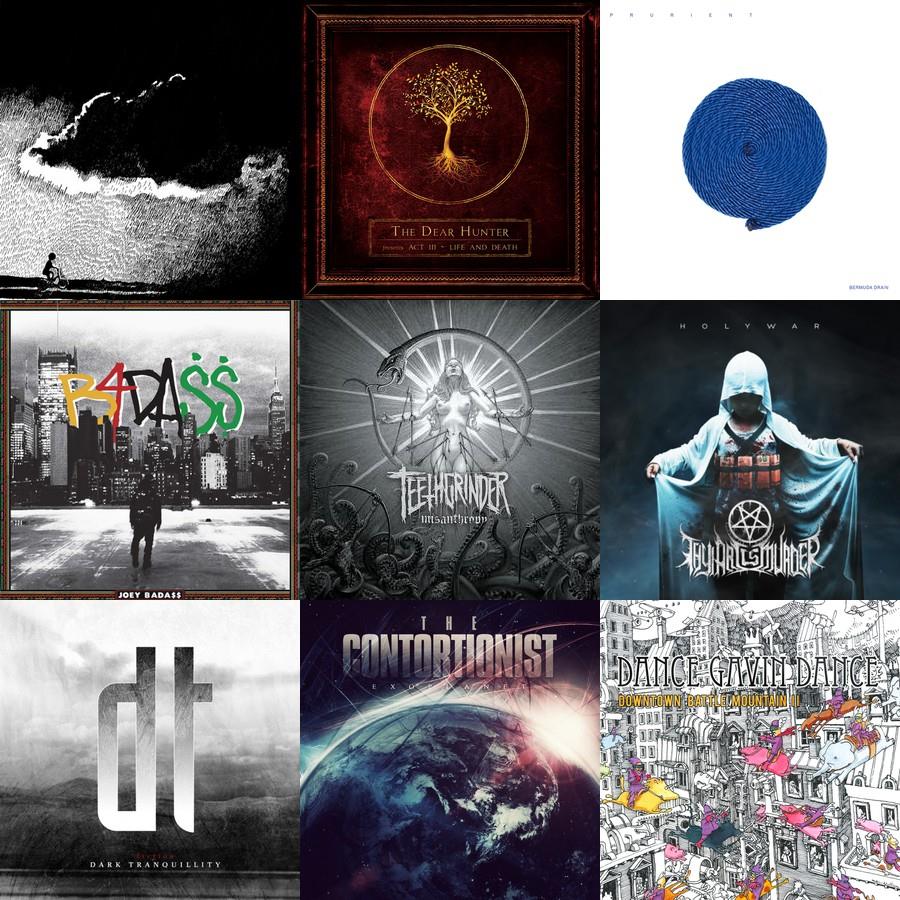 Touche Amore – …To The Beat Of A Dead Horse
The Dear Hunter – Act III: Life And Death
Prurient – Bermuda Drain
Joey Bada$$ – B4.DA.$$
Teethgrinder – Misanthropy
Thy Art Is Murder – Holy War
Dark Tranquility – Fiction
The Contortionist – Exoplanet
Dance Gavin Dance – Downtown Battle Mountain II
Eden Kupermintz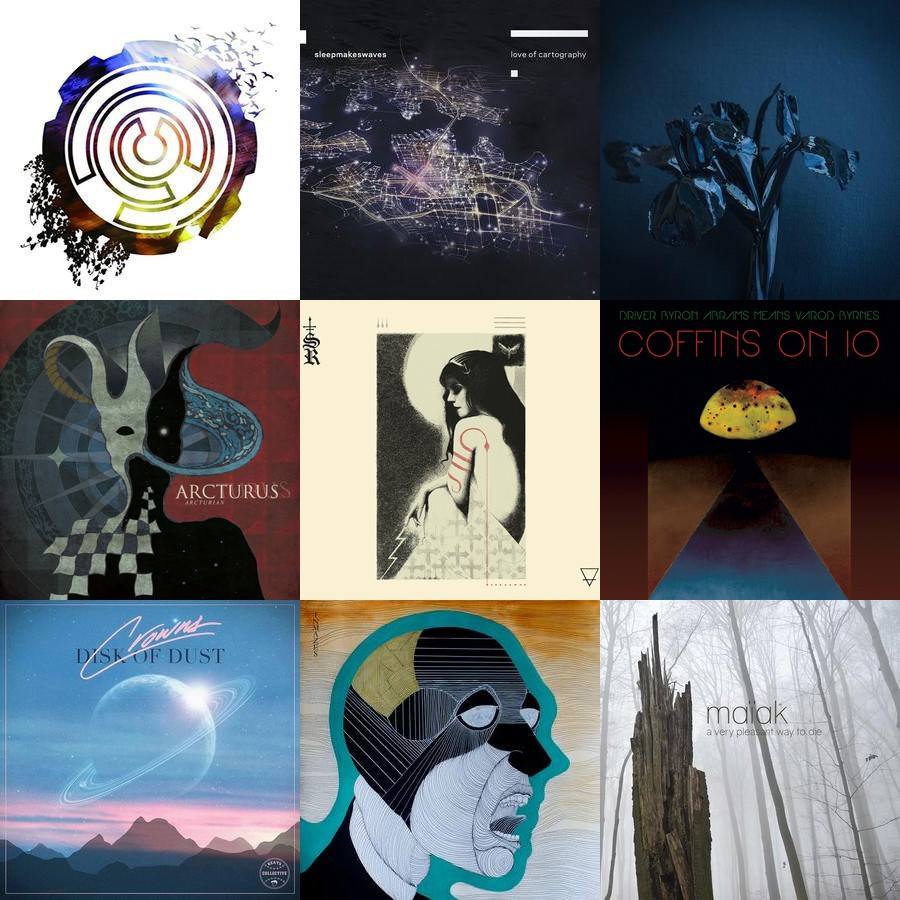 Arcane – Known/Learned
sleepmakeswaves – Love of Cartography
A Swarm of the Sun – The Rifts
Arcturus – Arcturian
SubRosa – More Constant Than The Gods
Kayo Dot – Coffins on Io
Crowns – Disk of Dust
VOLA – Inmazes
Maiak – A Very Pleasant Way to Die
David Aleksov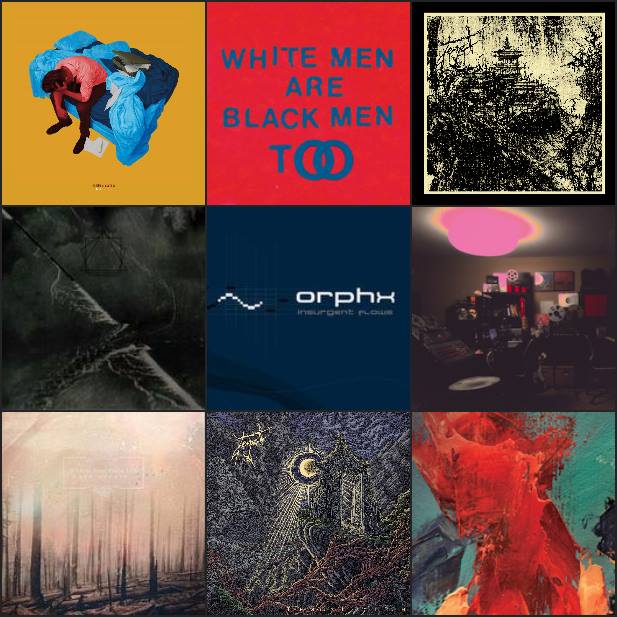 KEN Mode – Success
Young Fathers – White Men Are Black Men Too
Tempel – On The Steps Of The Temple
Sannhet – Known Flood
Orphx – Insurgent Flows
Unknown Mortal Orchestra – Multi Love
If These Trees Could Talk – Red Forest
Tempel – The Moon Lit Our Path
Submotion Orchestra – Alium
Kit Brown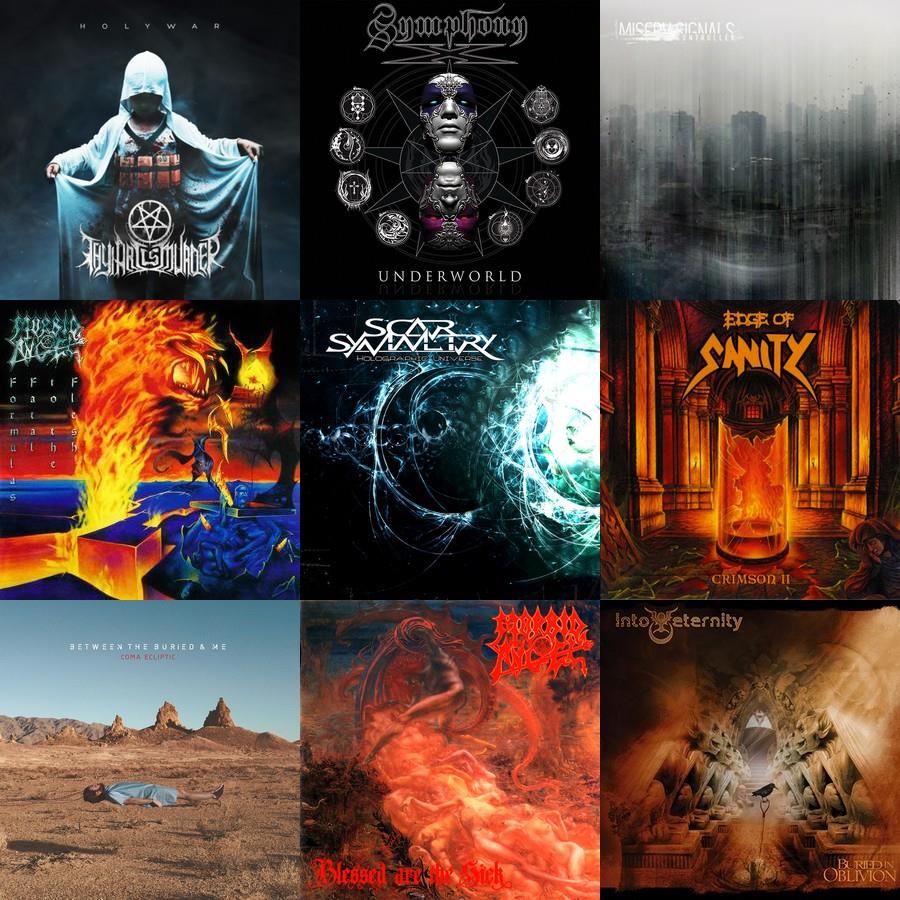 Thy Art Is Murder – Holy War
Symphony X – Underworld
Misery Signals – Controller
Morbid Angel – Formulas Fatal to the Flesh
Scar Symmetry – Holographic Universe
Edge of Sanity – Crimson II
Between the Buried and Me – Coma Ecliptic
Morbid Angel – Blessed Are the Sick
Into Eternity – Buried in Oblivion
Mark Valentino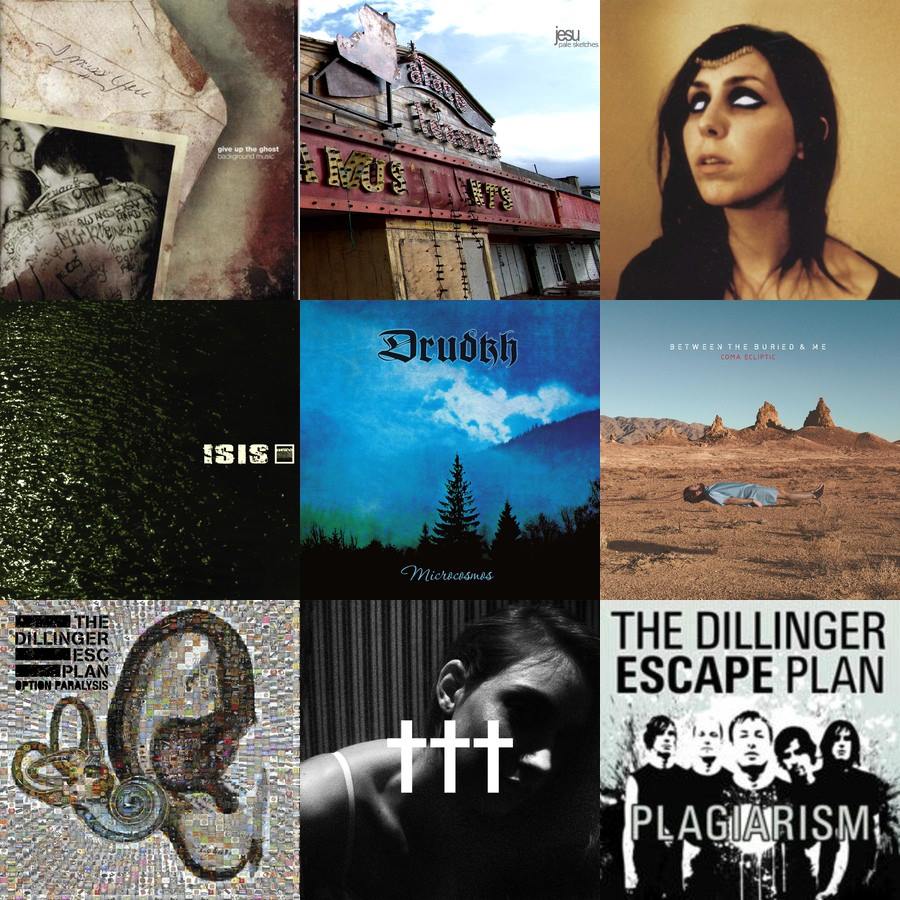 American Nightmare (Give Up The Ghost) – Background Music
Jesu – Pale Sketches
Chelsea Wolfe – Apokalypsis
Isis – Oceanic
Drudkh – Microcosmos
Between The Buried And Me – Coma Ecliptic
The Dillinger Escape Plan – Option Paralysis
Crosses – †††
The Dillinger Escape Plan – Plagiarism EP
Scott Murphy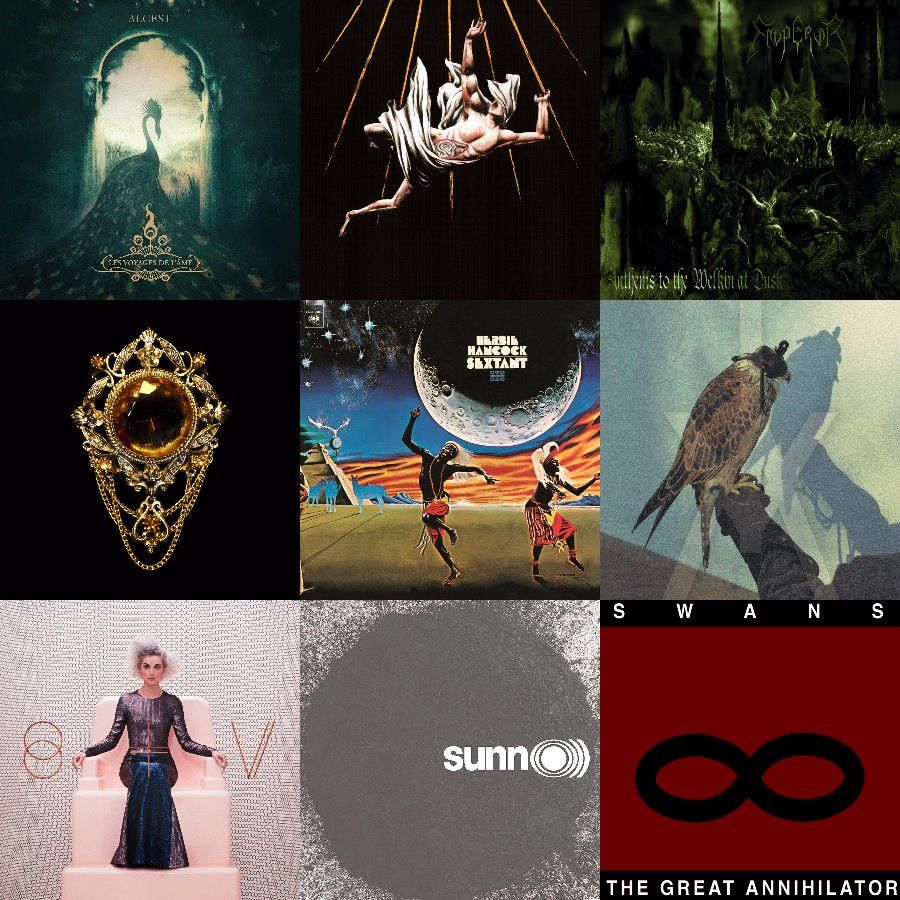 Alcest – Les Voyages de l'Âme
Deathspell Omega – FAS – Ite, Maledicti, in Ignem Aeternum
Emperor – Anthems to the Welkin at Dusk
Fuck Buttons – Slow Focus
Herbie Hancock – Sextant
Iceage – You're Nothing
St. Vincent – St. Vincent
Sunn O))) – Monoliths & Dimensions
Swans – The Great Annihilator
Matt MacLennan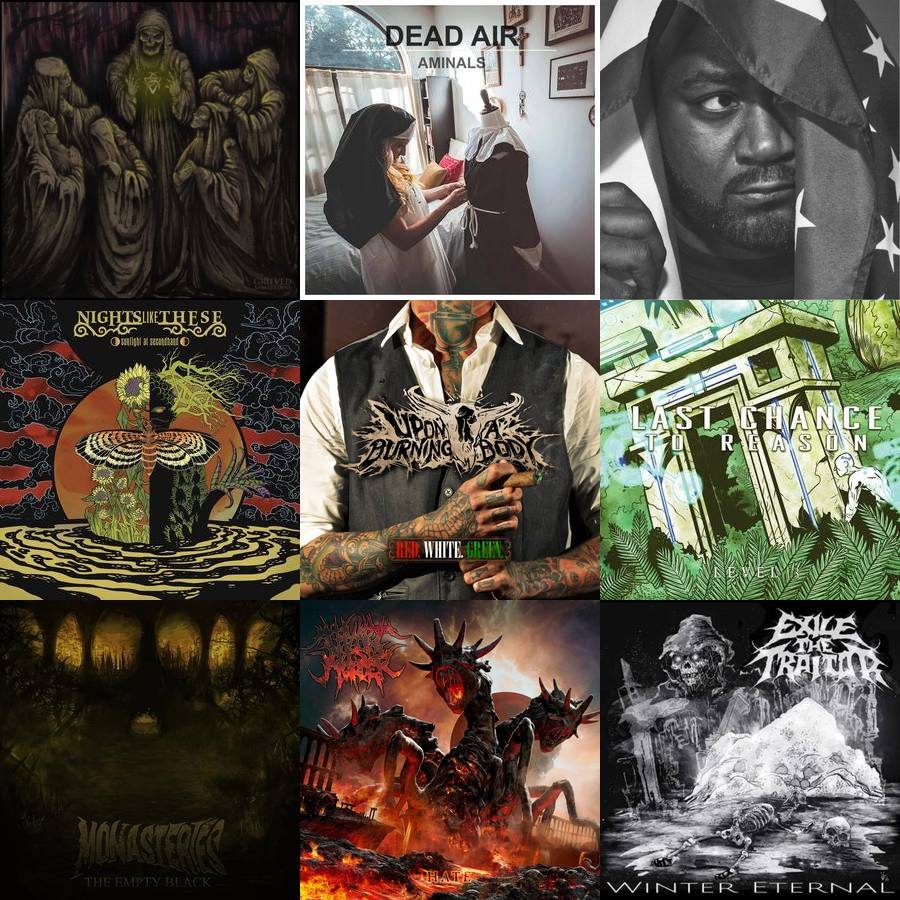 Grieved – Samaritans
Aminals – Dead Air
BADBADNOTGOOD & Ghostface Killah – Sour Soul
Nights Like These – Sunlight At Secondhand
Upon A Burning Body – Red, White And Green
Last Chance To Reason – Level 3
Monasteries – The Empty Black
Thy Art Is Murder – Hate
Exile The Traitor – Winter Eternal
Ryan Castrati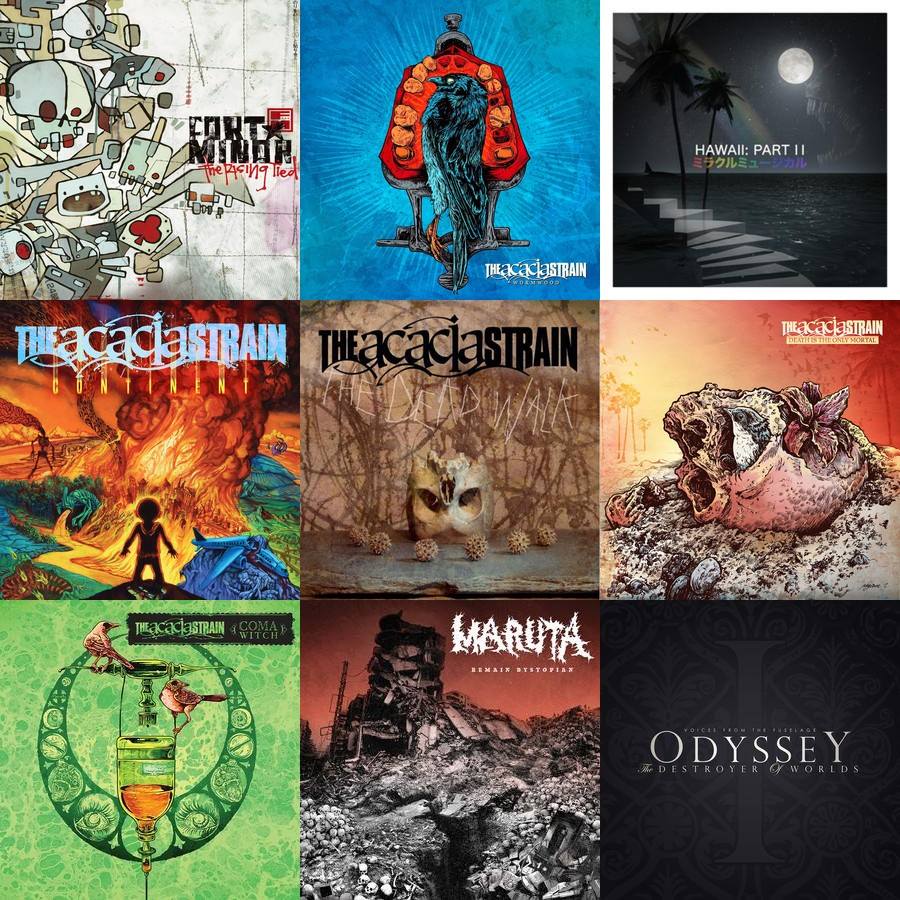 Fort Minor – The Rising Tied
The Acacia Strain – Wormwood
ミラクルミュージカル – Hawaii: Part II
The Acacia Strain – Continent
The Acacia Strain – The Dead Walk
The Acacia Strain – Death Is the Only Mortal
The Acacia Strain – Coma Witch
Maruta – Remain Dystopian
Voices from the Fuselage – Odyssey: The Destroyer of Worlds
William France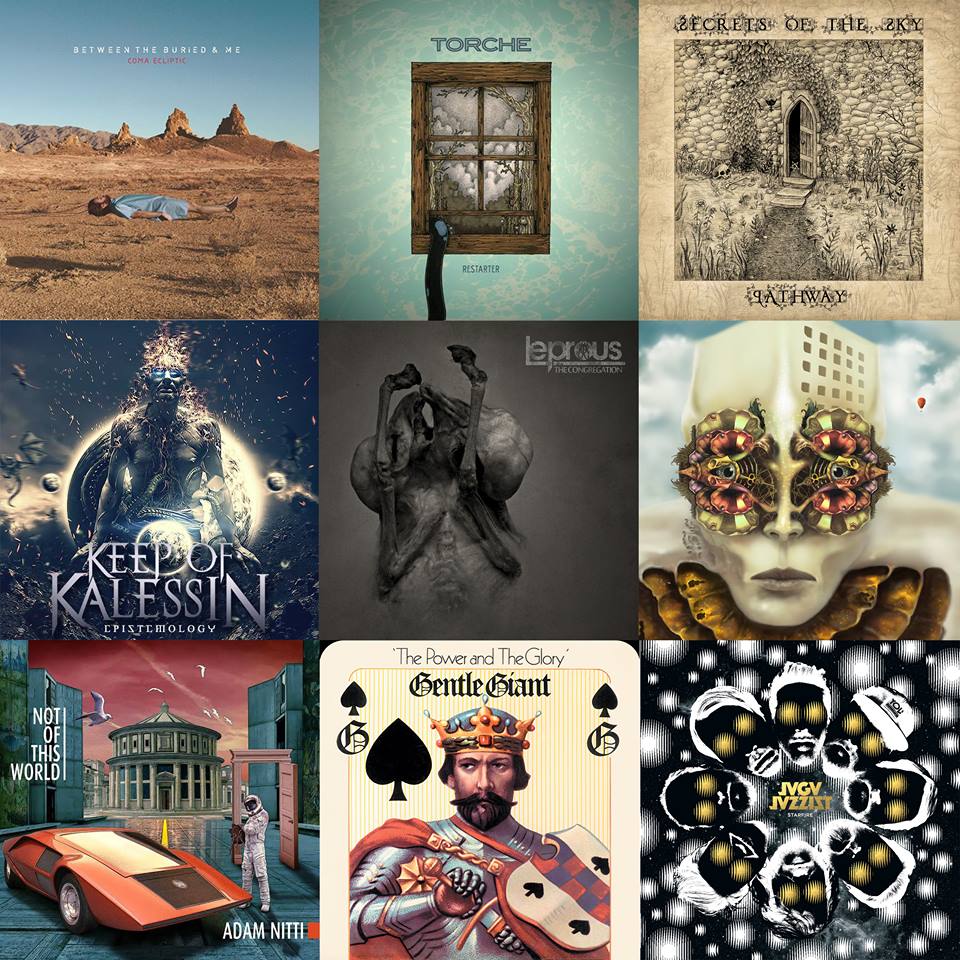 Between the Buried and Me – Coma Ecliptic
Torche – Restarter
Secrets of the Sky – Pathways
Keep of Kalessin – Epistemology
Leprous – The Congregation
Rishloo – Living as Ghosts With Buildings as Teeth
Adam Nitti – Not of this World
Proclamation – Gentle Giant
Jaga Jazzist – Starfire
Nick Cusworth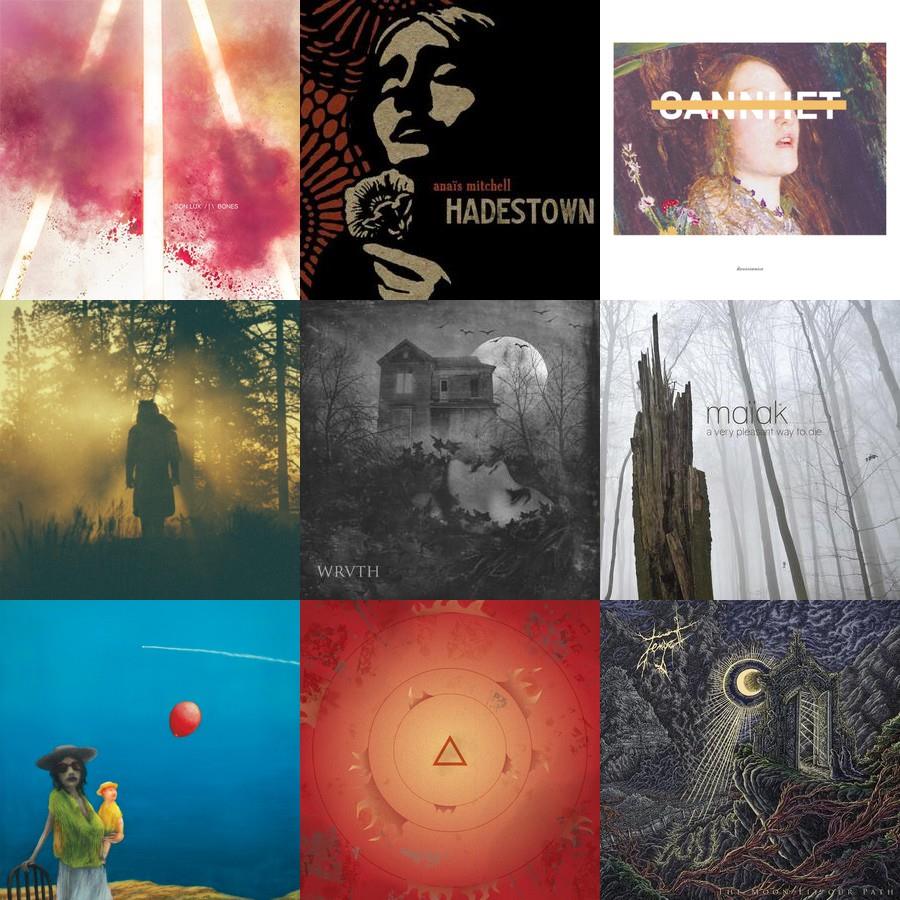 Son Lux – Bones
Anaïs Mitchell – Hadestown
Sannhet – Revisionist
Thundercat – The Beyond / Where The Giants Roam
WRVTH – WRVTH
Maïak – A Very Pleasant Way To Die
Menomena – Moms
Kubbi – Ember
Tempel – The Moon Lit Our Path
Ahmed Hasan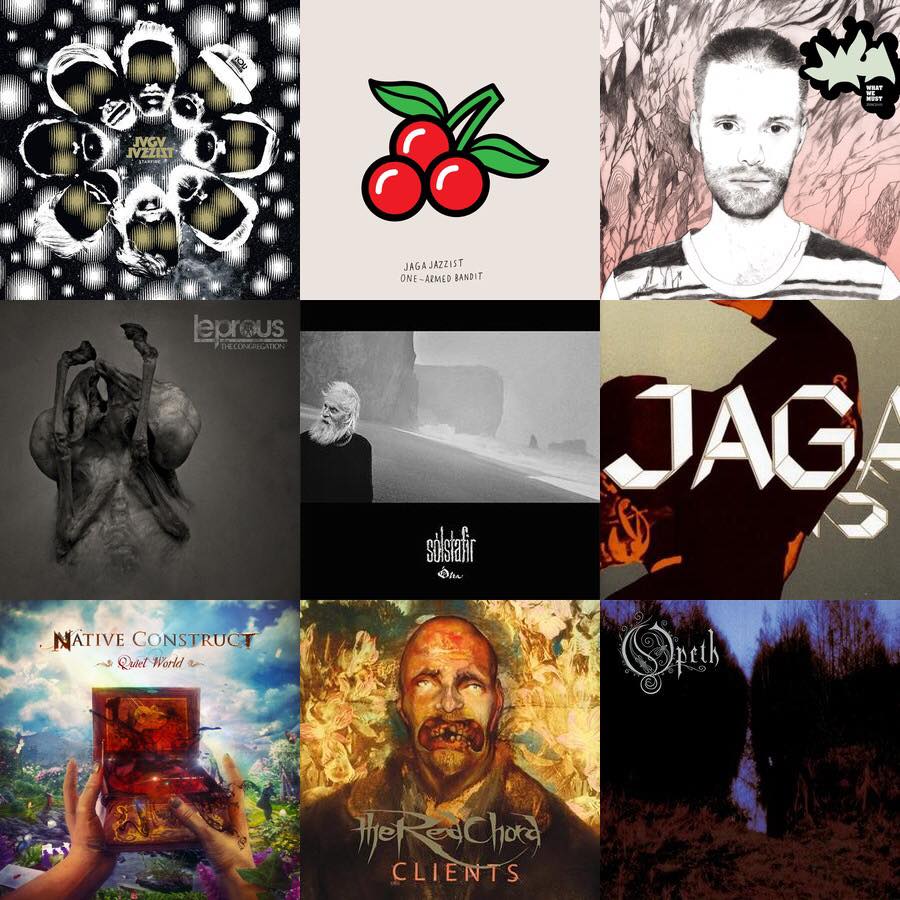 Jaga Jazzist – Starfire
Jaga Jazzist – One-Armed Bandit
Jaga Jazzist – What We Must
Leprous – The Congregation
Solstafir – Otta
Jaga Jazzist – A Living Room Hush
Native Construct – Quiet World
The Red Chord – Clients
Opeth – My Arms, Your Hearse
Aaron Lambert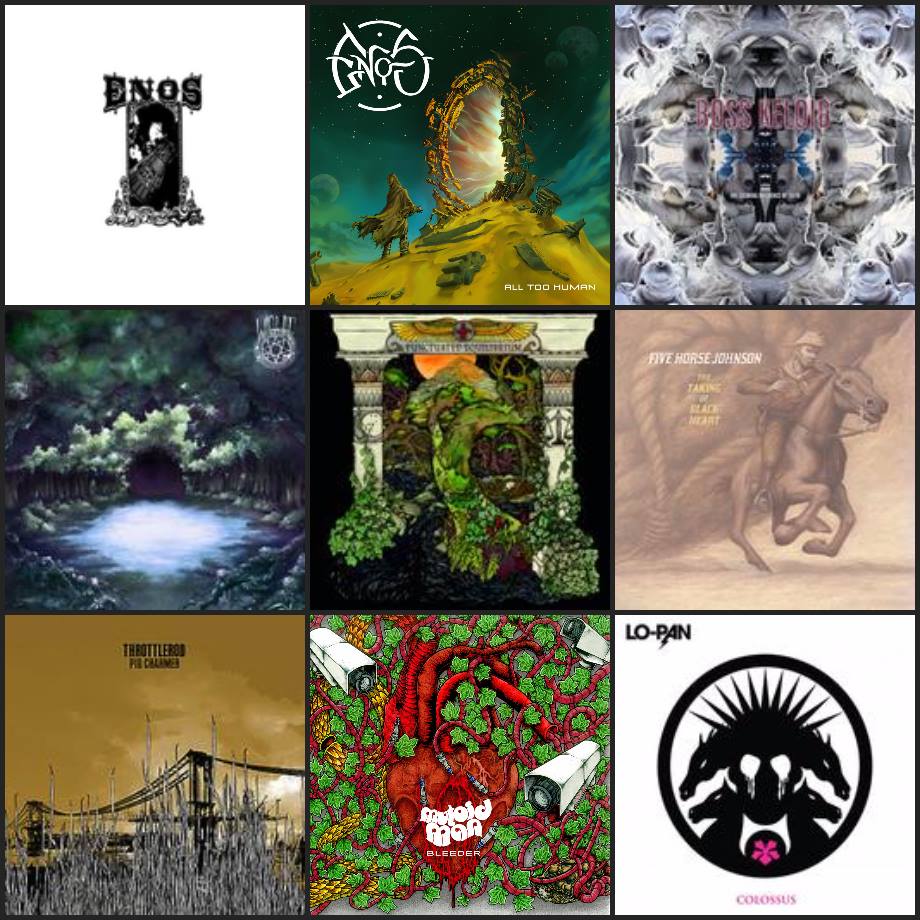 Enos – Chapter 1
Enos – All Too Human
Boss Keloid – The Calming Influence of Teeth
Wight – Through the Woods Into Deep Water
Wino – Punctuated Equilibrium
Five Horse Johnson – The Taking of Blackheart
Throttlerod – Pig Charmer
Mutoid Man – Bleeder
Lo-Pan – Colossus
-SM