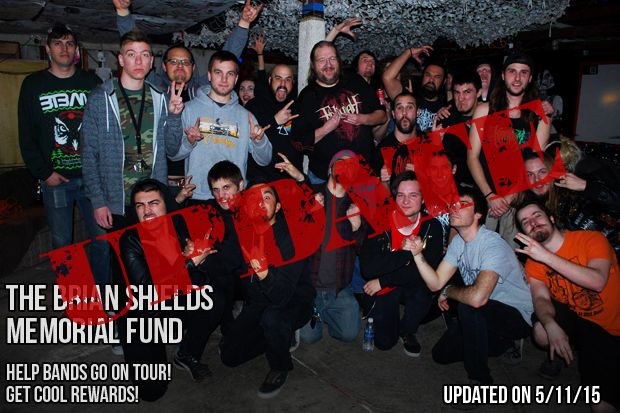 Hey, friends! Family!
Thank you for being with us on this incredible journey to honor the memory of our dearly departed friend Brian Shields! As you know, our IndieGoGo recently ended and we managed to raise a grand total of $2,310 from 91 people in a month ($2021.16 after IndieGoGo fees)! It was well short of our intended goal, but we're super grateful to each and every one of you who offered your money and time for promotion of the cause.
Note we are STILL accepting donations via PayPal at [email protected], so if you'd like one of the perks, let us know ASAP, because we are planning to start fulfilling them as early as next week. A few points of business below the cut, so please read if you have donated or are interested in donating still!
If you HAVE NOT responded to our email regarding your shirt size, please do that AS SOON AS POSSIBLE. We have sent out emails to everyone who ordered a shirt via the fundraiser, whether it be a fundraiser exclusive shirt or one from The Contortionist. If you don't respond, we can't get you your stuff!
If you still want to donate to get a shirt, DO IT RIGHT AWAY. PayPal the money directly to tourf[email protected] and send us a separate email with your DESIRED DESIGN, SHIRT SIZE, and SHIPPING ADDRESS so we can get that to you. We're looking to place an order for printing as of next week, so if that's something you want, get in there!
We want to point out again that the Brian Shields Tribute Album is OUT! You can download it for free by clicking on the stream link below. Yes, this was one of the perks, but we feel that Brian would have wanted everyone to have suck sick jams, so it is widely available to everyone at no cost!

People who requested guest solos and lessons: You are in the process of being contacted! Those who contributed to grab a guest solo from Enfold Darkness' Elijah Whitehead should have already received an email from Zach. Everyone else, we'll be in touch shortly about having musical perk fulfilled.
To anyone who ordered the new The Omega Experiment album via the fundraiser (tentatively titled The Omega Experiment II: The album is still being worked on, but rest assured that, upon completion, you will be contacted with how to receive your music. You more than likely will receive a redeemable code for the album via the official Bandcamp page when the time comes. Your patience is appreciated!
To our one contributor who donated for guitar picks: We are contacting Record Picks on your behalf and you'll be on your way!
And that's it for now for everything at this stage! We should have a new, more solid update for you come next Monday that will wrap up all our loose ends, more or less.
Thank you for being with us on this! Stay heavy!
-Kyle Gaddo, Heavy Blog, and Wings Denied