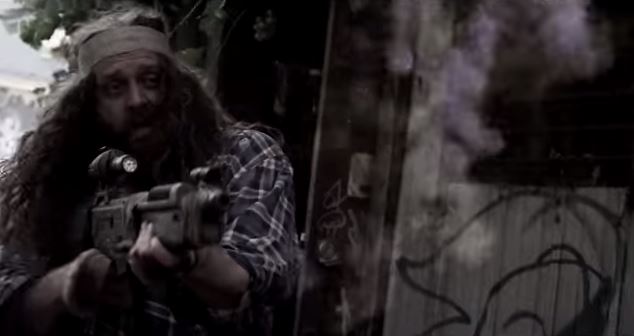 Between the widely-circulated picture of the infamous fan of Trash Talk, and now the new video from punk-sludge outfit King Parrot, members of the Australian hardcore scene really seem to have a thing for urine entering one's mouth. There are four separate instances of it happening in this video alone. But, that's not to say it detracts from the somewhat-serious, somewhat-comedic nature of the video for the King Parrot track "Home Is Where The Gutter Is". Check it out after the jump.
Opening with a pretty gross (and uncomfortably long) clip of a businessman urinating onto a homeless war vet, the video launches into the excellent and mosh-worthy sludge riffing the band brings to the table in a quick fashion. Through video clips over the music, the band tells the story of a homeless man harassed repeatedly by various individuals — the aforementioned businessman, a police officer, and a drug peddler — and then him exacting his bloody revenge on them.
The song itself is a great track. Profoundly moshable, the riffs of King Parrot bring to mind the distilled essence of colossally-powerful sludge acts like Dystopia or Eyehategod, condensing the package they offer into chunky, crushing breakdowns. Combined with some fantastic hardcore punk riffs, the sludgy, downtempo beatdown that King Parrot offers is a great combo.
King Parrot's debut LP, Dead Set, comes out on May 19th in America and May 15th everywhere else.
-SH