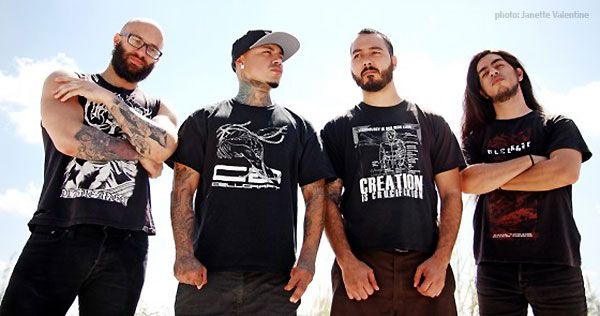 Death/grind/deathgrind heavyweights Maruta are prepping to drop an unhealthily heavy batch of tracks in less than two months, but we have a taster for you right now. 'Hope Smasher' comes hot off the heels of 'Stand In Defeat', with both tracks featuring on the upcoming Relapse release Remain Dystopian. Maruta are no strangers to Heavy Blog and to say that quite a few of us are eager in anticipation of this record would be selling it short. Head on over the jump to check the new song and get hyped with us party people.
Remain Dystopian will be the band's first full length since 2011 and given the two tracks we have heard so far, this should be a total face melter of a record. It goes grind to the hilt but at the same time I'm feeling a mad War From A Harlots Mouth vibe in parts of 'Hope Smasher'. It certainly isn't your grandad's old grind record, that's for sure. Relapse are releasing some serious grind stuff this year, as Magrudergrind are expected to release another epic grindtastrophe this year. Add these to some jaw dropping releases from Primitive Man and Call Of The Void and you're looking at a strong first half of the year for this label.
Remain Dystopian is out on Relapse on June 2nd and pre orders can be found here.
-MM