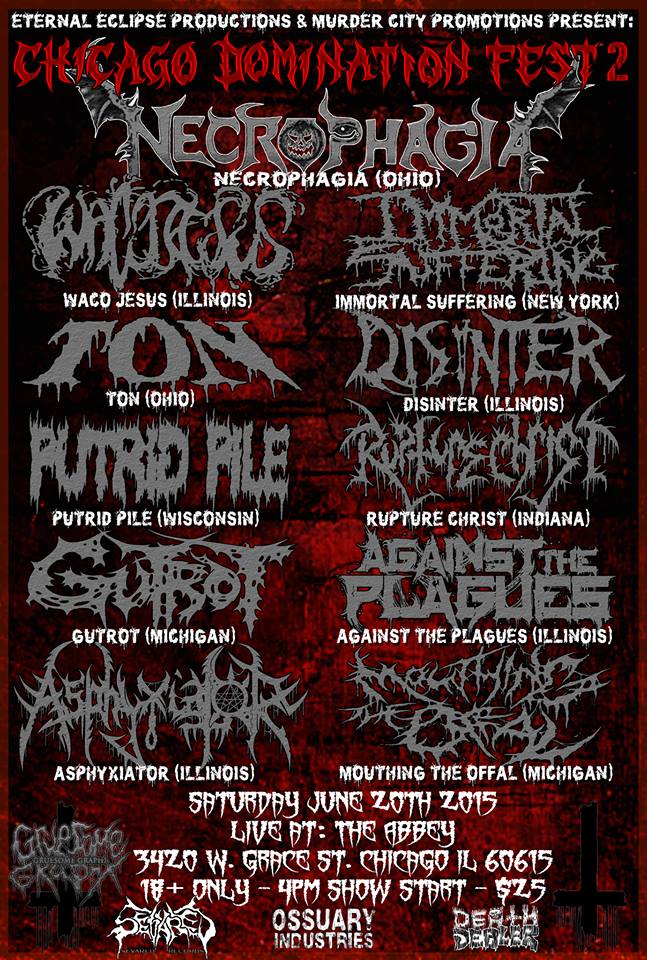 Last year's Chicago Domination Fest was a sold out spectacle of extreme metal in the Windy City headlined by the mighty Devourment and joined by several raging acts in surrounding areas, as well as Chicago itself. This year's festival, lovingly dubbed Chicago Domination Fest 2 (obviously subtitled "Electric Boogaloo" by yours truly) has expanded from seven to eleven bands and is touting an even fiercer lineup, with co-headliners Necrophagia and Immortal Suffering, Waco Jesus, Disinter, Gutrot, and more!
All this happens at Abbey Pub (where we recently shot Outrun the Sunlight, Warforged, and Starkill [photos]) on Saturday, June 20th, 2015!
Full press details behind the cut!
March 22, 2015
Chicago Domination Fest 2
Chicago, IL
After the inaugural success of Chicago Domination Fest in 2014, which was sold-out and headlined by brutal death metal icons Devourment, experienced local metal show booker and promoter Miguel Medina sought to expand and grow his fest into the next stage.
Chicago Domination Fest 2 is a Chicago-based metal showcase with a focus on bringing the highest quality extreme metal to the Chicagoland area. Talent planning for Part 2 began early and has expanded from seven (7) bands to eleven (11). With Chicago Domination Fest 2 only a few short months away the line-up is complete and ready to DOMINATE.
Headlining is horror death metal veterans Necrophagia from Wellsville, Ohio. Founded in 1983, Necrophagia is considered to be one of the first death metal bands to form. They released their classic debut album "Season of the Dead" in 1987 and most recently released "WhiteWorm Cathedral" in 2014 with French metal record label Season of Mist. This will be their first Chicago appearance ever in the bands 30+ year history.
Co-headlining is recently reformed New York death metal band Immortal Suffering. Founded in 1992, the band released a series of demos and splits before dissolving in 1998. In 2013, Immortal Suffering announced their return and released a full compilation offering their crushing brutal death metal discography in one disc.
Notable supporting acts include sick brutal death metal group Waco Jesus, hailing from central Illinois who unleashed their filthy debut album "The Destruction of Commercial Scum" back in 1999 and Ohio-based old-school death metal act TON who is back after a 15 year hiatus since their release of their debut full length "Plague" in 1999.
Further support includes local Chicago death metal veterans Disinter who formed in 1990 and will play their critically acclaimed album, "Welcome to Oblivion," in its entirety. One-man gore machine, Putrid Pile, will also be making an appearance. He began his musical career in 2000 and has released four full lengths to date with his latest crushing offering titled "Blood Fetish." Rupture Christ released their punishing debut in 2003 entitled "Molesting the Entrails of the Disemboweled." Located in Indiana, the death metal band is back after a 10 year absence to return from where they left off.
Rounding the rest of the line-up is Gutrot and Mouthing the Offal and local acts Against the Plagues and Asphyxiator. The fest will take place on June 20, 2015 at the Abbey Pub located at 3420 W. Grace St. Chicago, IL 60615. The event is scheduled to begin at 4:00 p.m. it will be an 18+ show, and cost is $25 per ticket.
Come on down to Chicago this June to get your face blown off with pounding riffs and blasting drums. You know you want to.
RSVP to the event on Facebook right here!
-KG