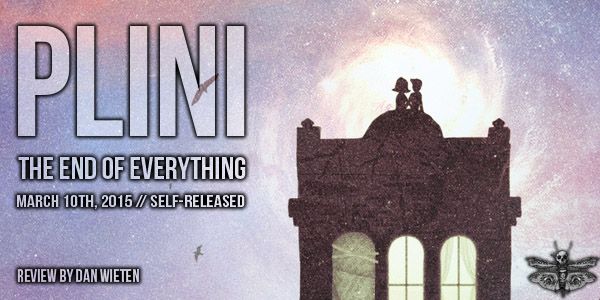 If you've been paying a minuscule iota of attention to the online progressive rock/metal scene within the past three years you've no doubt heard the name Plini. If not, it is not too late to start your journey into the most playful, articulate, and uplifting musical world this side of Steve Vai and CHON. The fittingly titled The End of Everything marks the final chapter in the musical mastermind's EP trilogy, succeeded by Other Things and Sweet Nothings. Arguably the most defined and ambitious of the three, The End of Everything is rounded out by a cast of astonishingly talented musicians, including Marco Minneman on drums, Simon Grove (The Helix Nebula) on bass, Luke Martin on piano, and even Plini's own father.
Opener 'The End of Everything' explodes with neo-classical bombast, synth strings doubled with arpeggiated notes on top of an open and airy, yet massive mix. Things settle quite quickly though, clean guitars and subtle synths coming in with less than a minute passed. Interest never wavers though, and the funky tom and cymbal play over complex time signature changes keeps things adventurous. Minneman is at the top of his game as per usual, but never outshining Plini's vision, always playing to suit the music. One can only hope these two continue to make music together in some form in the future. Grove's imaginative bass lines lock perfectly with Minneman as well, eclipsing any indication that they were never in the same room together. This track also features Chris Letchford of Scale the Summit fame.
As mentioned, the hilariously titled 'Wombat Astronaut' features Plini's own father Gary Holgate on double bass, whose performance complements Luke Martin's masterful piano playing in creating a rich and organic atmosphere. The tune harkens back to some of the more subtle clean guitar moments of the aforementioned Vai's career span, employing the characteristic reverb soaked chord divebombs. Although mainly known for his guitar prowess, Plini is really a jack of many trades, turning in an articulate, balanced, and pristine mix with guidance from Luke Martin. Every instrument breathes freely, nudging up to their respective instrument counterpart without fear of smothering.
Finally, the 8:32 'Paper Moon' caps things off, ending the trilogy in audacious spirit, unrelenting in its explorative journey and finalizing in its motive. This is Plini's shining moment, a truly progressive and triumphant journey paralleling Dream Theater in scope and delivery. This song also features a solo by the criminally talented and prolific Jakub Zytecki, although both him and Plini are so fluid in their styles the distinction between them isn't so obvious. The musical themes inherent are so picturesque, they could easily be coupled with any mountain climbing moment from a variety of adventure movies. Put bluntly, it's impossible not to smile when ingesting the beauty here, and the only drawback is that the end theme doesn't last long enough.
The End of Everything is an exercise in the limitless possibilities of instrumental progressive rock/metal, and a perfectly fitting cap on a must hear musical trilogy for any person, "prog nerd" or otherwise. Here's to hoping we can finally get a full length in the future, because like the most devastating drugs, the feeling doesn't last long enough.
Plini's The End of Everything gets…

5/5
-DW