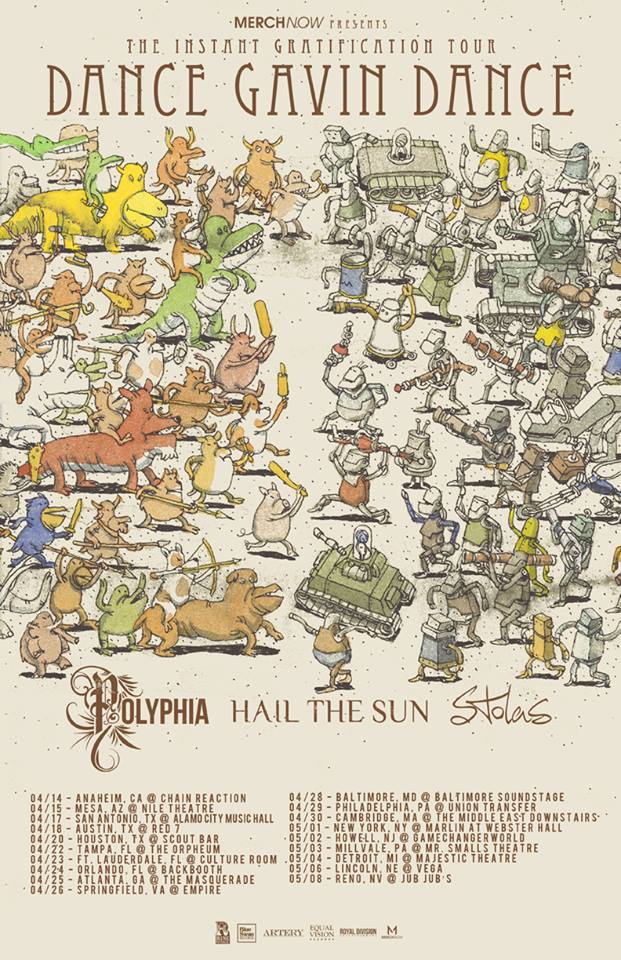 Dance Gavin Dance have announced a headlining tour in support of their new LP, Instant Gratification, and this tour is stacked with the likes of Polyphia, Hail the Sun, and Stolas. Check the dates after the jump to see if the band is coming to a city near you.
04/14 Anaheim, CA @ Chain Reaction
04/15 Mesa, AZ @ Nile Theatre
04/17 San Antonio, TX @ Alamo City Music Hall
04/18 Austin, TX @ Red 7
04/20 Houston, TX @ Scout Bar
04/22 Tampa, FL @ The Orpheum
04/23 Ft. Lauderdale, FL @ Culture Room
04/24 Orlando, FL @ Backbooth
04/25 Atlanta, GA @ The Masquerade
04/26 Springfield, VA @ Empire
04/28 Baltimore, MD @ Baltimore Soundstage
04/29 Philadelphia, PA @ Union Transfer
04/30 Cambridge, MA @ The Middle East Downstairs
05/01 New York, NY @ Marlin at Webster Hall
05/02 Howell, NJ @ Game Changer World
05/03 Millvale, PA @ MR. Smalls Theatre
05/04 Detroit, MI @ Majestic Theatre
05/06 Lincoln, NE @ Vega
05/08 Reno, NV @ Jub Jub's
I might just have to travel to Georgia because this tour is basically a dream come true. I hate that it's the nearest date, but it looks to be worth the trek.
Remember to preorder Instant Gratification here and listen to their new song 'On the Run' here.
-RC