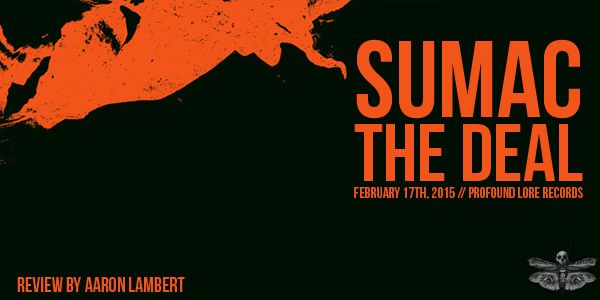 Anytime Aaron Turner's name is attached to a musical endeavor, underground metal fans pay attention. The founder and mastermind of the prolific post-metal band Isis is also the man behind one of metal's most prolific record labels, Hydra Head Records, whose lineup was ripe with bands and artists who were at the cusp of creative brilliance, even being coined "thinking man's metal" by Turner himself. However, all good things must come to an end, and as we all know, Isis announced their disbandment in 2010, and two short years later, Turner pulled the plug on Hydra Head Records and ceased putting out new releases.
Thankfully, Turner has remained very much active in the metal scene, continually indulging in his sludge/post-metal roots in Old Man Gloom, experimenting with ambience alongside his wife Faith Coloccia in Mammifer, and he even dipped his toe into black metal with Twilight in 2010, performing on their Monument to Time End album. All of these projects would appear to be more than enough creative outlets for Turner, but out of desire to create crushing, heavy music once more, he formed Sumac last year alongside drummer Nick Yacyshyn of Baptists and Brian Cook of Russian Circles, and their debut album The Deal has been one of underground metal's most anticipated releases ever since it was announced.
The Deal is an extremely dense album, but one that was every bit worth the wait and every bit as brilliant as you'd expect it to be, considering the musicians involved. The album starts on a brooding note with 'Spectral Gold,' a short, rhythmic instrumental that serves as a foretaste of the sludginess and earthy tones to come. Even though The Deal is comprised of only four real songs, each song covers so much ground sonically that they could almost pass for separate EPs in and of themselves. That said, the album works better as one whole, cohesive unit and should be digested as such.
Turner has always been one to explore atmosphere and dynamics in his music, and it's no different with Sumac. 'Thorn In the Lion's Paw' is a perfect example of this, beginning with a single piano note before breaking into the song's deceptively heavy and oddly catchy main riff. Indeed, Turner's signature sonic characteristics are all over this album, most closely resembling his work with Isis and Old Man Gloom, but the main difference with Sumac lies in the extremely capable arsenal of musicians Turner has assembled, most notably drummer Nick Yacyshyn. Yacyshyn's performance on The Deal is a real highlight of the album, and he is proving himself to be one of metal's most gifted and versatile drummers. He is extremely creative with his playing, and treats his drums as more of a lead instrument than an accompanying one, which makes for an exciting listen. His performance is exceptional throughout the whole album, but he shines in particular on 'Hollow King' and the album's title track.
Turner's performance is equally as impressive. He plays meticulously crafted riff after riff on The Deal that call to mind the glory days of Hydra Head Records and reinforces the fact that he is one of metal's most adept composers. His playing is perhaps more rhythmic than we've ever heard from him in the past, but he has sacrificed none of his creative fervor. Nowhere is this more apparent than on the album's standout title track, which is one of Turner's most ambitious compositions to date. Clocking in at over 13 minutes, 'The Deal' is an exercise in art-metal brilliance, with its shapeshifting rhythms and unpredictable dynamics, and is easily one of the heaviest things Turner has ever written, colossal in its execution.
The term "supergroup" usually has a negative stigma attached to it, but in Sumac's case, there's no better way to describe them. Between Turner's commanding and thunderous presence and Yacyshyn's titanic and virtuosic drumming, Sumac is a band that truly embodies artistic brilliance. Sure, The Deal is a little on the longer side and it takes patience to listen to, but it is an album that was crafted with the utmost care and represents very intelligently the artistic side of metal. Simply put, The Deal is an album that absolutely should not be missed.


Sumac's The Deal gets…

4.5/5
-AL